The Best Current Instagram Trends To Help You Revamp Your Dining Space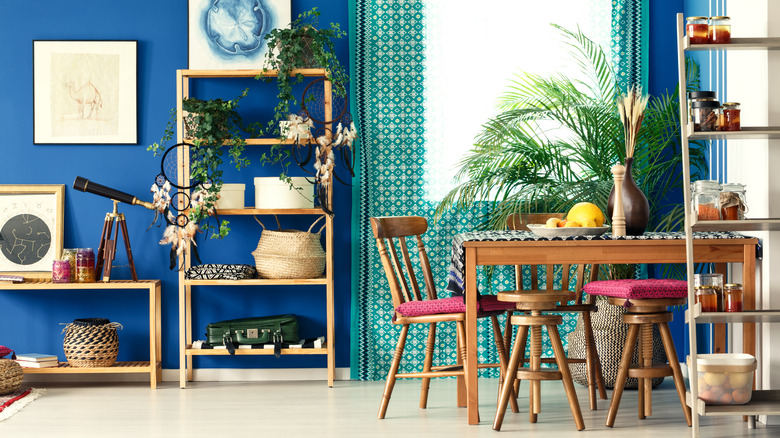 Photographee.eu/Shutterstock
It wasn't long ago that the dining room was one of the least appreciated rooms in the home, according to The Decoist, with prospective buyers putting one near the bottom of wish-lists; it was considered wasted space, too formal, or a luxury item. But then things changed. Dinner party clubs and cocktail evenings gained popularity, driven by a "Mad Men" aesthetic, and dining room glamour was made as cool as the cucumber in our gin and tonics. We had a nice, long supper until the flambé was abruptly doused, and the cocktail glasses were returned to a cabinet. One became, most likely, the pen cup, with the remainder behind a pile of printer paper. 
Then our dining rooms morphed into work and school spaces, losing their glamour entirely but winning points for function. The big tables, sometimes out-of-the-way locales, and storage offered productive imitations of office space, and we were thankful to have them. These extra rooms were absorbed into necessity. Now the dining room is made ready again, the table soon to be delightfully smaller with the heft of summer foods and togetherness. The Washington Post likens the new phase to eating out, but in the house. 
It seems this room has always been important, always nurturing us, even if not in ways we expected. So maybe we should return the favor and show it a little love. What better place to look for mealtime inspiration, whether for recipes or dining room decorating, than the real-life experts on Instagram?  
DIY and upcycled finds
Realtor suggests that the longer and warmer days of summer create the perfect situation for renovation projects or second-hand scouting expeditions. Lighting pendants and chandeliers brighten a dull space while focusing attention on the dining room table — it helps to think of them like jewelry for the room, and according to the outlet, they're prime candidates for upcycling. Additionally, modern and linear mid-century pieces are trending. The stars of the dining room, the table and chairs, are also a great place to show some DIY flex. Solid wood and upholstered pieces can often be refinished and are available in many styles including rustic, farmhouse, contemporary, and mid-century modern.
@styleitprettyhome shares various renovation projects with her followers — from a Facebook Marketplace antique kitchen cupboard redo to her beautiful dining room. To start, she ripped up the laminate floors and laid hardwood, then she chose a large area rug big enough to accommodate the chairs when pulled out; to be safe, add 2 feet to each side of the table. She chose armchairs for the ends that are full of character and add height; they look like the ideal estate or flea market find. An oversized cane and black pendant is a classic and textural addition to the vignette. The space isn't actually its own room but a passageway in her small home between the living room and kitchen — by her skilled hands, it now feels wonderfully like a destination and not a thoroughfare.
Setting the mood
Realtor details the perfection of a breakfast nook with a banquette. An awkward or cramped area is well-served with a built-in bench; it seats many, stays tightly to the wall, and feels cozy, as @forestbound shows. It can also be painted, upholstered, and layered with throw pillows to provide comfort or pattern.
With summer flowers about to pop-off, a garden-style dining experience feels lush, luxe, and appropriate. To blooms, add candles for dreamy evening dinners or sunlight for cheery breakfasts. Floral tablecloths are an easy way to build variety into the mix, and they present protection from scratches. @m.o.endres has an artist's eye for colors and textures, highlighting an eclectic use of antiques to create her stunning home. In the breakfast nook, the round table is topped with an indigo and white cloth and a basket of violets; it's surrounded by alternating rattan and upholstered chairs, while a burnished bronze chandelier hangs overhead. In another room, her harvest table (above) is set-up for a special occasion and is decked out in mustard and cream linen. 
Outside, tucked into a corner of the bluestone patio, a table is a magnet for a mash-up of chairs and draped with yet another blue and white cloth (a favorite color combination). It reminds us of three things: that a dining space is anywhere you make a spot for conversation and the breaking of bread, the more the merrier, and in summer the best dining room is an outdoor one.