How Much Does It Cost To Install Wainscoting?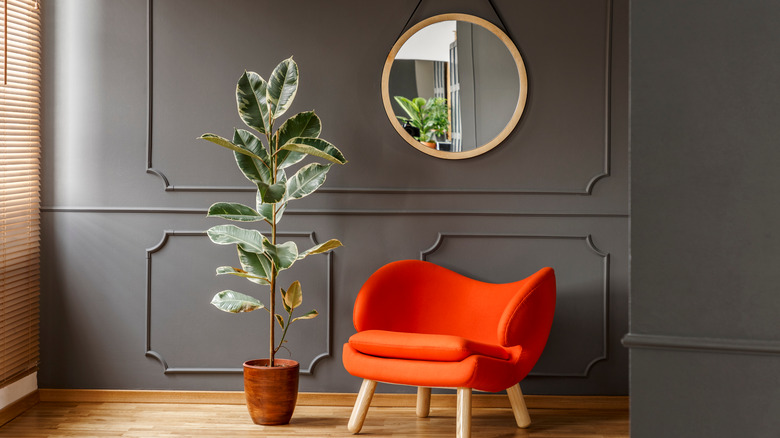 Photographee.eu/Shutterstock
Dating back to the seventeenth century, wainscoting was a popular addition to homes in Europe and New England. Comprised of multiple pieces of molding, the decorative wood paneling is now just one of the many wall treatment options available for homeowners. Whether it's installed by professionals or DIY'ed, wainscoting can add texture and visual interest to just about any room, but it can also be a costly addition to your home.
For those thinking about adding wainscoting to their walls, make sure you know what to anticipate when it comes to the price. HomeAdvisor has reported that homeowners should expect to pay over a thousand dollars for the materials and labor if they plan to hire professionals. The contractors at HomeAdvisor have also shared that the average estimated price for 5-foot-high unpainted wainscoting in a 12 by 12-foot room is roughly $1,325, with the pricing of materials per square foot at $5.50.
Homeowners should also be aware that the price of installation is dependent on a number of conditions. If you are looking to hire a contractor to install wainscoting, HomeServe recommends asking for quotes from multiple professionals near you, as the location of your home can be key in lowering the cost. Along with location, wainscoting pricing is dependent on the materials, the size of the room, the molding's design features, the time frame of the installation, and any complications that may arise.
How to decrease wainscoting expenses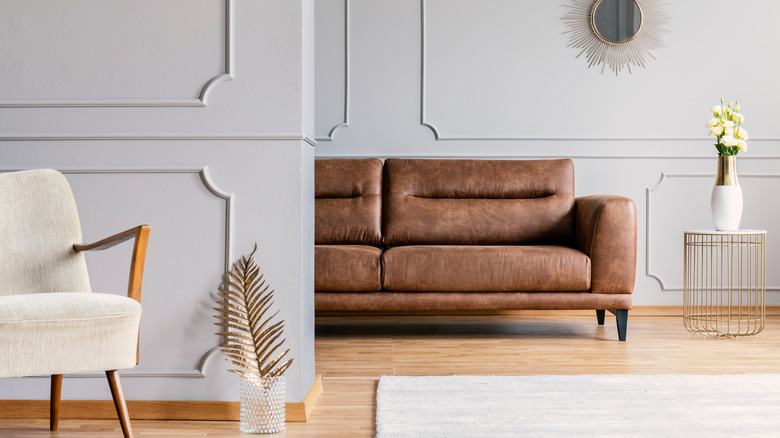 Photographee.eu/Shutterstock
For the craftier homeowners who have experience doing home improvement projects, installing wainscoting shouldn't be too big of a project to do on their own. And while doing the installation yourself can eliminate the cost of labor (via HomeServe), it will likely take you longer to complete, so make sure you weigh your options when deciding whether or not it's worth it.
If you aren't the hands-on type, you can still add value to your home through wainscoting, but you may have to be more strategic with your plans. One option that's available is doing a wainscoted feature wall rather than all of the walls in one room. Along with feature walls, make sure you're aware of the different wainscoting styles, including board and batten, which is considered one of the most popular wood paneling styles by The Spruce. Also, pay attention to the cost of materials for each style as they can cause the overall cost of installation to fluctuate.
If you prefer the more traditional look over some of the newer styles of wainscoting, another option is to consider working with materials such as plywood paneling and medium-density fiberboard, which are both significantly cheaper than unfinished raised panels, per HomeAdvisor. You can also scale down the number of materials used as the look of traditional wainscoting can be achieved with molding, trim, and paint.
The cost of other wall treatments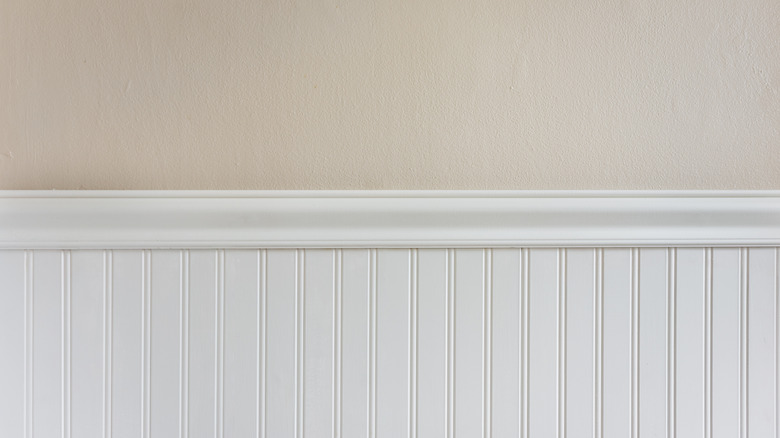 Brett Taylor Photography/Shutterstock
Another component to consider when it comes to the cost of wainscoting is how much other wall treatments cost. If you're still undecided over whether or not wainscoting is right for your home, don't rule out some cheaper options like paint and wallpaper. But if you're sure you want some kind of decorative wood element in your home, beadboard and shiplap are good options to start with.
Used as paneling for wainscoting, beadboard may be the closest you can get to wainscoting without having to commit to the price. Often mistaken for one another, beadboard differs from wainscoting as it is comprised of interlocking pieces of wood laid out in a vertical pattern. Beadboard traditionally ranges from fifty cents to $1 per square foot, with contractors charging an average of $90 per hour to install it, according to HomeAdvisor.
Used inside and outside the house, shiplap has seen an uptick in popularity over the years, thanks to HGTV's "Fixer Upper," per Real Homes. And while it is often associated with the farmhouse design style, shiplap can be a very versatile wall treatment. In terms of cost, shiplap ranges between $2.50 and $7 per square foot, with an average interior installation cost of $1,000 (via HomeAdvisor). Despite the cost being somewhat similar to wainscoting, most homeowners have spent between $500 and $1,500 to add shiplap to one room, with the max price falling around the average price for wainscoting installation.