Never Use These Colors To Paint A Basement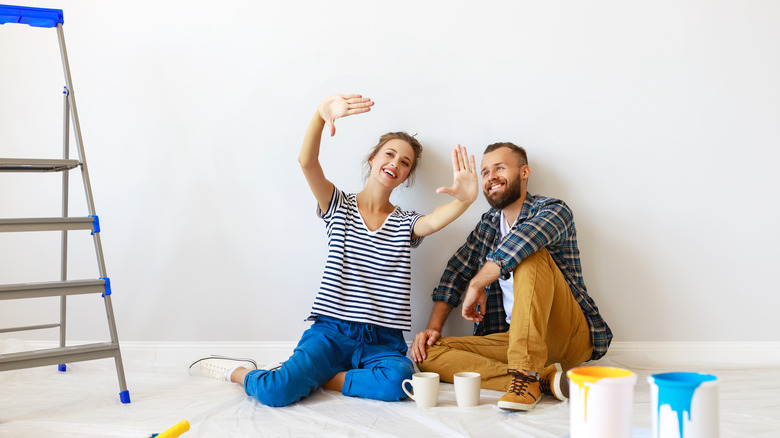 Evgeny Atamanenko/Shutterstock
The color you choose to paint a room in your home affects far more than just the way the room looks, as strategically choosing certain colors or shades can have a major impact on your mood and your energy levels, according to This Old House. It is believed, for example, that yellow hues may help engage your mind, whereas red shades will pique your appetite. Warm tones tend to feel inviting and are therefore best suited for rooms where visitors will be, such as guest bedrooms or living rooms. On the other hand, cooler colors have calming effects and are best for rooms you use to wind down in, such as your bedroom. Painting a room white, especially in areas with a lot of natural light, can make a room look larger and more open.
As Three Bears Home Staging explains, the best way to determine whether a color will work in your space is to obtain a sample so you can see it on the walls at various times of the day. As natural light conditions change from dawn through dusk, how you experience the color may shift as well, so samples are key in exploring how each option will perform and subsequently affect you. You may even want to consider how the conditions may change from season to season. So what about rooms with little to no natural light, such as basements? Read on to find out!
Avoid these colors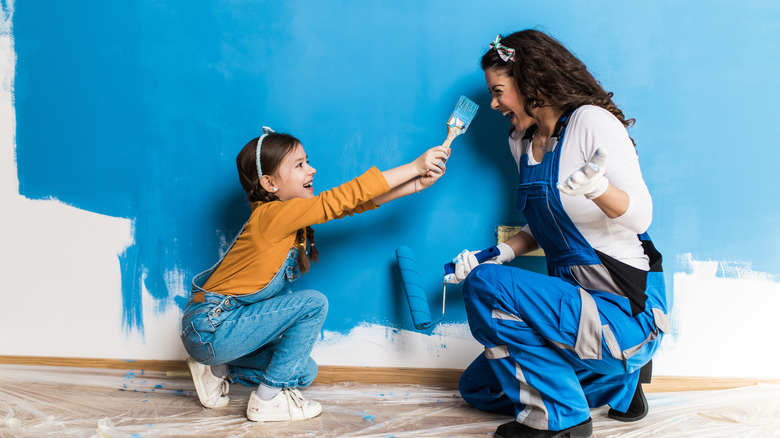 hedgehog94/Shutterstock
Because of the lack of natural light in most basements, Fired Earth's Creative Director Colin Roby-Welford notes via Livingetc that light, neutral colors such as beige and grey should be avoided. These light, neutral tones can easily look dull and washed out in rooms with very minimal lighting, such as basements.
If your underground abode is starved of light from the outside world, Roby-Welford suggests bringing in a splash of sunshine in the form of yellow paint to brighten up the space and give it the energy it otherwise lacks. On the contrary, if you want your basement to double as a cozy and dark theater to curl up and watch movies in, you should choose a deeper, rich jewel tone in either green, blue, or purple. For an extra dramatic, sweeping effect, Roby-Welford suggests painting the woodwork and the ceiling the same color as the walls.
If your basement isn't completely underground and you have some natural light to work with, you can be a bit more creative. Walkout basements, particularly ones that lead into a backyard, should be painted in earth tones to create a strong sense of cohesion and seamless flow between indoor spaces and the outside world, as Livingetc claims. Similarly, if your basement gets some natural light, you are one of the lucky few who should opt for bright white paint, as it will imbue the space with a light and open atmosphere.