Alycia Debnam-Carey Lives In An Unexpectedly Modest Home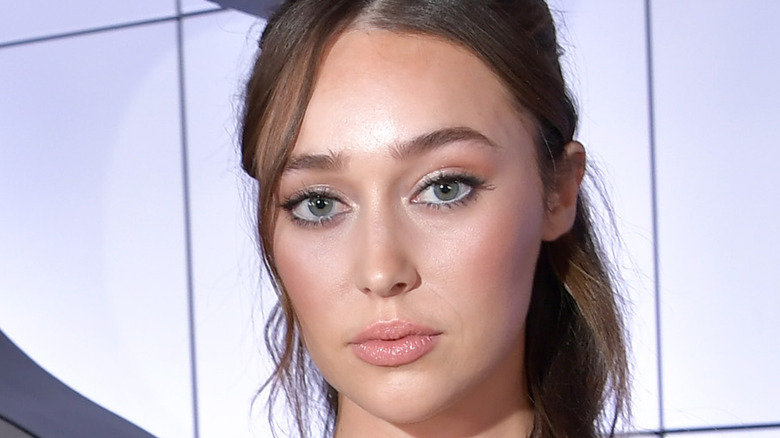 Emma Mcintyre/Getty Images
You may have watched Alycia Debnam-Carey slog through a zombie apocalypse in the series "Fear the Walking Dead" or be terrorized in the German psychological thriller "Friend Request," or maybe you'll catch her in her new role as a tormented young woman reliving the disappearance of her sister in "Saint X"; Alycia has a niche for playing at post-apocalyptic sci-fi and horror dramas, so it's somewhat jarring to see her beautiful, serene home. Per Dirt, Debnam-Carey purchased the Hollywood Spanish-style residence for $1.2 million. 
At just over 1,000 square feet, the sweet stucco cottage is a humble size; the interiors, until recently, were fine by anyone's standards but nothing spectacular. While it had great bones and interesting features, they weren't highlighted, and the decor style was mid-century modern and masculine influenced — not analogous to the architecture's 1920s sensibility. In April of last year, interior designer Tiffany Howell of Night Palm debuted a new striking look for Debnam-Carey's home, filled with art deco pieces, feminine colors, and small surprises of abstract expressionist art. The moodiness and depth of the interiors, ephemeral and fleeting once the sun comes up again, are the only traits that hint at the lives Debnam-Carey has lived on-screen; and maybe the disorienting location, halfway around the world, and on the flip-side of summer from her hometown of Sydney, Australia. Let's dive in to see where she's living now.
The home is a sweet Hollywood cottage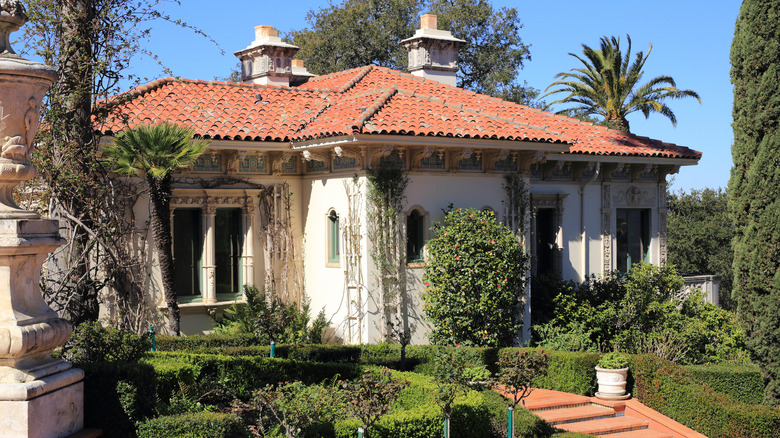 Bill Florence/Shutterstock
Tinseltown is an actors' mecca — the site of film studios and hillside homes of the celebrity elite. Alycia Debnam-Carey moved there when she was 18 years old, cast in an Australian documentary that followed young actors in Hollywood looking for their big break. According to Fandom, within a month of arriving, she'd been shortlisted for the Carrie Bradshaw character in "The Carrie Diaries" and offered the lead in a movie about a cult (not the one obsessed with "Sex and the City"). Debnam-Carey had acted for a decade already and was also a classical percussionist — she attended performing arts high school and appeared on stage at the Sydney Opera House. It's not surprising she was drawn so far from home to the sunny spotlight of LA.
The average cost of a Hollywood home is $1.3 million (via Realtor). According to Dirt, Debnam-Carey paid $1.2 million for hers; smack dab in the heart of the neighborhood, she was right on target when finding her place. The residence has .06 acres, two bedrooms, and almost two bathrooms, but it's what's not on its resume that makes it special: arched windows and doors, an art-deco-inspired fireplace, and the way the dappled light is filtered to the interiors through surrounding hedges and lush greenery. A secluded patio with terracotta tiles is hidden behind stucco walls and wreathed in climbing bougainvillea. Howell of Night Palm noted they wished to make the space feel European and provide some escapism.
The interior had a glow-up.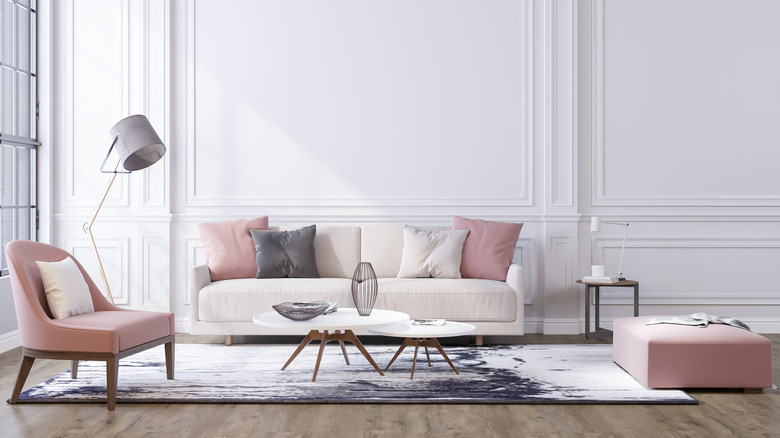 mixphotos/Shutterstock
The 1920s-built home has quaint architectural details that have been brought back to life by Night Palm designer Tiffany Howell. An arched entrance door opens onto a cozy living room where a massive, multi-paned arched window fills almost an entire wall and is the crown of the space. A hedge shields the window, affording privacy and softened light; the perfect place to locate a channeled velvet bench. A fireplace with a curving surround adds comfort and art deco flair, and perched in front, a seating vignette features two shell chairs, a marble cocktail table, and a sofa. The windows are draped with shell pink velvet panels. Adjacent, through an arched passage, is a lounge that houses a white piano, a sleek daybed, and a drinks table. Beyond this space is a well-outfitted kitchen, per Dirt, it includes Bosch appliances and a breakfast bar; nearby is a sunny eat-in area. Honey-colored matte hardwood floors are a staple throughout the home.
The cottage has a separate primary bedroom wing with a private bath; updated tiled bathrooms offer charm alongside modern function. Both bedrooms are outfitted with french doors, providing access to the lush garden and courtyard, enhancing the indoor/outdoor flow so much a part of LA residences and lifestyles. Additionally, the property includes a one-car garage and a one-car parking space. And that's good because really, why would anyone want to leave?