How Much Does It Cost To Buy A California King-Sized Mattress?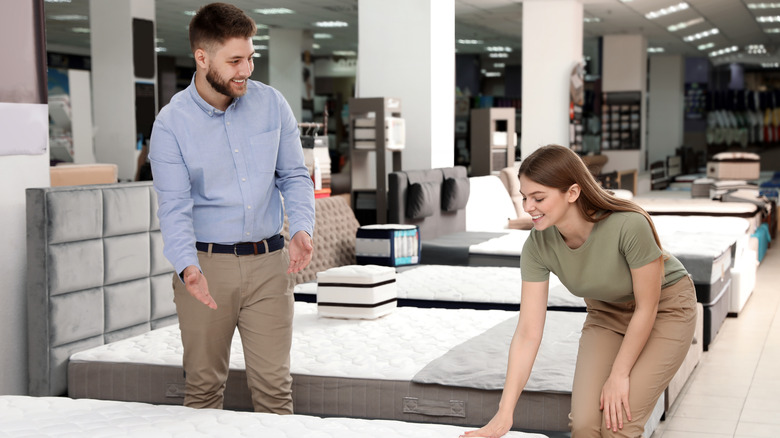 New Africa/Shutterstock
If you find yourself longing for extra length at the foot of your bed, it might be time to upgrade to a California king. While a typical king-sized bed is 80 inches long and 76 inches wide, a California king offers an added 4 inches of length to a standard king but is slightly narrower at 72 inches wide, per Sleepopolis, making this bed type a good option for people who need a little more length and don't necessarily need the full width of a standard king size.
According to Mattress Advisor, people looking for the additional length a California king mattress provides are often taller than the average person or are pet owners whose furry friends hog the bed. California king beds also tend to fit better in most bedrooms than traditional king mattresses since the headboards take up less wall space, which can be especially important if your room is long and narrow. If you are considering switching to a California king bed, the cost is an important factor in determining if this uniquely sized bed is right for you. Read on to learn how much you can expect to spend on a new California king mattress.
How much can you expect to pay?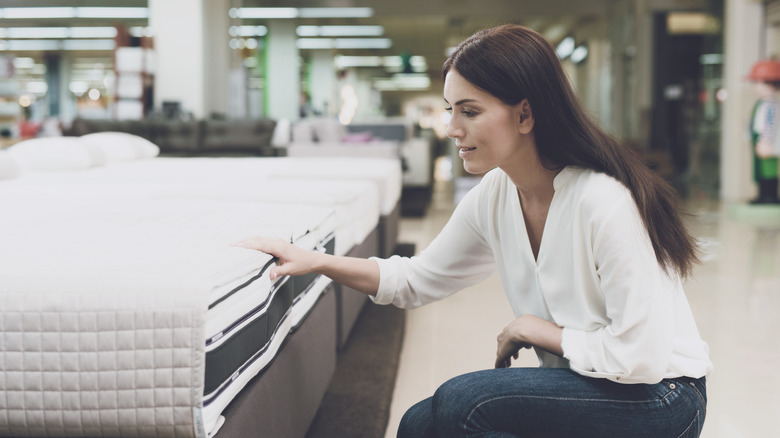 VGstockstudio/Shutterstock
While high-quality mattresses tend to be pretty pricey regardless of size, CNET estimates that a standard California king mattress costs anywhere from $1,200 to $1,600. In comparison, high-end California king mattresses start at around $1,800 and go up from there. Suppose you want to really save money while still reaping the benefits of an extra-long bed. In that case, CNET notes that some brands sell budget California king mattresses for $500 or less — just don't expect the whole quality of a high-end mattress if you go this route.
While it is entirely possible to score a California king bed on a budget, Sleep Foundation notes that these options are often pricier on average than standard king beds simply because of the lower demand. Lower demand makes them a lot less common than other mattress sizes, leading to a slightly higher price tag. The mattresses themselves are somewhat more expensive, but the lack of California kings on the market also makes that size of bed frames, box springs, and bedding more difficult to find — hence the pricier label. While some may opt-out of buying a California king mattress because of the higher price tag, many also find that the added benefit of extra legroom is worth the expense.