Joe Mazza's Tips On How To Update Your Home For Less
It's no secret that home renovations aren't cheap for anyone who owns a house or plans on buying one, but if you have access to the proper info, you can remodel your property the way you want while still keeping it affordable. Whether it's a personal choice or mandatory upgrades, you have control over your budget, and HGTV's Joe Mazza is here to prove it. HGTV's new spin-off, "Home Inspector Joe," features home inspector and real estate expert Joe Mazza on the journey of assisting homebuyers in spotting issues in a house that only a professional like himself can find. Fortunately, and the best part of the reality show, he guides them through the repair process.
In the season one premiere episode called "Correcting a Charmer," Mazza's newest clients are married couple Kate and David Barton from New York City, according to Realtor. The Bartons and their two children are moving out of their cramped one-bedroom apartment in The Big Apple to Greenwich, CT. With a budget of $85,000 to work with, Mazza is the right guy for the job with the help of his principal designer Noel Gatts. Here you can find the information and inspiration to move forward with your own home renovation.
The new and improved Barton residence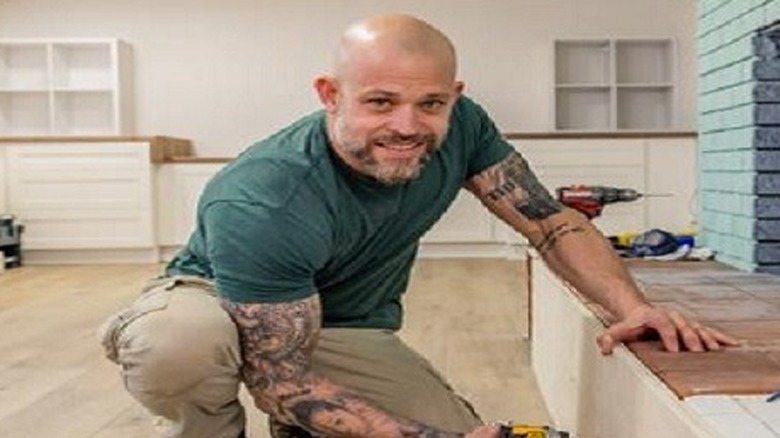 Anna Mente/Shutterstock
According to Realtor, the Bartons purchased their 1,109 square foot Connecticut adobe for $520,000, and although the house is considerable with a spacious yard, there's significant work that needs to be done. The property is a century old, and it comes with a crumbling front porch, among other hazards. Per Noel Gatts, a lot can be done on the house for a low price if they clean up the space, add some new paint to the walls, change light fixtures and sand it down. These touches will add unique charisma to the house only for a few hundred dollars.
Gatts plants flowers with white oyster shells to spruce up the lawn, creating a brighter ambiance. Taking matters into his own hands, Joe Mazza replaces the rotting wooden floorboards on the porch with new ones. He recommends only replacing what you need to, citing that if your entire floorboard doesn't need work, focus on the parts that do; that way, you're saving more money.
If you have stairs, you want to ensure they're safe and sturdy, so they add black spindles 4 inches apart. As a business owner, Kate Barton works from home and therefore needs a workspace, so Gatts puts together a place in the living room with a custom foldable white chalkboard desk. He also installed a kitchen island, and since Kate opted for dark colors, the principal designer chose pale blue lower cabinets and a black quartz countertop island for a balanced contrast.