Why Taylor Spellman Says To Avoid This Paint Color In Your Home
Painting the interior spaces in a home is one of the most impactful, value-driven improvements you can make. Relative to other projects, painting isn't a huge time or budget investment, and it requires little skill beyond patience and the proper tools. 
Specific colors function in certain ways visually and psychologically, helping to make rooms appear larger or more intimate, but also affecting our mood (via Color Psychology). To that end, it's important to have some knowledge before choosing a paint shade. For example, soft blues and greens are felt to be the best options for bedrooms as they are soothing, hence encouraging sleep. Bolder hues like salmon and amethyst inspire energy and are better for common spaces. Some colors carry meaning: Navy is classic and steady, Tiffany blue and Hermes orange are associated with the luxury of their brands, and red is sassy and assured. 
If you're staying put for awhile, paint your room any color you please! But if you're looking to sell anytime soon, it's safer to avoid certain shades. According to HomeLight, the sale of a property can be delayed and even denied if buyers are turned off by the wall colors; the outlet suggests that clients remember things that create a negative impression, distracting them from a home's attributes. Conversely, a successful application of fresh paint offers an average return on investment of 152%. Read on to learn more about which paint colors boost or impede home sales.
This happy color doesn't make everyone happy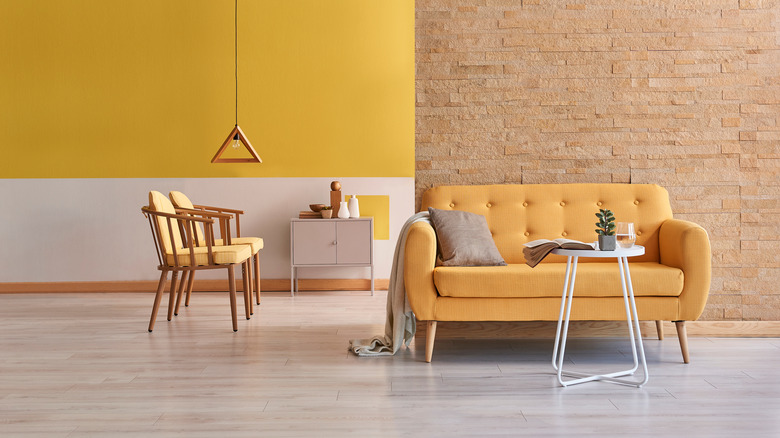 united photo studio/Shutterstock
Taylor Spellman, of the Discovery+ show "One Week to Sell," knows a thing or two about how to make a home attractive to prospective buyers. On each episode, Spellman and her interior design firm are tapped to revive stale real estate listings — they're allowed one week and a budget of $10,000 to transform a property from blah to bidding war status. She mixes sophisticated and comfortable pieces with the new and refurbished to create a space that has personality and feels homey. Additionally, Spellman is known for using accents of bright color and her original artwork to make the design pop. 
Aside from being the series' star interior designer, Spellman is a real estate stager who has been hired by leading developers in New York City, per The Real Deal. According to Spellman, not only is color subjective regarding people's likes and dislikes, certain colors are perceived as dated — one of the worst labels a listing can be slapped with. Though she loves utilizing bold color in small amounts, she cautions against painting walls in bright hues, particularly yellows and oranges which she points out don't photograph well. Spellman further details that yellow is tricky emotionally; according to Color Psychology, yellow can cause agitation and aggression — not the optimal emotions to elicit from potential buyers.
Taylor Spellman says neutral paint colors are a better choice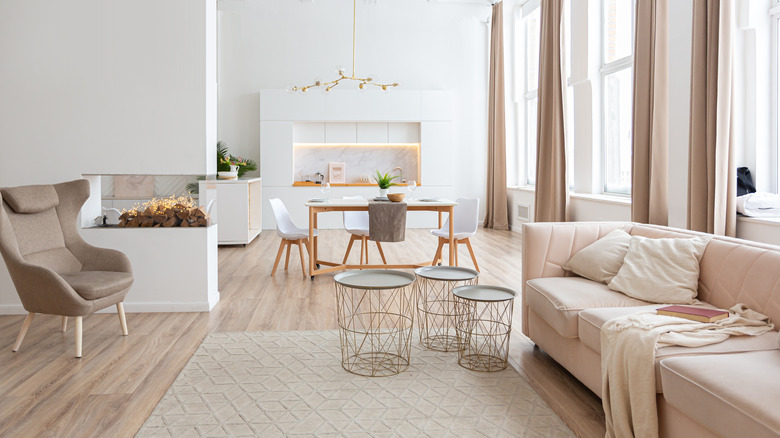 Pinkystock/Shutterstock
The cast of "One Week to Sell" took on a 1,100-square-foot home in Queens, NY, altering the dingy impression of the dark red dining room with a coat (and then some) of light blue/green paint. The color is very on trend at the moment; My Domaine explains it's appropriate for any room and creates a calm atmosphere. Per Realtor, Taylor Spellman was also adamant that the living room's yellow walls receive a refresh. She chose to cover them instead in a sapphire blue to match the traditional Tudor style of the home. The rich color was a bold choice, but one Spellman felt confident wouldn't turn buyers away. 
For resale, HGTV recommends painting rooms in neutral tones like white, beige, and grey — and for those of us without an interior design business and home staging experience, it's the safest bet. The outlet believes white should be a go-to for living rooms because it presents as a blank slate and gives the appearance of cleanliness. To this neutral base, feel free to add vibrant pops of color or wood accents — it's a plan you can take to the bank.