Boise Boys Stars' Savvy Tricks For Renovating Your Home
In their hit HGTV series, "Boise Boys," the synergistic vision and perspective provided by designer Luke Caldwell and contractor Clint Robertson offer fans and aspiring home renovators a glimpse into what makes these Idahoans' blended design aesthetic so unique. Though the best friends could not be more different in terms of lifestyle, design aesthetic, and personal style, the mixed result of their individual, unique tastes has made them fan favorites on HGTV — so much so that a third season of "Boise Boys" is in the works, according to @timberandlove, the pairs official Instagram page. In addition to being renewed for a third season of their hit series, HGTV reports that the duo is also set to star in a brand new show, "Outnumbered," which features Caldwell and Robertson renovating houses for growing families.
With their combined expert knowledge in their respective fields and their rise to becoming HGTV stars, Caldwell and Robertson are bonafide experts in renovation and employing out-of-the-box and innovative methods. Today, they're providing some insider renovation and design hacks on a dime that DIY'ers of every skill level can easily incorporate into their own lives.
Never underestimate the power of paint or texture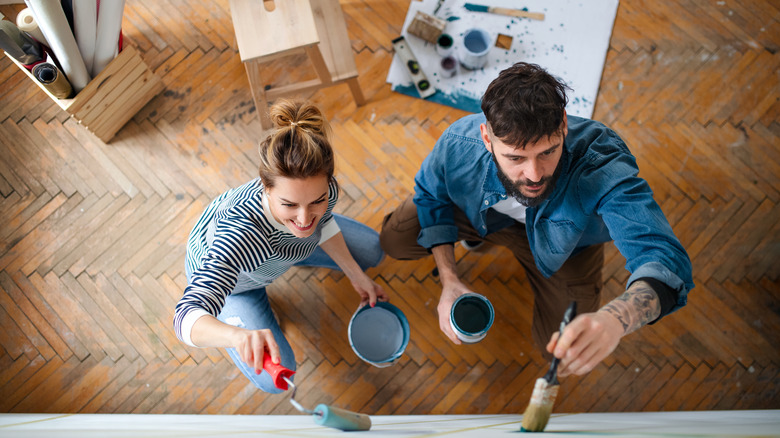 Halfpoint/Shutterstock
Painting a room might not seem like a massive deal in the grand scheme of renovation, but Luke Caldwell and Clint Robertson say, according to Apartment Therapy, that a simple can of paint can change an entire space. They also add that it is a quick and easy way to dramatically transform a room without needing a hefty renovation budget. Caldwell states that the duo usually gravitates toward monochromatic looks when they are painting or putting together a color scheme but suggests incorporating a mix of various shapes, patterns, or colors with paint if you are looking for a more dramatic or unique look.
If you want to add details or visual interest to your walls in a way that a simple coat of paint can't provide, the pair suggests DIY'ing some texture to create a feature wall. Robertson added that they often DIY their own wainscoting by painting dowel rods and cutting them in half before adhering them to the walls. Caldwell also says he has utilized the same strategy before with old fence posts to add a focal point to the room. Creating your own texture or patterns through DIY can help add visual interest or design the wall in a beautiful way that won't break the bank.
Shop secondhand
Pressmaster/Shutterstock
The "Boise Boys" are notorious for incorporating unique, vintage finds into their projects — often revamping or upcycling them to restore their beauty and functionality. Apartment Therapy reports that the duo's favorite place to score unique treasures is at second-hand stores such as the Habitat for Humanity ReStores. Luke Caldwell notes that incorporating flea market and garage sale finds into your space can help give it character and that bringing in unique, vintage finds can breathe soul and life into your home in a way that store-bought furnishings can't. He also adds that "things were built better back in the day," so refurbishing a dated or vintage piece instead of buying something new can help you get a lot more longevity.
The pair also notes that going to a flea market or garage sale can sometimes help you find the missing piece to your renovation puzzle that you didn't even know you needed. If you are stuck when it comes to figuring out what to do with a specific space in your home, or if you know what looks good in your head but it's just so expensive, consider shopping secondhand. Clint Robertson says that the HGTV duo once needed corner seating for a project and found an old church pew for $50 that worked perfectly. Thinking outside the box can help you reimagine your space for less.