This Unexpected Item Has The Worst Reviews At Ace Hardware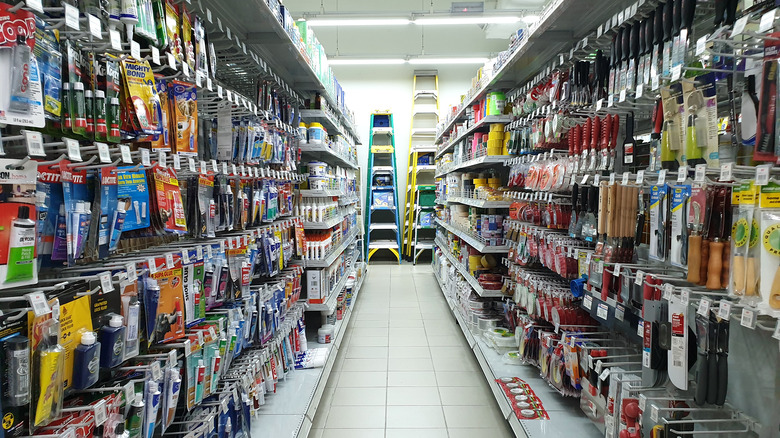 TY Lim/Shutterstock
If you've ever been in the middle of renovating your home, putting up new shelves, or looking into buying patio furniture, then you've most likely stepped foot into a hardware store to buy small appliances that will help you complete the job. Ace Hardware has been a go-to for most folks, especially Dads, when they're in dire need of a quick pick up for whatever they're working on. It provides a variety of different products such as gardening tools, power tools, home décor, electrical items, and more, according to Ace Hardware's website.
While it's handy that stores have various options for you to choose from, it can be overwhelming when it comes to deciding which product is right for you for your project. Whether that's deciding on new light fixtures, heating supplies, or outdoor gear, you always want to make sure you're getting your money's worth. Here's one item you might want to stay away from at Ace hardware due to its reviews.
DeWalt lawn mower
Finding the perfect lawn mower that will last you just as long as it should while you're doing yard work can sometimes be hard to come by. The DeWalt 20V Max lawn mower received some low ratings from customers, where a few claimed that the battery life maxed out at 30 minutes when the product description says it should last an hour, via Ace Hardware reviews. One customer said that it didn't last him 10 minutes; it died after 8 minutes. Since the lawn mower has a self-propelled feature, one customer stated it drains the battery faster.
While most customers were unsatisfied with the battery life, others noticed that the lawn mower didn't cut their lawn evenly, according to the reviews. The blade is meant to cut thick tall grass, but most customers claim that the location of the blade is low and doesn't suck up the grass into the bag as it should. One customer wrote that the lean mower won't last a single charge to cut a lawn that's over 3 inches tall. While most customers didn't have any luck with their lawn mower, others were satisfied with the battery life and the function of the mower. It's always just a hit or miss with any product, but always check the reviews and compare to other brands and models to determine which one to go for.