30 Easy, Low Maintenance Ideas For Landscaping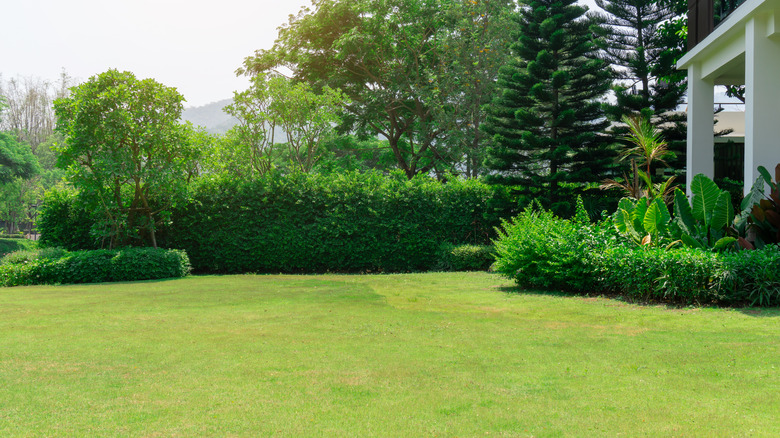 aimful/Shutterstock
You too want an enviable outdoor oasis, don't you? Gone are the days when the sole purpose of creating solid landscaping on a property was simply about increasing the value of our homes — by 15%, as claimed by Virginia Cooperation Extension. Today, the entertaining-minded Millennials want their outdoor spaces upgraded for parties, flaunting affluence and class, and setting new style trends, per Cision PR Newswire.
An overview of the research work published on Market Research revealed that homeowners will be spending more time outdoors and listed the following as the most popular outdoor activities; exercising, playing with kids, cooking, working, relaxing, and gathering with family and friends. If any or all of these are your favorite outdoor activities, then your dream landscaping design should feature an outdoor kitchen or a grill space, an outdoor fireplace, porches and patios, a children's playground, and more.
To get you started, we've come up with this list of 30 easy, low-maintenance ideas for landscaping. These landscaping ideas are easy to recreate for most DIYers and will offer you the full benefits of having an outdoor space.
1. Small zen masonry waterfall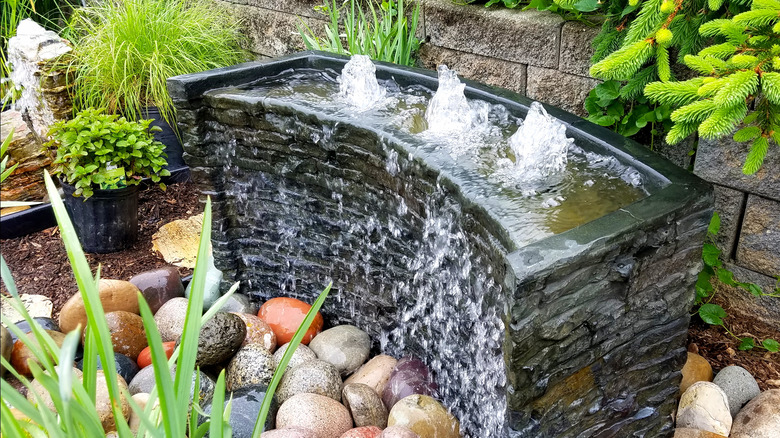 Anita Warren-Hampson/Shutterstock
This bubbling zen waterfall around the corner is satisfying to watch on a cool summer morning during the weekend after a workout session. Now, you can either buy a pre-made one or design yours from scratch, in which case you'll need to be at the top of your skills.
2. A sun-gazing bench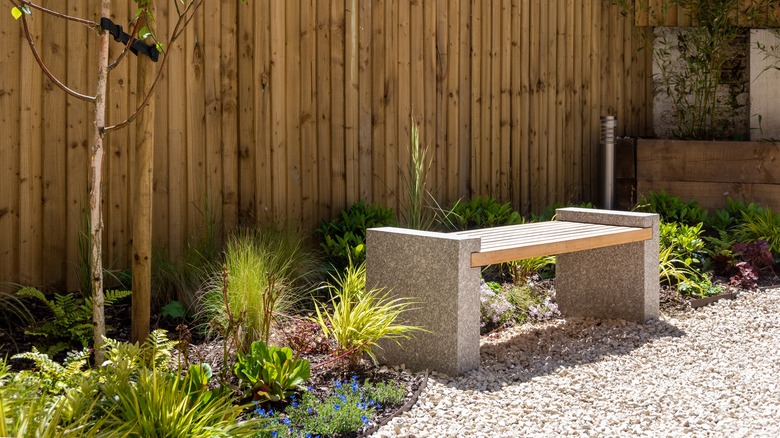 Creative Rabbit/Shutterstock
For any lovers of morning meditation and evening sun-gazing, this bench offers enough space for your meditation bowls while letting you sit comfortably in a perfect lotus pose.
3. Modern open fireplace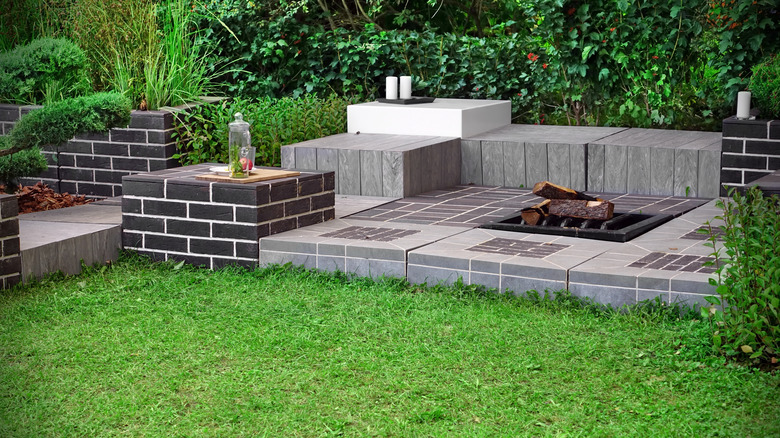 AVN Photo Lab/Shutterstock
This modern open fireplace is an awesome place to share an outdoor moment with the family after a rainy day and really only requires some minimal experience to DIY.
4. Ornamental decorative backyard
AVN Photo Lab/Shutterstock
Looks like something straight out of the movie "Harry Porter" or the back of a garden in a Disney fort, and all you need to accomplish it is a little vision and some cute garden furniture.
5. Flowers in carts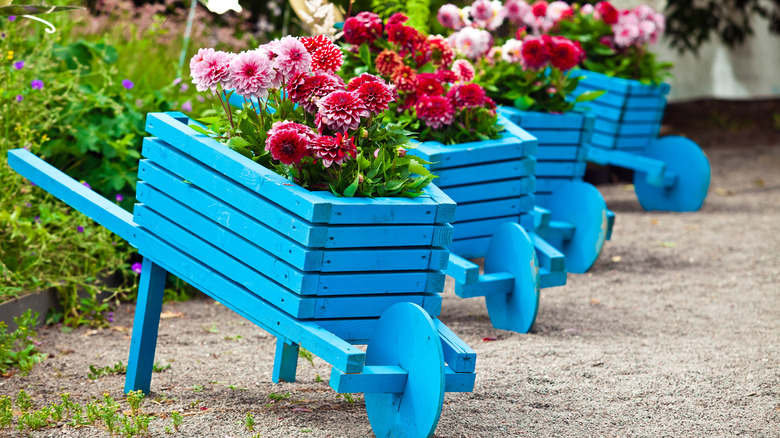 Alexander Tolstykh/Shutterstock
Display a line of blue wooden carts close to the edges of your yard and plant some of the most beautiful garden flowers in them. This is how to add elegance and color to your landscape by yourself without spending too much money.
6. Floating boots and flowers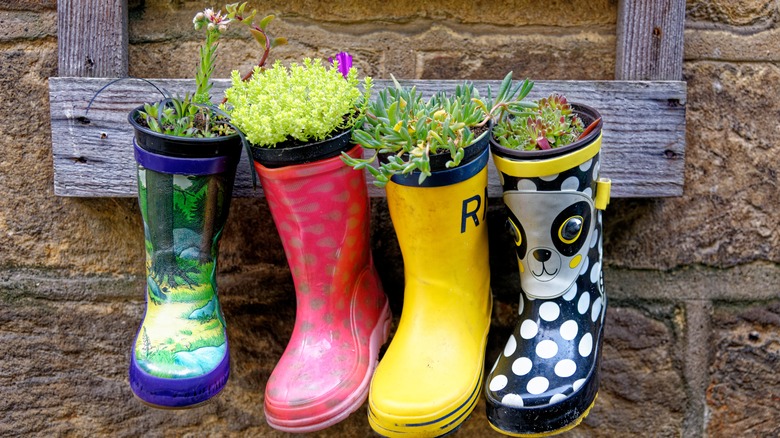 Ion Mes/Shutterstock
Do you have some unused garden boots lying around? Turn them into fancy planting compartments for small-sized flowers and hang them around your garden.
7. Recycled plastic bottles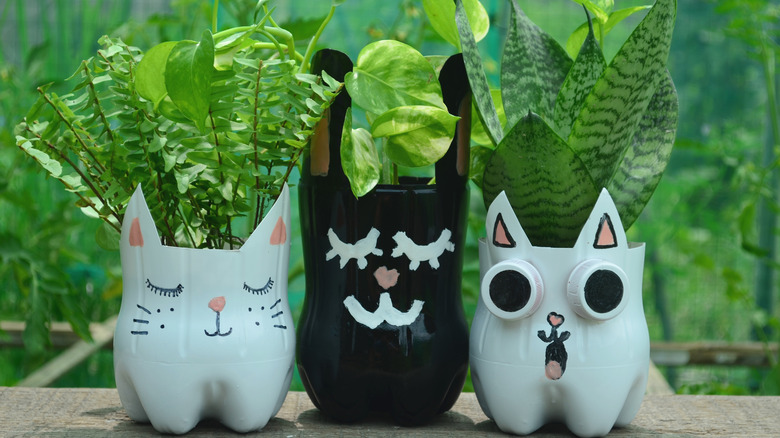 Ronny 80/Shutterstock
Give those used plastic bottles a new shot at life with this creative landscaping decor idea. This is another way to spruce up your property with flowers without using basic pots or boxes.
8. English style landscape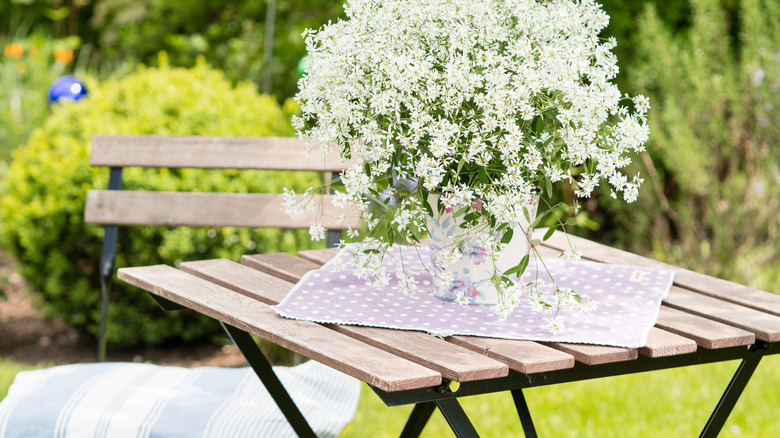 Floki/Shutterstock
Pull off a beautiful English-style space in your garden with wooden furniture pieces and bright flowers. This space is ideal for morning coffee and moments of reflection and adds some whimsy.
9. Snail sculptures on rocks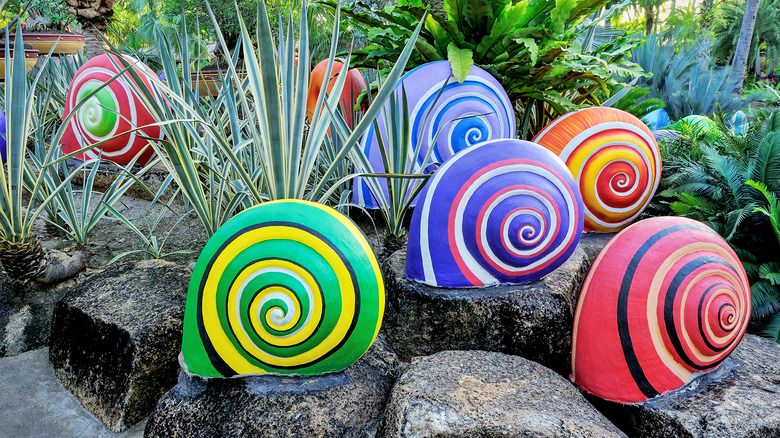 Yatra4289/Shutterstock
It's time to get crafty and creative with rocks! Your outdoor will quicken to life over and over again with these snail sculptures resting on large rocks. You can make them the centerpiece of your landscape or place them around a corner.
10. Ladders as flower stands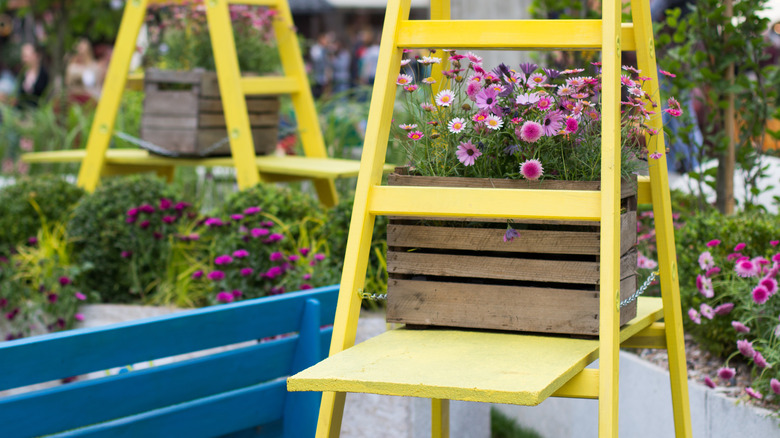 BlueHorse_pl/Shutterstock
No more boring potted flowers placed on the ground. Design these platform ladders and splash brightness unto them with the paint color of your choice. Finally, position your boxed flowers there and watch your guests commend you for your creativity.
11. Front yard brightness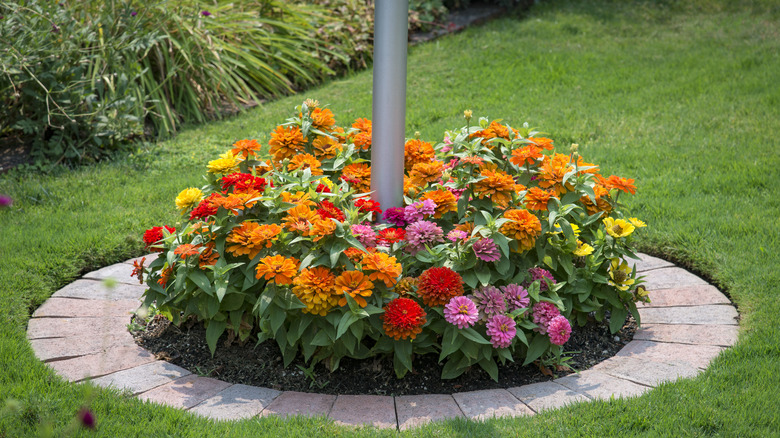 shippee/Shutterstock
Spruce up your front yard with a functional feature. Design a round demarcation of bricks, grow colorful flowers around it, and plant a lamp post there. This is how you say, "love and light" without saying it.
12. DIY patio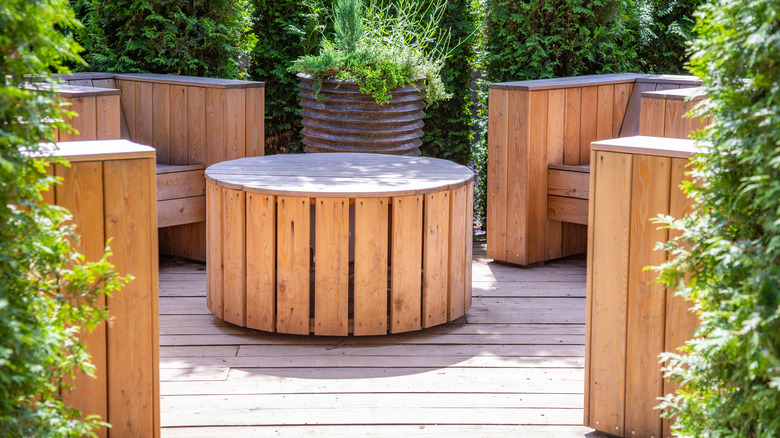 Lagutkin Alexey/Shutterstock
Manifest a patio to your taste with plain wood. Ideally, you want to choose an area surrounded by trees (for a shade) and scented flowers (if you're not allergic).
13. Wheelbarrows of flowers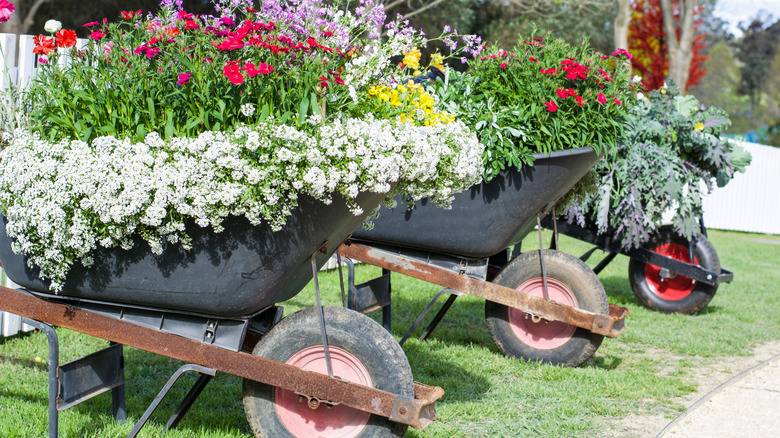 Willowtreehouse/Shutterstock
We've seen "elf on a shelf," but have you seen "meadows in wheelbarrows?" This is a beauty that you can move anywhere anytime. It allows for a flexible redesign.
14. Cutesy funny planters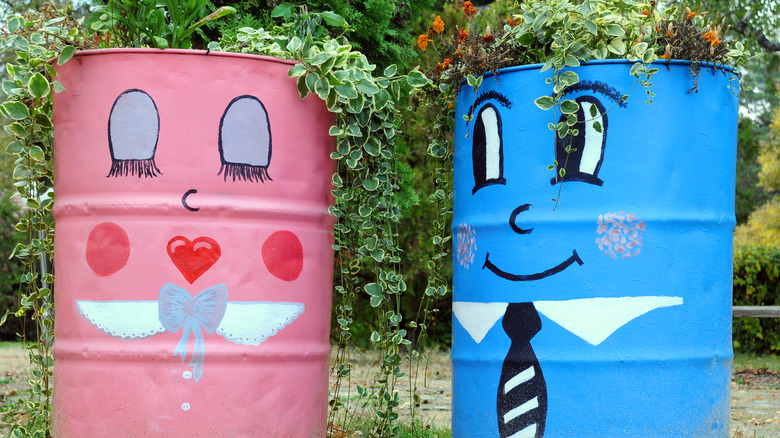 vicspacewalker/Shutterstock
Set a new trend in your neighborhood by adding a blast of humor to your landscape with these cutesy funny drum planters. Who wouldn't want to take a social media picture with these cuties?
15. A place to relax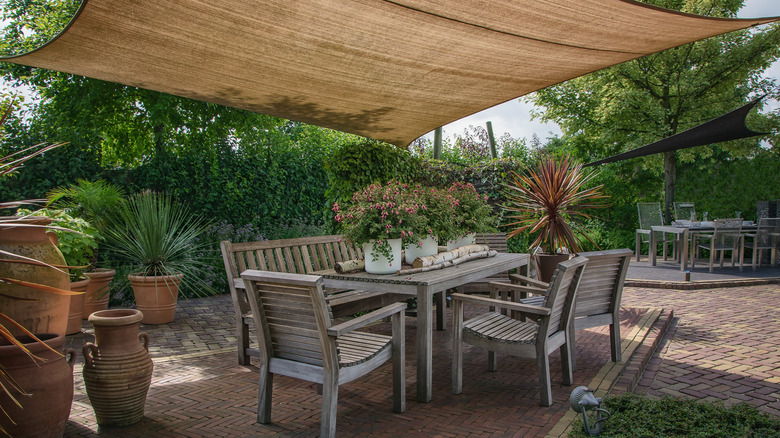 Julia700702/Shutterstock
Carve a place to relax outside with wooden furniture pieces and potted flowers. Add an outdoor kitchen to this setup to make it ready for summer parties.
16. Set up a hammock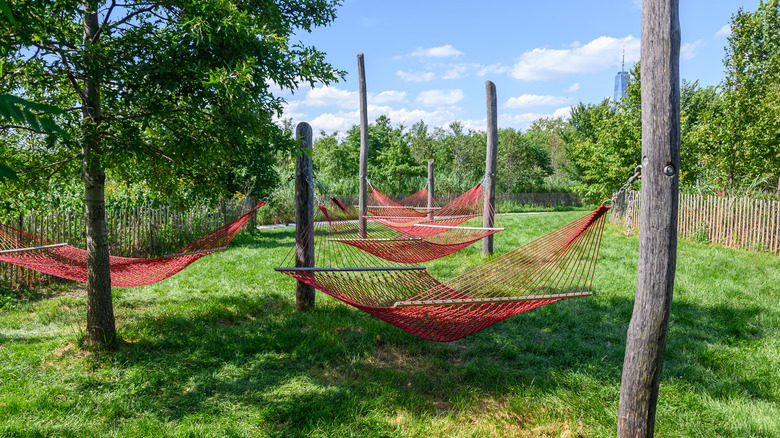 Noam Galai/Getty Images
Nothing fancy here, just you relaxing in your comfy outdoor hammock and reading Alice in Wonderlands for the umpteenth time.
17. Trendy outdoor pation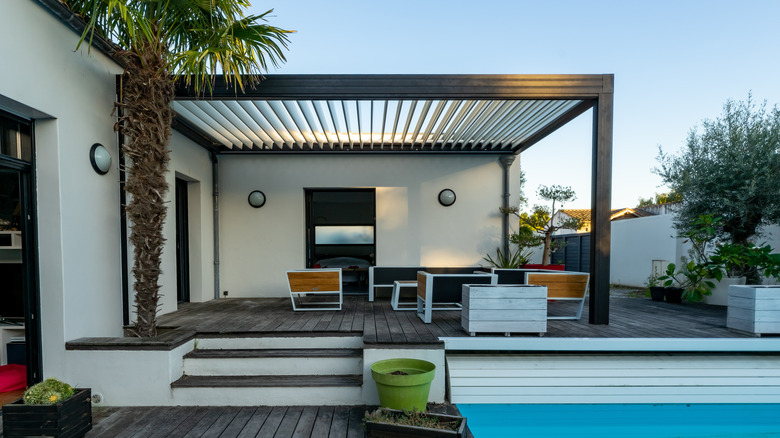 Mathilde.LR/Shutterstock
Boxed and potted plants, a swimming pool, a grill space, and a set of furniture under a pergola shade. Those are the features you need to create a trendy modern patio.
18. Cozy terrace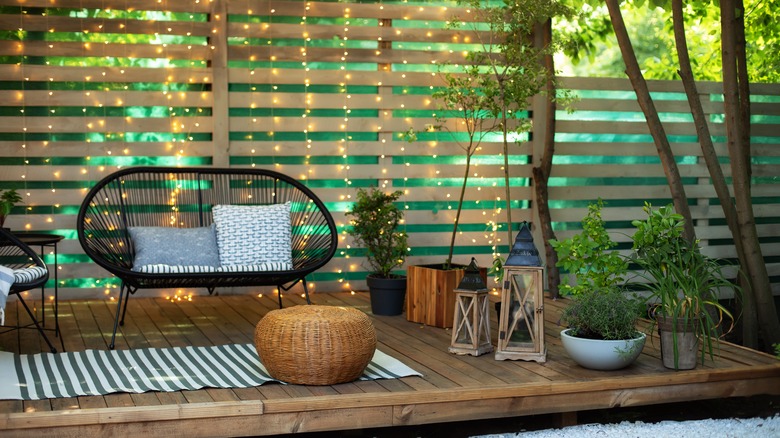 stock_studio/Shutterstock
Build a relaxation area in on the terrace in a whimsical theme. Add a yoga mat for workouts and some traditional lamps for night star-gazing.
19. A romantic space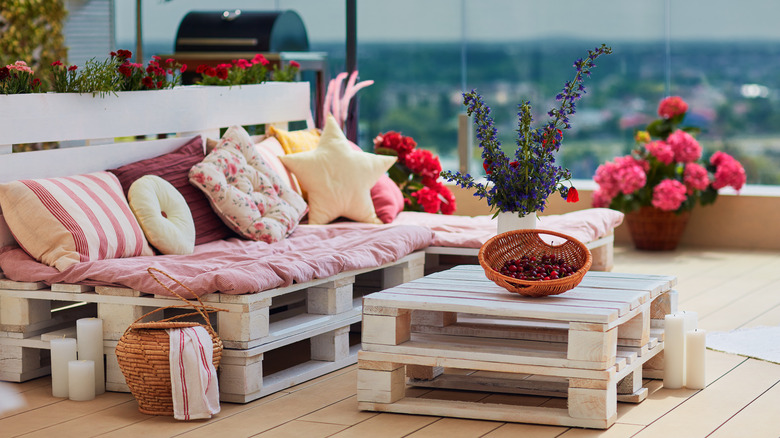 Olesia Bilkei/Shutterstock
There's probably no better space for a date night than this pink-themed patio with all its beauty. There's even a grill in the background for fresh BBQ.
20. A natural pool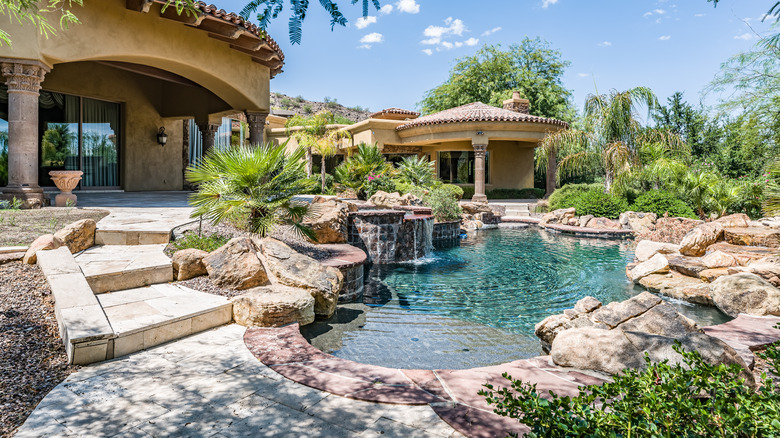 Gill Couto/Shutterstock
21. Garden patio with a hammock chair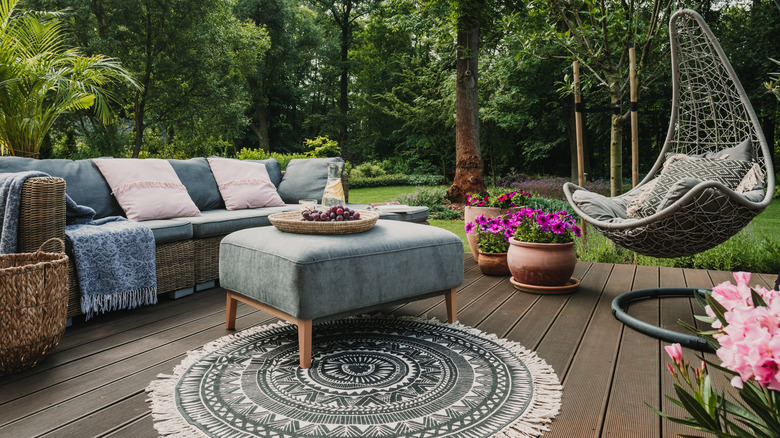 Photographee.eu/Shutterstock
Where would you like to relax in after a long day working in the garden during the weekend other than here? This garden patio, in its shades of gray, offers nothing but comfort and freshness.
22. Bikes and flowers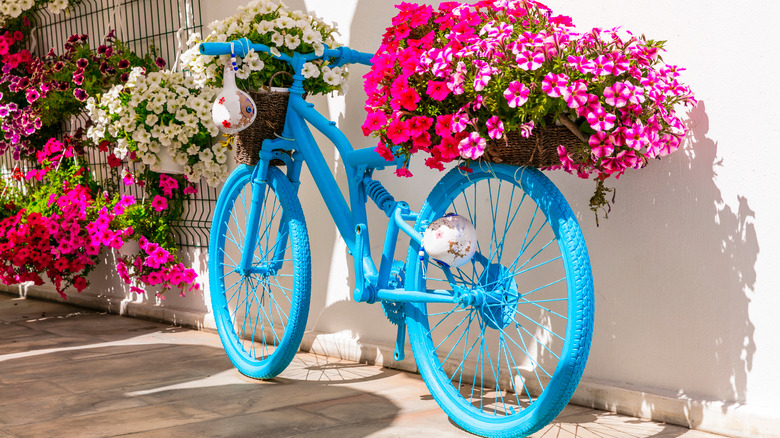 leoks/Shutterstock
Hobbyist cyclists and lovers of the sport, this is how to let your visitors know about your interests without telling them in person. Yes, those are woven baskets of flowers on a bike.
23. Kettled plants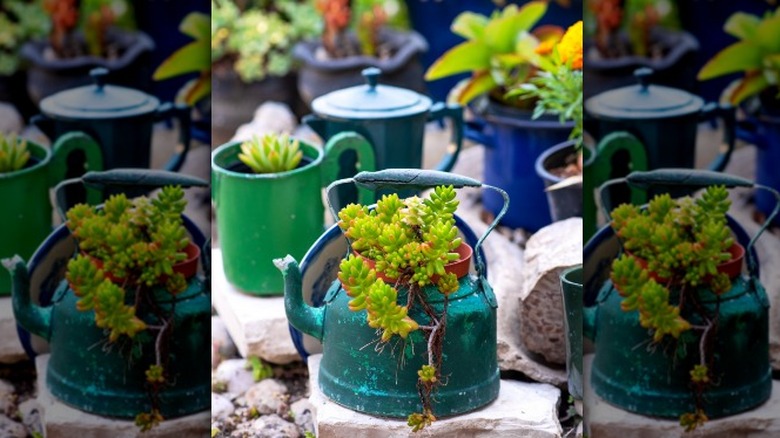 Inna Reznik/Shutterstock
What have you got? Second-hand kettles, old saucepans, or beat-up pots? It's time to let the neighbors know you're an old soul with this upcycling landscaping idea.
24. Pumpkins and flowers at the entrance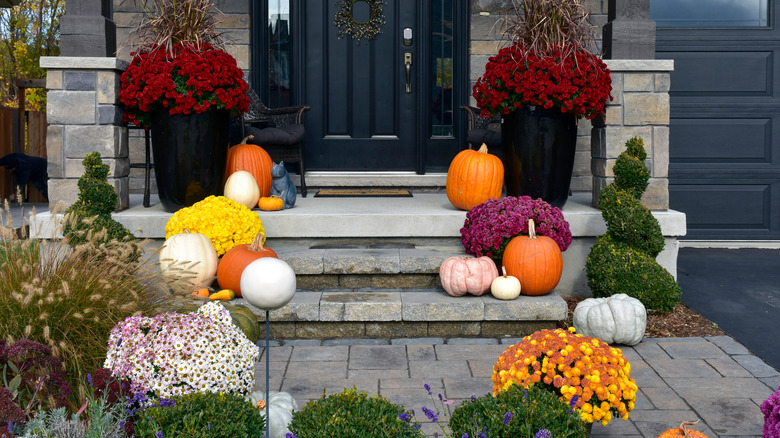 Joanne Dale/Shutterstock
The part most people often overlook when designing their landscape is the entrance to the house. But not anymore with this weird and colorful pumpkin-style entrance. Perfect when in season!
25. Exterior deck with large open gas fire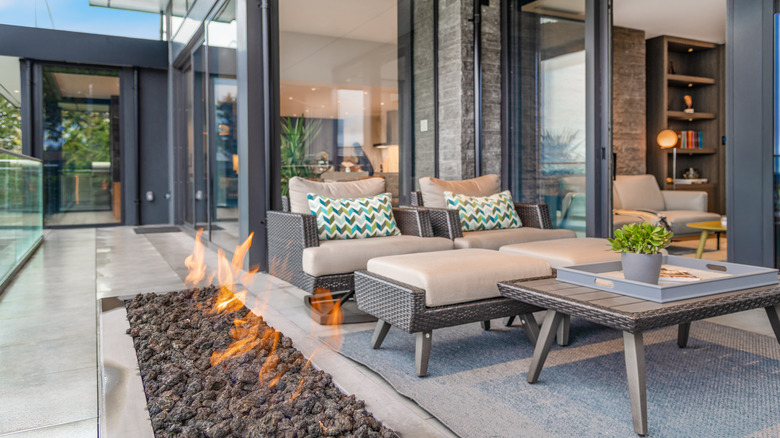 Sheila Say/Shutterstock
This part of your landscaping speaks volumes of your love for flamboyancy and good tastes. It's an awesome hangout spot for the family on a cold winter evening.
26. Screened porch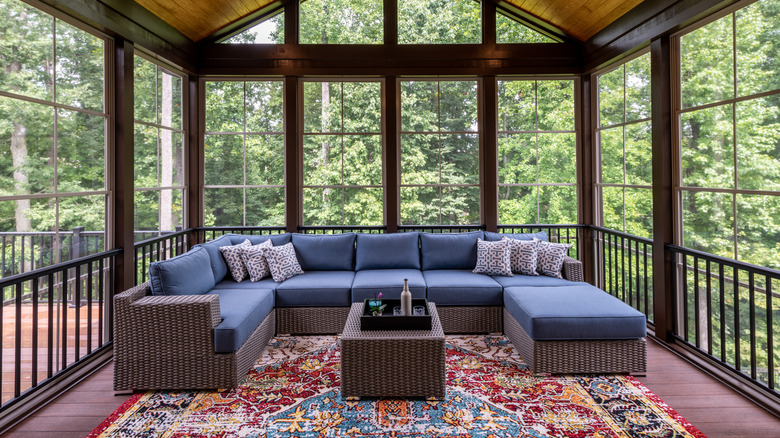 VIS Fine Art/Shutterstock
Relax in the comfy summertime furniture inside this screened porch with its floor blessed with a stylish Persian rug.
27. A freelancer's hangout spot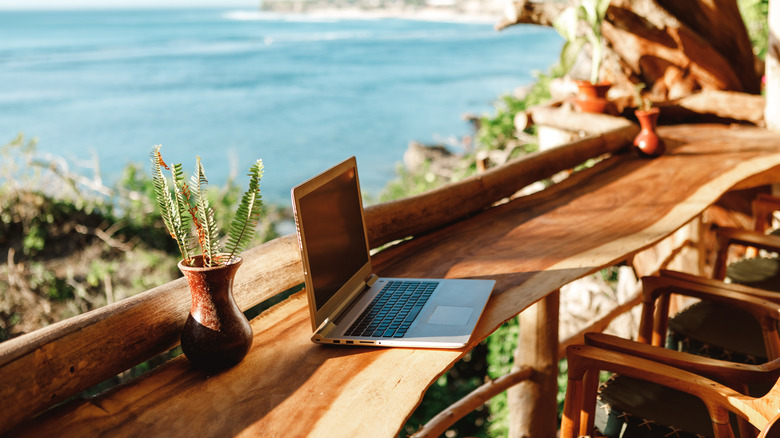 PhotoSunnyDays/Shutterstock
Work-from-home made easy, relaxing, and productive. This outdoor space idea is living proof that you don't have to spend a fortune before you can make provision for all you need to enjoy working from home.
28. French style garden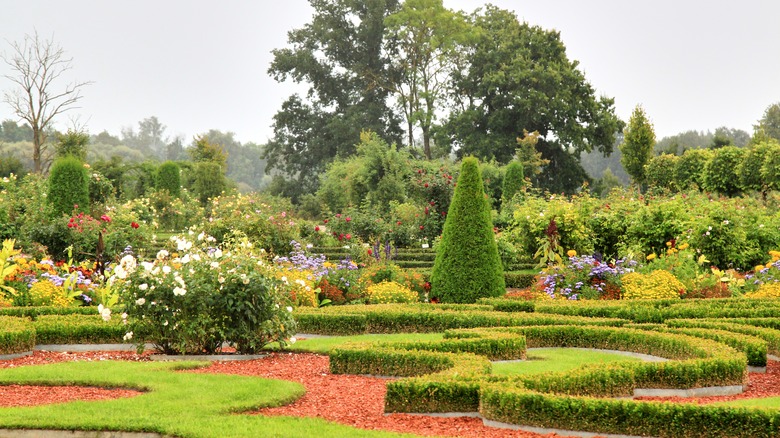 Anna-Nas/Shutterstock
Spruce up your property with an expensive French-style garden in its full glory of well-trimmed plants and meticulously selected flowers.
29. Beach theme playground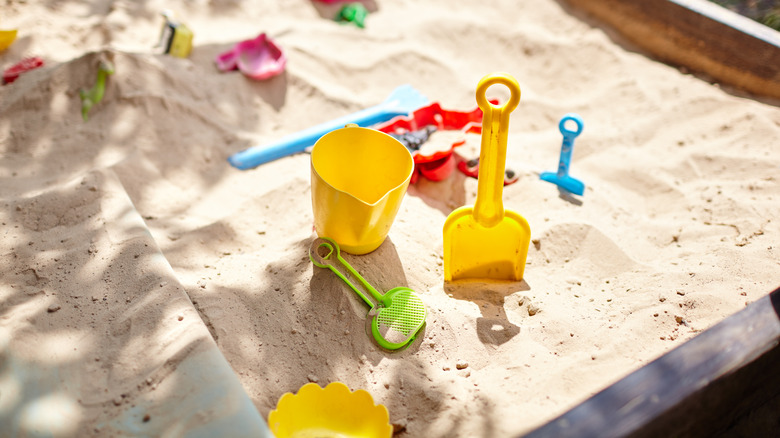 Andrii Salomatin/Shutterstock
Don't leave the kids out of your landscaping plans. Build a beach-themed playground for them by simply demarcating an area of the property with strong wood logs to form a box and filling it with beach sand.
30. A home children park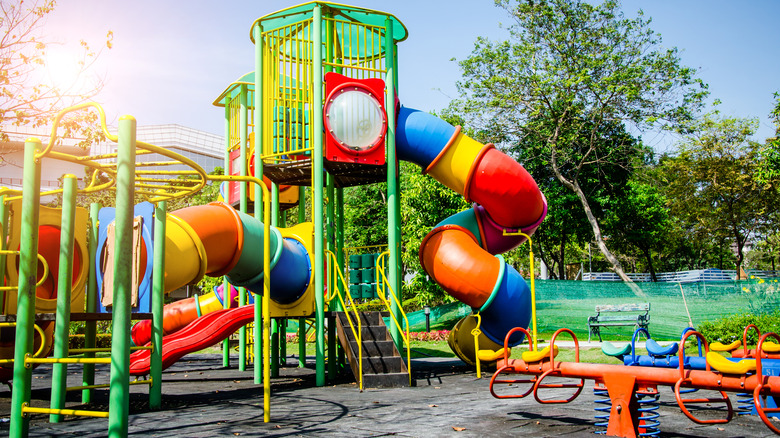 Stor24/Shutterstock
Build a mini-park at home for the kids where they can have all the fun where you can be there to make sure they are playing safe.