10 Clever Ways To Display Your Child's Art At Home
Sakharova Anastasia/Shutterstock
We may receive a commission on purchases made from links.
When a person becomes a parent, their lives change. The child becomes the center of the parent's world, and everything becomes focused on that child. Their needs, wants, and desires are now a top priority, as they should be. As a child continues to grow and becomes their own person, their needs and wants then begin to change. For some children, arts such as painting and drawing becomes a main activity in their day-to-day lives. Not surprisingly, making art is an important part of a child's growth and development as well.
According to Backlight Studios, when a child creates some form of art, it then helps the child's ability to interact with others around them and the world as a whole. It also helps to provide a variety of new skills, furthers communications, and allows for self-expression. Some of the many skills that a child could potentially develop include problem-solving, social, emotional, fine motor, and communication. Each of these plays a critical role in the child's life as they grow, and art is a great way to help enhance these skills. Clearly, children should be creating art as often as possible. But, what is a parent supposed to do with all this art? Here are a few ideas.
1. The classic fridge art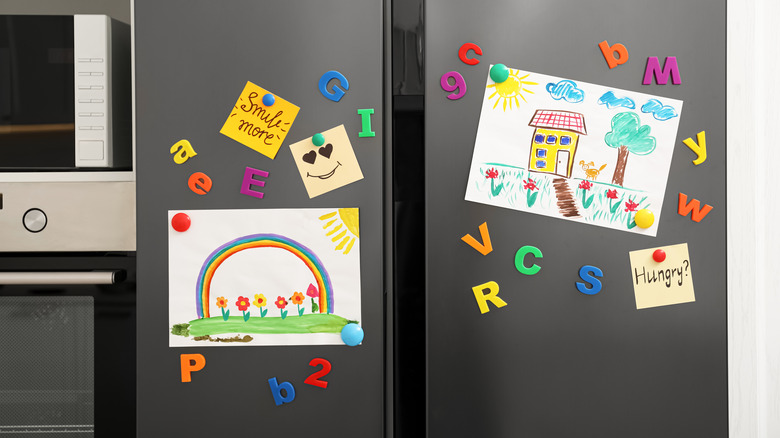 New Africa/Shutterstock
First on our list is a classic and simple idea: the refrigerator. It's super easy to just take a drawing or painting your child created and attach it to a magnet on the fridge. Depending on the location of the fridge, you can either attach the art to the front or on the side. This idea is also easy to rearrange and add and take away as much as you desire.
2. Hallway curtain rod
Next is a unique and potentially unheard-of idea. This is a simple DIY that can be done in a matter of minutes. Taking an unused curtain rod and installing it on a wall can be another way of hanging up your child's art. You can take the art, punch a small hole into it, and place a ring in the hole. You can then take that ring and place it on the curtain rod. Now you have tons of room to flip through your child's art.
3. Wall collage
The next idea on this list is also another simple and imaginable idea. Creating a wall collage takes very little effort and time. Additionally, this can be made with a variety of art that comes in many shapes and sizes. It's customizable and can be located in many different rooms. You can also add other decor to this idea as well, such as fairy lights or family photos. This is a memorable project that can work with a variety of children of all ages.
4. A potential puzzle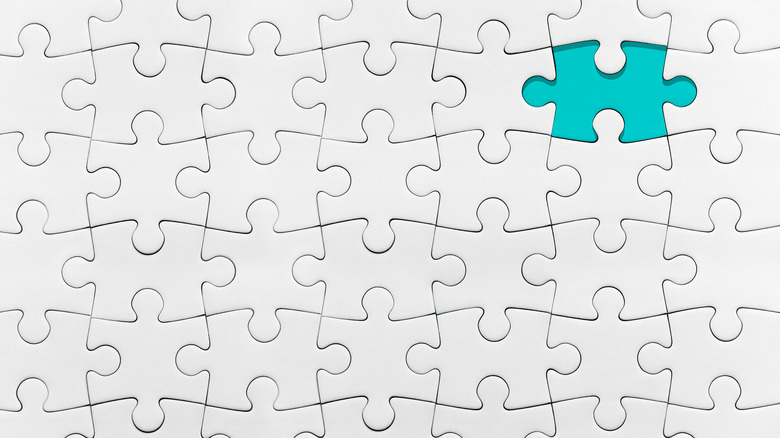 canbedone/Shutterstock
This idea, while cute, isn't as simple. You can take your child's photo, upload it online, and have it printed out into a puzzle. There are many sites that do this, such as Shutterfly or Collage. This cute idea can be turned into a fun family game night as well. This can also be a hard but fun DIY as well.
5. Clipboard wall mounted shelf
Another unique yet simple idea is to create a clipboard shelf that mounts to the wall. This, of course, is a DIY project, and you only need a few materials. Grab the same amount of clipboards for how many pieces of your child's art you want to display. Take off the clip part from the clipboard and then install it on a long piece of board. The board can then hang on the wall.
6. Photo book
A photo book is our next idea. Of course, like with most ideas, this can be a DIY project as well, but it may prove to be simpler by doing so online. Sites such as Shutterfly and Snapfish are great sites to use that won't break the bank. Furthermore, a photo book is portable and can be taken anywhere at any time. These make for great gifts as well.
7. Basic cork board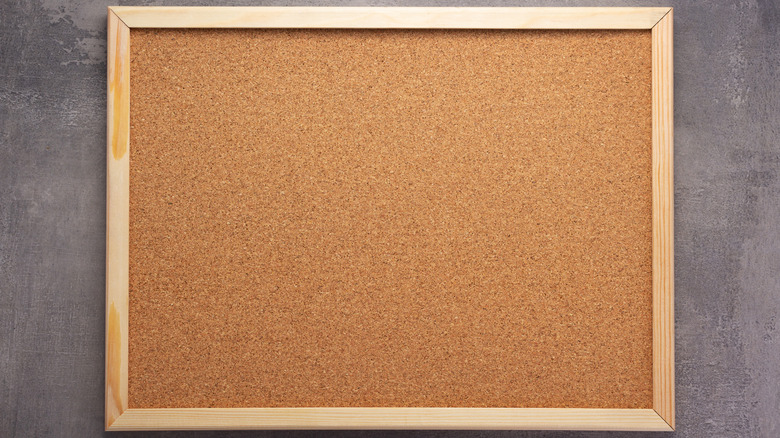 Seregam/Shutterstock
A standard basic cork board is another idea that requires minimal effort. All you have to do is take a drawing or painting your child created, either a push pin or thumb tack, and place it on the board. You can also overlap these as well if there is a lot of art that needs to be displayed. Cork boards and pins can be found at a variety of places, including Walmart or Target.
8. A simple frame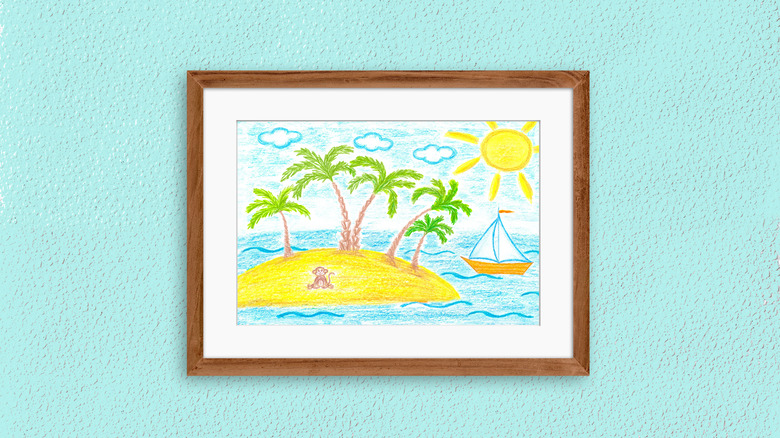 Sun-Flower/Shutterstock
It doesn't get much simpler or easier than a frame. Framing your child's artwork is extremely cheap and can preserve the life of the art. A frame also looks great in many rooms and areas of a home. The frame itself can also protect the art from dust and dirt that homes accumulate. This is something that can be passed down from generation to generation as well.
9. String of art
Similar to a clipboard wall shelf, a string that hangs the art is a simple DIY project as well. All you need is some string and clips. That's it! Carefully hang the string on the wall and attach the clips onto the string. Then you can add the art to the clips. You can also move these clips around if there is a lot of art you want displayed.
10. Shelf display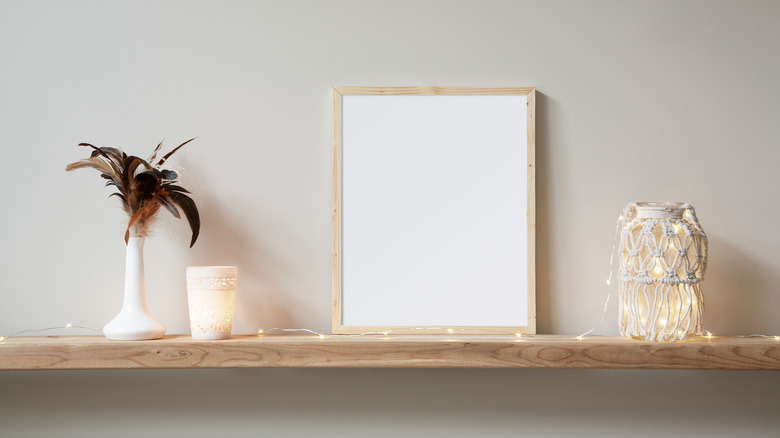 Sarah_Leanne/Shutterstock
Lastly, displaying your art on a shelf is the most basic way to go. Sometimes, the basics are better. This can be true when displaying art of any kind. You can either put the art in a frame or some kind of protector, or you can leave it as it is. Other decor such as candles or plants can be displayed on this shelf as well. This idea is completely customizable and can harbor any aesthetic.