Bargain Block's Best Tips For Creating Sophisticated Looks On A Budget
One of the things just about every homeowner or renter is interested in knowing is how to create a high-end look in their space without the hefty price tag. There are countless DIY projects that transform somewhat basic items into much more luxurious pieces, as well as many ways to make a major visual impact in a relatively inexpensive way. No one knows this better than Keith Bynum and Evan Thomas, the talents behind the new HGTV show "Bargain Block."
While many HGTV talents who are known for fixing up spaces and transforming them are working with budgets of hundreds of thousands, Bynum and Thomas are renovating homes around Detroit where the total money flowing is a much smaller amount. They frequently buy houses for just a few thousand dollars, which they then transform and sell for a profit. However, just as the price they purchase the homes for is much lower than the norm, the amount they have to spend on renovations is likewise not an astronomical sum. So they really have to get the most bang for their buck — and they've shared a few of their go-to tips and tricks with Realtor.
The first is a bit of a departure from what many home flippers do — while it's common to tear out or paint dated wood, as The Decorologist explains, Bynum and Thomas assert that if the lighting in the home allows for it, natural wood tones can actually help you achieve a high-end look.
More tips from the pros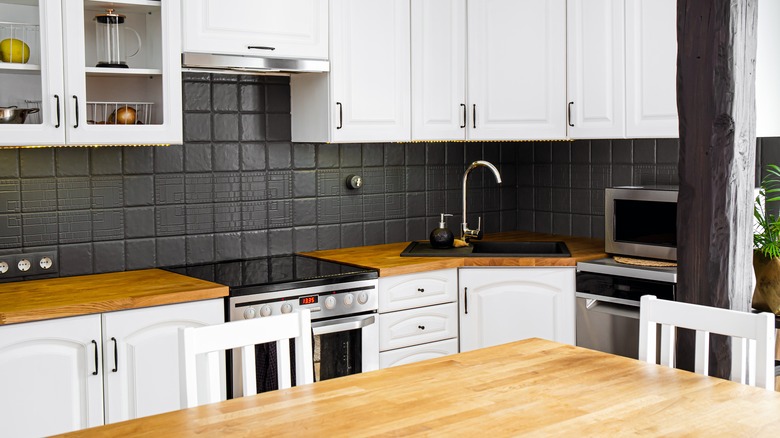 FotoHelin/Shutterstock
If you decide to either paint wood cabinets or work with already painted cabinets, Keith Bynum and Evan Thomas have another tip for you, per Realtor, although a warning that it may not be the best for high-end modern looks, instead serving those trying to achieve a French country or farmhouse aesthetic. They suggest distressing the paint a little to give the cabinets a bit of extra character — it's an easy way to add a little visual interest with virtually no additional cost.
The kitchen is one of the primary areas that home flippers focus on because everyone wants a stunning, spruced-up kitchen. Bynum and Thomas suggest not automatically selecting materials like marble and other expensive stones for countertops. Instead, they recommend butcher block as a great choice that delivers a chic look for a much lower price tag. Cork is another cost-effective material that helps achieve a high-end look without needing a high-end budget.
And, if you have any leftovers from your various DIY projects, Bynum and Thomas have another great tip — repurpose those items to create a few unique design details that will set your home apart. For example, in one house, Bynum and Thomas used the ends of leftover two-by-fours to create a feature wall. Whatever scraps you have can likely be used in a DIY project that will make a splash.