The Hidden Downsides To A Built-In Fridge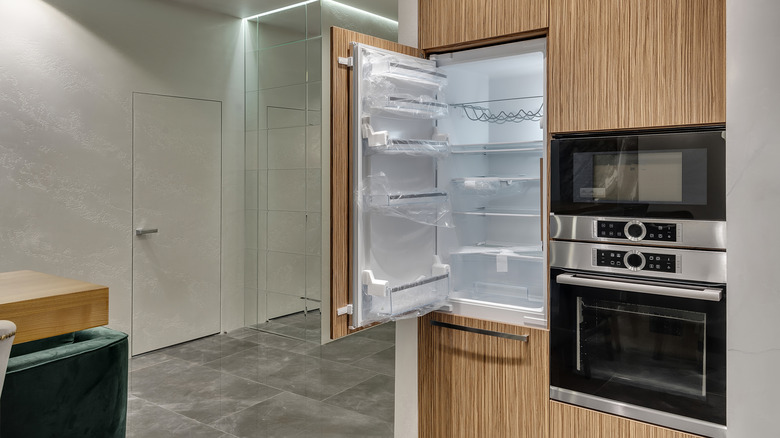 flywish/Shutterstock
When remodeling your kitchen, there are a few things you'll want to consider. Of course, you'll want to keep your budget in mind. Some other important considerations include storage space, materials, and, of course, aesthetics.
If you've researched different modern kitchen designs, perhaps you have come across built-in appliances. This trend has grown in popularity over recent years, and it's not hard to see why. Most people don't love the appearance of their bulky appliances, even when they're made of stainless steel. Building your appliances into your cabinetry will give your kitchen a seamless look that's sure to elevate the aesthetics.
The biggest and (some would argue) most important appliance to consider having built-in is the refrigerator. Of course, a built-in fridge does come with some benefits in both appearance and functionality. However, to avoid making any mistakes when buying a fridge, you should also consider the hidden downsides of built-ins.
The benefits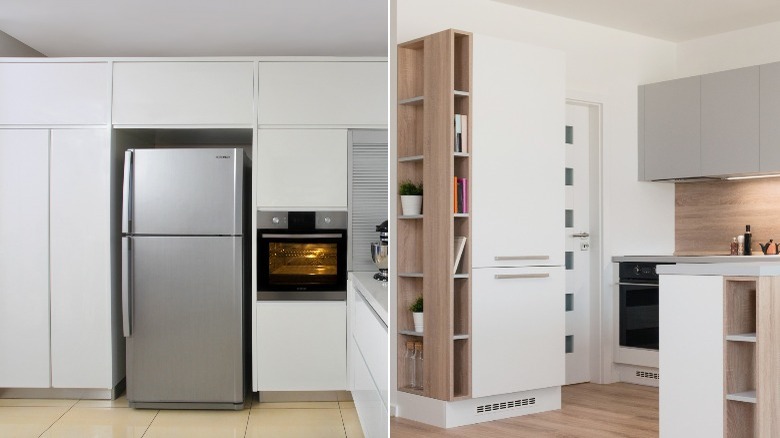 Ventura & RUSSO PHOTOGRAPHY/Shutterstock
The biggest benefit to a built-in fridge is probably the appearance. For many, freestanding refrigerators look bulky. Also, since freestanding fridges aren't custom-made for their space, they may not perfectly fit your kitchen. This could leave you with extra space around your fridge, creating an unfinished look, per Tops Cabinet. If you choose a built-in refrigerator, however, the appliance will be custom built into your kitchen, which will look more luxurious. Also, built-ins allow for more freedom in the location of your fridge. While the best place for freestanding fridges may not be the most convenient place for cooking, you decide exactly where to place your built-in, per Appliances Connection.
Another benefit of buying a built-in is the size. Some have incorrectly assumed that built-ins have to be smaller in size than freestanding fridges, per Home Advised. However, the opposite is true. While freestanding fridges are typically 36 inches wide maximum, built-ins can reach 48 inches wide, per Kitchn. Finally, according to Tops Cabinet, a built-in fridge will last longer than a freestanding fridge. This is because built-ins allow for more thermal insulation, per Home Advised.
The downsides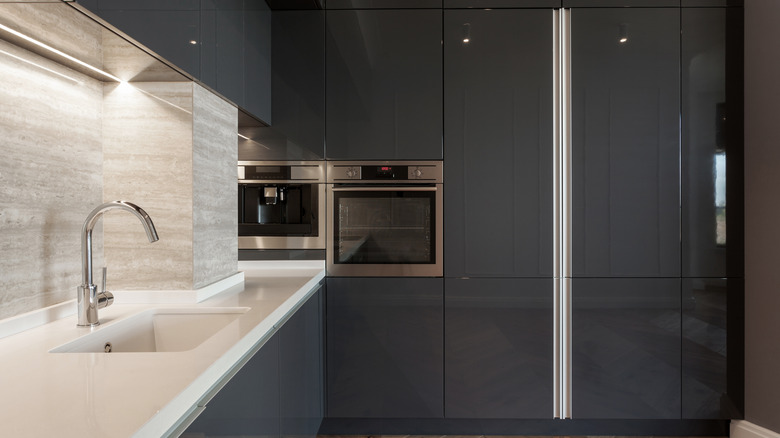 brizmaker/Shutterstock
However, with all this said, there are many downsides to buying a built-in refrigerator. To begin, built-ins may take up more space, even if you choose a smaller design. This is because a built-in has to house a fridge and an extra insulating layer, per Home Advised. If you're tight on space in your kitchen, a built-in may not be the best option for you. Additionally, while built-ins may be broader, they're usually not as deep as freestanding refrigerators.
It's also tricky, and sometimes impossible, to move a built-in refrigerator. This can cause problems for several reasons. For instance, if your refrigerator needs maintenance, it could be more difficult to fix. Cleaning your fridge can be more difficult, as it can't be moved as easily as a freestanding fridge, per Home Advised. Additionally, if you decide that you want a different design, replacing your fridge will be a hassle. And, when choosing the right fridge for you, built-ins have fewer options overall than freestanding models.
However, the most important downside to consider is the cost. Kitchn explains that built-ins cost way more than freestanding refrigerators (like, thousands of dollars more) because they have to be professionally installed. While a super luxurious freestanding refrigerator could cost $2,000, built-ins usually start around $5,000. If you're on a tight budget, a built-in fridge may not be in the cards.