30 Window Seat Ideas That Will Add Extra Seating To Your House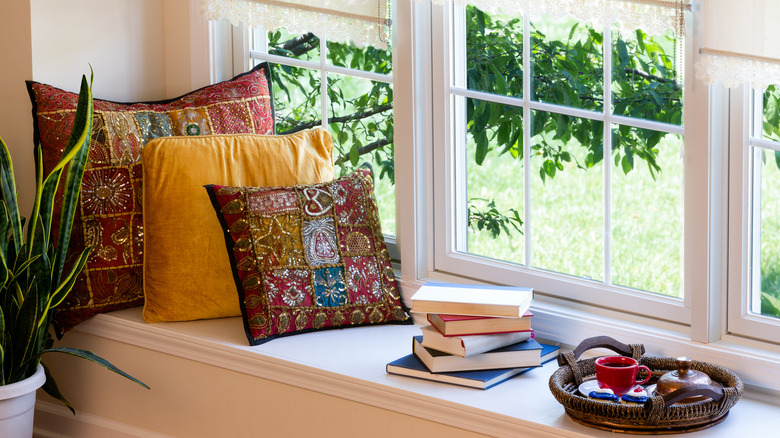 Ozgur Coskun/Shutterstock
There is something attractive about the idea of having a seat by the window. Everyone dreams of coming home from work and cozying up by the window with a cup of hot coffee. Carving out a seating bay near the window is an excellent way to make your home more functional. There are plenty of ways you can install a sitting area by a window regardless of the existing space. You have the option of going for a bench, a love seat, or even a stuffed and cozy armchair if you love extra comfort. It is also worth mentioning that a seat by the window comes with plenty of other benefits other than creating an extra sitting area in your house. 
According to Architecture Art Design, the addition of a seat on the window gives you an extra storage area for different items like extra linen or even books, especially on seats with open shelving. Other than that, a seat by the window is an opportunity to also improve the aesthetic appeal of that particular room. In case you are wondering how to implement a seat by the window design in your home, here are a few ideas to get you started.
1. Cozy reading nook
This example is a clear demonstration that even a tiny room can be converted into a functional space. This space features a bench by the window and also a shelf where you can display your impressive collection of books. The huge window brings in enough natural light that is ideal for reading. You can also use the extra drawers as storage for other items as well.
2. Bay window seat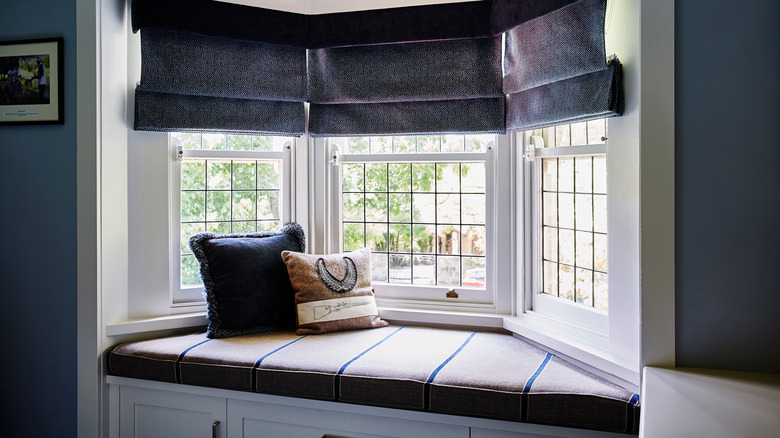 PhotoMavenStock/Shutterstock
The unused space in the bay window area is an excellent idea for installing a sitting area by the window. In such a space, a banquette seat with extra cushioning is enough to transform this idle space into a comfortable window seat in your home. For extra comfort, include two throw pillows and a blinding curtain for when you nap and don't want a lot of light. While this idea is amazing, it only works for homes with an inbuilt bay window design.
3. Hammock seat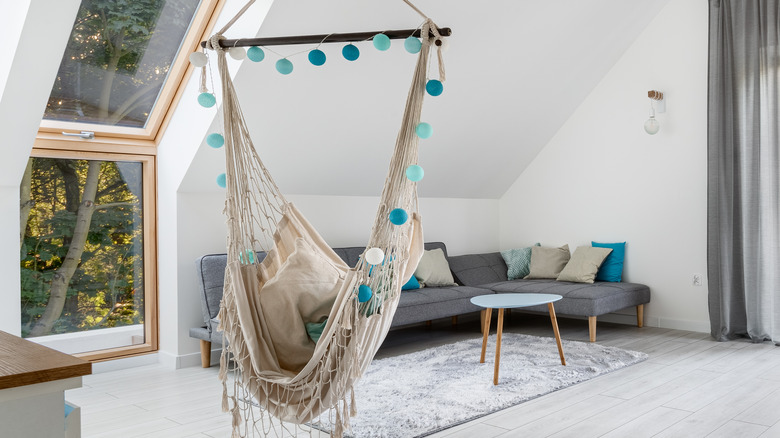 Dariusz Jarzabek/Shutterstock
What better way of literally hanging out by the window of your attic other than on a hammock chair. A hammock seat is an unconventional choice that also adds a tone of personality to whatever room you install it in. This particular seat was made with comfort in mind and features thick padding that is comfortable enough for you to hang around sipping on a cold ice tea in the summer. 
4. Restaurant-style dining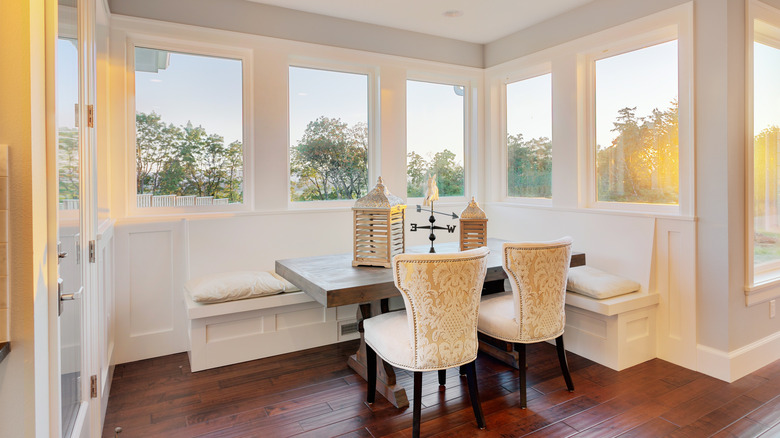 Breadmaker/Shutterstock
Combine an inbuilt wall bench, a dining table, and two dining chairs and you have yourself a proper dining area with some bright natural light. This design is practical for larger homes with a dining area in a separate room. Since the inbuilt bench can be quite uncomfortable, this dining space features benches with white pillows for a comfortable dining experience. The wall bench is long enough to provide a sitting area for four people.
5. Loveseat by the window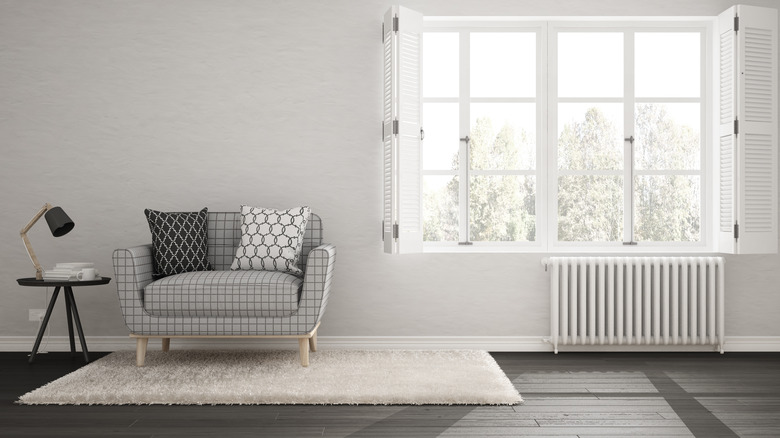 Archi_Viz/Shutterstock
Thinking of implementing a seating area for two under the bright natural light from the sun? Consider bringing in a loveseat similar to this Scandinavian one. This couch is the perfect balance between style and comfort. It is a modern piece of upholstery that will add an urban vibe to whatever room you place it. In this example, the rug adds texture and also makes this spot on the wall comfortable. The small coffee table adds extra function to this sitting area.
6. Surrounded by windows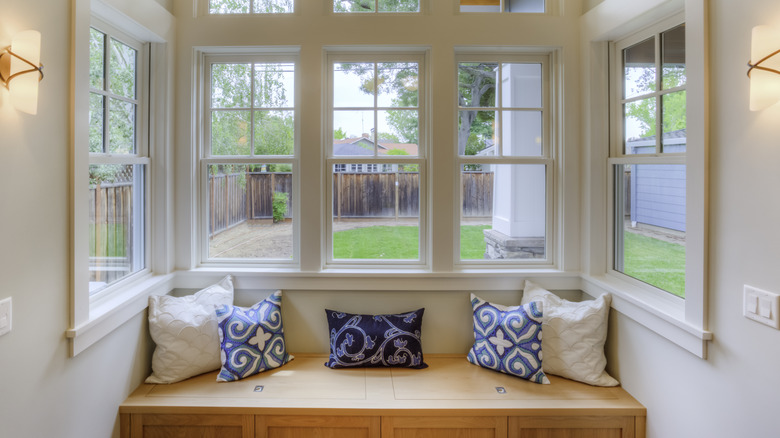 Krista Abel/Shutterstock
Deciding what to do with a narrow room is often easier said than done. However, if the room has several wide windows, then consider converting it into a beautiful seating area. This particular example features a simple wooden seating area that also doubles up as extra storage space. The throw pillows with different patterns add comfort and style to the space. If you need to use this seating area at night, adding a few lamps will be ideal.
7. Stylish storage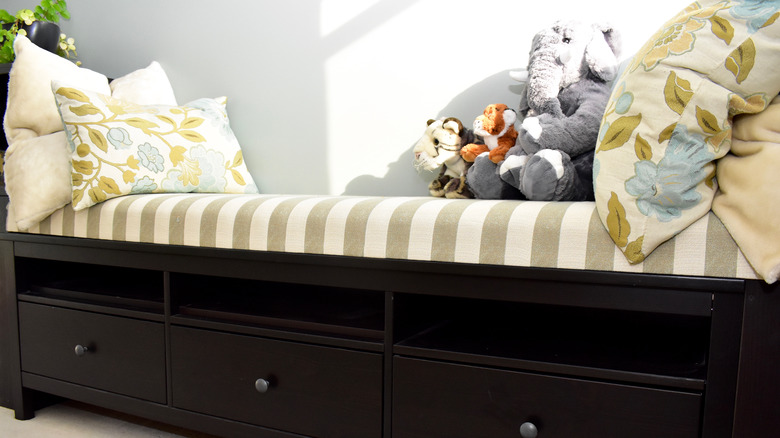 Klem Mitch/Shutterstock
Storage space in any household is never enough, and one brilliant way of adding more storage is by incorporating it into your window seat. The window seat in this example has three drawers and three smaller open shelves for stashing items for easy retrieval. This furniture is ideal for a children's play room because of the extra storage for all their toys and books.
8. Hanging chair
A hanging chair is a structured alternative to a hammock seat that you can easily install near a wide window in your home. A hanging chair will need some room to swing and is, therefore, not ideal for extra small spaces. The chair in the example above is as comfortable as they come. It is curved to the inside, creating enough room for you to snuggle and get comfortable. You can style it however you want by introducing throw pillows with nice patterns.
9. Wooden comfort
Break away from the conventional inbuilt window seats and bring in this dynamic wooden duo in front of your living room window. This setup features a wooden loveseat, a stylish armchair, and a small coffee table to make the space more functional. The loveseat has thick padding and three throw pillows in different colors for both comfort and style. The warm wooden tone in this tiny living room is emphasized by the furniture and window blinds.
10. Mini working station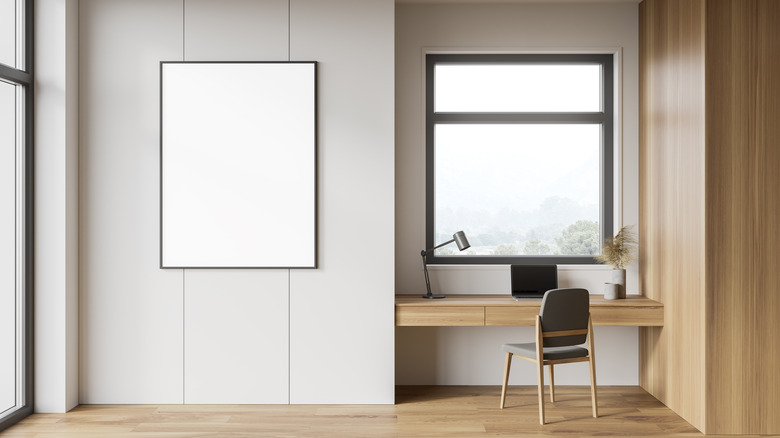 ImageFlow/Shutterstock
Strategically placing your home working station near the window creates a working nook that is ideal for creativity and productivity. To turn such a funky spot into a functional working station, you need to install a floating shelf that fits right into the window area and add a comfortable chair. However, you should realize that such awkward spaces will need custom-built furniture. Standard commercial desks might not fit into the space.
11. Sleeping loft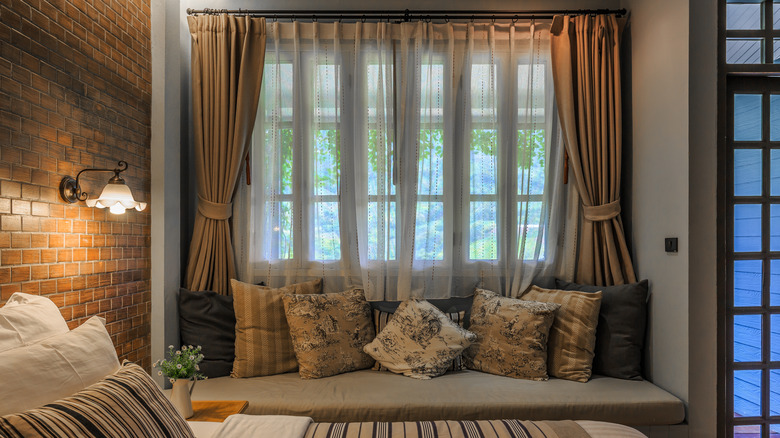 Avigator Fortuner/Shutterstock
Do you need extra sitting space in your bedroom? Consider installing a comfortable window seat that can also double up as a mini sleeping loft for one extra person. Such a large sitting space by the window can serve as a private and cozy reading nook or a place for you to unwind and relax before bed. You can use the bedside stand as a mini coffee table for placing a cup of coffee or a book whenever necessary.
12. Dormer window seat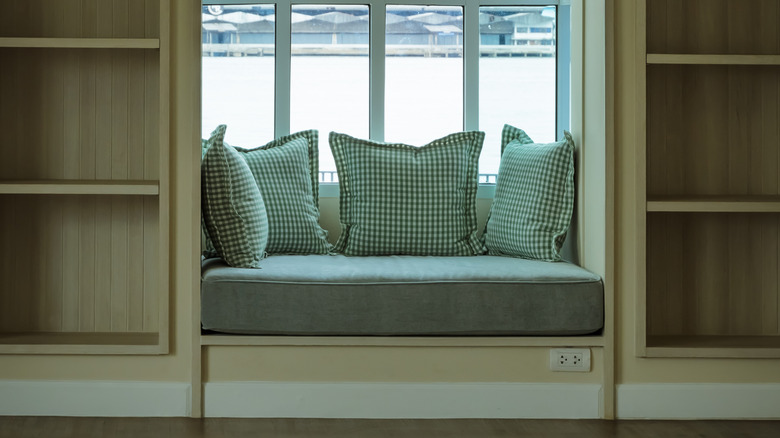 nicepix/Shutterstock
Wondering what to do with the tiny space behind your dormer window? Carve a small window seat right in this awkward space. This example features a comfortable window seat with thick cushioning and several throw pillows for lengthy and comfortable lounging. If you are an avid reader, you can display your book collection on the shelves. 
13. Tiny corner seat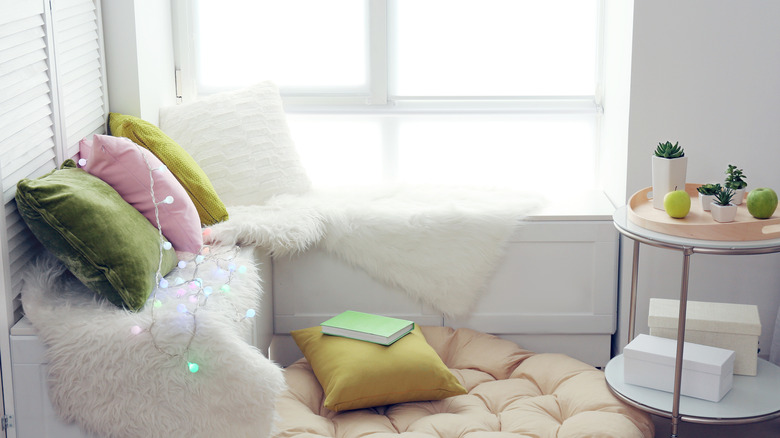 Africa Studio/Shutterstock
Cozy up the tiny window corner in your kid's room with texture and color. You don't need too big a space to create a comfortable sitting area in your kid's bedroom. In this particular example, the fluffy rug, a sitting spot with thick cushioning, and different colored throw pillows add style and comfort to this tiny space. To make this spot extra special and functional, add a few decorating lights and a tiny rolling tray for holding small items.
14. Dreamy window seat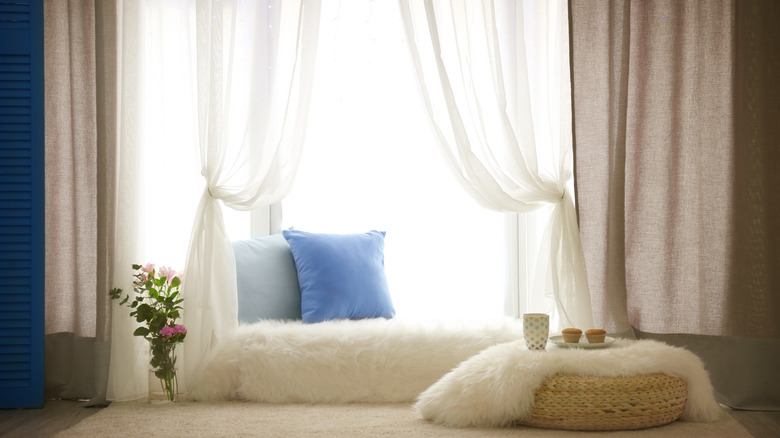 Africa Studio/Shutterstock
There is something about the combination of texture and bright white color that converts even the tiniest spaces into a beautiful dreamy spot for relaxing and unwinding. Recreating such a setup in your home is quite easy — place a white fluffy rug by a window bench along with a textured throw blanket and a stylish coffee table. The white window curtains allow in just enough light for an overall dreamy appearance.
15. Rustic meets minimalistic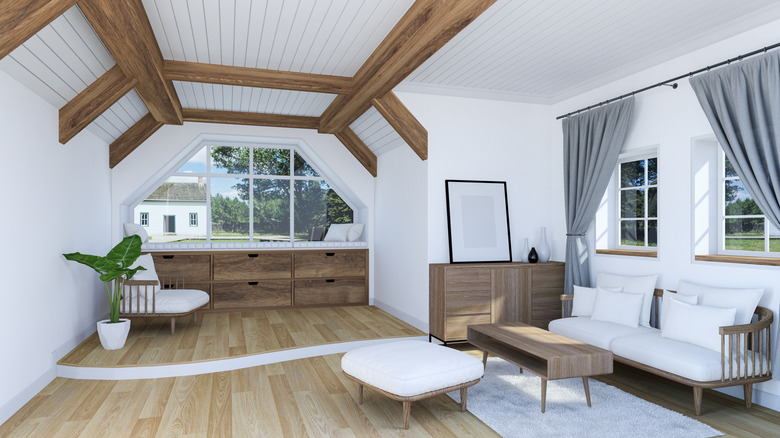 Nathapol Kongseang/Shutterstock
What better way of adding more seating area to your minimalistic living room than installing a long window seat that also matches the interior color palette? In this example, the split level flooring creates a separation of the living room from the sitting area near the window. The sitting area features a comfy wooden armchair and wooden cabinetry that also moonlights as a sitting surface. The wooden theme remains consistent throughout the living room, creating a classy rustic style.
16. Daybed nook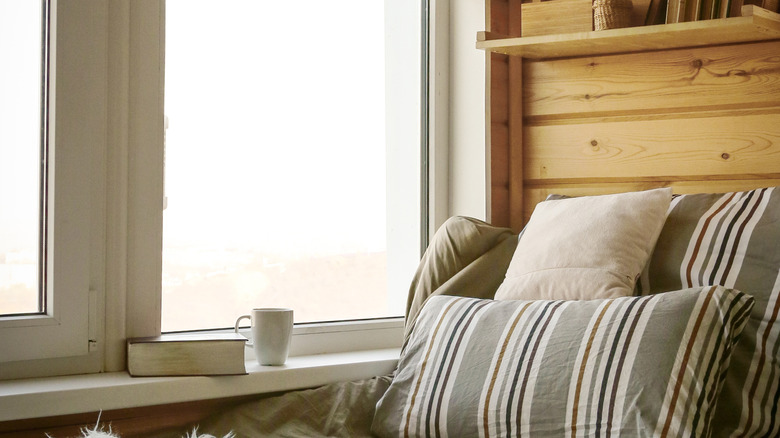 natalia pak/Shutterstock
Never pass on the idea of incorporating a day bed that will also serve as a reading nook in your house. This particular design is perfect for snuggling and getting lost in a good book. The floating shelves are placed strategically above the space for easy access and retrieval of books. Also, the window ledge board extension gives enough room for placing cups and other smaller items. The matching vintage curtains and throw pillows can always be changed to suit any interior decor.
17. Cupboard window seat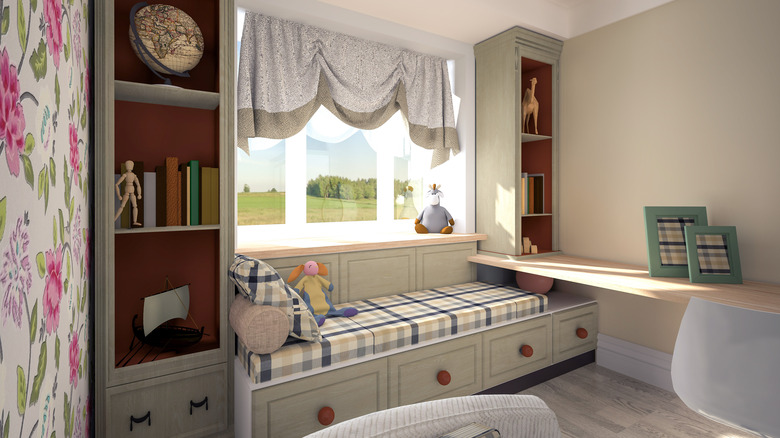 Belskih/Shutterstock
Instead of putting a full cupboard that will block the light from the window, consider this particular setup. This example involves two small cupboards with open shelving on the sides and a comfortable window seat right in the middle. The window seat features extra storage at the bottom for extra functionality. The cushioning color pattern remains consistent with other interior furniture to add style to this particular room.
18. Simple idea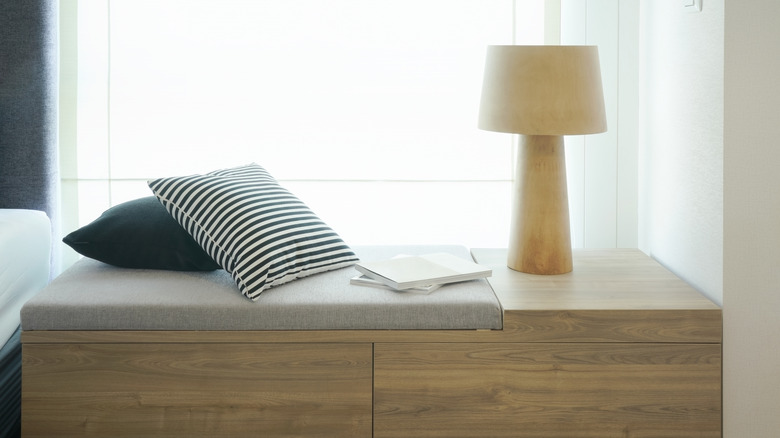 WorldWide/Shutterstock
Creating a small intimate sitting area by the bed can add comfort and sophistication to your bedroom. This simple bedside sitting area by the window also serves as a bedside stand. It is partitioned into two surfaces: one part with a comfortable sitting area and the other half has a solid wooden surface for the lamp. It is an ideal reading nook for any book lover with limited space in the bedroom.
19. Comfortable Papasan chair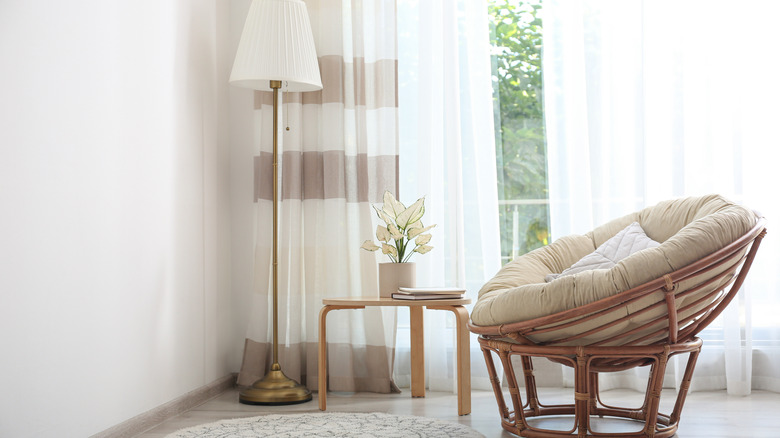 New Africa/Shutterstock
Enjoy the views from your window on this comfortable and unique piece. A Papasan chair is not just a regular chair sitting by your window. It adds a tone of style and personality to your space, not to mention the comfortable lounging experience. Place a rug at the bottom to add a homely vibe to the space and a small coffee table for your books and a cup of coffee. You will need a lamp if you need to use this space during the night.
20. Lounging window seat
Wilm Ihlenfeld/Shutterstock
You don't need to have an inbuilt window seat to enjoy the beautiful views from your living room window. Get a comfortable lounge chair, place it strategically by the window, and use the extended window ledge as a coffee table or for holding your cup or bottle of wine. In fact, if you have such a beautiful view from the window, a curtain will only get in the way of the experience.
21. Long window seat
Not everyone is lucky enough to have a large panoramic window in their homes. However, for those who have one, there is no other way of showing off your windows than installing a long window seat where everyone can enjoy the view outside. This uncharacteristically long window seat allows you to host several of your friends and share the beautiful views from the window.
22. Hallway window seat
It is not common to have a seat along the hallway of a house. However, why should you pass on this opportunity? A hallway seat by the window acts as a landing pad. It is a good spot to take off or put on your shoes whenever you are stepping out or coming back home. Such a setup by the window in a modern house like this feels just right.
23. Vintage farmhouse
A brilliant way of adding more sitting areas in your old cabin is installing wall seats near the windows. This particular room in this cabin has large windows with an amazing backdrop of trees and a hill. The wooden wall seats with vintage throw pillows feel right at home in this vintage farmhouse. The two armchairs provide additional seats when you have extra company.
24. Architecture on display
Show off your impressive curved window style in your living room with an equally stunning window seat. This traditional curved window seat design offers side-by-side sitting with friends and family. The wooden window seat with a white sitting surface matches the interior color palette of the living room. You can convert this sitting area into a dining room by introducing an equally beautiful dining table.
25. White, wooden window seat
You don't have to add cushions to a window seat if you don't want to. This is especially true if the seat serves more as a storage area than a comfortable place to sit and relax. Just make the seat wooden and add a few throw pillows for your back if you do decide to sit for a while.
26. Mudroom window seat
One sure way of making your mudroom extra stylish and functional is by adding a bench with additional storage by the window. A storage room in the mudroom is important but a sitting area where you can offload your luggage comfortably is even more important. The window seat in the example above has two large storage drawers where you can store different items that you may need when leaving or coming into the house.
27. Outdoor window seat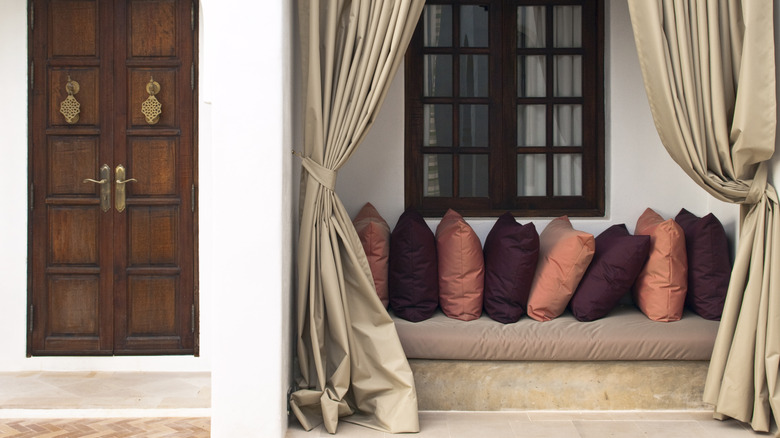 filmlandscape/Shutterstock
A comfortable place to sit outside the house is just as important as indoor sitting spaces. The example above shows how you can install a comfortable and stylish outdoor window seat. This tiny space right outside the house feels like a room of its own because of the curtain enclosure. The sitting area has thick padding and plenty of maroon and light pink throw pillows for extra comfort and style.
28. Modern style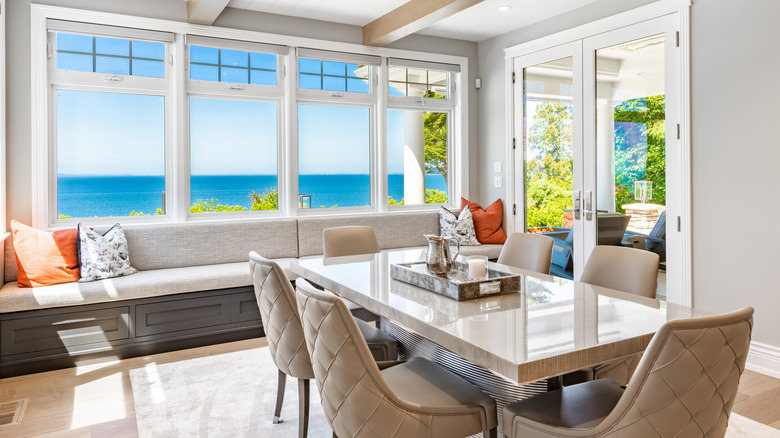 Sheila Say/Shutterstock
A wide window deserves an equally long sitting area. When it comes to modern color choices, there is no better combination than gray and white. This window seat is special as it has clearly been made for comfort. It has padding on the sitting surface and also on the backrest. It offers plenty of room for extra guests in the dining room as well.
29. Fancy utility room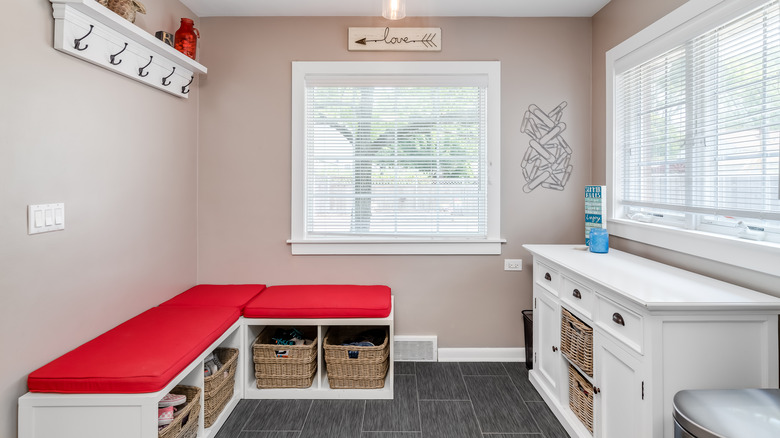 Hendrickson Photography/Shutterstock
This utility room that also doubles as a mudroom is simple yet fancy. Right from the get-go, you can clearly tell that this room is made for storage. In this regard, the window seat in this particular room is also made with open storage to accommodate as many items as possible. Other than that, the bright red padding on the seat brings much-needed contrast to an otherwise monochrome color palette.
30. Fun cozy corner
Sunbathe in the morning sun in this comfortable nook. You don't need too much space to create an extra sitting area in your living room — get creative and turn that awkward idle corner into a comfortable space to relax and unwind. In this particular example, the L-shaped wall seat has enough cushioning and throw pillows to make this space comfy. The few brightly colored throw pillows are accents that draw attention to this beautiful space.