The Least Expensive Home Decor Item At Target With The Best Reviews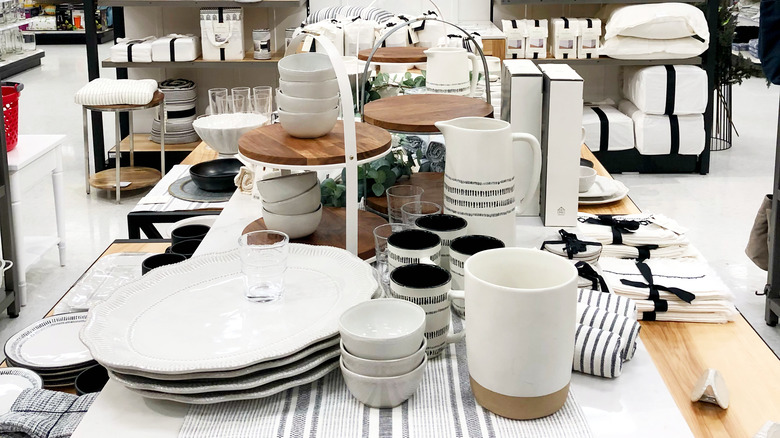 ZikG/Shutterstock
Most of us desire beautifully decorated homes, but even the most gorgeous décor can get old, fast. While designing your home can be exciting at first, sometimes a refresh is needed. Frequently changing out your decorations has a number of benefits, according to Muse Walls Studio. These include that decorating is a healthy distraction from life; when life is difficult, creating a fun space can uplift your spirits. Decorating also provides the feeling of being in control. When you decorate, you take control of your environment, which can be empowering. Also, according to Sunday Riley, decorating can remind us of positive memories and traditions. This nostalgia can reduce anxiety and help us feel happier.
Some décor items allow for an easy change to keep your space feeling new and fresh all year long. These are called interchangeable décor items. They feature many pieces, each for a different time of year. One of these interchangeable décor items is highly rated at Target, and it comes at a low price.
What cheap Target item is highly rated?
The cheap yet highly rated Target decor item is from The Lakeside Collection. It's called Winter and Fall Seasons Interchangeable Home Decoration Icons Set, and it's just under $12. This set comes with five pieces: a ghost, an acorn, an apple, a football, and a Christmas tree ornament. It's an add-on to a popular Lakeside Collection decoration called the Tabletop Decoration with Interchangeable Holiday Icons, sold at Target for under $22. This item features letters spelling out HOPE (other options include WELCOME, LOVE, and HOME) but without the O, which is seasonally replaced with a different icon. For instance, around Christmas, the O may be replaced with an ornament icon. 
Out of over 1,500 reviews, the Winter and Fall Seasons set has a 4.8-star rating. Reviewers love the heavy and stable icons, made from medium-density fiberboard. Many say the items are great quality and well worth the low price. The cute and colorful pieces are also great for families with young children. Replacing the pieces routinely can help kids get excited for the changing seasons.