This Florida Home Looks Straight Out Of The Flintstones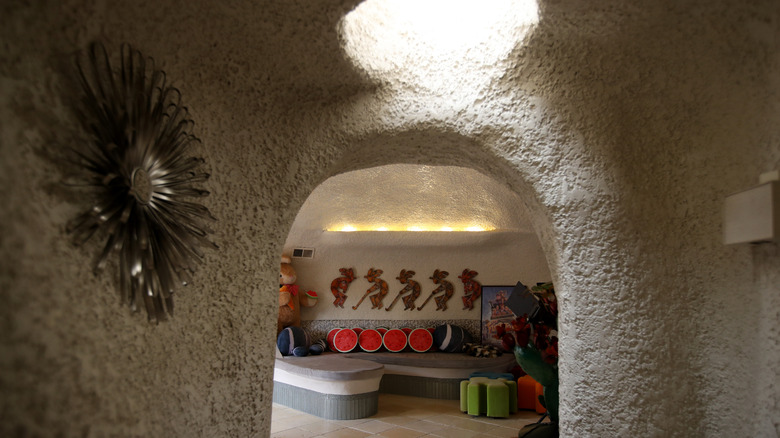 Justin Sullivan/Getty Images
If you grew up in the 80s, we bet that The Flintstones was a television staple for you as well. If you are anything like us, keeping up with the fascinating prehistoric lives of Fred, Wilma, daughter Pebbles, and pet dinosaur named Dino, neighbors Barney and Betty Rubble, and their son Bamm-Bamm was one of our fondest childhood memories. And we weren't alone. According to the Los Angeles Times, the 1960s animated show was the most popular on prime time TV for several decades until it was overtaken by that other successful show, The Simpsons, in the 90s.
The 1960s show ran for six seasons, per USA Today, featuring the family that lived in the suburbs of Bedrock. If you were a super fan, perhaps you were inspired by the home's architectural style and décor. We can't help but get inspired by similar houses from the popular TV show. For those of you who live in Florida, there's a home that looks straight out of Bedrock. Keep scrolling if you're looking to scoop up this sweet Flinstones-inspired home that is so 10,000 BC.
A true Bedrock-inspired charmer
You're in luck if you're in the market for a Bedrock-style abode! This one-bedroom, one-bathroom residence is the spitting image of Fred Flintstone's home in the iconic 1960s series; it's only 196 square feet, and it sits on 0.27 acres of land. We love how it's painted white with a bright red door, just like Fred and Wilma's house. And since it's a tiny home, cleaning it will be a breeze since it's so small.
According to Zillow Gone Wild, an Instagram account that showcases the best properties on the popular real estate site Zillow, the house's going for a pretty penny: This prehistoric lookalike can be yours for a whopping $1,095,000. Yes, the price seems a bit steep, but Santa Rosa Beach, Florida, is consistently named one of the top beachfront destinations, according to Travel + Leisure, so with turquoise waters and white beaches, we can see why it's a little pricey. But the blue waters and the Stone Age architectural style sure are a big draw!