The Least Expensive Crate & Barrel Item With The Best Reviews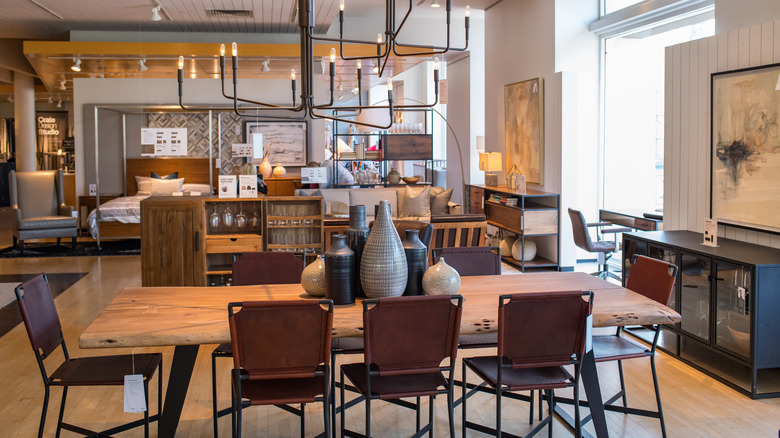 Michael Gordon/Shutterstock
When thinking about the home and furniture store Crate & Barrel, a few descriptors may come to mind. Modern, perhaps — maybe luxury, or sleek. But a word that most likely won't come to mind is inexpensive. Indeed, most of Crate & Barrel's items are pretty pricey. Comfort Works exaggerates that one couch at Crate & Barrel costs about four at IKEA. However, while Crate & Barrel does have a high price point, it's not the most expensive home retailer on the market. For instance, Insider discovered that Pottery Barn, a store very similar to Crate & Barrel, was slightly more expensive and had fewer options to choose from.
With all that said, most shop at Crate & Barrel when they want to splurge on a high-quality item. But some of their smaller décor pieces can actually come at a lower price point than you may imagine. One of these items is highly rated at Crate & Barrel, with over 700 reviews and 4.8 stars.
A win from the Gifts Under $25 category
This item is the Hatch Rocks Glass, priced at $4.95. It also comes in a taller version, the Hatch Highball Glass, which costs a dollar more. These glasses are part of Crate & Barrel's Gifts Under $25 category.
Reviewers are loving the design of this piece. It features a diamond pattern that appears to be etched into the glass. Many reviewers use words like timeless, cocktail, vintage, and modern when describing this item. They also brag about how gorgeous these glasses look in their kitchen cabinets or on their bar cart.
Real crystal glasses with a similar appearance are sold for a much higher price point of at least $60 each, per Crystal Classics. Of course, Crate & Barrel's Hatch Glasses aren't actually made of crystal -– but most reviewers agree that they look pretty realistic. One reviewer, MelJoy, says that "this little very inexpensive glass does the trick. I've had a couple people think they are a fine name brand crystal. Fooled 'em." Some reviews, however, complain about a line down the middle that ruins the continuous pattern. This could easily give away the authenticity of the glasses.