The Best-Reviewed Product At Crate & Barrel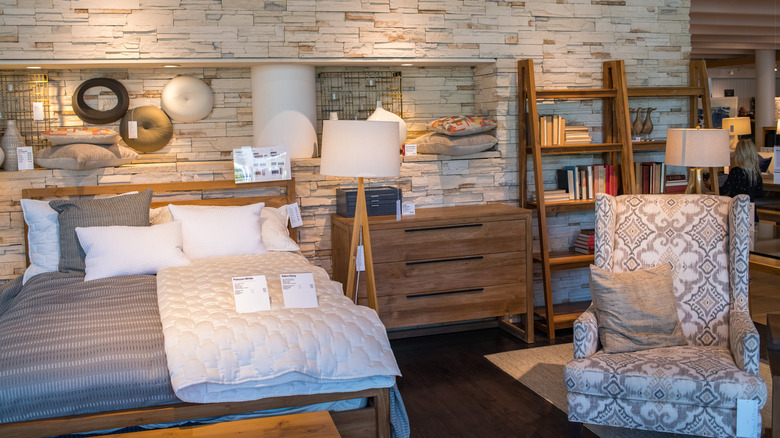 Michael Gordon/Shutterstock
Many home décor lovers agree that Crate & Barrel's products are appealing to shoppers. The company was founded with the desire to combine tasteful designs with practicality, per Crate & Barrel. A quick look at the website proves this to be true, as each piece is crafted to be simple, clean, and modern. 
Another pro to purchasing pieces from Crate & Barrel is the website's "View in My Room" augmented reality feature. This design tool allows you to see the product in your room before purchasing it, arguably a plus for decorators. When you click on the button in the bottom right corner of the product's image, it will bring you to a QR code. Once scanned, the product will come to life in your space.
Crate & Barrel has a wide variety items to choose from in categories such as furniture, kitchen, rugs, and lighting. They also have a healthy selection of décor pieces. One of these décor items is highly rated, with 4.4 stars from over 200 reviews. 
An easy option for plant enthusiasts
While there are many popular pieces on Crate & Barrel's website, one stands out from the rest: the Faux Olive Tree. This product is described as a lifelike faux plant that will add a Mediterranean flare to any room.
Many opt for faux plants to avoid the upkeep of real ones — no watering, trimming, or sunlight required. Also, since many fake plants look realistic, choosing faux over real may be the right move. When purchasing a fake plant, HGTV says there are four things you'll want to keep in mind: Your plant should have a realistic stem and branches, imperfect leaves, a beautiful pot, and realistic looking dirt.
Because Crate & Barrel's olive tree doesn't come with a pot (just a plastic black container), this plant's home is totally customizable. For the other three items, the reviews are mixed, but most agree that Crate & Barrel's olive tree is pretty realistic looking. One reviewer said that "the fake plant looks real –- for real and I have no regrets, especially since the compliments keep rolling in."
This faux tree comes in three sizes: just under 2 feet, 5 feet, and 7 feet tall. It ranges in price from about $50 to just under $400. If you're looking to purchase, you could try your luck at a Crate & Barrel sale, or you could sign up for the reward program. If your purchase is over $99, you'll also qualify for free shipping.