10 Ideas For Affordable Home Building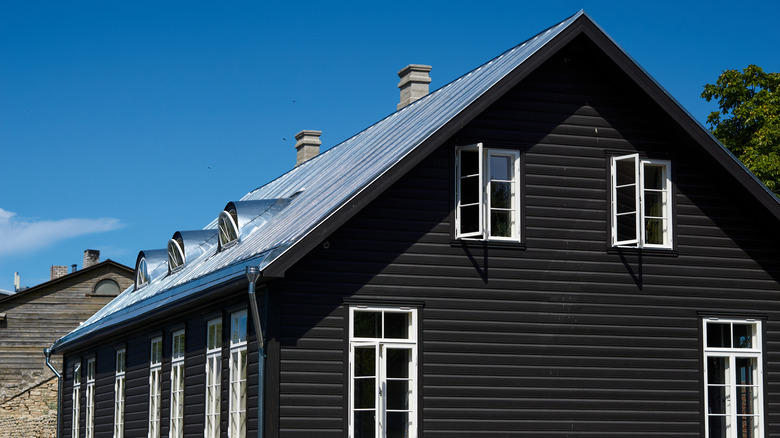 nadia_if/Shutterstock
You've been searching for a home for months — maybe even closer to a year — and you just haven't seen one that you're in love with. The location is wrong in one, another doesn't have enough space, and the next, you don't see yourself living in. Whether the issues are big or small, you just can't find the place you want to call home. Building a home might be the solution you're looking for. Or perhaps you've always wanted to build your home to ensure it has all the features you desire, but you thought it would be too expensive.
There's often a misconception that you have to be extremely wealthy in order to do something like this, but it's not true. There are ways to build an affordable home for nearly every budget. According to Home Buyer, you can get the job done for as little as $50,000. From alternative housing options to tricks to make your dollar go farther, you can build a home that's customized to your needs without stretching beyond your financial means. All it takes is some research and the willingness to be creative.
1. Consider building a prefab home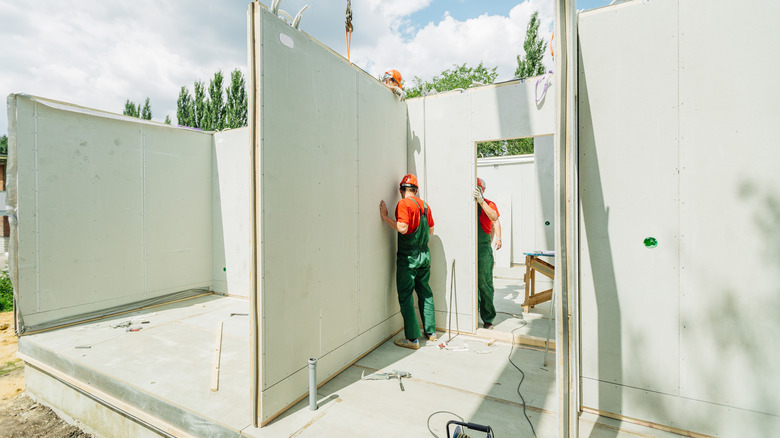 PRESSLAB/Shutterstock
Prefab homes don't always have the best reputation, but rest assured that there are many quality kits available. According to Curbed, prefab homes are initially constructed off-site in a warehouse. This means they're not susceptible to weather delays and rarely stray from the intended timeline. Once the home is partially built, it's shipped to the building site. You can even save on labor costs because these homes can often be assembled by unskilled workers such as family and friends. It's generally recommended to have a professional construct the larger versions.
2. Search for affordable floor plans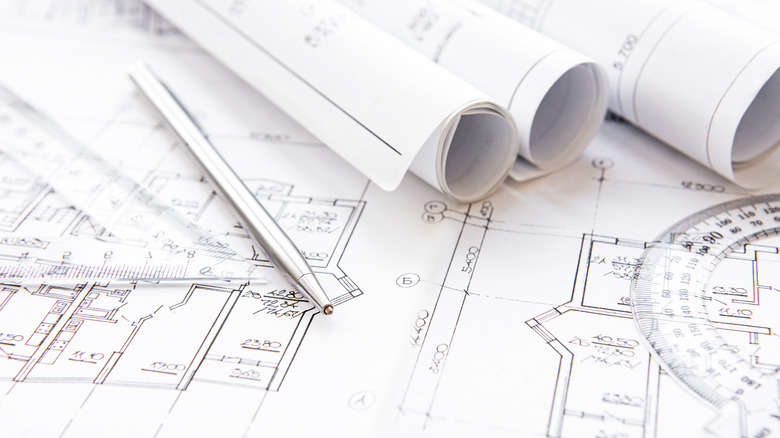 Olena Rudo/Shutterstock
If you're set on building a home, you don't want to fall in love with a design only to realize later that it's outside of your budget. When looking at images of floor plans, though, it can be hard to conceptualize how expensive the home would be to build. You can combat this by choosing an affordable floor plan. These simple plans are designed by experts to take into account the aspects which make a home less expensive. They often feature flexible layouts, innovative building techniques, and basic home shapes, according to Family Home Plans.
3. Group the plumbing together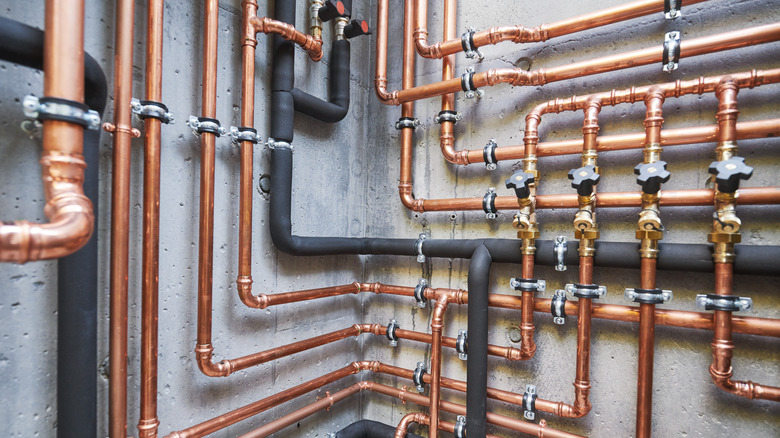 Dmitry Kalinovsky/Shutterstock
Extensive plumbing systems throughout a house can increase overall costs. But if you group the plumbing together, you can reduce these costs by cutting back on the overall length of pipes needed, according to Termine's Plumbing Supply. Keep bathrooms, the laundry room, and the kitchen near each other. This can mean situating them side by side or on top of each other in the layout. These rooms don't have to necessarily share a wall or a floor, but as long as they aren't on opposite sides of the home, you may be able to save some money.
4. Choose simple architecture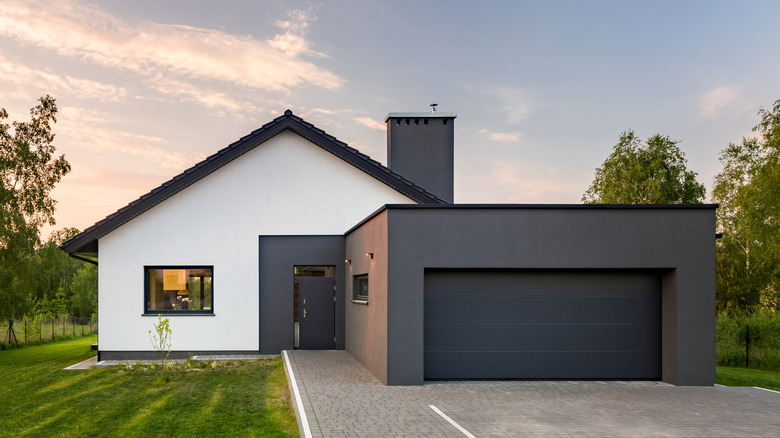 Dariusz Jarzabek/Shutterstock
Simplicity is key if you're looking to save money on a home build. A complex exterior facade can easily increase the price, and is rarely enjoyed or even noticed by the homeowners on the inside. Keep it streamlined with a straightforward box-like structure, says YR Architecture Design. Of course, this may not be exactly what you want, but embracing simplicity can help you save. Similarly, a plain roof design is also a great way to cut costs. Lots of curves and triangles will be expensive. Cathedral ceilings may be a beautiful home feature, but they also create complicated rooflines.
5. Go energy efficient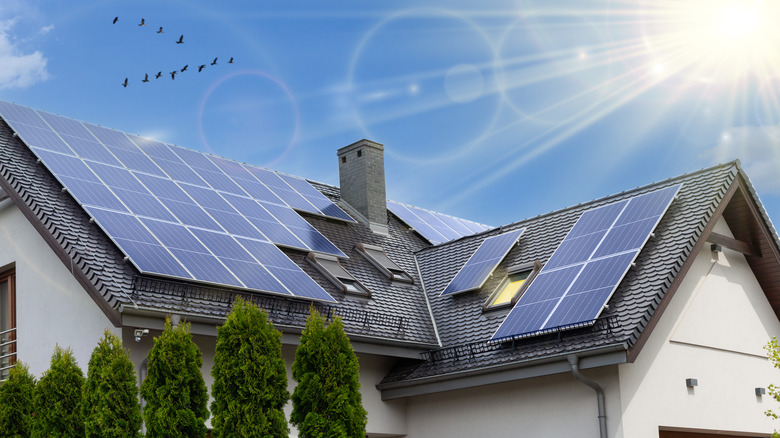 MAXSHOT.PL/Shutterstock
Adding energy-efficient elements might be an expensive upfront cost, but they can save you a lot of money in the long run. Depending on what kind of energy-efficient feature you add to your home, you can save anywhere from $160 to $500 a year, according to the Natural Resources Defense Council. Popular energy-efficient features include installing solar panels, smart thermostats, low-flow toilets, or energy-efficient windows. Those higher upfront costs will allow for a much more efficiently running home for years to come.
6. Try tiny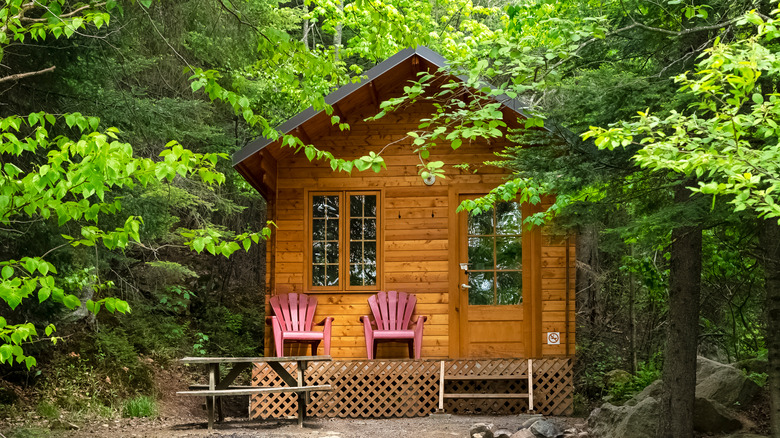 RenineR/Shutterstock
Less square footage often means less money. If your lifestyle allows it, building a tiny house can be a great way to save when building your home. Smaller homes tend to be more affordable to build and also to maintain. According to Home Advisor, they can cost as little as $30,000 with the average being closer to $45,000. The least expensive tiny home is the type that is built on a trailer. However, if you plan to haul it anywhere you'll need room in the budget for an appropriate vehicle. Permanent tiny houses can be built on a foundation, which will cost another $5,000 to $8,000.
7. Build with cost-effective materials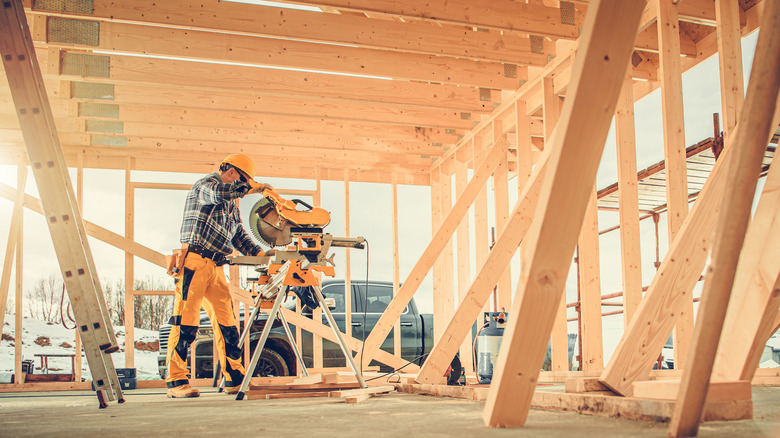 Virrage Images/Shutterstock
The cost of building materials for an entire house can quickly add up. One way you can save money when building a home is to choose cost-effective materials. Using reclaimed wood is one of the best ways to save. It can be either decorative or used for building. It's versatile and can be used in your home for doors, floors, or windows. Homedit also suggests using prefab panels or prefab concrete in an affordable home build. These materials are created off-site and shipped to the building site, which is often less expensive because it removes on-site labor costs.
8. Choose a closed floor plan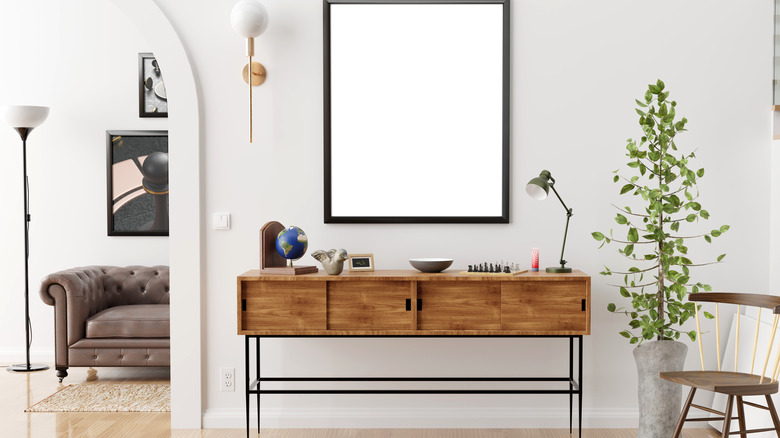 ezps/Shutterstock
Open floor plans are popular for many contemporary homes. These homes feature one area that combines the living room, kitchen, and sometimes a dining room. However, they can be costly to build. Because there are no walls to support the roof or second floor, the load must be supported somewhere else. This can mean adding structural beams that often come at a premium price, according to Generation Homes Northwest. Closed floor plans are easier to build and more cost-effective to heat. Open floor plans take longer to heat and may require more energy, which will cost you more in the long run.
9. Start with affordable finishes, upgrade later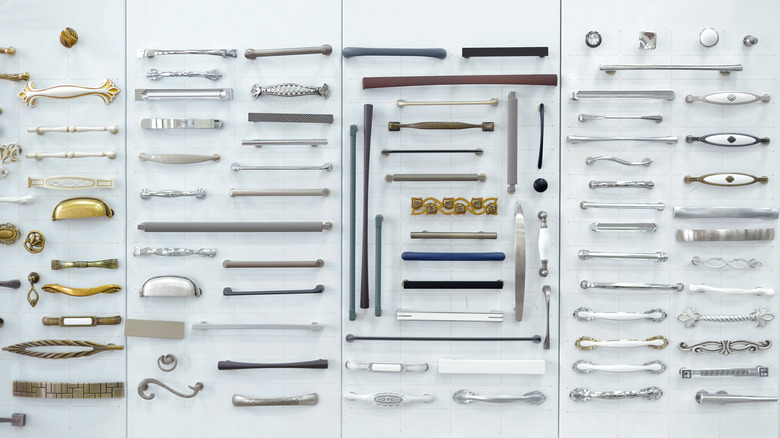 PhotoNastya91/Shutterstock
It may seem obvious to say, but luxury materials will cost you a pretty penny. If you're looking to save money on a home build, it's a good idea to choose basic finishes in the initial building process. Carla Aston Designed makes the point that, once your home is completed, you can save money to upgrade the finishes in the years to come. This is especially true of small decorative details like knobs, pulls, fixtures, and wainscoting that seem inexpensive individuality but can quickly add up when put together.
10. Hire the right professionals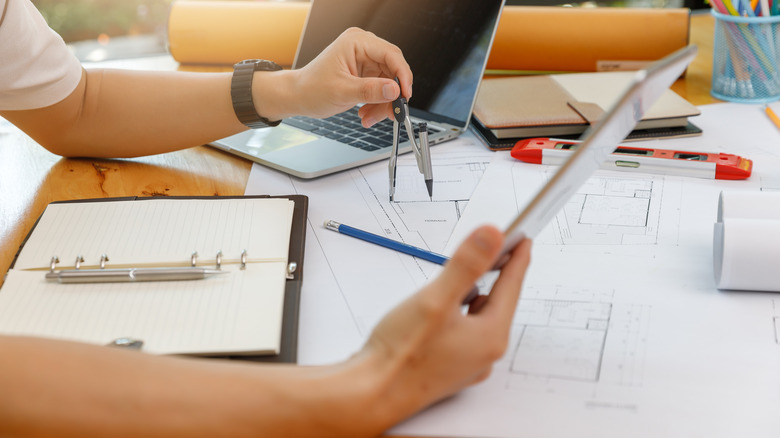 Jat306/Shutterstock
Don't underestimate the difference the right professionals can make. Unprofessional or inexperienced workers can lengthen your timeline, costing you more money in labor costs. According to Angi, hiring a general contractor is a plus because putting together a team of architects, contractor, electricians, plumbers, and other trade workers can be stressful. Communication between all of those professionals and you is also important. If there's an issue, it could impact many aspects of the build. You should be aware of it as soon as possible in order to make an informed decision within your budget. All of this will be taken care of by a general contractor.