The Cheapest Item At Michaels With The Best Reviews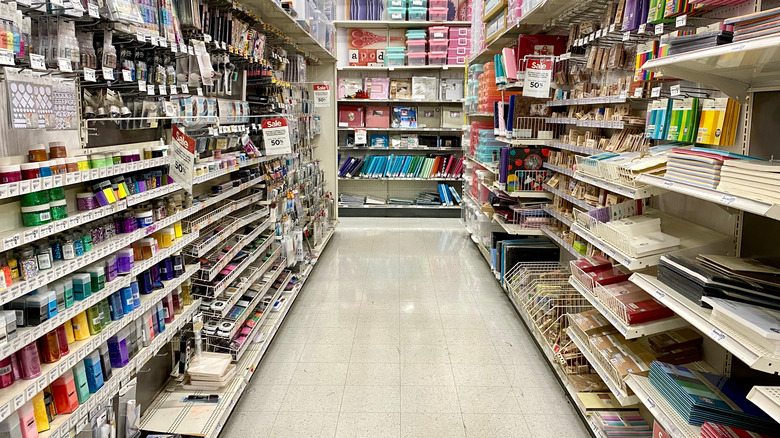 ZikG/Shutterstock
When most people think about Michaels stores, they probably think of, well, colorful craft supplies. Paint, glue, fabric, markers, beads, pom poms -– pretty much anything you could find in a preschool classroom closet. However, Michaels has more than just craft supplies. Michaels also sells home décor (including seasonal pieces), office supplies, picture frames, and organizational tools -– they even sell wedding decorations.
While Michaels may not be the cheapest place to shop, this store does have some reasonably priced items. Michaels also has regular sales –- and if you're into couponing, you can easily find a coupon online for whatever you're searching for. One of Michaels' cheaper items also has amazing reviews. This item has over 5,500 reviews and an overall 4.8-star rating. It also comes in seventeen different colors, and it's versatile for many different uses around the home. So, what is this amazing Michaels mystery item?
The cheap item with great reviews
Reviewers are raving about Michaels' Lexington 3-Tier Rolling Cart by Simply Tidy. Priced at $29.99, this cart comes at a very reasonable price. To compare, IKEA sells a similar cart, but it's $10 more, and it doesn't come in nearly as many colors. Reviewers on Michaels' website say that this cart is easy to assemble, convenient, and sturdier than they expected. One reviewer, JourneyMoon, says that this cart "meets all my criteria: it's nice looking, easy to build, made of durable metal, and reasonably priced."
Rolling carts are versatile decorating tools that help organize various spaces. For instance, you could transform a rolling cart into a coffee bar or a snack bar in the kitchen. This rolling cart is good for more than storing craft supplies, use it for cleaning supplies, gift wrapping items, or school supplies. You could also use a rolling cart as a design piece to display décor like faux plants, picture frames, and candles. The best part? Because it has wheels, this cart is super easy to transport.