This Unexpected Item Has The Best Reviews At Michaels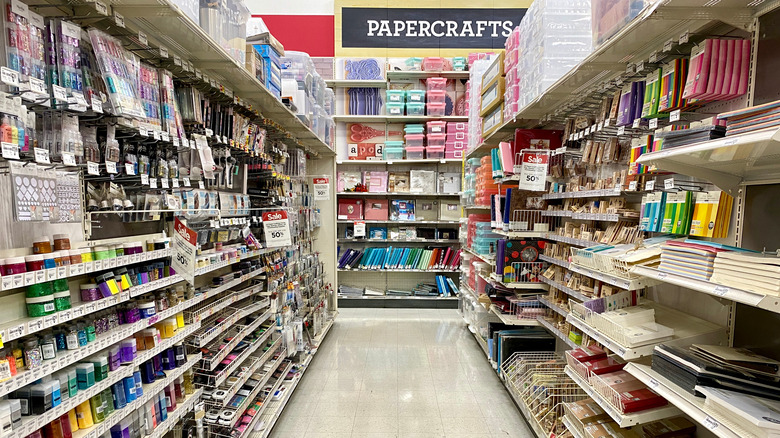 ZikG/Shutterstock
Following the period when Michael Dupey, the merchandising genius, converted one of Ben Franklin's stores into a specialty shop in 1973, the Michaels arts and crafts store was established to become one of the leading United States crafts and home décor retailers, per Reference For Business. Today that one store has grown into a massive retail company with over 1,274 stores in the United States and Canada, becoming the best shopping spot for thousands of hobbyists, DIYers, and interior designers, according to the MarketBeat.
Recently, Michaels announced the launching of their third-party marketplace, where talented arts and crafts artists can list their work for sale at no cost. So, if you're anticipating that, and as a crafts genius, want to know the best-selling product to start working on for your listing, or you're just a consumer of the retailer and want to know the next big item to buy, you're at the right place. Keep reading to see the unexpected item with the best reviews at Michaels right now.
A tote bag for artists' supplies
In the USA Today's review of the 15 products with a cult following at Michaels, this unique tote bag was described as simple, affordable, functional, and stylish. So, we thought to take a keen look at this praised item to ascertain why it's worth the hype, and below are our findings.
The Tote Bag by Artist's Loft™ Fundamentals™ has garnered over 500 positive reviews from various buyers, most of whom are artists who want better organization and seamless transportation of their supplies. As found on the listing page at Michaels, the ​​12 inches x 5.9 inches x 7.4 inches tote bag provides plenty of deep spaces for keeping art supplies safe while on the go. The tote bag is tailored with a piece of black fabric and features several side pockets where artists can store small tools for easy reach. At the time of writing this article, the bag has a price tag of $5.99, and you can get it shipped for free if you buy enough to toll your bill at $49, as found on the listing page.