Here's Where You Can Visit Ernest Hemingway's Key West, FL Home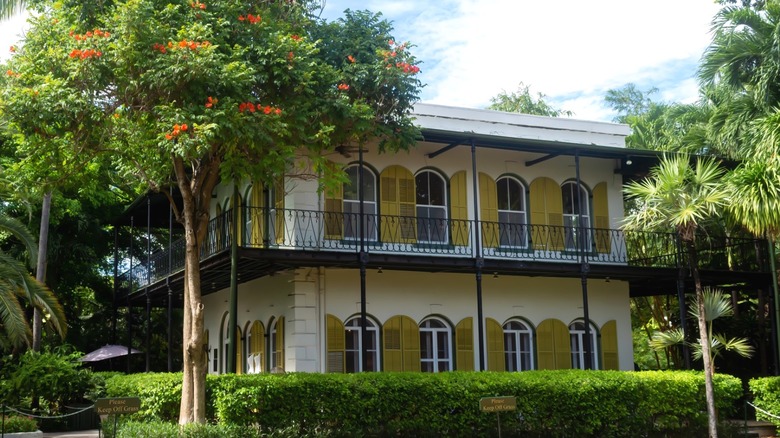 Gustavo Maenz Ferreyros/Shutterstock
Nobel Prize recipient Ernest Hemingway has been described by scholars as an influential writer of 20th-century fiction and is known for his countless poems, short stories, and novels. Having fought in World War I and worked as a war correspondent during the Spanish Civil War and World War II, much of Hemingway's inspiration came from his time overseas. And while he spent much of his life traveling around the world, Hemingway always seemed to return to one place: Key West, Florida.
Following his first visit to the island in the late 1920s with his second wife, Pauline Pfeiffer, after living in Paris for a few years, Hemingway continued to visit Key West for the next 30 years before his untimely death in 1961. Both Hemingway and Key West greatly influenced one another as the island fueled his passion for deep water fishing and inspired multiple stories and novels, including The Old Man and the Sea, which won Hemingway a Pulitzer Prize in Fiction in 1953.
Nowadays, Hemingway is honored by the residents and visitors of Key West through events and competitions, Independent Travel Cats notes, but for those looking for a more in-depth look into the author's life on the island, there's no better place to visit than his former home. Now known as The Hemingway Home and Museum, the property includes antiques, trophies from Hemingway's travels, and pictures of his fishing boat Pilar, named after his second wife (via Hemingway Home).
Hemingway's stunning Spanish Colonial-style home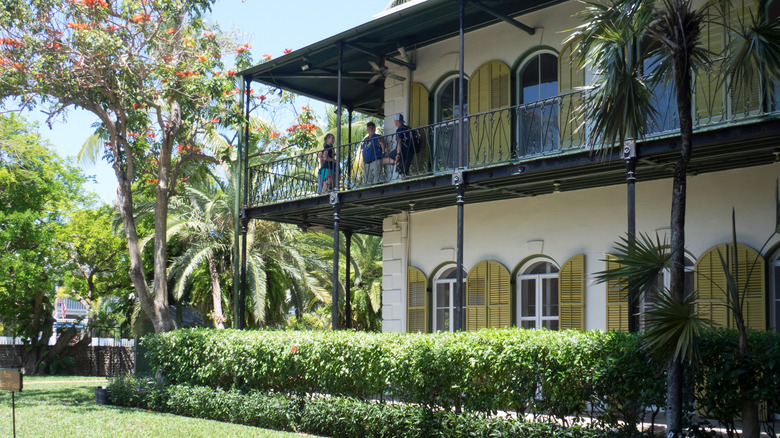 Lenush/Shutterstock
Located at 907 Whitehead Street in Key West, Florida, you can find Hemingway's home only a few blocks away from the Southernmost Point of the Continental US, Round-the-World says. Built in 1851, the Spanish Colonial-style residence had been neglected for years before it was purchased in 1931 for $8,000 by a relative of Pauline Pfeiffer after she and Hemingway had decided to make Key West their permanent residence.
Having appreciated the stateliness and architecture of the home, the couple restored and renovated it throughout the early years of the 1930s and filled the place with antique European furniture and memorabilia from Hemingway's various hunting trips and expeditions. Hemingway and Pfeiffer lived in the home for eight years, during which he worked on several novels and short stories, including Death in the Afternoon and For Whom the Bell Tolls. Hemingway also completed A Farewell to Arms during their first visit to the island together and wrote To Have and Have Not on another trip to the Keys.
Listed as a National Historic Landmark by the National Park Services in October 1968, lush greenery surrounds the home. It features an expansive garden filled with various colorful flowers and a swimming pool. The home also includes large arched windows and doors adorned with yellow curved shutters that make the inside feel bright and airy, as well as two wrap-around porches with a view of the nearby lighthouse.
Hemingway's importance and influence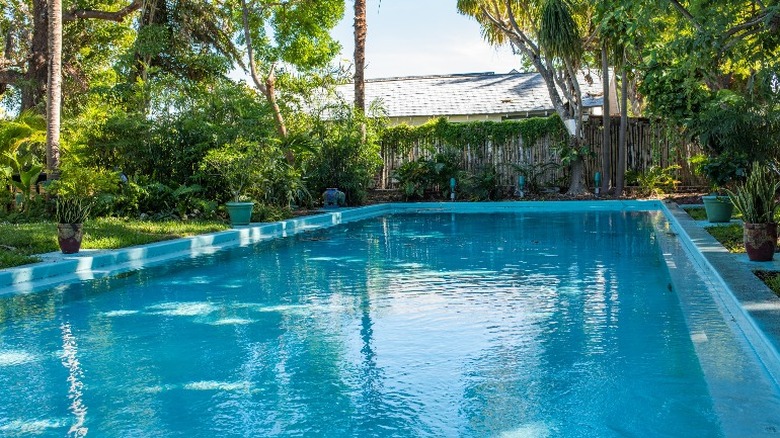 Michael Gordon/Shutterstock
Considered one of the most unique parts of the property, Hemingway's inground pool was an architectural marvel of the 1930s. A luxurious addition that cost him $20,000 and took two years to construct, the pool was the only one within 100 miles and required workers to dig a 24-foot-wide, 60-foot-long, and 10-foot-deep hole through solid coral in a portion of the yard that had been used as Hemingway's boxing ring (via Hemingway Home). The property also houses around 60 six-toed cats, which are lovingly known as Hemingway cats. No particular breed, the animals are often spotted roaming the house and garden and even have their own kennel designed to be a miniature version of Hemingway's home.
The home and museum also aren't the only remnants of the writer's influence on the community of Key West, as Joe's Tap Room, formerly Sloppy Joe's, has been hosting an annual Hemingway Look-Alike Contest since July of 1981 (via Hemingway Look-Alike Society). The contest is just one of the events organized by the society, which hosts a Hemingway Days Festival around his birthday every year.
Along with the contest, the organization hosts readings, a running of the bulls event type in honor of Hemingway's love of bullfighting, and a short story competition originally coordinated by his granddaughter and Pulitzer Prize-nominated writer, Lorian Hemingway. The society has also organized a scholarship program that's run by the winners of the look-alike contest and assists students studying at Florida Keys Community College.