This Unexpected Home Decor Item Has The Best Reviews At Costco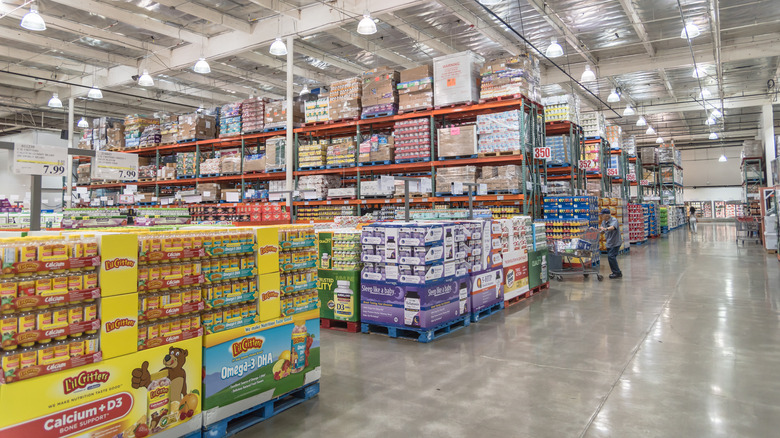 Trong Nguyen/Shutterstock
Shopping at a Costco can sometimes feel like much more than just a regular big box store shopping trip. Costco's membership deals, bulk items, free samples, and endless aisles full of merchandise make shopping an enjoyable (albeit sometimes also overwhelming) experience. 
Many choose to shop at Costco because of their bulk items. They are great for large families, folks who only shop once a month, and those that like to save money. But some may mistakenly overlook the other items Costco has to offer, like the pieces in their home décor section. According to Insider, Costco's décor is durable, glamorous, and inexpensive. Some of the best things to purchase include lamps, chests of drawers, nightstands, planters, accent pillows, rugs, large scale artwork, and picture frame sets. There's also another home décor item that may be well worth the money. Why? Out of almost 350 reviews, this piece has an overall 4.8 star rating.
Costco shoppers love this décor element
Costco shoppers are loving the Faux Orchid. Sold for $39.99, this fake flower looks incredibly lifelike. It comes in two color options: white blooms in a gray pot or pink blooms in a white pot. 
Reviewers are saying how surprised they were to discover this flower isn't real. One reviewer, HankBabyLA, tells the comical story of a woman who returned the flowers because she discovered they weren't real –- only after watering and taking care of them for some time. Whether this story is real or not, it emphasizes what everyone's raving about -– that these flowers look authentic.
Another huge benefit is the price. Just under $40 is a great deal for a fake flower plant, especially one that's over 2 feet tall and comes with its own pot. However, the only thing reviewers complain about is the gray pot that comes with the white option; it looks darker in person than it does online. But some were able to dig out the flower and place it in a pot that better suited their personal style. 
Why buy faux flowers?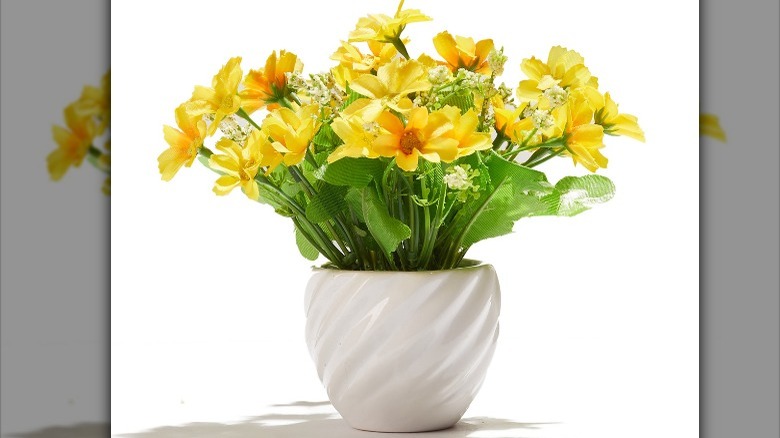 Red Umbrella and Donkey/Shutterstock
Faux flowers have grown in popularity in recent years. Perhaps this is because of how lifelike they have become. Many use them not only to decorate their homes but also for important events, like weddings and parties.
E Favor Mart lists some of the benefits of buying faux flowers. For starters, many styles are very lifelike, just like Costco's orchid. Second, they require less maintenance -– besides a light dusting once in a while, fake flowers don't need much. They do need to be kept out of sunlight, however, as sun can cause them to fade. Third, every type of flower is available year round, so there's no need to wait for your favorite to be in season. Fourth, many fake flowers are very affordable, like Costco's orchid. Fifth, using fake flowers avoids bringing harmful pollen or other allergens into your home. And finally, as Sophie Allport points out, while some real flowers are toxic to pets, the faux versions are safer.