Tiffany Brooks' Best Tips For Painting Your Home
Interior designer and HGTV star Tiffany Brooks is no stranger to transforming a room, and it's easy to see why HGTV fans adore her style and why homeowners trust her design expertise. Brooks' design aesthetic –- which she refers to as "classic with a twist," per HGTV –- has been showcased on several shows across the network since her season eight win of HGTV's "Design Star" in 2013. Since then, she has gone on to host "The Most Embarrassing Rooms in America" and has been the host and lead designer of "Smart Home" since 2006. She has also appeared on "Design at Your Door" and "Rock the Block."
Brooks' design style is so iconic, and her services are so coveted that since her "Design Star" win propelled her into stardom and launched what would become an incredibly successful and tenured working relationship with HGTV, she has earned a spot on Architectural Digest's list of "The 20 Most Famous Interior Designers Working Today," according to Brooks' official website. She has also been named as one of "The Top 100 Interior Designers" by the publication in both 2020 and 2021.
In her new HGTV show "50K in Three Ways," Brooks helps homeowners renovate their homes by showing them all the ways they can make the most out of their $50,000 renovation budget. In the episode, "Demo Disaster," she shared some painting tips that can instantly amplify the luxury in any home.
Use a dark color for luxury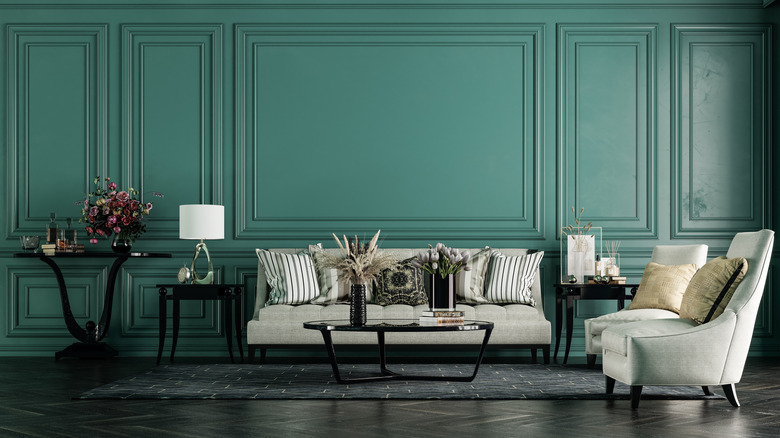 mixphotos/Shutterstock
As reported by Realtor, the episode features Brooks paying a visit to the home of Ron and Theresa, who are in desperate need of a makeover for their master bedroom, and their lack of a master bathroom has forced them into sharing a bathroom with their two children. With the help of a little paint, Brooks helps transform their master suite into a luxurious space that is all their own.
When Brooks first arrives at Ron and Theresa's home, their bedroom is a light gray color, which she instantly knows she wants to replace with a darker, moodier paint color -– ultimately deciding to go with a rich, dark shade of charcoal. Brooks notes that choosing dark paint colors for rooms in your home that you want to make a dramatic statement in is a great idea and that using darker shades of paint can help create a sense of luxury and help the room feel more expensive (without it actually having to be).
Don't forget the ceiling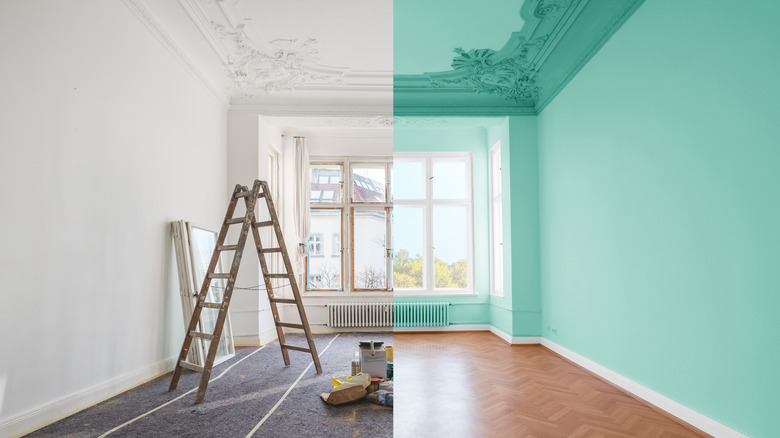 hanohiki/Shutterstock
Per Realtor, when Ron and Theresa return to see the finished product of their new master suite, they are pleasantly surprised to find that their bedroom has been transformed into a space much more luxurious and cozy than the one they remember -– and a lot of that had to do with Brooks deciding to paint the ceiling as well.
While many homeowners are often afraid to experiment with darker paint colors in their home out of fear of the end result looking "too dark," Brooks actually suggests painting the ceiling the exact same dark color as the walls to help lighten and open up the space. While adding more dark paint to an already dark room to lighten it up might seem counterintuitive to the average person, Brooks says a typical white ceiling in stark contrast with a dark color on the walls can make them seem far too dark in comparison. She also adds that a white ceiling in a room that is painted a darker, more daring color can break up the room too much and "interrupt the whole vibe" you are trying to create.