Tiffany Brooks' Tips For A Budget-Friendly Home Office
If you want to set up a home office or would love to redo your current workspace, you must consider a few basic things, including the type of desk and chair that might best suit your space. Tiffany Brooks, an interior designer and the host of HGTV's "Rock the Block," offered helpful tips and potential workspace snafus to avoid, according to Distractify. A few include neglecting to throw down a rug, failing to keep photos on walls at a reasonable height, and tackling projects that might be beyond your capabilities. She explained, "I would say don't go for the DIY gusto if you've never DIY-ed before. Start slower than that."
As for putting together a home office that's both stylish and functional, setting you up for success, Brooks says that the workspace must fulfill your needs while also suiting your style. She suggests deciding on the vibe you want before choosing color schemes and accessories to bring your vision to life. As she told Distractify, "You need inspiring things and a setup that makes sense." Beyond that, Brooks also offered a few ideas on how to set up a home office on a budget that you'll definitely appreciate and adore.
Antiques, plants, and multifunctional items are your best bets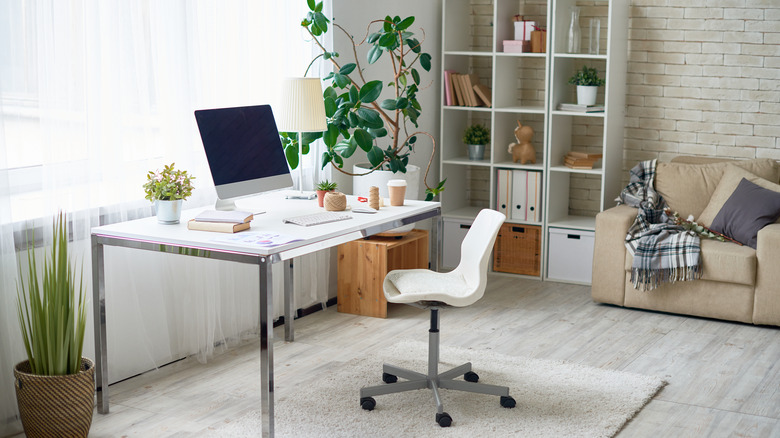 SeventyFour/Shutterstock
You can still give your home office a new look or create a workspace from scratch even if you don't have the biggest budget. Tiffany Brooks told Distractify that when it comes to getting the most out of your budget, it's all about knowing what you want to do before starting the project and taking strategic steps. Indeed, once you've figured out what you require from your home office, you can then choose items that will fulfill multiple needs simultaneously, allowing you to save money and invest in multifunctional accessories. 
Another frugal tip from the interior designer is to add affordable antiques or retro treasures to your home office and give them a new twist in the process, saying, "I find something really vintage like an old phone or maybe an old polaroid camera and spray paint it like white or hot pink and put that on a bookshelf."
Finally, Brooks brings up the benefits of having plants in your home office — might we suggest a jade plant, tiny succulents, or even a gorgeous green wall — telling Distractify, "Nature is design. If you design your space with plants and you have greenery on your desk, you just feel good."