Jasmine Roth's DIY Tips To Hide Flaws In Your House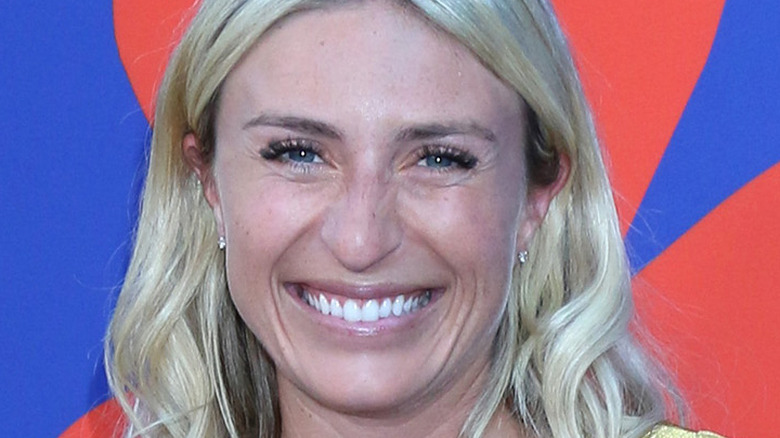 Kathy Hutchins/Shutterstock
Tired of those unwanted imperfections in your house? HGTV's home renovation sweetheart, Jasmine Roth, knows how to transform unappealing design flaws into something immaculate. With shows like "Help! I Wrecked My House" and "Hidden Potential," Roth specializes in bringing out the best in a home. Many times, homeowners on the do-it-yourself path take on more than they can handle and that's where the California designer/contractor dives in to help put their priorities into focus, per Realtor. 
Sometimes errors or defects are only marks or holes in the walls, other times not. For Nathan and Paige Newman on Season 2, Episode 1 of "Help! I Wrecked My House," the family faces the issue of water and termite damage after their hopes of transforming most of their home into the house of their dreams gets sidetracked. Within a budget of $95,000, Roth manages to assist with the flooding predicament while saving money on practical upgrades.
With a roster of successful home renovation shows on her resume, Roth has gained the expertise of building and design from her own personal experiences. According to HGTV, Roth has learned by doing, as with her first big DIY house project targeted on her own home which started out only as an investment venture. Her ideas for the Newmans are centered around freshening up the place by painting and upgrading their fireplace and kitchen, including the addition of genuine décor. Keep reading to learn more about Roth's home transformation tips!
Add a fresh coat of paint to walls and furniture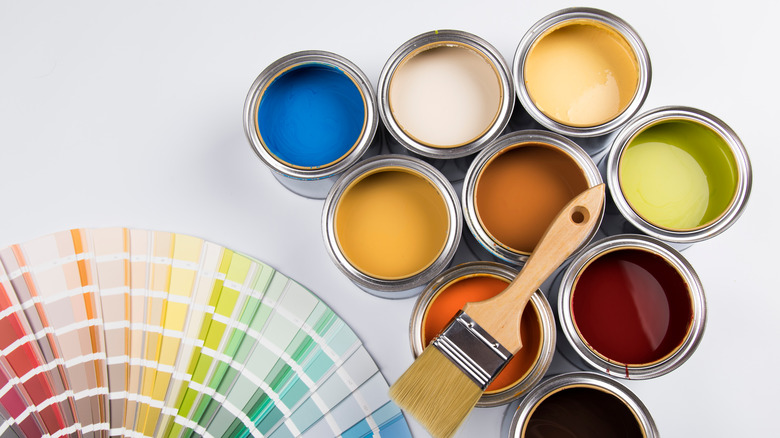 Sebastian Duda/Shutterstock
Nathan and Paige Newman's original plan was to make improvements to the kitchen, bathroom, living room, and backyard. One of the first things Jasmine Roth noticed was the paint color within the living and dining areas was too dim. The home became bright and open by using a simple white tone to cover these walls. 
Roth would agree that you can enhance old pieces of furniture, like a piano. Bold new colors can make pieces look brand new without having to break the budget (via Realtor). If you have a wooden piece of furniture, you may stain it prior to painting, depending on the type of wood, like aged pine, cherry or mahogany, among others. These kinds are better off with their natural color, as it's better to add a pop of color on pieces that will improve from it, per How Stuff Works.
The fireplace also needed an overhaul after the Newmans removed some built-in features leaving a hole on the side. Keeping the style of the fireplace relatively the same, sometimes all that's needed is some fresh texture. The finished product features a classic black and white contrast, which includes tongue-and-groove paneling and a rich soapstone frame around the firebox. Roth is also on board with making a wall-hung flat-screen TV more clandestine when not in use. Here she concealed the black screen behind a painting that can go up or down with the push of a button.
Maximize the kitchen space without remodeling it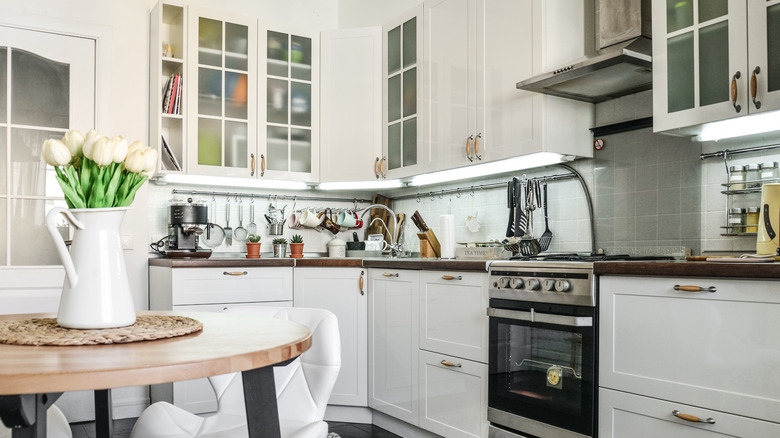 mama_mia/Shutterstock
Without a sizeable budget to refurbish an entirely larger kitchen, Jasmine Roth placed an initial emphasis on the water damage within the peninsula, including the termite impairment in the upstairs bathroom. Without moving the structure, the savvy designer chooses white to brighten up the kitchen, from the cabinetry to the ceiling, including supplementing extra height within the cabinets for more storage. White is also in the crafty baking station and dining space, making it look clean and welcoming throughout. According to The Painting Company, white is a classic, minimalist choice for the interior of the home, especially when balanced with bold décor and furniture. Additionally, painting the same white on the ceiling is a great way to combine these spaces together while boosting your other stylish features.
Paige Newman loves to bake and wanted extra room in the kitchen, especially for that purpose. With an extension of the small space, Roth incorporated an old-world feel with a custom counter and shelves, nestled by two wooden tower cabinets by including the baking station. This dream bonus area became a reality for Paige, as it provides ample storage and counter space. Roth had said that with the crisp new aura of the kitchen, along with these traditional accompaniments, they provide the space some vintage charm and character (via Realtor). Since the Newmans' home makeover plans were slightly altered, Roth was able to create a refreshed look while sustaining their prospected budget.