30 Innovative Room Dividers To Break Up Your Space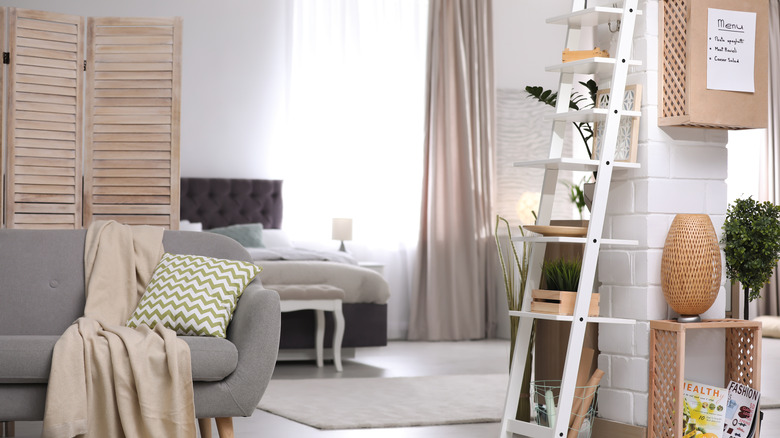 New Africa/Shutterstock
If you live in a small city apartment, then you are familiar with how hard it is to make your living room, kitchen, and bedroom distinct spaces. Interior designer James Farmer shares with The Strategist why it's important to create distinct spaces even if you don't have much room. "An open concept can be refreshing, but demarcation and division of the area is crucial," he says.
Interior designer Alexander Doherty, who works with clients in NYC and Paris, tells the outlet that a screen can really make a room stand out, and it can act as a piece of art. There are several options for room dividers, which could be made of wood in a basic pattern, rice paper, or more ornate with a unique design, as Reviewed points out. Another excellent idea for a room divider is using a bookshelf to split up the space, which is an idea that we love! Keep scrolling to see 30 innovative room dividers to break up your area.
1. A basic room divider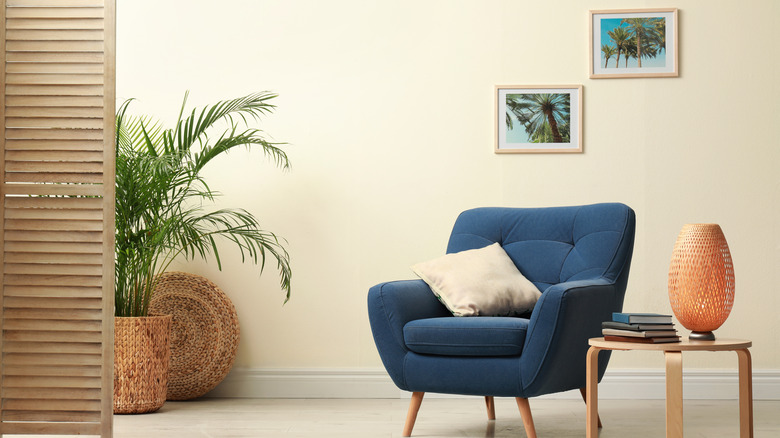 New Africa/Shutterstock
A wooden room divider in a light natural tone is an easy way to bring separation to your living, dining, or office area. The rest of the room features beige walls, a comfortable navy chair, a wicker potted plant with lush greenery, and tropical artwork.
2. Traditional Japanese rice paper folding screen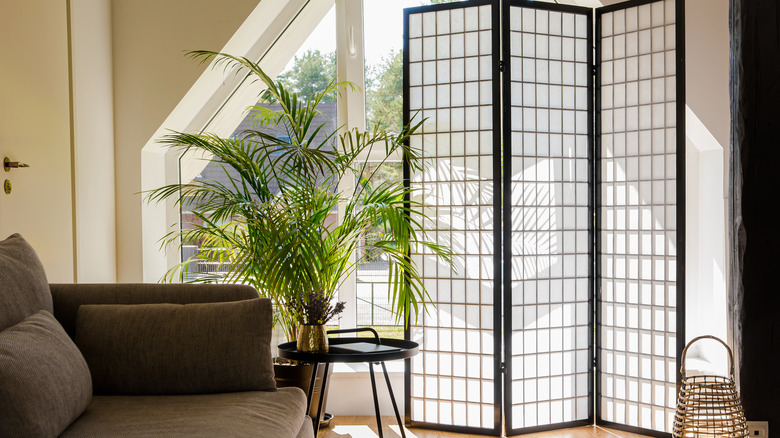 FotoHelin/Shutterstock
If you're looking to create a traditional room divider that can give a room separation yet not block out natural light, we have just the idea! A Japanese-style rice paper folder screen is your best option. It's made with Shoji Gami Paper, which can be purchased at craft stores. 
3. A boxy bookshelf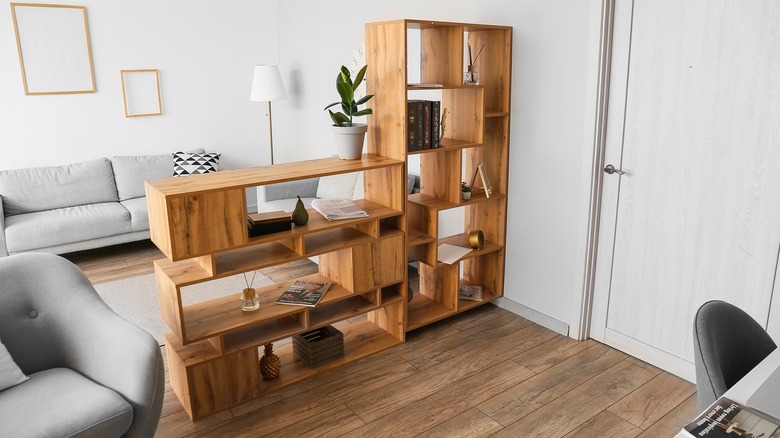 Pixel-Shot/Shutterstock
If you are in a studio apartment, consider using a bookshelf to create defined areas in your room. This room features a living room on one side and an office on the other with a beautiful wooden bookshelf in a creative configuration. If you want to create more privacy, you could fill it with books; otherwise, you still have a division of space. If you choose pieces sparingly, it will have a nice flowy feel.
4. A traditional beige screen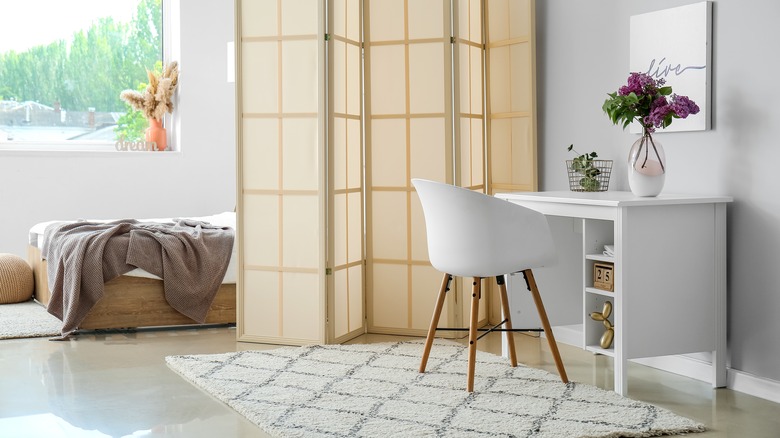 Pixel-Shot/Shutterstock
This light blue bedroom looks like an absolute dream. A beige screen clearly divides the areas to distinguish the place for rest and work. It makes the perfect room to divide between the light and bright bedroom and the work area with a white desk, a mid-century modern chair, a vase with beautiful purple flowers, and a white and black rug.
5. Black and olive green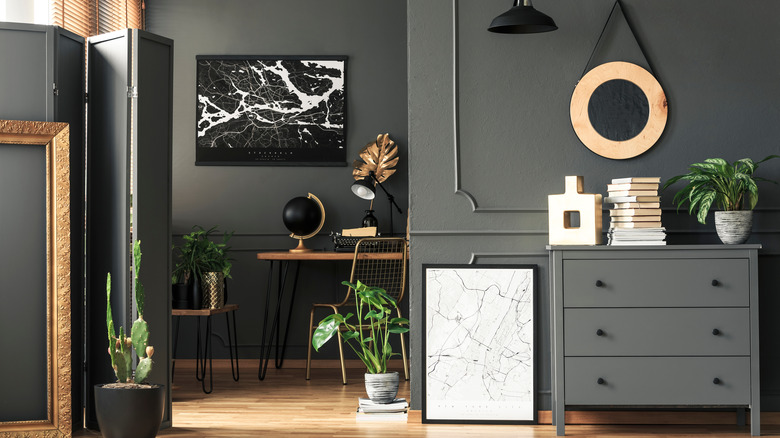 Photographee.eu/Shutterstock
This olive green bedroom is entirely stunning. The walls and dresser are bathed in a natural hue, and the room features lots of luxe black accents, including the world globe, the art piece, and light fixtures. The sage green room divider can easily be moved to conceal the office if guests are coming over and you'd like to hide any mess or clutter.
6. A popular patterned screen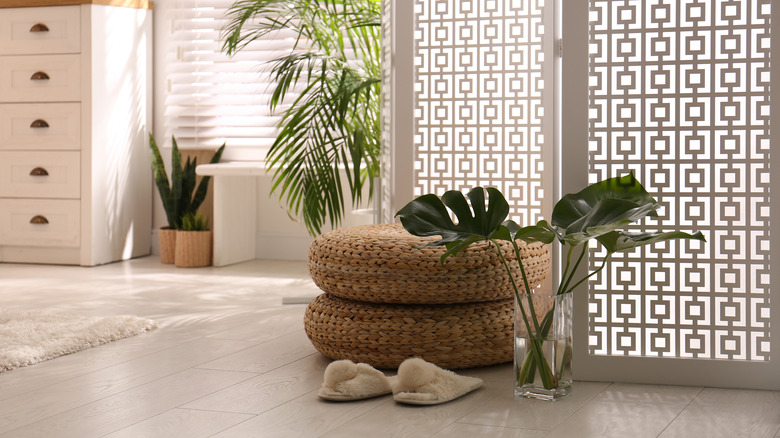 New Africa/Shutterstock
This gorgeous white patterned screen is ideal for a bathroom, especially if you're looking to create privacy in certain areas. It's a great way to keep the room bright and airy but gives just enough privacy for those that want it.
7. Create a boho feeling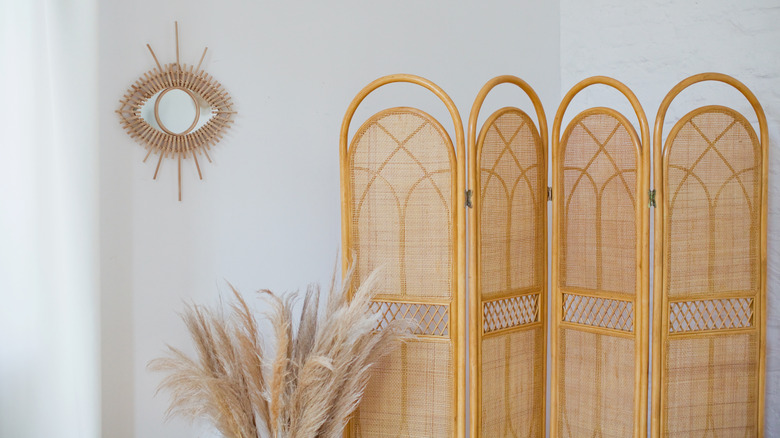 aprilante/Shutterstock
Bring in the boho vibes! It's easy to create a bohemian feel in any room with just a few accents, and we love this wicker room divider that can create separation between your spaces. Don't forget the cool eye wall hanging and the pampas grass!
8. Pretty in pink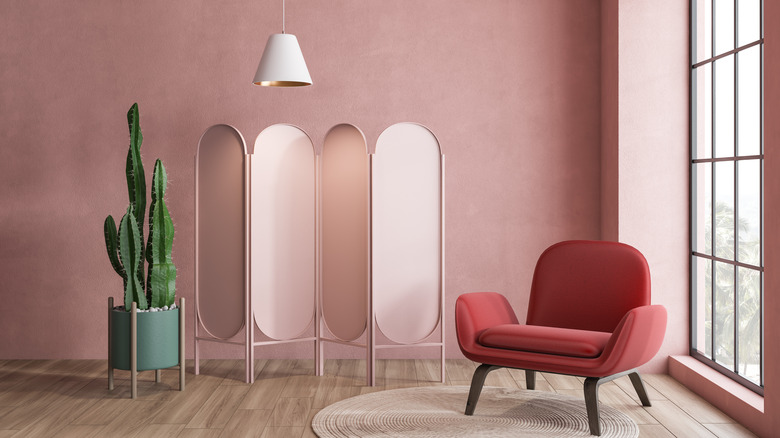 ImageFlow/Shutterstock
This light pink living room and bedroom features a four-paneled room divider that doubles as mirrors, which can be great for creating distinctive spaces and checking out your outfit before leaving the house. A mirrored room divider can also reflect light, creating the illusion of a larger area.
9. A unique pattern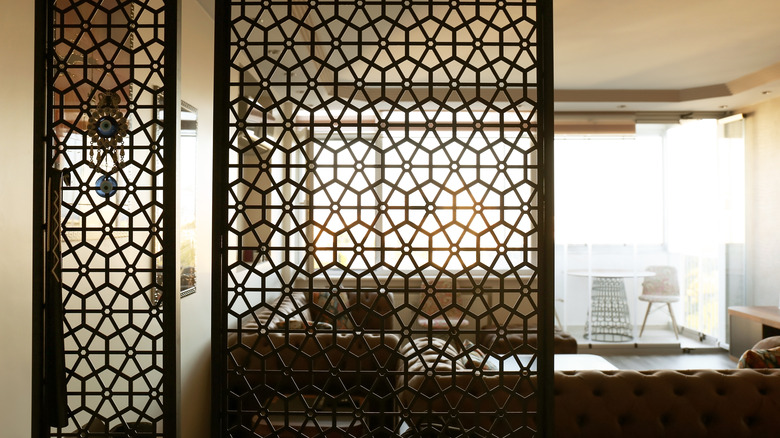 New Africa/Shutterstock
We can see why some room dividers are considered works of art. This mahogany divider has a unique pattern and can divide the space while giving it an artistic edge with an open-concept feel. It won't inhibit natural light from pouring through.
10. A relaxed living room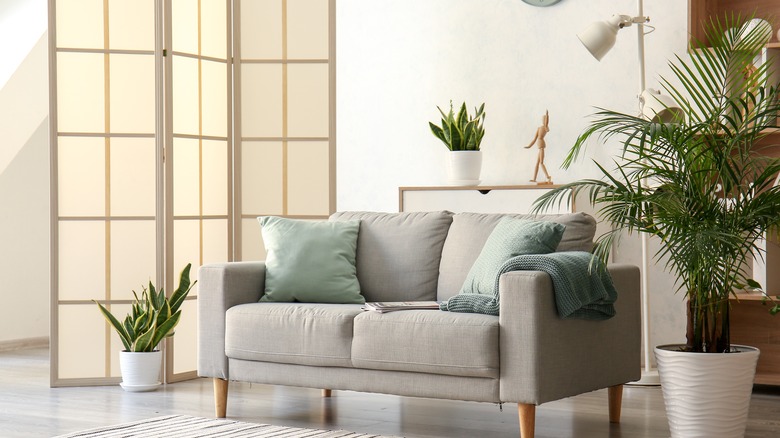 Pixel-Shot/Shutterstock
A neutral room divider made with see-through rice paper keeps the tradition alive while separating your living room from your other living areas, such as a dining room or bedroom. This area has a completely relaxed feeling with white walls, a gray couch, and several green plants.
11. Light green and orange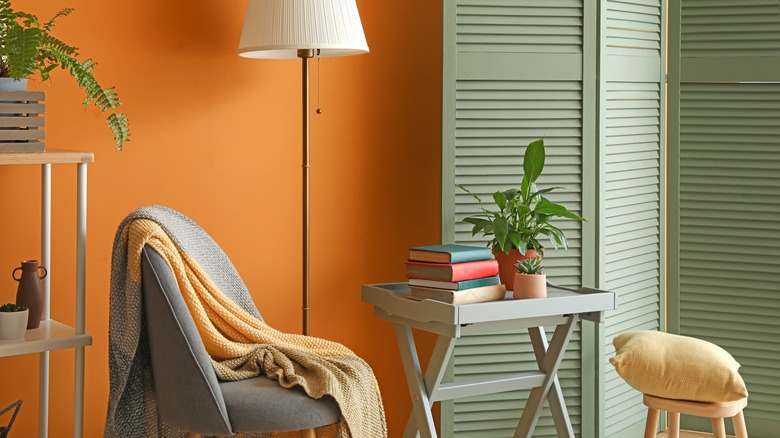 Pixel-Shot/Shutterstock
This light green folding screen resembles window shutters and looks pretty neat against the bright orange painted walls. It can conceal an office area or separate a sitting area from a kitchen or dining room.
12. A swanky retreat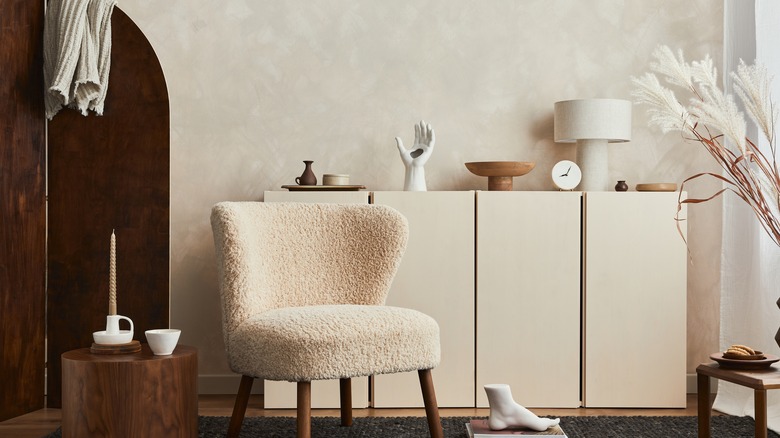 Followtheflow/Shutterstock
This upscale apartment has gorgeous furnishings and plenty of unique accessories. A solid wood room divider can easily separate the living space from the dining area.
13. A chic dressing area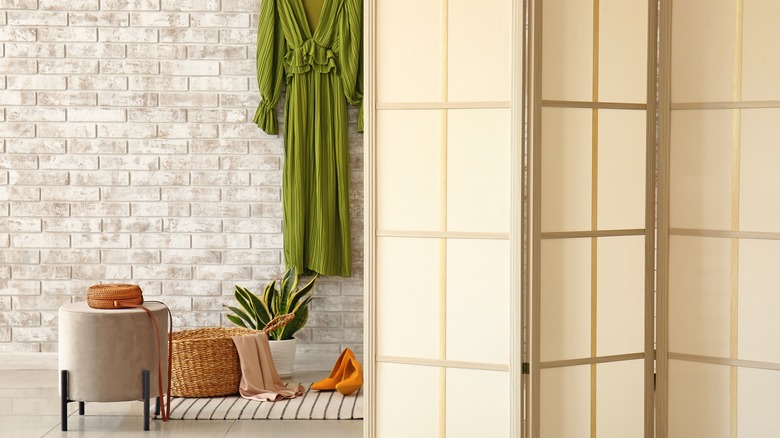 Pixel-Shot/Shutterstock
A white-washed brick room would be the perfect backdrop for a gorgeous dressing room. The traditional rice paper screen provides plenty of privacy for getting dressed, especially if you live in an open-concept apartment.
14. A unique floating wall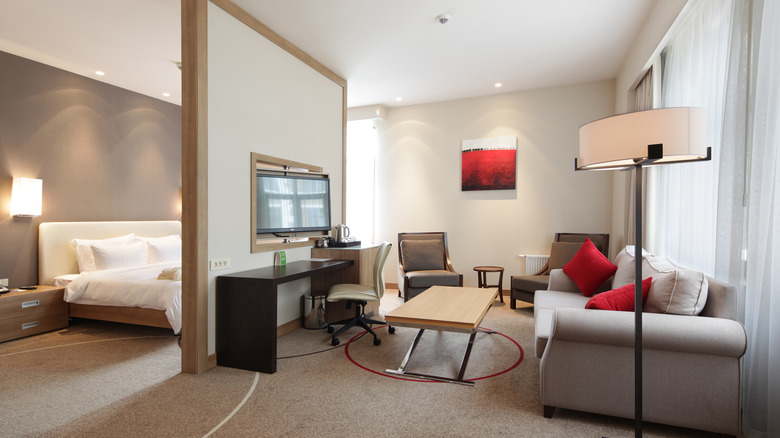 AntonSokolov/Shutterstock
Consider adding a floating wall between your living room and bedroom spaces. This particular room features a rotating TV, which allows for viewing from both the living room and the bedroom.
15. A sage green stunner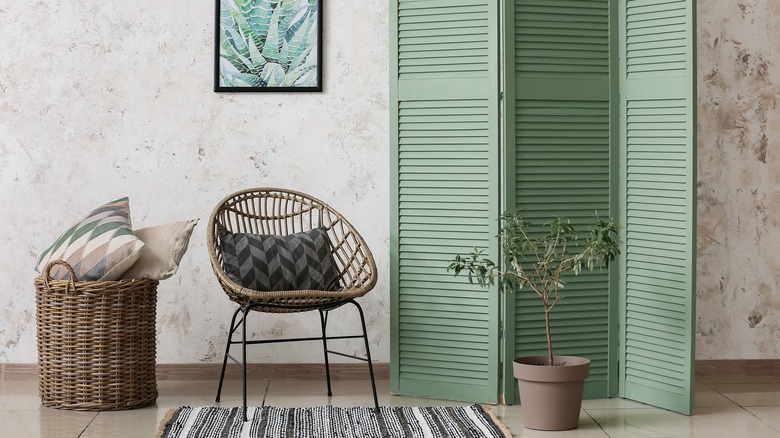 Pixel-Shot/Shutterstock
This chill space looks excellent with speckled wallpaper, wicker furniture, tropical artwork, and a sage folding screen, which can be used to separate your room into different living areas.
16. A folding screen with greenery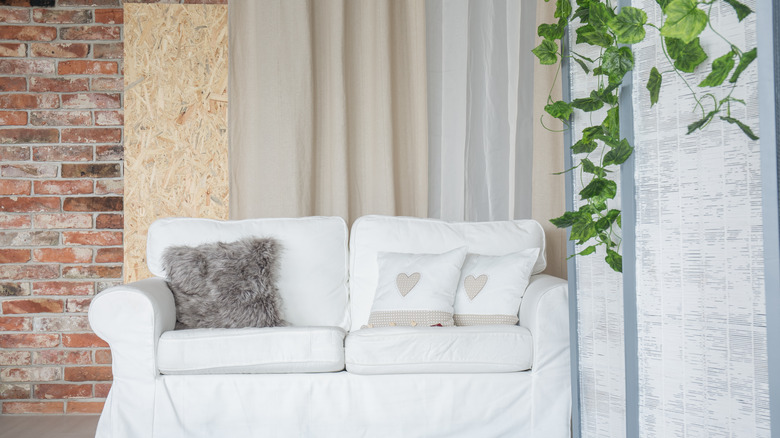 Photographee.eu/Shutterstock
Consider adding lush greenery to your folding screen, which looks great with the other additional greens seen throughout the room! Anytime you get the chance to add plants to your space, we suggest you do it, and we love how this plant looks draped over a room divider.
17. A dreamy, ethereal space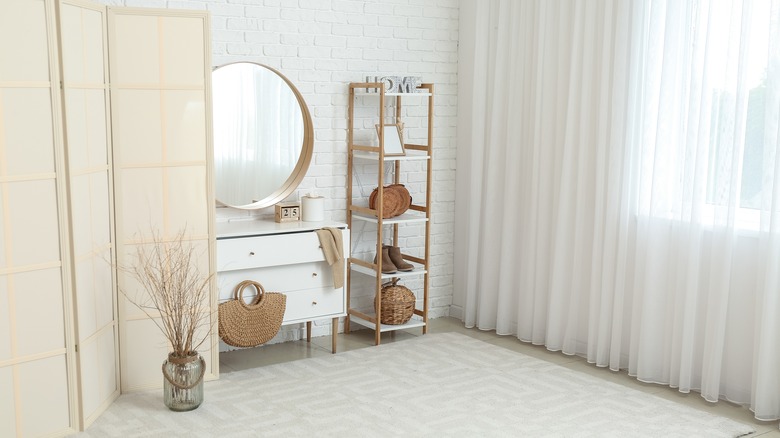 Pixel-Shot/Shutterstock
This bedroom is an absolute dream space for any fashion lover with its flowy drapes, white brick, and a place to display your favorite accessories. The light beige room divider is the perfect piece to conceal the area if a mess is created while getting ready.
18. A natural wood bathroom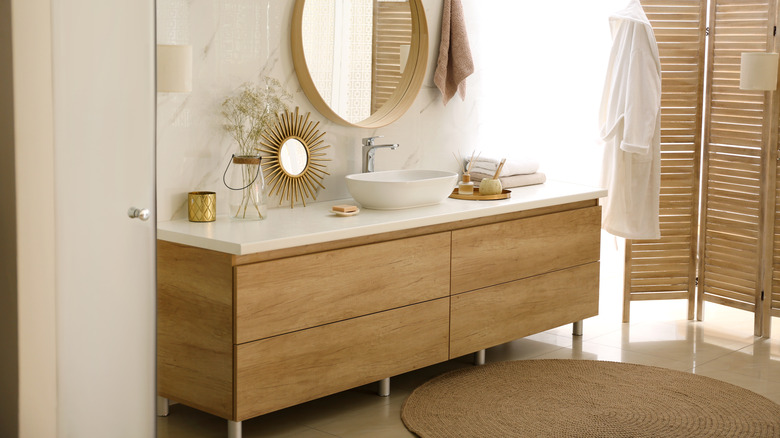 New Africa/Shutterstock
This bathroom is an attractive option for those that love natural materials. The vessel sink, mirror, and room divider are all made with the same type of wood. The natural room divider can be an excellent option to give privacy for a bathtub or even the toilet.
19. Dark gray with pops of color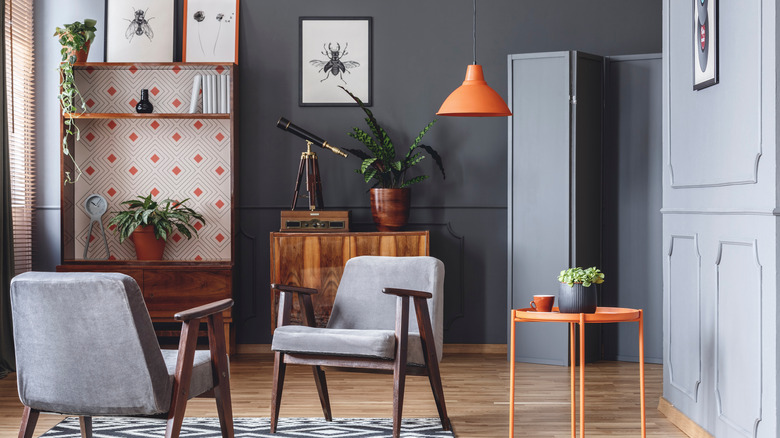 Photographee.eu/Shutterstock
A dark-gray apartment is the epitome of chic. We love how the homeowner painted the folding screen in the exact same shade, which can be moved around when privacy is needed. Pops of orange can be seen in the lighting, the polka-dotted wallpaper, and a side table.
20. Carved to perfection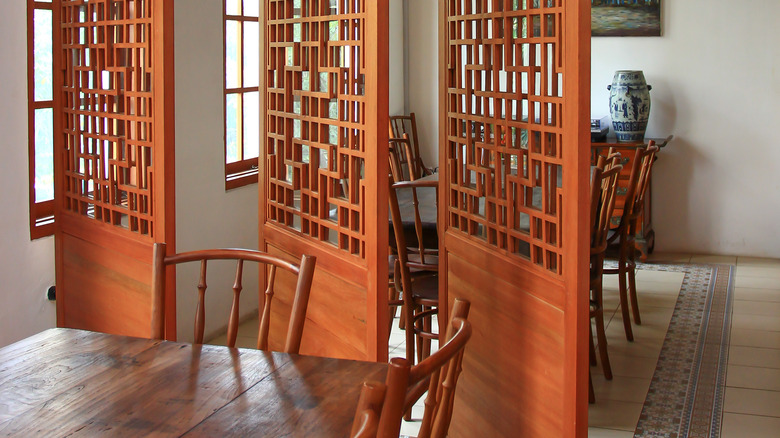 Husni/Shutterstock
These three panels of gorgeous carved wood separate the dining areas in a home with room for a large family. These room dividers look like art and would make a statement in any home and give just enough privacy between the rooms.
21. White and purple
Photographee.eu/Shutterstock
This all-white screen with purple trim is totally unique and breaks up the dark gray seen on the walls and side table. It would be the perfect option for a dose of privacy in your studio apartment.
22. A blue abode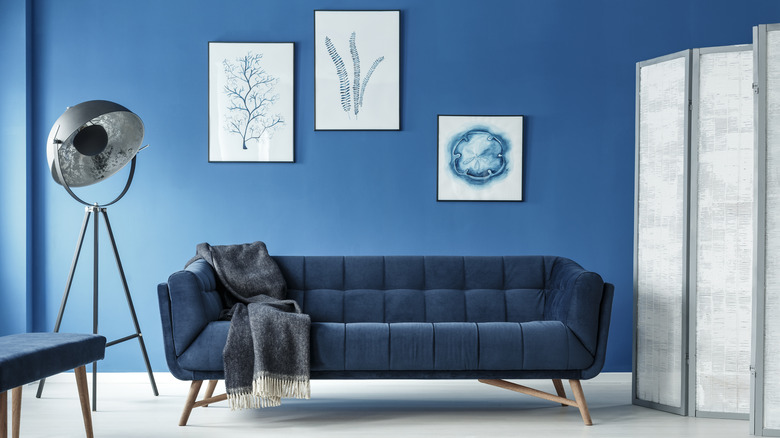 Photographee.eu/Shutterstock
A bright blue living room is undoubtedly gorgeous and a creative space to live in. The chic, white folding screen can conceal a messy office or dining room, which we love!
23. A pop of color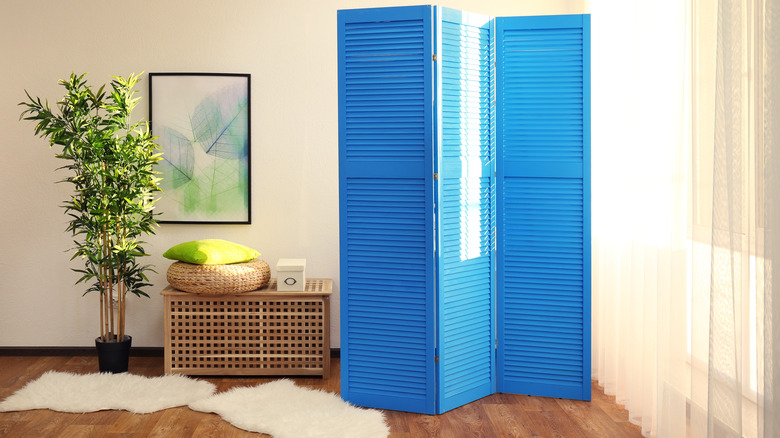 Africa Studio/Shutterstock
A neutral space can be brought to life with a gorgeous screen that can be moved around when privacy is wanted. It adds a nice pop of color to an otherwise basic space.
24. A bookshelf works wonders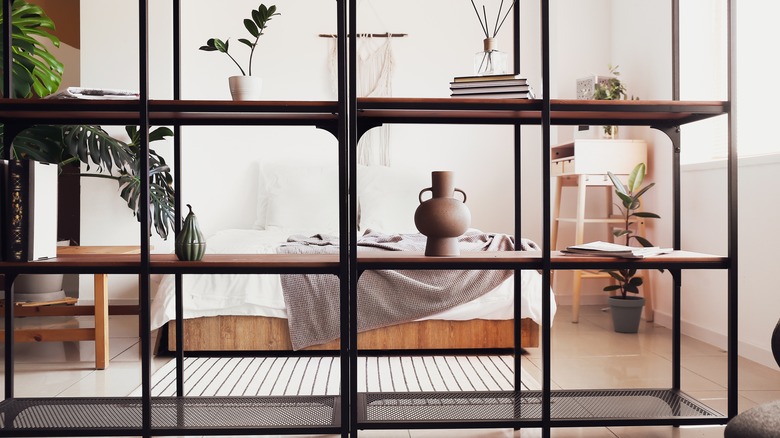 Pixel-Shot/Shutterstock
As we've seen, a bookshelf is an excellent idea for a room divider. This large one is great for holding books or other stylish knick-knacks while separating your living areas.
25. Light and airy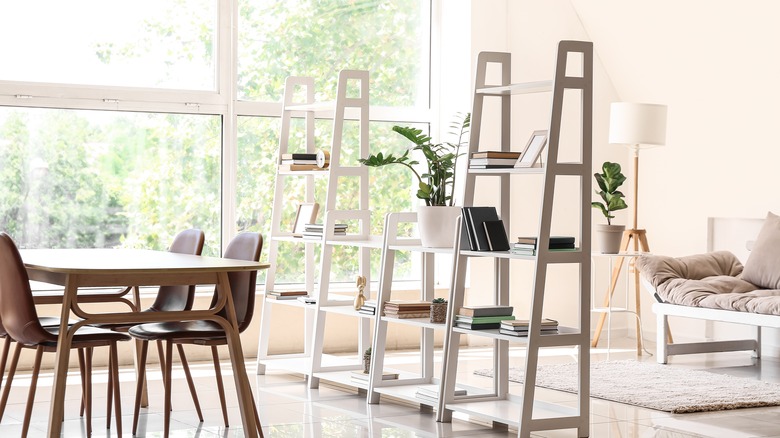 Pixel-Shot/Shutterstock
This living room has gorgeous floor-to-ceiling windows, which let in all the light. Open bookshelves are used in the space to divide the living area from the dining room, which is an excellent idea if you ask us!
26. Green with envy
Pixel-Shot/Shutterstock
This white space features white walls and bookshelves in the same hue, which work well to separate the spaces. An olive green suede couch and lush plants make this room come to life.
27. It's a jungle out there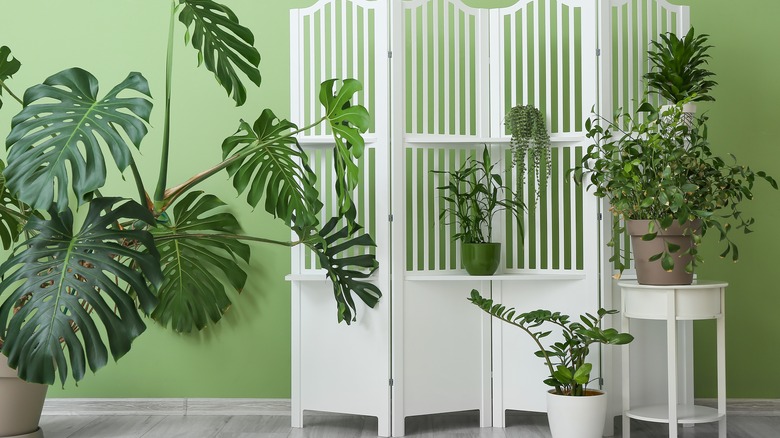 Pixel-Shot/Shutterstock
We can barely take our eyes off of these gorgeous plants. If you look close, there's a shelf on the folding screen that is great for creating separate spaces and for holding plants too.
28. A space that glows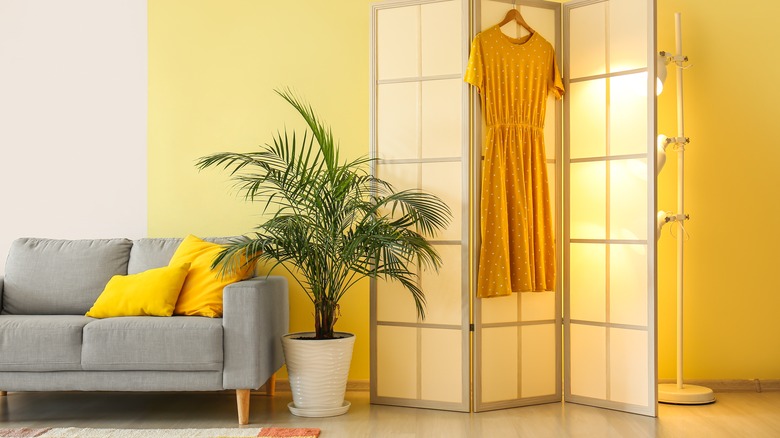 Pixel-Shot/Shutterstock
This glowy room is painted yellow on one side and white on the other. There is a traditional rice paper screen that has an illuminated light behind it, great for creating designated areas.
29. Separately chic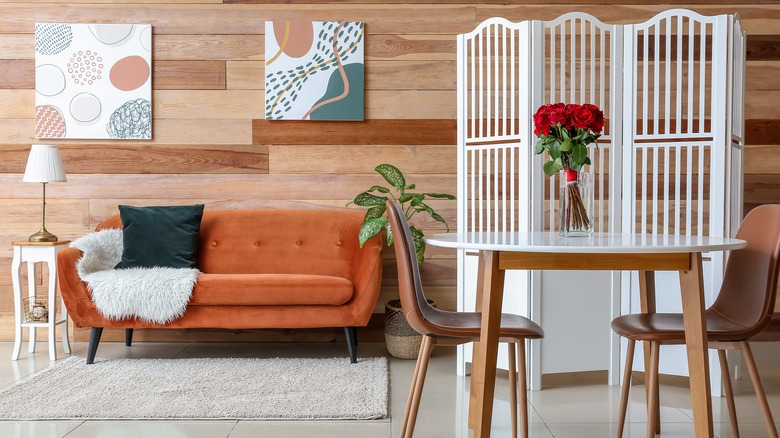 Pixel-Shot/Shutterstock
While we love an open concept, it's nice to have separate, equally stylish spaces. This living room with a wood accent wall and a lovely rust orange couch feels defined with a dining area for two separated by a white folding room divider.
30. The great divide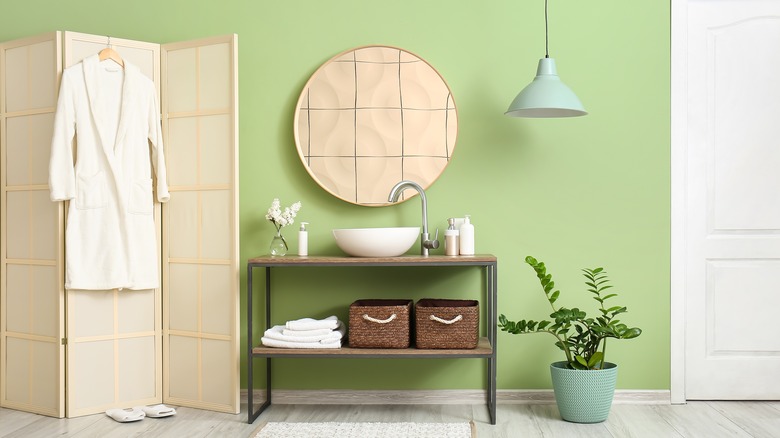 Pixel-Shot/Shutterstock
This adorable bathroom doused in light green has a vanity with open shelving and a folding screen that can add some privacy to the room if needed.