How To DIY Your Own Disinfecting Wipes At Home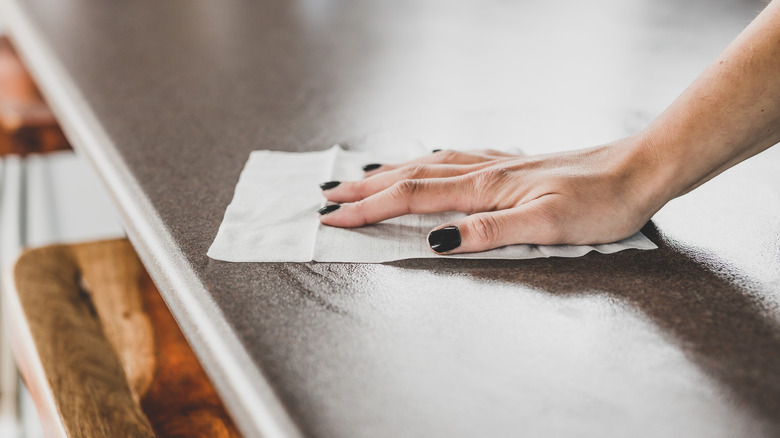 faithie/Shutterstock
Disinfecting wipes can be a simple and satisfying final step in a cleaning routine to reset a surface that gets a lot of contact, especially if someone in your home is or was recently sick. However, you may not know that you can DIY eco-friendly disinfecting wipes with ingredients that you may already have in your home and save money in the process.
First, it's important to understand the difference between cleaning and disinfecting. According to the CDC, cleaning is when soap and water are used to scrub surfaces, removing dirt and germs, whereas disinfecting is when chemicals are used to kill germs. The CDC says that proper cleaning removes the majority of virus particles that may be present, and disinfecting is often not a necessary step unless you or someone in your home is or has recently been sick.
Whether you are concerned with cleaning or disinfecting your home, this DIY can be adapted to suit your needs. For either purpose, you'll need a sealing container and paper towels. For cleaning wipes, you'll also need water and dish soap for your solution, as detailed by Homemade Lovely. To make disinfecting wipes, you will also need rubbing alcohol or hydrogen peroxide.
Mixing the solution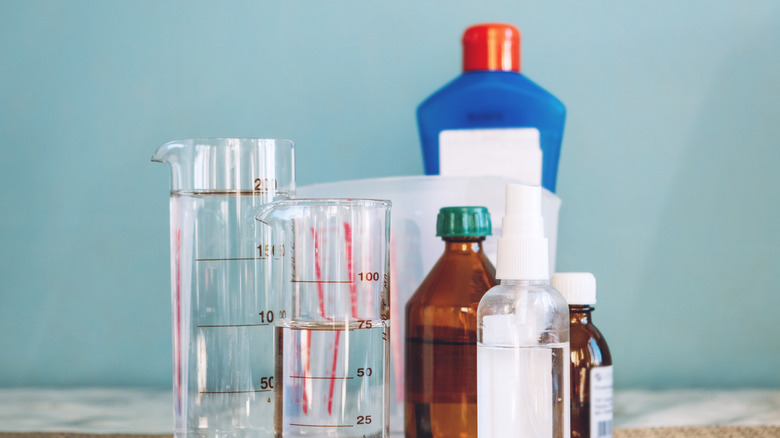 Iryna Imago/Shutterstock
First, gather your ingredients. To be the most eco-friendly, find a sizable jar or container that you might already have hiding in the back of your kitchen cabinet. For the wipes themselves, washcloths or dishtowels can be used to make reusable wipes, but paper towels can also be used. My Heavenly Recipes recommends using a serrated knife to cut a paper towel roll down to the perfect size for your jar. If using reusable cloths, you can cut them down to your preferred size. For instance, Shannon from Homemade Lovely cut most of her washcloths in half and left some full-size for larger cleaning jobs.
Next, mix your solution. If you are making a simple cleaning solution, use two cups of water, three teaspoons of dish soap, and an optional 10 drops of an essential oil of your choice for scent (via Homemade Lovely). To disinfect, My Heavenly Recipes recommends a solution of 2 cups of distilled water, 1 cup of 70-91% isopropyl alcohol, 1 tablespoon of dish soap, and an optional 3 drops of tea tree oil. According to Medical News Today, the addition of water to your alcohol-based disinfecting solution will help slow evaporation time, allowing the solution more time to kill germs. Food-grade hydrogen peroxide of 3% or more can be used instead of isopropyl alcohol, per Homemade Lovely.
Assembling and using disinfecting wipes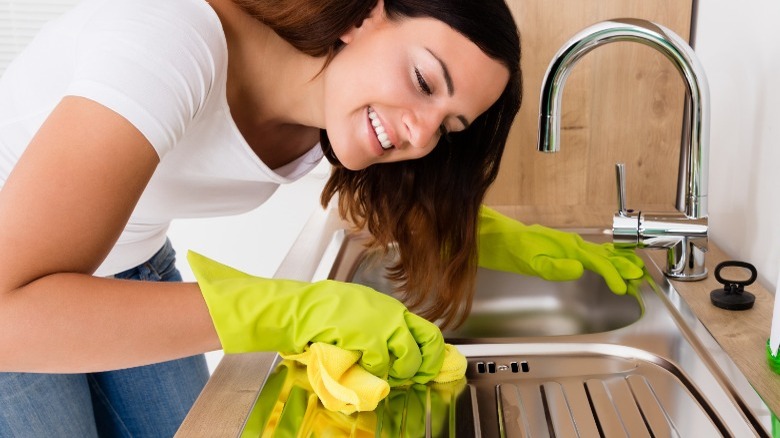 Andrey_Popov/Shutterstock
To assemble your disinfecting wipes, place your cloths or paper towels in your container and pour your mixed solution over them. Adjust the amount of solution to your container size needs and absorbancy of the wipes. If using paper towels, My Heavenly Recipes recommends letting the solution soften the entire roll for two minutes before pulling out the cardboard tube, so you can easily access the wipes from the middle, a la classic Clorox wipes. Be sure that your container can tightly seal to prevent the alcohol from evaporating.
Before using, it should also be noted that visibly dirty surfaces should be cleaned before being disinfected to maximize effectiveness, per the CDC. Once your hard surface is visibly clean, simply use one of your DIY disinfecting wipes to wipe the area and let it dry for 10 minutes (per Homemade Lovely). If using reusable wipes, wash them in a washing machine to be used again with a freshly mixed solution.