15 Ways To Make The Perfect DIY Coffee Table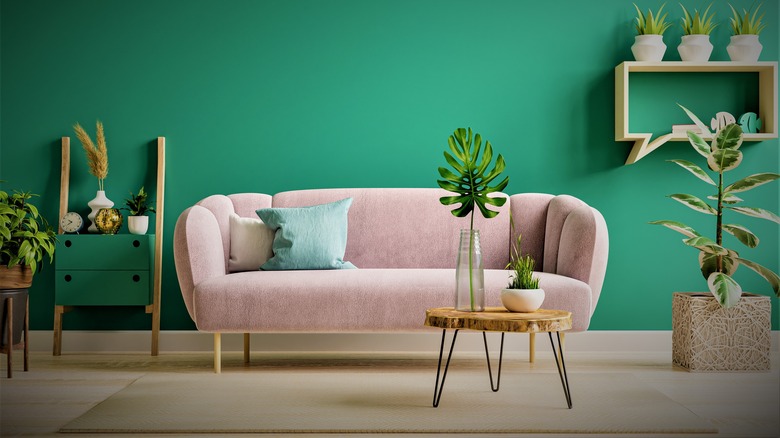 fazilran1234/Shutterstock
Tired of your living room? Chances are that a small refresh will help — and what better way to start than by switching out your coffee table? Whether you want to make things more practical, are looking for a statement piece, or just enjoy keeping up with the latest décor trends, a new coffee table can transform your space. Unfortunately, new furniture can be expensive. According to La-Z-Boy, the average coffee table costs between $200 and $400, with trendy tables or those with additional functionality tending to have an even higher price tag. Luckily, it's often much cheaper to DIY your own table, plus you can customize the exact final product.
To help you flesh out some decorating ideas, we've rounded up our favorite coffee table DIY projects and hacks. Some call for constructing a table from scratch, while others simply modify an existing table. If you don't already have a suitable table to upgrade, you can usually find something affordable and unique from an online seller like Facebook Marketplace.
Use plaster for a chic, stylish look
Although this chic table looks as if it might cost thousands of dollars in an upscale boutique, it's relatively easy (and cheap!) to make. A DIY'er, who goes by Woman Of Gold on her YouTube channel, created the table with PVC tubes, a generic round tabletop, mesh tape, plaster, wood glue, and PVA. Since you'll need to wait for things to dry a few times, you can expect this project to take several days.
Don't discount epoxy and toys
This wooden ocean table, via How To on YouTube, is a one-of-a-kind conversation piece! While it isn't overly difficult to assemble, it's best suited for those who have some woodworking and resin experience. You'll also need to source a thick slab of wood which may be easier said than done depending on location. Expect a lot of wait time with this project. You'll need to paint the legs, apply the resin in four stages, and apply a finish to the table. That being said, the final result is well worth it!
Trendy tiled tables are easy to DIY
Looking for something a little more trendy? Tiled tables are all the rage on social media. They cost a pretty penny to buy new, but, fortunately, they're easier to make than you might expect! Check out our DIY guide for detailed instructions along with tips that other DIYers wish they knew before starting the project. As for difficulty level, it isn't particularly hard to create a DIY tiled table. Beginners can definitely complete the project; you'll just want to pay careful attention to past creators' tips to avoid unnecessary headaches.
Bigger tiles look classy and expensive (but are dirt cheap!)
Searching for a coffee table that's affordable yet looks classy and expensive? This DIY travertine coffee table from Itshoneybii via YouTube, is the perfect project! What's even better is that it should only take about three hours to assemble and cost under $100! While brave beginners can probably attempt to create this table, we'd generally recommend it for intermediate DIYers and up. Tiling is not particularly difficult, but since the table is meant to be sleek, it requires a bit of practice to look perfect.
Add fluted legs or other small details
Have an old coffee table that needs a subtle but classy update? This project, from DIY Wife via YouTube, has you covered! After finding a dirt cheap table on Facebook Marketplace, they removed the dark varnish and used panels to add fluted leg details. The transformation is nothing short of stunning. It's a perfect project for intermediate DIYers, though the peel-and-stick panels may push this one out of modest budgets.
A new coat of varnish can work wonders
Here's an inexpensive upgrade for that worn-down wooden table that seems to clash with all of your décor. Try sanding it down and giving it a new finish. You can use standard or pigment tinted wood stain to drastically change the look, color, and style. Don't forget to fix any big scratches first! Even if you don't have an old table lying around, you can usually find a used one pretty cheap from an online seller.
Some paint can seal the deal, too
A can of paint is all it takes to rejuvenate a tired-looking table. This project is beginner-friendly, affordable, and endlessly customizable. With two or more colors you can easily create fun designs that'll turn your coffee table into a statement piece. To recreate this look, mark a certain height on each leg and dip the legs into a paint can or disposable container. Working with an especially tight budget? Check out the heavily discounted mis-tints at Home Depot and Menards. Just be sure that it's the right finish for your project!
Swap the legs for a fun twist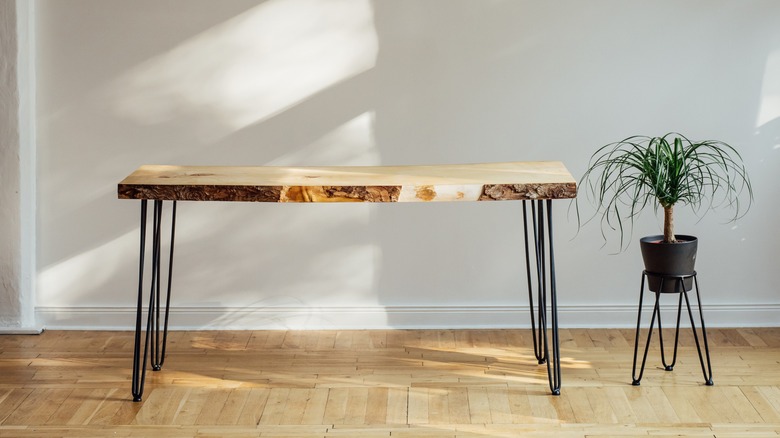 Natural Goods Berlin/Unsplash
If you're happy with your existing tabletop but feel that the overall piece needs a refresh, why not look into swapping out the legs? Replacements are surprisingly cheap — plus you can take this opportunity to adjust the coffee table's height. Since most table legs are easy to detach, this project is generally fine for beginners. However, if the screws are hidden or the legs are attached in a complicated way, it may be better suited for an intermediate DIYer.
Stain a pattern onto your table
Looking to give your boring wooden table a unique twist? Stain a pattern into the top and you'll be left with a gorgeous conversation piece. While pouring a drink or two onto the table might be the quickest route, investing in a quality oil stain and painter's tape or a stencil will give you much nicer looking results, according to some simple instructions from Little Red Window. The best part? This DIY is affordable, relatively easy, and can be completed in a couple of hours (not including drying time).
Turn a door into a tabletop
If you're swapping your coffee table as part of a larger renovation project, odds are that you're getting rid of stuff. Whether you're changing a door or tossing an old cabinet, there's a good chance that one of them can be converted into a tabletop. Worried about pre-existing cosmetic damage? You can always sand the door down and add a new finish. This option is particularly affordable (and eco-friendly) since you're reusing what you already have. We'd generally recommend this for beginner-to-intermediate DIYers.
DIY your way to a curved acrylic table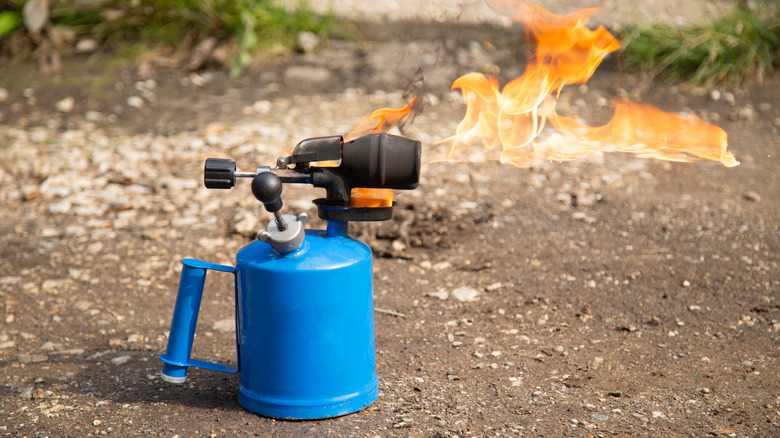 Potashev Aleksandr/Shutterstock
Curved acrylic tables seem to be popping up everywhere on social media — it seems that people can't get enough of them! Unfortunately, they also come with a hefty price tag . . . unless you make them yourself, that is. You'll need a large, thick piece of acrylic and a way of safely heating it up. For a project like this, make sure that you have proper ventilation and safety gear before you start bending any plastic.
Add a hidden charger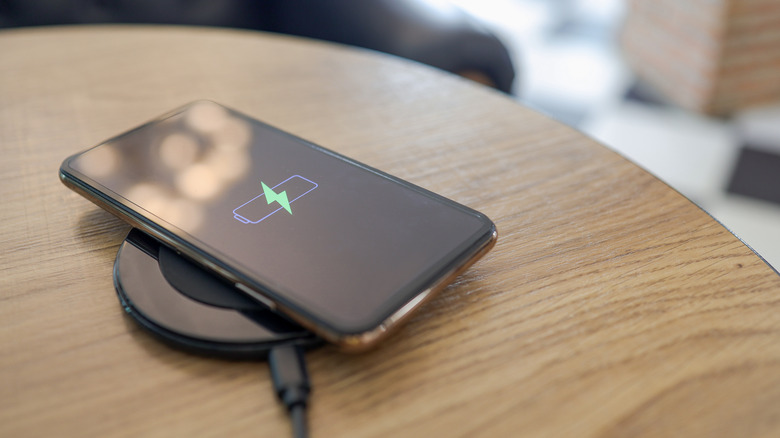 Lee Charlie/Shutterstock
Does your phone always seem to be running out of battery? You can add a hidden wireless charger to your coffee table, providing you with an easy way to charge your phone that won't result in a messy, unsightly wire cluster. Since this project involves connecting the charger to a power supply, we'd recommend it to intermediate DIYers and up. However, it can be relatively affordable depending on which charger you purchase.
Customize with NFC tags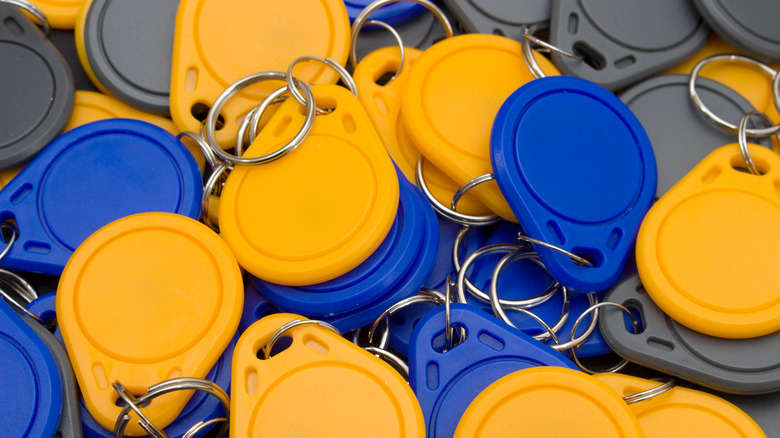 Jovan Svorcan/Shutterstock
Want to feel like you're living in the future? NFC tags allow you to automate an action by simply tapping your phone to the tag. They're dirt cheap and can be left on top of the table, though hiding them inside is not particularly difficult and will result in a sleeker look. The best part? The possibilities are endless. You can use NFC tags to dim your lights, brew a coffee, play music, connect a guest to your WiFi, and so much more!
Use strip lights to up the coziness factor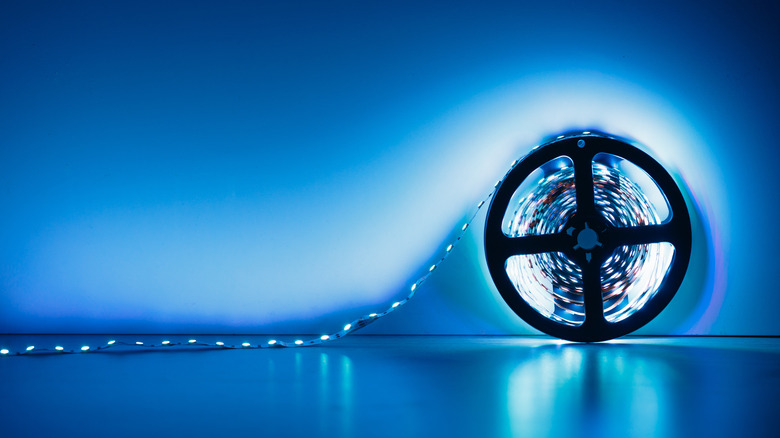 nikkytok/Shutterstock
Want to add a cozy glow? Try mounting LED strip lights underneath the bottom of your table, just along the edges. In most cases, you can adjust the color of the light, providing even more customization. LED strip lights are very affordable and beginner-friendly to install, so this project should be relatively straightforward. If you're up for the challenge, you can combine this hack with the NFC tag option so that placing your phone on the coffee table (above a hidden NFC tag) will turn on the lights automatically.
Add a lift top — the perfect snacking companion
Coffee tables are for more than just coffee and chances are that, from time to time, you use yours to do some snacking. This simple, affordable lift table is the perfect way to ensure that you don't get crumbs all over your couch. Plus, it's made with inexpensive lumber. The project can be completed within a day and is perfect for intermediate DIYers.