How To Properly Whitewash A Brick Wall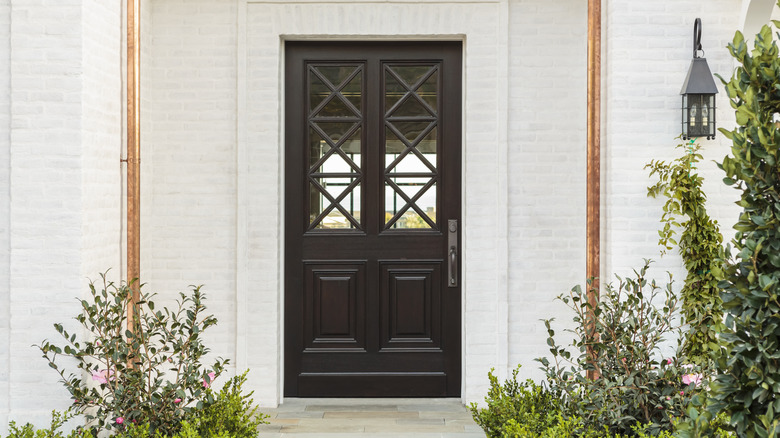 David Papazian/Shutterstock
While the addition of brick can bring charm, character, and a touch of history to your home, brick can sometimes look a little outdated and in need of some maintenance. Although there are many ways to go about caring for your brick, one of the simplest ways to modernize it is through the technique of whitewashing. Applied like paint, according to Home Depot, whitewashing uses a watered-down medium rather than a full coat. This technique allows the brick's original coloring to be disguised but not fully covered, leaving the texture of the brick still visible.
Whitewashing can be done both inside and outside of the home, and depending on the project's severity, you can easily do it yourself or hire professionals to do it for you. In terms of the cost of whitewashing, the technique can be fairly inexpensive for smaller DIY projects, ranging between $0.45 and $0.80 per square foot, and up to $200 per 250 square feet for larger projects that may require paint rollers and a ladder (via Home Advisor). 
As for the cost of professionally applied whitewash, which will likely be on your home's exterior, the price for an average sized home ranges anywhere between $1,500 and $6,700 (via Home Guide). And although that may seem like a dramatic jump in price, keep in mind that professionals will have more whitewashing experience and may save you time in the long run when it comes to determining how thick your paint should be when applied.
Whitewash vs limewash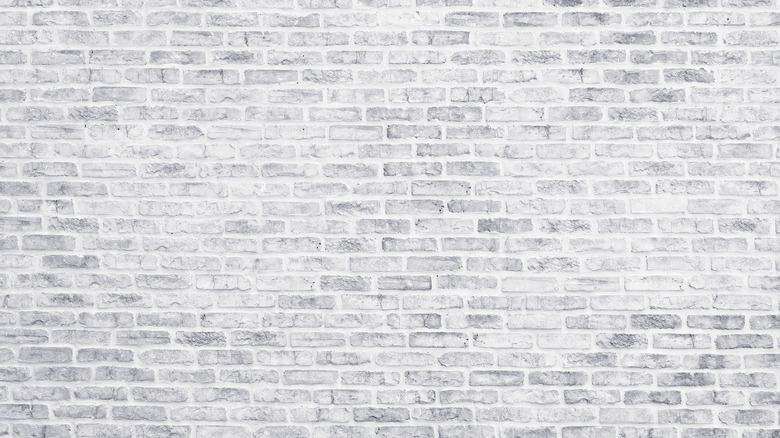 JAYANNPO/Shutterstock
If you're considering whitewashing your brick, make sure you know the difference between whitewash and limewash, as the techniques are often confused when it comes to white coated bricks. Limewashing is a centuries old technique that has a similar application process to whitewashing and produces almost identical results, although the paint that's used for limewashing has a completely different makeup than the one used for whitewashing.
Rather than using a watery latex-based paint, limewashing uses a milk-like slurry that's made from a combination of natural limestone powder and water (via The Organic & Natural Paint Company). Used on porous materials like untreated wood, limewash is often regarded as environmentally friendly due to its natural ingredients, which can help keep pests away from your home and prevent water and weathering damage.
Whitewash on the other hand, doesn't require you to purchase specific supplies, like hydrated lime, to make your own paint, which can be expensive if your local home improvement store doesn't sell it. Whitewash also tends to be more versatile as it can be applied to a variety of materials including brick that has been previously painted, according to Premier Painting. You won't have to worry as much about getting the right water to powder mixture or exact pigmentation matches in each of your paint batches as well.
Applying whitewash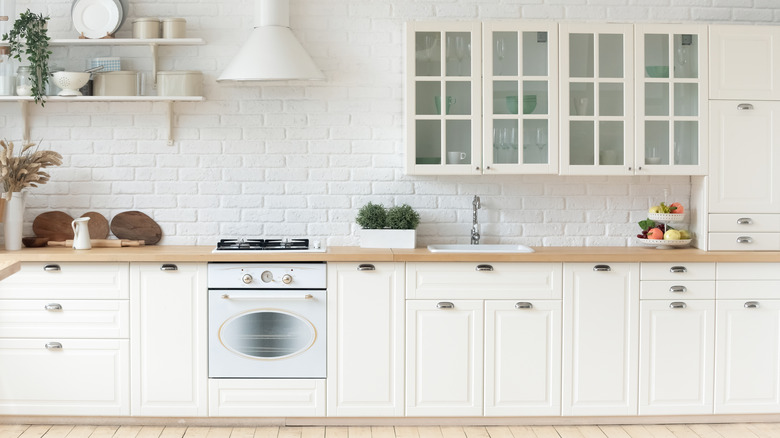 fizkes/Shutterstock
Considered a beginner level project by Home Depot, whitewashing can be fairly quick and easy. Start by lightly applying soapy water to your exposed brick with a clean rag and scrub brush. If you find some spots that are tougher to clean, use a mixture of water and boric acid. Just make sure to wear protective gear as the acid can be harmful. You should also keep an eye out for fractures or gaps in the mortar, as they'll need to be repaired before applying the whitewash.
After applying the cleaner, allow the brick time to sit before rinsing it. While you wait, you can start mixing your paint and prepping your workspace with painters tape and drop cloths. Although there are premixed whitewash paints available, you can make your own by simply thinning latex-based paint with water. Once the paint is mixed, The Farmhouse Life suggests testing it in an area that isn't completely visible and allowing it to dry. If you like how it looks, you can lightly mist your brick with water before applying the rest of the whitewash with a wide brush for maximum coverage in small sections. Lightly dab the brick with a rag as you paint to remove any drips. This process is all about preference, so leave as much or as little paint as you want, keeping in mind that it'll fade as it soaks in. Allow it to dry overnight before assessing whether you need another coat or two.