Why DIY'ers Are All Buying This Item At Menards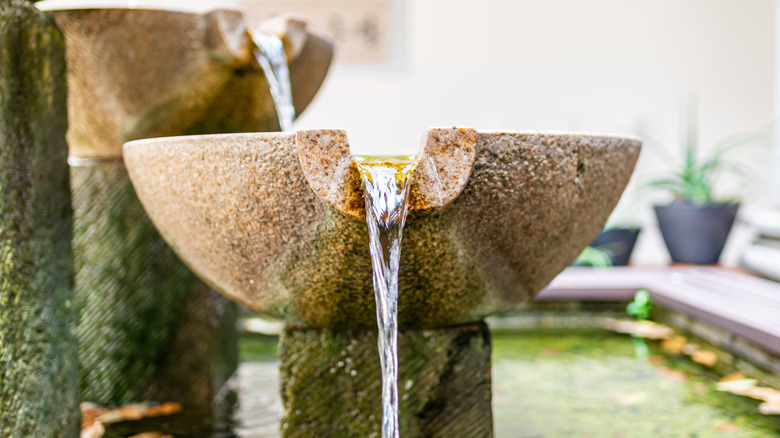 Jerome Quek/Shutterstock
Menards is one of the three largest home improvement chains in the United States, with over 300 stores across 15 Midwest states, per Forbes. On their website, under the Project Center tab are dozens of "how-to" videos and articles on how to make a wide variety of home and garden projects. One of the most widely viewed of their "How-to" videos shows how to build a fountain using terra cotta flower pots and saucers. This video has over seven million views on YouTube, which seems to indicate the popularity of easy-to-make fountains for backyards or table tops. 
There are only a few materials required for this simple fountain (and you can find them all at Menards), including two small flower pots, six flower pot saucers, a fountain pump, some plastic hosing, silicone spray, and some concrete sealer. If you don't already have some extra terra cotta pots and saucers, these items can frequently be found at yard sales, per Mavis Butterfield, or may just be waiting in your neighbor's backyard for the asking. 
Benefits of outdoor fountains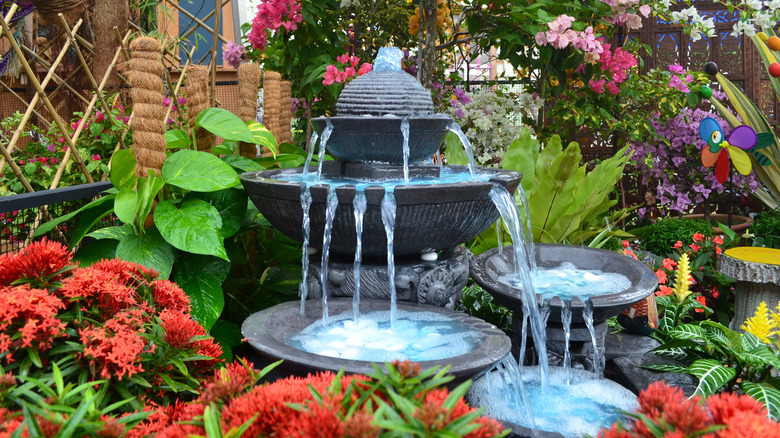 Anis Mardhiah/Shutterstock
The sound of water is considered to be very soothing and has often been used in meditation practices, according to Outside. Adding a cascading water fountain to your yard is one way that you can create your own oasis. Adding some colorful, flowering plants, and scented plants incorporate several of your senses in a relaxing way. If you set up a cozy sitting area nearby, you may never want to leave this outdoor space. Like all white noise, water can also help disguise background noise in your neighborhood. A water fountain is also enjoyable for birds, butterflies, and other wildlife who may take a sip or a spontaneous bath in the water. As long as the water is cascading, it is unlikely to create an environment for mosquitos to breed, per University of California. 
Outdoor fountains are low maintenance and can last for many years. There are two general types of fountains, writes Water Gallery. A circulating fountain is seasonal in most climates and will need to be brought inside before the weather has freezing temperatures. Year-round fountains are heated either by solar panels or with electricity and can be left outside.