25 She-Shed Ideas To Help You Design Your Dream Space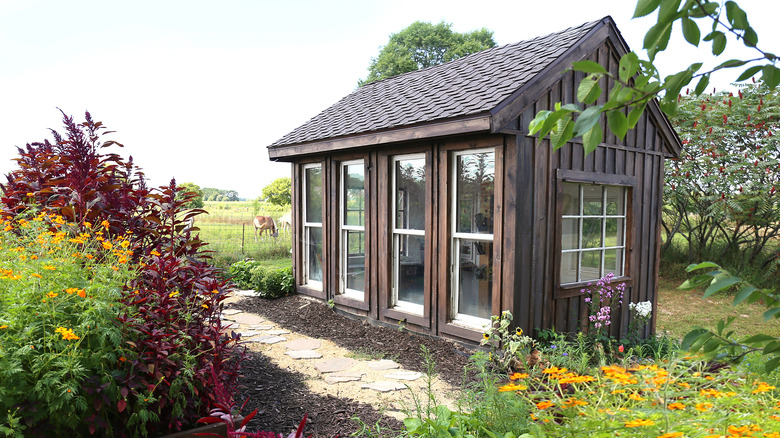 Christin Lola/Shutterstock
Ever wanted your own personal space but had nowhere to go? Why not build a she-shed? She-sheds are a more feminine equivalent to a male's man cave; however, they can definitely be used by anyone. It's a place to hang out, have some alone time, or entertain guests. It's a sweet escape and relaxing oasis. A she-shed can be made from almost anything as well. An old building, a storage shed, or even a spare bedroom are some ways to build one.
They are also known to have many health benefits. According to Chicago Tribune, she-sheds can help one's physical health, offer a sense of identity, reduce resentment against others, and provide some privacy. It's important for you to take care of your health, both physically and emotionally. Clearly, a she-shed can help with that. Creating a sacred area can improve your overall well-being, especially if you're also going through a period of high stress like many are.
Additionally, and possibly most importantly, she-sheds are completely customizable. You can create a music room or an art room, or you can have some privacy or an open hangout with friends. The possibilities are endless. So, if you want your own she-shed but also need some inspiration, look no further. Here are 25 she-shed ideas that you can create right at home.
1. An artist's escape
All types of artists need their own space; you require a decent amount of room with paint brushes, pencils, canvases, and more to store. Why not turn your she-shed into an artistic room then? A place without any distractions that's separate from the world is perfect for you to express yourself in your work.
2. A cook's mini kitchen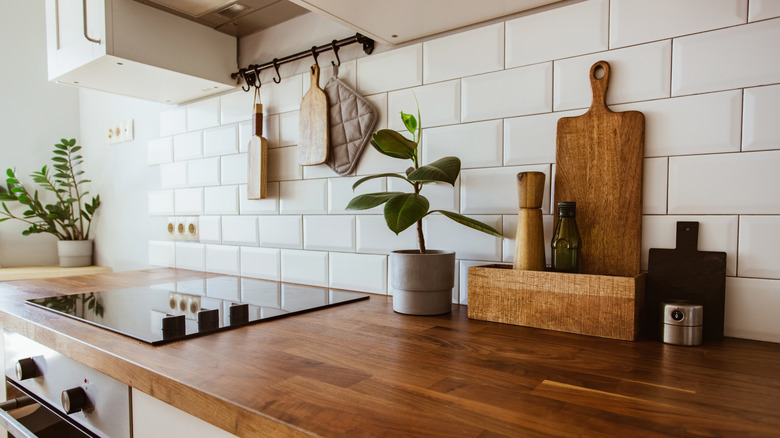 Katrina Era/Shutterstock
Picture this. You're outside grilling and realize there's a vegetable that needs to be heated up on the stove or bread that needs to be baked in the oven. What's more convenient than having a mini kitchen nearby? Best located near the grill, a kitchen she-shed is perfect for home cooks.
3. Relaxation room
A relaxation room is a perfect idea for a she-shed. It's a place where you can just take a minute and go and relax. A sofa, table, and mini-fridge are just some ideas of what can fill in this room. Additionally, this space is perfect for anyone in the home who needs to unwind.
4. Fitness center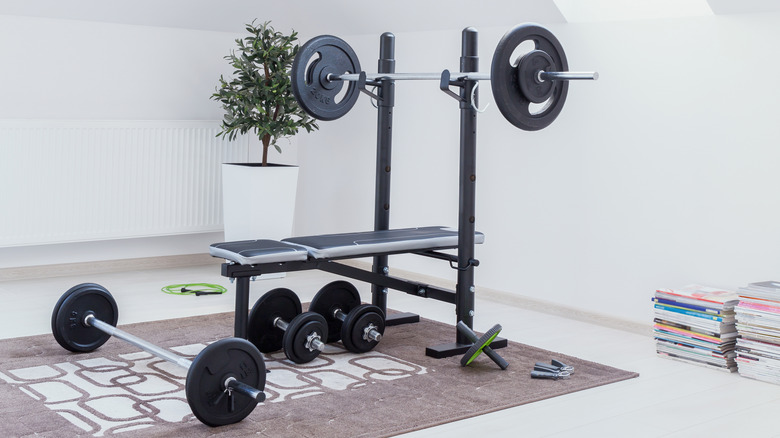 Photographee.eu/Shutterstock
Love to work out or in need of losing a few pounds? Then turn that she-shed into a fitness center. This is a safe place where you can work on yourself without having to deal with the anxiety that comes with going to the gym. Additionally, this is also customizable as you can add whatever equipment you want.
5. Reader's nook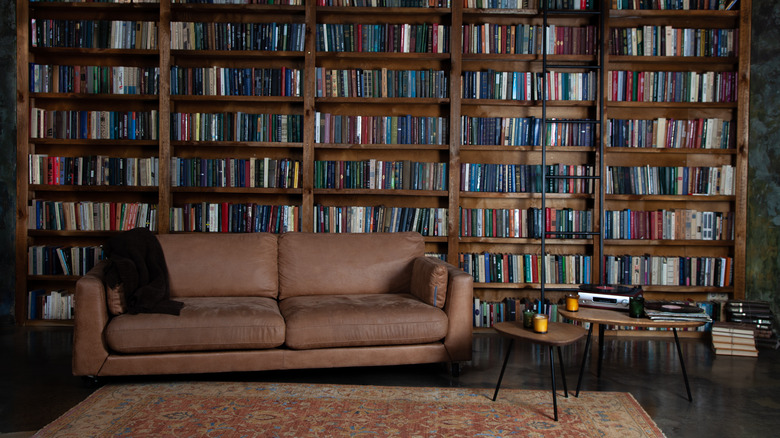 Real_life_photo/Shutterstock
Whether you enjoy reading books or just like to collect them, a reader's nook is another creative she-shed idea. Bookshelves aligning the walls with a couch and even an end table is the perfect escape. It also frees up room in your home as well. Plus, there is an endless amount of books one could acquire.
6. Music studio
Calling all music lovers and makers — this idea is for you! A separate home music studio is a perfect idea for you to dive deep into your work. Making music can be a lengthy and loud process, so turning a she-shed into a studio is perfect for musicians.
7. Kids' cave
Need a break from the kids but have nowhere to take them? Why not turn your she-shed into a kids' cave? This is a good idea for the kids to release energy, have their own space, and give their guardians a break all at the same time. This is also another way to store all their toys.
8. Makeup and hair lair
Africa Studio/Shutterstock
A she-shed turned into a makeup and hair liar is perfect for those who enjoy doing both. Collecting makeup and hair products can eventually take up a lot of space, maybe more space than your bathroom has to offer. A she-shed is perfect to have enough room to do what you need to do.
9. Mini mansion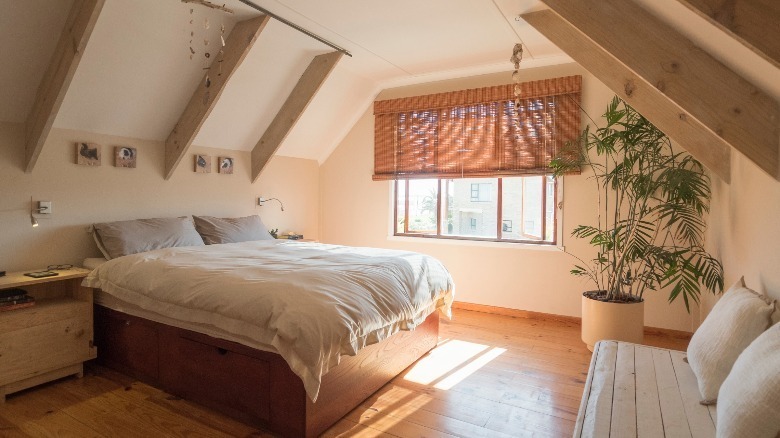 Lucia.Pinto/Shutterstock
If you have frequent visitors, guests, or even someone staying with you for a short period, then maybe it's time to give them their own space. A guest house outback is perfect for doing this. A bed, a small kitchen, and a bathroom are all the main things you need to provide.
10. Dining shed
Want to eat outside but not in direct sunlight? Then turn that she-shed into a dining area. This is perfect for summer weather too, as she-sheds can be air-conditioned. All one needs is a table, chairs, and cool air. However, you could add a mini bar or mini-fridge as well.
11. Girls' hideout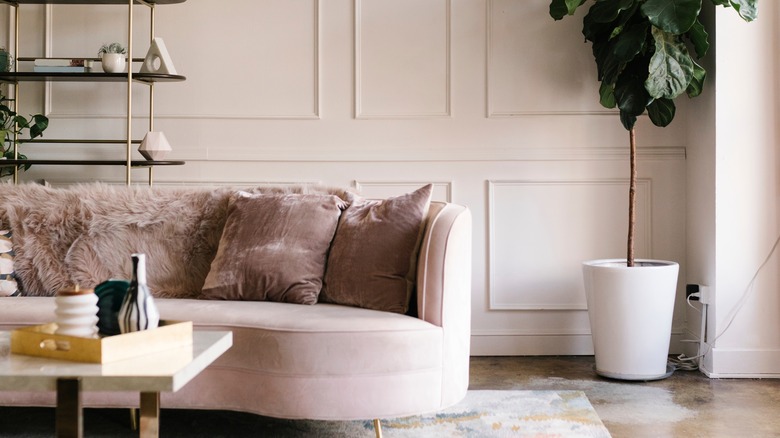 Rawpixel.com/Shutterstock
This idea is for teenage girls or parents of one. When kids grow up and hit their teenage years, they also need their own space and privacy. Transforming your she-shed into their own hideout is a perfect compromise to give them space but not too much space either.
12. Collecting haven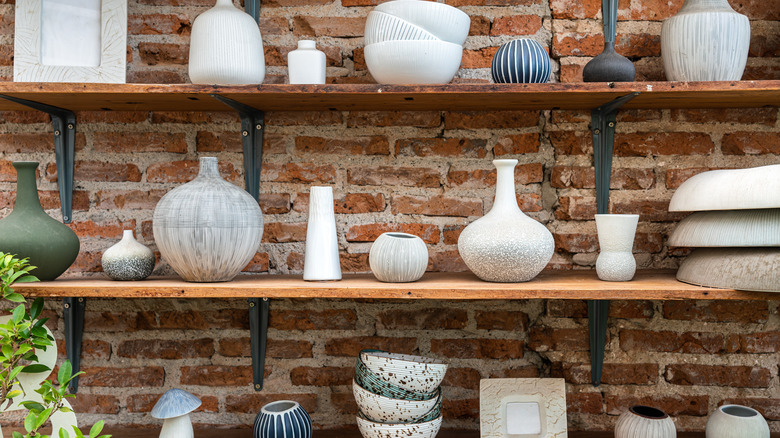 Nattawit Khomsanit/Shutterstock
Any person that collects things knows of the hassle that comes along with it. Trying to find the item, the money spent, and where to put it are just some of the many things that collectors need to consider carefully. However, the latter aspect can be resolved easily with a simple she-shed.
13. Home office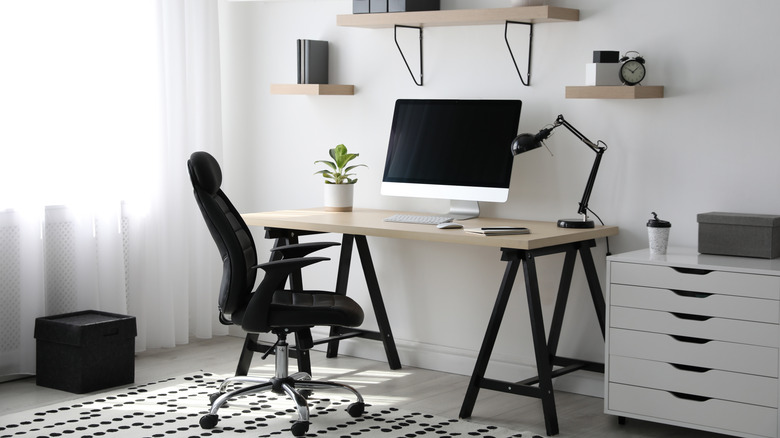 New Africa/Shutterstock
Many people worldwide love to from home and would rather do this for as long as they can. To that end, many have also decided that they need their own space, a space different from where they spend their day-to-day lives. A she-shed is a perfect spot to create an at-home office.
14. Cleaning coven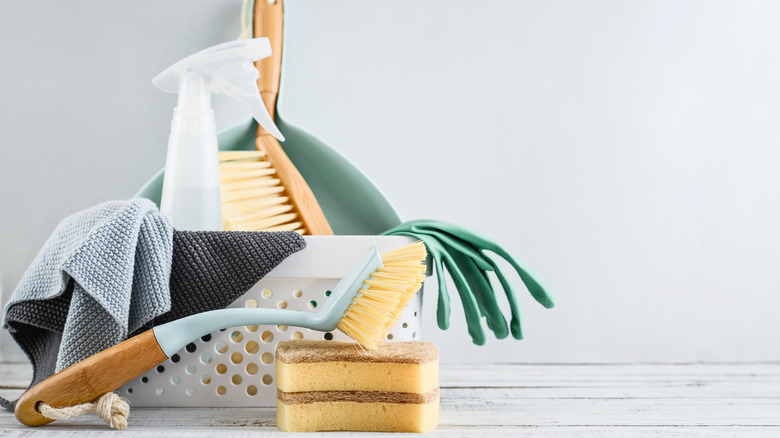 mama_mia/Shutterstock
Do you have cleaning supplies randomly around the house? How about randomly being thrown in the laundry room or kitchen? This isn't too uncommon and happens to many homeowners at some point. Turning a shed into a separate cleaning room is perfect for organizing indoor tools, conveniently grabbing them, and getting the job done.
15. Movie theater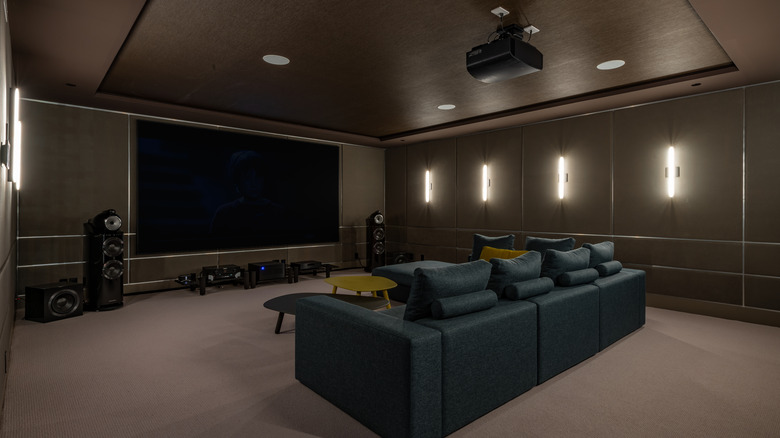 Sheila Say/Shutterstock
Perfect for movie lovers and series watchers, a home movie theater is an ideal oasis. Additionally, having it separated from the rest of the home is convenient as it's a different scenery, and sound won't travel throughout the house. An empty space, a large screen, some furniture, and snacks and drinks are all that you need.
16. Holiday hangout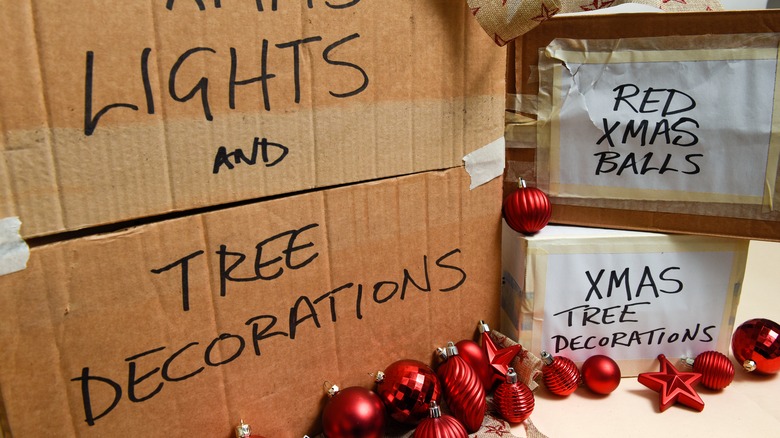 Thomas Holt/Shutterstock
This next idea is for all frustrated holiday decorators. From Christmas to Halloween, it can be hard decorating for a holiday all on your own. Not to mention trying to find a space to put the decorations once the holiday is over. So a she-shed full of holiday décor is convenient and a space saver.
17. Boys' territory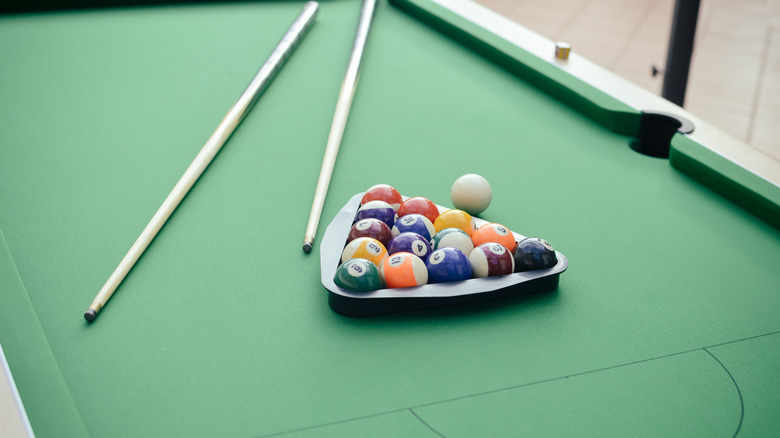 ARIMAG/Shutterstock
Very much like a girls' hangout, boys need their own space just as much. So turning a shed into their own personal territory isn't a bad idea. A pool table, mini-fridge, a gaming area, or just a simple sofa are all ideas of what to include to give your boys the space they need.
18. Greenhouse shed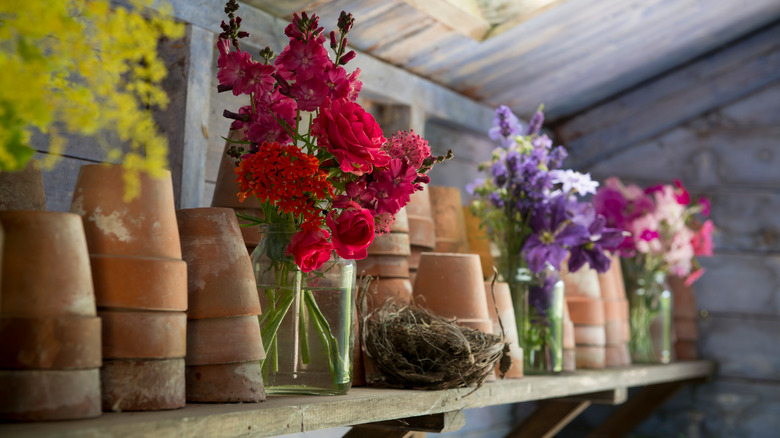 richjem/Shutterstock
What about a greenhouse with tools and plants for a she-shed? It's a private place to show off your green thumb and have all the tools and necessities you need in one place. It's also a great place to keep your plants safe from the weather and wild animals.
19. Pets' private escape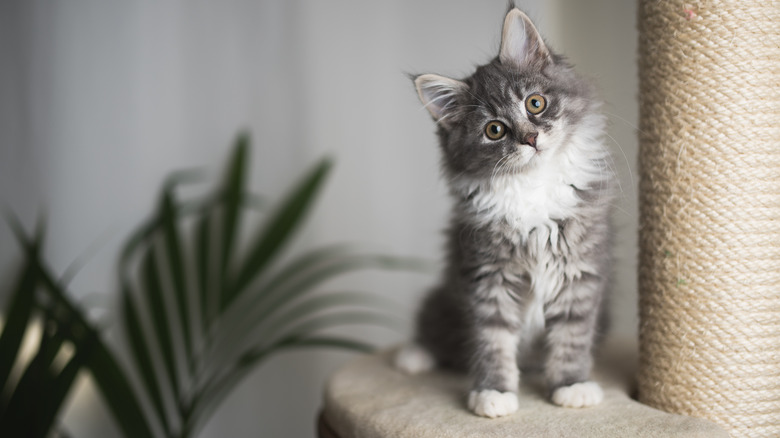 Nils Jacobi/Shutterstock
While uncommon, some people have given their pets their room or even their own house. So why not turn your shed into your pet's own private retreat? Not much is needed either. If you have a cat, a bed, a few toys, and a tower, your pet will feel right at home.
20. Small business area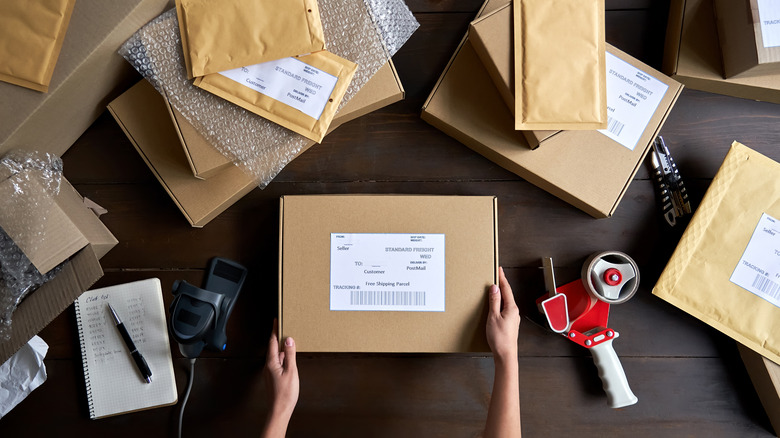 insta_photos/Shutterstock
Besides working from home, many people have also started their own businesses to bring in some extra cash. However, with the creation process, shipping boxes, and labels, a home business can begin to take up a lot of room. A separate shed is perfect for giving an entrepreneur the space they need.
21. Dance mania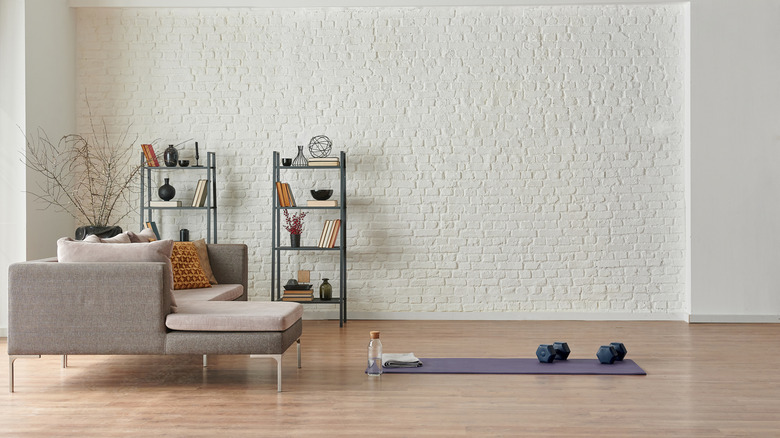 united photo studio/Shutterstock
As opposed to a workout center with equipment, a dance studio is a large open space. Maybe a yoga mat and a stereo can reside within this room. Nonetheless, this she-shed can give you the space you need to get into touch with your inner circle and let off some energy.
22. Closet chamber
Da Antipina/Shutterstock
Like many people around the world, chances are you have a lot of clothes. Maybe more clothes than you know what to do with. A separate closet shed is perfect for storing your clothes. Of course, clothes you only use in certain seasons or special occasions are best; however, you can keep any item here.
23. Memory storage shed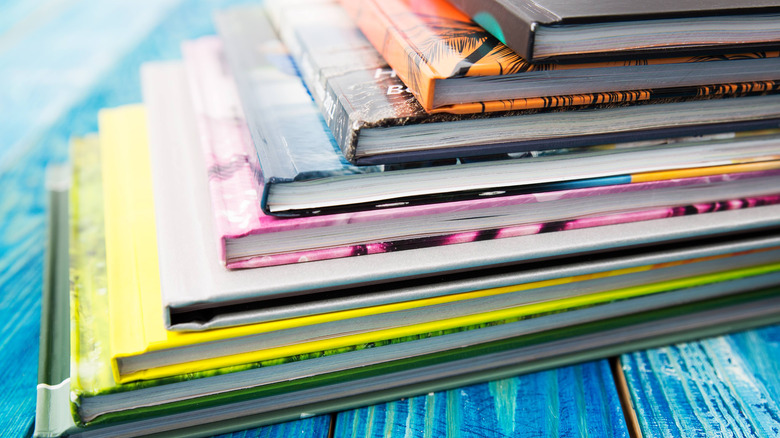 LediLena/Shutterstock
It's not uncommon for people to hold on to memories from the past. Maybe it's yearbooks, photo albums, old toys, or even family heirlooms. Over time, these items can begin to pile up and take up more and more room. A shed turned memory storage is a way to keep all the souvenirs in a safe space.
24. Game room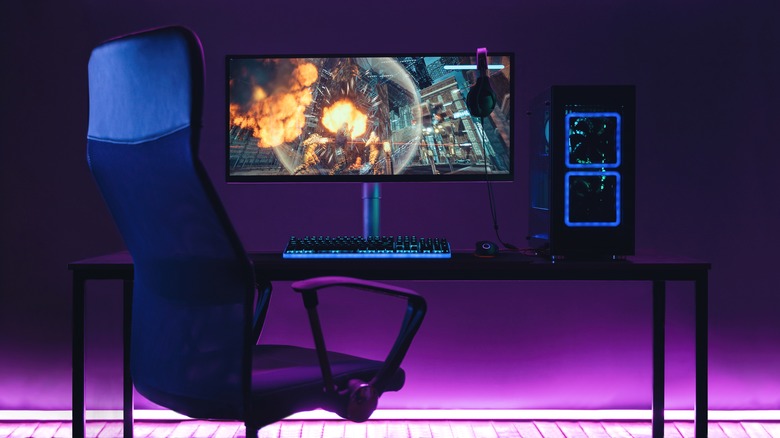 Arsenii Palivoda/Shutterstock
At some point or another, we all play video games or at least try to. Yet, with so many systems and different types of TVs and monitors, there is almost no end to what one can accumulate. So having a separate space for these electronics is great to have an escape from the real world.
25. Indoor and outdoor she-shed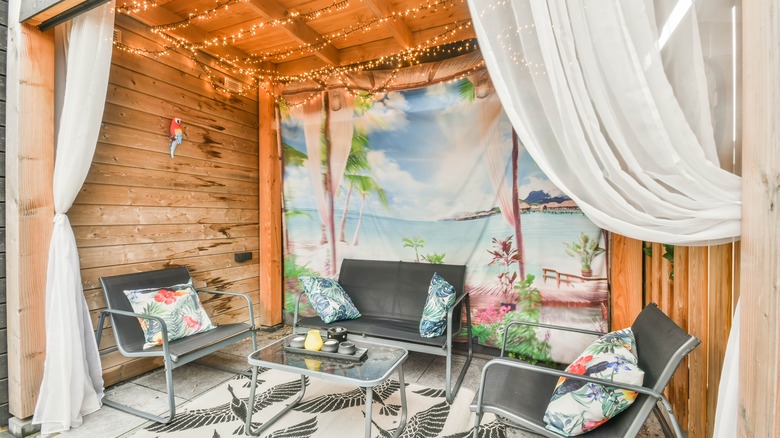 Procreators/Shutterstock
This idea is for those who want to be out of the sun and enjoy the fresh air at the same time. An indoor and outdoor shed provides a comfy sitting area where you can relax outside and be protected. Unlike the other ideas, this one doesn't require air conditioning or electricity.