Why Home Depot Is Your Best Bet When You Need To Keep The Lights On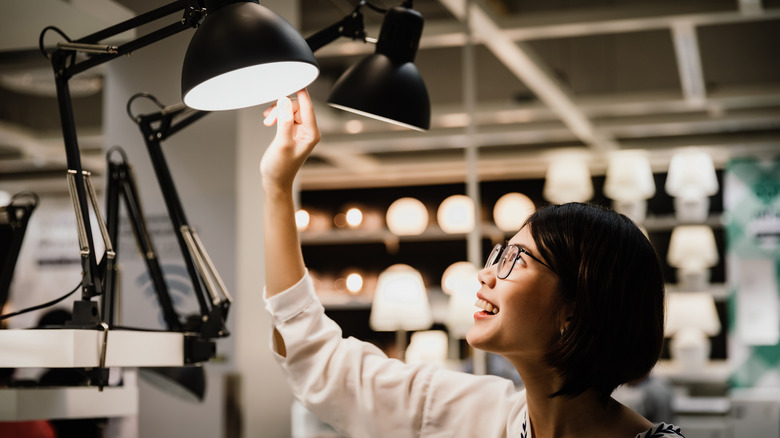 CKYN stock photo/Shutterstock
Whether revamping an old house or putting final touches on a new home project, one of the must-dos is the setting up of lighting fixtures –– the right way. Do you agree? According to Lamudi, the importance of lighting in an architectural building is that it improves mood, helps to highlight the key elements of both interior and exterior design, adds beauty to the building, and allows us to better see what we are doing.
While these are obvious facts, most people still treat lighting with flippancy as opposed to seeing it as an architectural element that should be systematically planned, meticulously selected, and expertly handled, as explained by Architect and light designer Richard Kelly at TCP. And, recently here at House Digest, we discovered that where most homeowners often get it wrong is at the stage of buying lighting fixtures. So, if you're wondering whether Home Depot is a good place to make smart purchases on your lighting fixtures, this post is the eye-opener you need. Keep reading.
Home depot lighting fixtures: Smash or pass?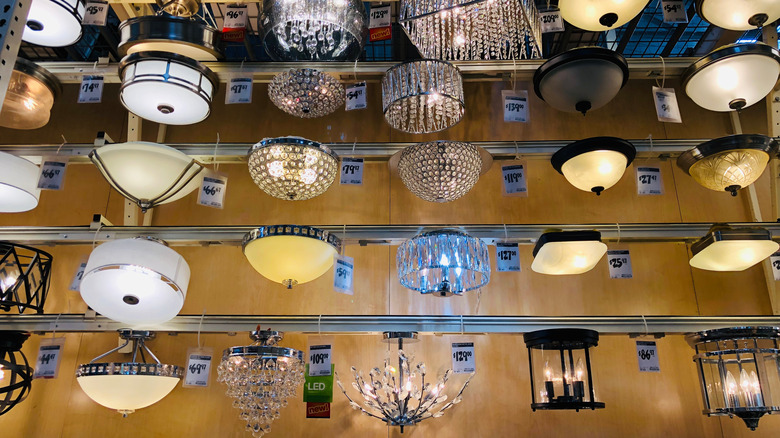 ZikG/Shutterstock
Many comparison blogs out there give buyers an edge when choosing the store to buy from, whether it's Home Depot, Lowe's, Wayfair, Target, or Lumens. And based on our careful observation, we discovered that Home Depot may be a good choice for those considering buying lighting fixtures — and here's why: When Top Consumer Reviews compared Home Depot with Light In The Box, they discovered that Home Depot's catalog of lighting fixtures has over 75,000 more items than what's available at Light In The Box. They also revealed that Light In The Box does not offer free delivery and a 90-day return policy, like Home Depot does.
Another article on Whizard Strategy comparing Home Depot with Lowe's claimed that Home Depot's items are geared towards professionals and contractors while Lowe's targets mostly DIYers. In other words, if you're buying lighting fixtures for a new house project, Home Depot may be a better option. Additionally, Insider also argued that Home Depot has better customer service and better pricing when compared to Lowe's. Finally, when Brian Garcia of D&G Interiors was interviewed by Insider about the 14 best items to buy at Home Depot, he said, "There is no beating the selection of lightbulbs Home Depot offers and keeps on hand. Not only are you bound to find the type of bulb you're looking for, but their pricing is always sharp and lower than the hardware store."
Lights to buy at Home Depot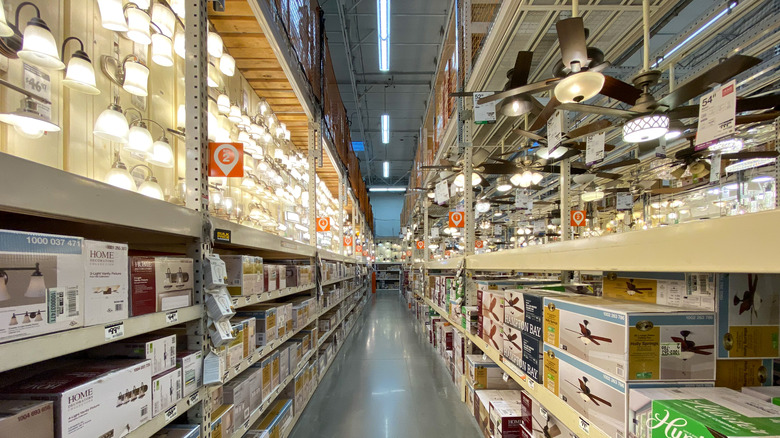 Unwind/Shutterstock
Topping the list of the light fixtures you should buy at Home Depot are chandeliers; mind you, their chandeliers tend to be more minimalist designs. Anyway, you can check the roundup published by Foter to discover 10 of Home Depot's best chandeliers. 
Now, track lighting, recessed lighting, and vanity lights are other interior lighting fixtures that homeowners can buy at Home Depot. Their lines of recessed lighting include color-changing models, low-glare models, decorative designs, and so much more.
For your outdoor lighting, Home Depot sells landscaping lighting, deck lighting, wall lights for the outdoors, security lights, and outdoor ceiling fans with lights. You can see check their outdoor lighting fixtures catalog, which contains some that are similar to those listed on Lowe's. Overall, Home Depot has virtually all the categories of light fixtures needed for a home project, including those for your bathroom, kitchen, foyer, and dining room in transitional, classic, rustic, modern, and industrial styles.