Why Home Depot Isn't Your Best Bet For Hardwood Floors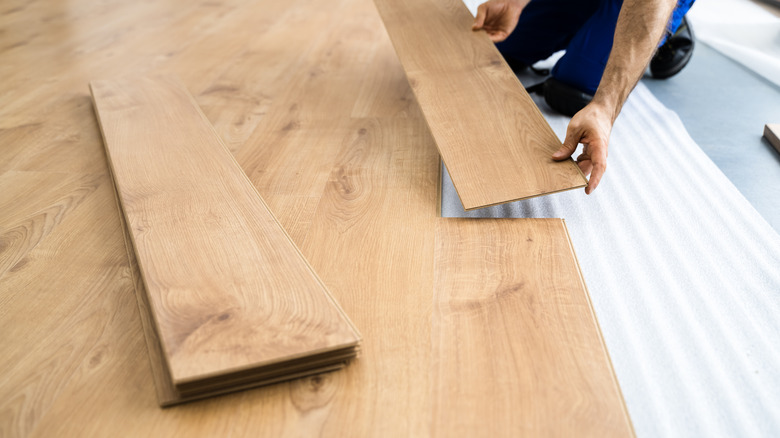 Andrey_Popov/Shutterstock
Big box home building stores can be the perfect source for most of your home design or remodeling needs. Whether it's to purchase plumbing supplies, lighting sources, hardware, or power tools, these types of home building centers can serve as a one-stop-shop for any DIY dynamo or general contractor. If you're a homeowner and looking to do some renovation work around the home, stores like Home Depot almost seem like a no-brainer solution when it comes to purchasing your supplies. However, you need to be cautious before dropping big bucks because there are certain types of materials that may not suit your needs.
When it comes down to repairing, refinishing, or laying down a new hardwood floor in your home, it can be a bigger job that might require you to stick to a strict budget. And when considering the cost of putting down new hardwood flooring, according to HGTV, you can expect to pay anywhere between $4.50 to $14.50 per square foot of flooring. In order to cut costs, you might be tempted to visit Home Depot in order to save on bulk lumber prices, but you might find that it's not the best idea.
The reason for caution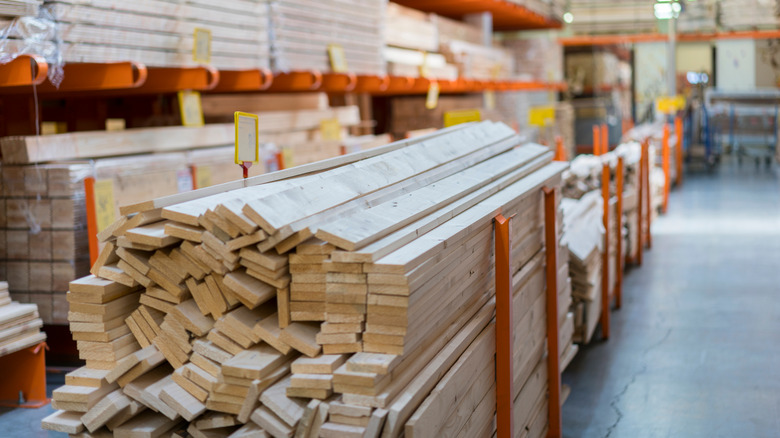 Petrychenko Anton/Shutterstock
When making a budget for the costs associated with redoing your hardwood flooring you should make sure to think of a few different factors, specifically if you are planning to do the project yourself. However, you might be able to save big on your home renovation project by renting a power sander as opposed to buying one, or buying varnishes and wood stains at a discount cost. You may find that the higher lumber costs of hardwood may be unavoidable. But there might be a good reason to go with a store or lumber yard that exclusively deals with special types of wood instead of a generic big box store like Home Depot.
While the type of wood you can get from home renovation centers might be similar to more specialized wood stores, it's what might lurk below the surface that makes all the difference. Certain exotic woods or other varieties that are popular for home flooring may be prone to insect and termite infestation, according to David Floyd, owner of The Pest Informer (via BestLife). These little critters might not show up on the scope of larger store employees, but might be just the thing that professional woodworkers look out for. So before you try to save a few dollars ordering hardwood floors from Home Depot, make sure to do your research so that you don't bring infested or inferior wood into your home.