20 Innovative Walkway Designs That Will Spice Up Your Backyard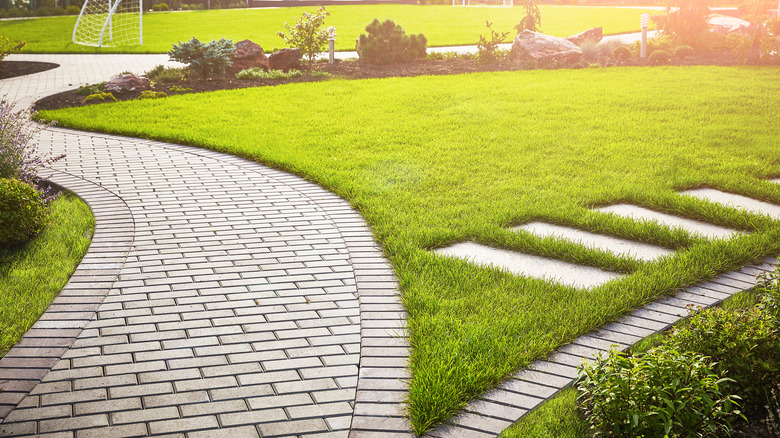 Kyttan/Shutterstock
Other than being a path from point A to point B in your backyard, walkways also play an important role in how your experience your beautiful backyard or outdoor garden, as noted by the University of Florida. These outdoor pathways allow you to welcome your guests in style and also increase the aesthetic appeal of your property significantly. Plus, gorgeous meandering paths can be quite charming and romantic, especially when installed correctly. Compared to other outdoor design elements like plants, for many homeowners, little attention is paid to these important paths that give way through green space. 
Outdoor footpaths can be done in many styles, from simple DIY options to high-end footpaths that require professional installation. With the many design options available to choose from, it can be quite confusing to pick one that is ideal for you. In this regard, we have done the digging on your behalf and come up with a few ideas that will help get you started. Tag along!
1. Paved cobblestone
Looking for a beautiful and durable option for a path through your backyard? Then paved cobblestone might be what you are looking for. This natural building material is available in different sizes and shapes that you can choose from. It has a traditional charm and is ideal for older homes or for anyone looking to introduce dated design elements into their backyard. It does, however, require professional services to install.
2. Go with gravel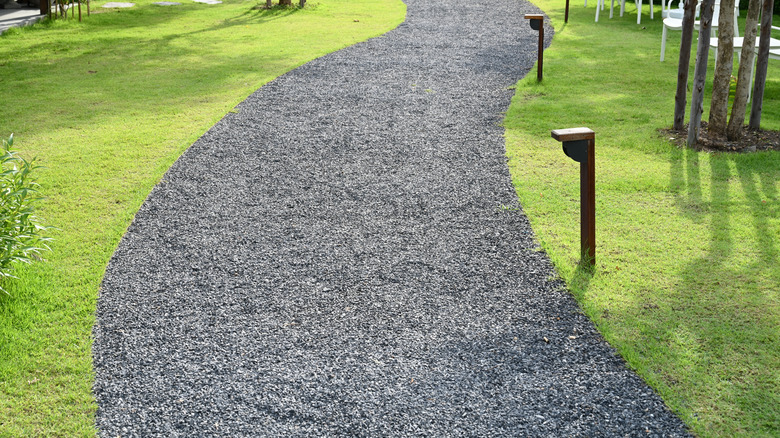 Bell Malinee/Shutterstock
Curving a pathway through the grass in your backyard doesn't need to be complicated. Gray gravel is a great option when you are looking for a quick and easy DIY fix. You can use sand together with stepping stones or just lay it around the winding path in your garden as demonstrated above. There are plenty of options when it comes to gravel color, so pick what you fancy and elevate the aesthetic appeal of your garden.
3. Stone amid the lush greenery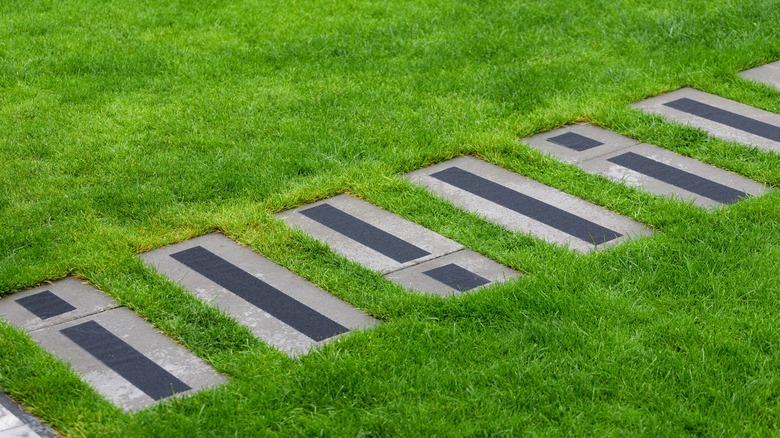 Kucher Serhii/Shutterstock
You don't need to cut a clear path through your beautiful, lush green grass to create a path; instead, incorporate a path amid the greenery. You will need a sod cutter to make holes for the stone on the ground. Once installed, the pathway looks natural and does not get in the way of your grass. You will, however, need to keep the grass short to keep the pathway visible and maintained.
4. Install ceramic tiles
This is a popular option for anyone looking for a sophisticated look with plenty of colors and patterns for details. The variety of ceramic tile options that are available is what makes this design choice quite popular. Ceramic tiles are ideal for every type of home, from Mediterranean style to modern contemporary homes; there is something for everyone. You will need a professional tiler for proper installation.
5. Step on stepping stones
A stepping stone pathway is another easy idea for creating a beautiful backyard or garden path on your property. It does not require any specialized skills and is a great DIY project for you and your kids to take on. All you need to do is arrange large flat stones on the path and cover the remaining space with stone pebbles. Flat stones create a comfortable and smooth path to any place in your backyard.
6. Wooden logs lead the way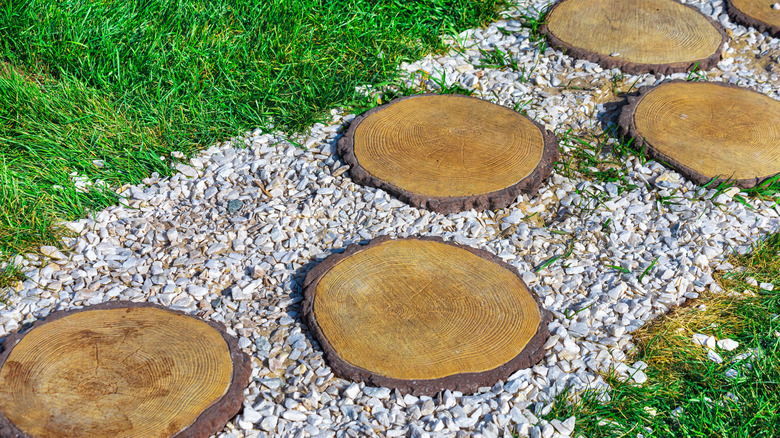 Danil Bukharov/Shutterstock
The combination of flat wooden logs and stone pebbles is a great example of a simple and creative solution to your outdoor path upgrade. The white pebbles add texture to the path while the wooden logs bring in a rustic vibe that never gets old. Installing this kind of backyard pathway isn't too challenging, either.
7. Opt for concrete pavers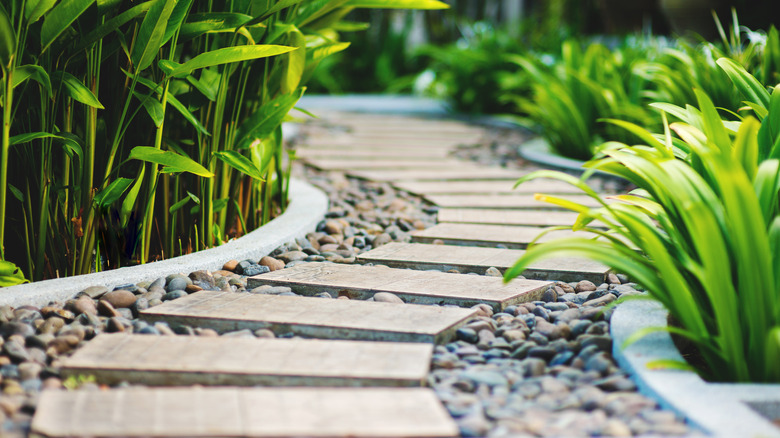 Olena Serzhanova/Shutterstock
Consider installing an elegant concrete paver design for a beautiful upgrade to your boring backyard pathway. The addition of rectangular or square concrete slabs on a layer of stone pebbles creates a pleasing and neat design perfect for any home. You can go a step further and install a concrete border separating the pathway and garden plants, as demonstrated in the example above.
8. Light up the way
Bespaliy/Shutterstock
Introduce some drama into your otherwise boring pathway by adding lighting features along the curving path around your backyard. The tile slab pathway reflects that warm light nicely, illuminating the beautiful meandering path. This is a brilliant idea for anyone who loves hosting parties in their backyard; the lighting is quite inviting to guests when switched on.
9. Timber and pebble combo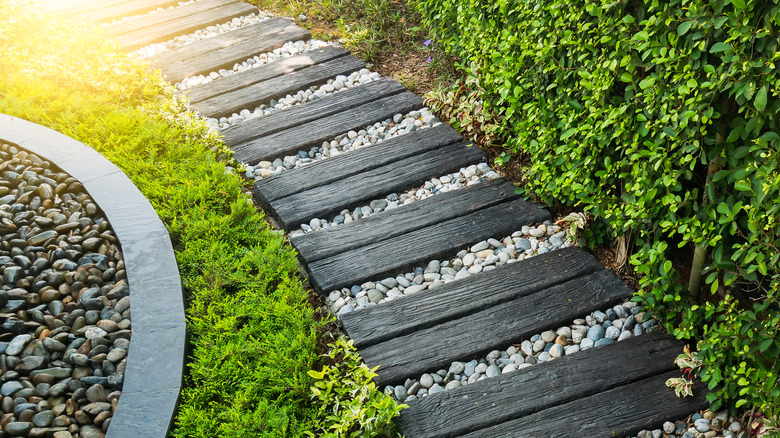 Boophuket/Shutterstock
Your garden path needs not be boring; instead, get creative and experiment with the combination of two different materials like reclaimed timber and larger stone pebbles. The alternating layers of rocks and wood create a pattern that is appealing to the eyes. Be sure to use timber of the same length for symmetry throughout the walkway.
10. Timber, gravel, and brick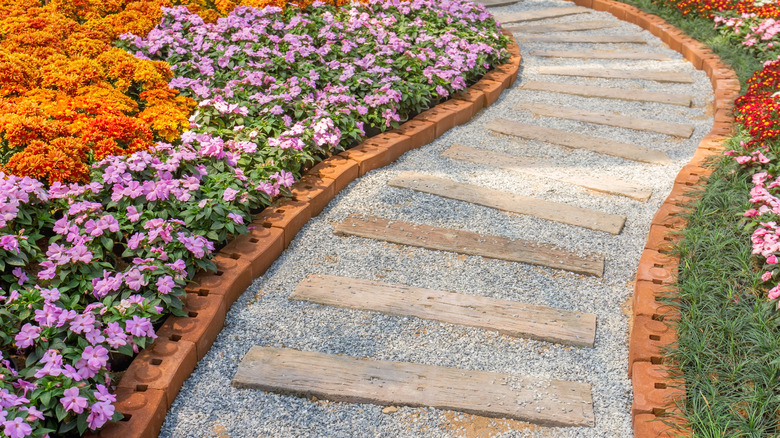 ntdanai/Shutterstock
A combination of three different materials might seem like overkill, especially when dealing with backyard pathways. However, the end result is nothing but a delight to the eyes. The three materials introduce to your garden a splash of color and texture. Achieving such an aesthetic design doesn't need the help of a professional, either; it is an easy DIY project that might take you longer to complete but will be worthwhile in the end.
11. Pattern pavers create a pleasing pathway
Go unconventional and experiment with different patterns while using regular rectangular or square concrete pavers in your yard. Instead of arranging your concrete pavers regularly in a straight line, show off your creative side and install the pavers diagonally to create a beautiful pattern. The resulting aesthetic will add geometric dimension to your outdoor space.
12. Round white marble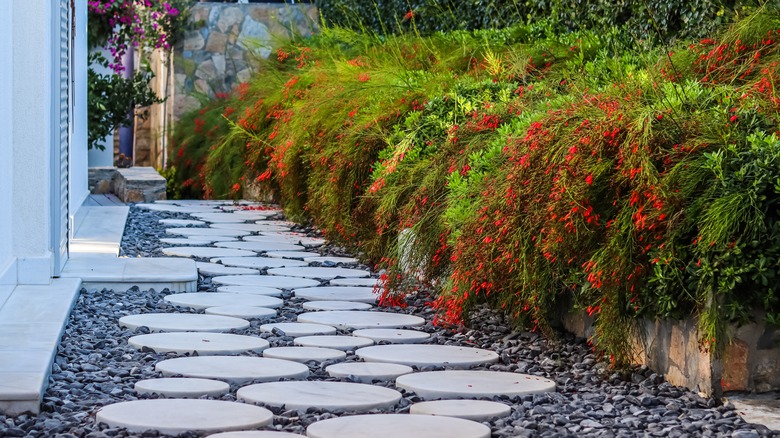 Olaloya/Shutterstock
Making use of unique geometric designs on a garden walkway is a brilliant way to improve the overall aesthetic appeal. A good example is using round marble stepping stones together with dark gravel. The contrasting colors, shapes, and textures bring all the difference in this design. The example above is a demonstration of how you can incorporate these materials. There is no denying the elegance in this walkway design.
13. A wooden walk board for the win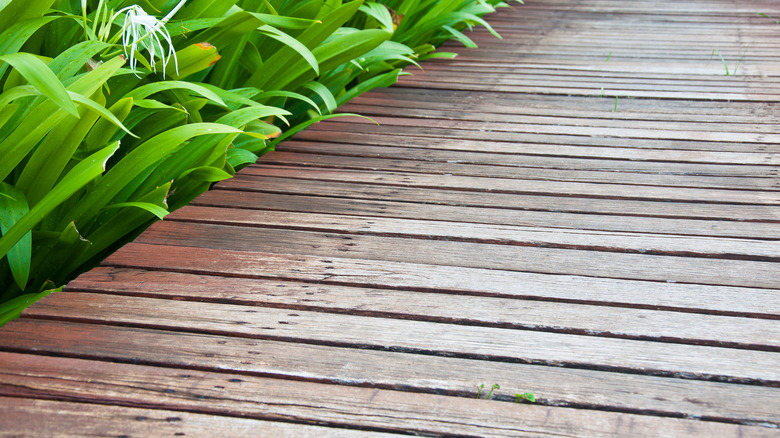 mkmakingphotos/Shutterstock
Think about it: There is something adventurous about having a walk board for a backyard or garden pathway. There are plenty of wood colors you can choose from. However, for a garden walkway, it is best to stick to dull colors that won't require a lot of cleaning and maintenance. You can even choose to be creative with paint and experiment with different colors. Wooden walk boards are not only classy but also sound and feel great underfoot when walking.
14. Fabulous flagstone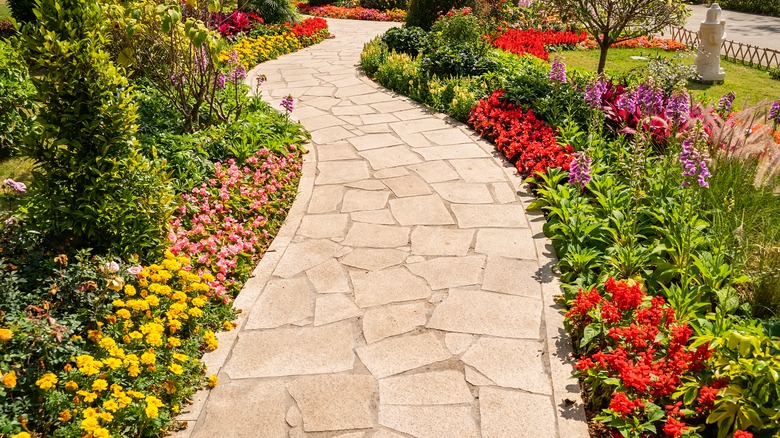 asharkyu/Shutterstock
Flagstone is an especially popular choice for durability and also elegance when installed in the right way. For this reason, flagstone is also a good option when looking for an outdoor garden walkway option. Moreover, using flagstone as your material of choice also gives you the opportunity to implement different and intricate patterns on your outdoor garden walkway.
15. Handcrafted brick
This is another durable option that will instantly introduce texture, beauty, and a touch of traditional design elements to your backyard. There are endless ways you can arrange bricks on your outdoor pathway without compromising the aesthetic appeal. However, for a more traditional look go for a standard arrangement pattern as demonstrated above. Notice how the pathway complements the exterior wall of the house?
16. Take the pebble path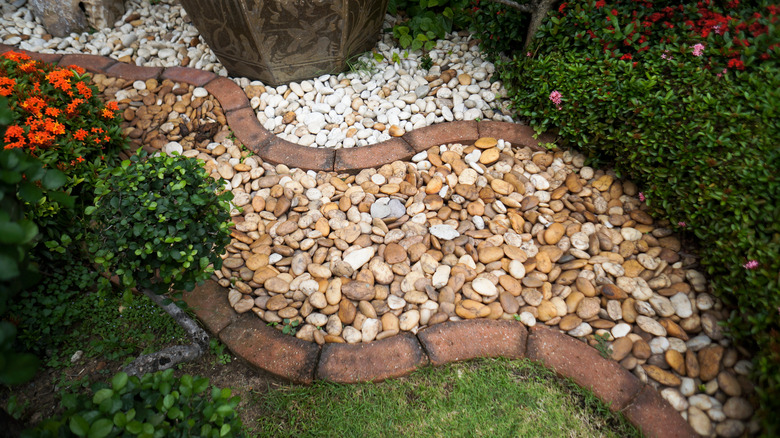 parnc/Shutterstock
Pebbles are another great option for garden or backyard pathways. They are quite versatile as they can be used together with other materials or on their own. When using only pebbles for pathway's upgrade, you have the option of going for larger or smaller options depending on your desired look. You can also combine two different colors as shown in the example above.
17. Give it some sophistication
Breathe life into your boring backyard by installing a colorful pathway that is bound to get noticed by everyone. Go for paving tiles that feature bright colors as demonstrated in this example. Such a beautiful design is often utilized in a patio; however, it will also make a good pathway guiding your way around your backyard.
18. Creative tree trunk pathway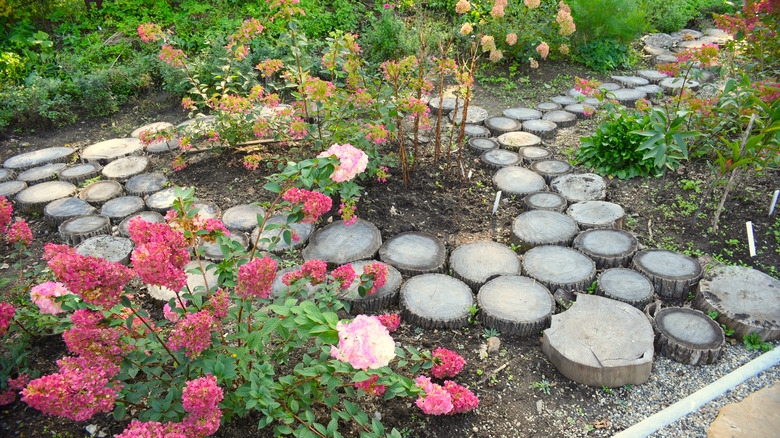 Tanya_Terekhina/Shutterstock
Bring in the magic of the forest by introducing circular tree trunks that lead the way around your garden. This is a great way of making use of fallen trees, and also saves you the couple of bucks you would have spent on buying new materials. Carefully arrange them around flowers and along the small paths in your garden.
19. Contemporary wooden pathway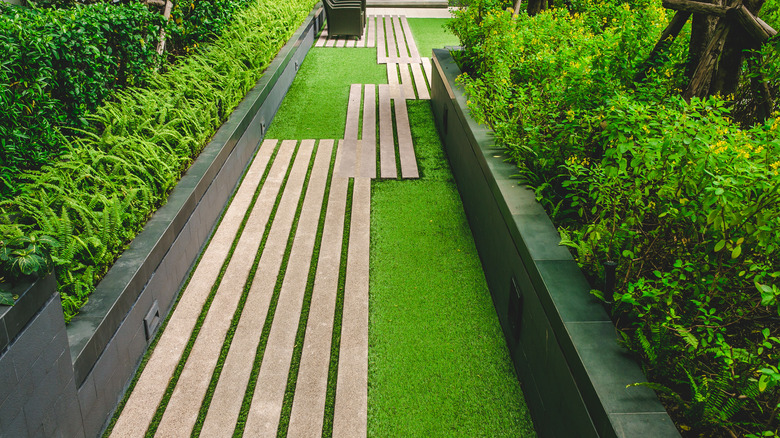 jugky61/Shutterstock
This modern wood and a lush green combination feel right at home. It is quite a simple yet sophisticated upgrade of a rather regular pathway. It is quite impressive to see how long streamlined wood pieces can create a smaller walkway within a larger lush green pathway. This design is ideal for modern homes looking to maintain the contemporary vibe in their backyard.
20. Colorful concrete tiles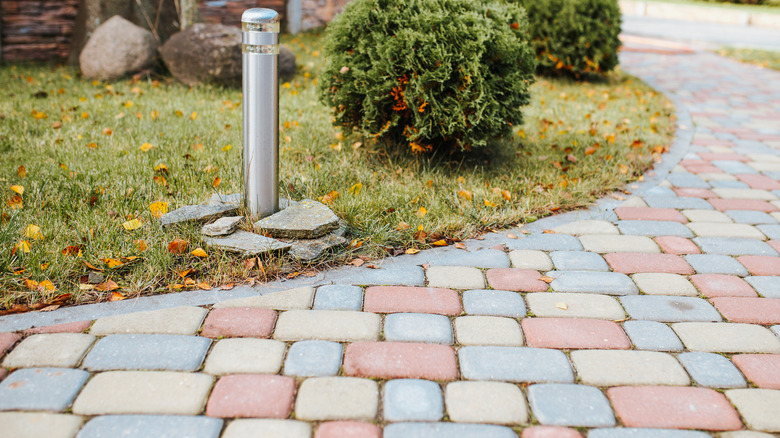 VanoVasaio/Shutterstock
Unlike regular ceramic tiles, concrete tiles that take the shape of bricks are an asset when installed on a backyard pathway. They not only introduce much-needed color and interest to your backyard, but are also quite durable to boot. Although they require professional installation, the end product will be worth every cent you pay for the project.