How To Add A Rug To Your Kitchen For An Elevated Style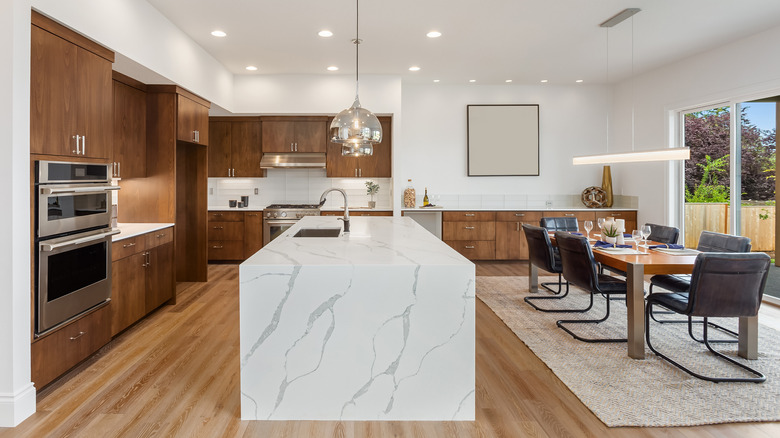 Breadmaker/Shutterstock
If it's been a couple of years since you've renovated your kitchen, it may be time for a style update. While it's probably not feasible to renovate your entire space from top to bottom again, there are many ways you can give your kitchen a new appearance without breaking the budget. You can paint, hang artwork, purchase new dish ware, and more. It doesn't have to be costly, and you might end up loving the fresh look of your kitchen after bringing in only a few items.
Rugs can be an easy way to change the look of your kitchen. Not only can rugs add color and style, but they're also more comfortable to stand on for long stretches, according to Pottery Barn. Rugs come in different sizes and shapes allowing you to fill either tight spaces or long, narrow passageways. Patterns or contrasting colors can also make your kitchen more interesting.
New rug, new kitchen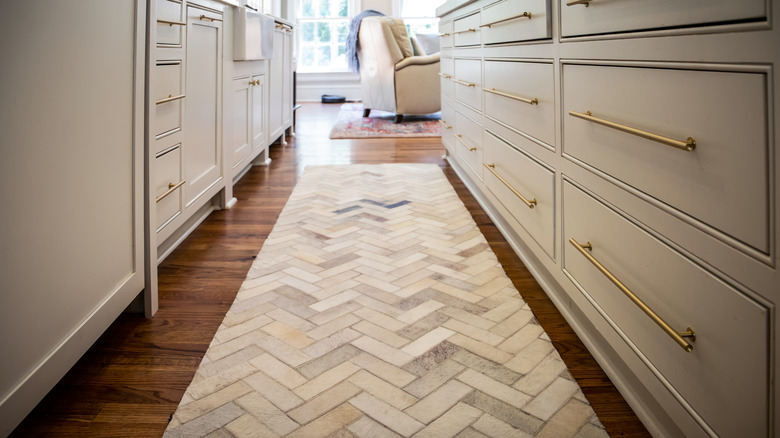 Ursula Page/Shutterstock
When looking for a kitchen rug, you'll need to ensure it will last. Rug Fashion Store says your kitchen rug should be able to endure foot traffic and resist stains all while staying comfortable. Rugs specifically made of polypropylene may work the best. You can also incorporate several rugs into one kitchen depending on the size. A small rug might fit nicely near the sink, with a longer option running between your island and cabinets. An area rug could also work underneath your table and chairs.
Finding rugs that beautifully create contrast in your kitchen can create a dramatic impact. Kitchens with darker design features will look best with light colored rugs, and vice versa. If your kitchen is mostly or even completely white, try something warm and vibrant that can almost act as a focal point. For those who have a small kitchen, implementing bright colors will help create the illusion of a larger space.