Inside The Sprawling Connecticut Mansion With A 94-Year-Old Guest Cottage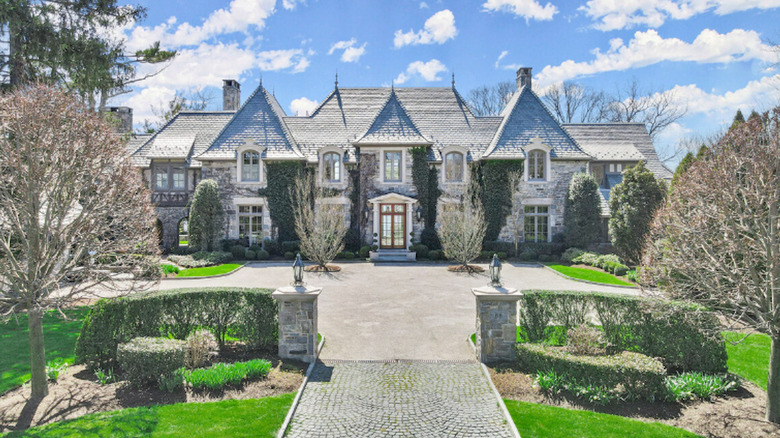 Mansion Global
If you've ever admired the breathtaking chateaus and estates dotted throughout the French countryside, or have yearned to introduce some French country influences into your own home décor, you won't want to miss a recently listed mansion in Connecticut with some decidedly French inspiration.
According to the Zillow listing, the stunning estate is located in Riverside, Connecticut, and was recently listed for an asking price of $25.5 million. It was constructed in 2008 by Douglas VanderHorn Architects, and styled to resemble a French Norman-style manor. The home features 9,006 square feet of living space, including six bedrooms and 10 bathrooms. The exterior grounds are just as carefully planned, with immaculate landscaping that will have you feeling like you own your own mini Versailles, right in Connecticut. As an added bonus, there's even water views, so you truly get the best of all landscapes with this property.
While the home is a relatively new build, homeowners who like a bit of history with their property won't want to miss the guest cottage. Though the main residence has been newly constructed with all the bells and whistles, a portion of the original 1928 home that was on the grounds has been preserved as a two-bedroom guest cottage. That way, you get the charm of the historical ties and details alongside a main residence with every modern luxury imaginable. Read on to transport yourself to a luxurious estate in the French countryside via Connecticut by touring this stunning space.
Immaculate grounds with French flair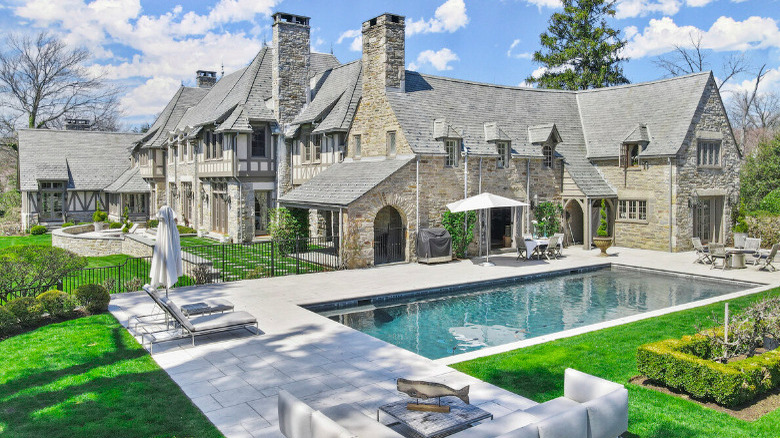 Mansion Global
As per the Mansion Global listing, the house comes on a 1.77 acre property with plenty of French flair. The French chateau feel of the mansion is present from the moment you drive up the cobblestone-lined driveway, passing through two stone columns topped with vintage-inspired light fixtures and flanked by perfectly manicured shrubs and other greenery. While there's a garage off to the right, there's also a large expanse of paved area in front of the house for any guests to park.
The exterior is done entirely in a soft gray color palette, from the shingles to the stone façade, with an abundance of windows, including several with arched details. There are also a few stone arches leading to the backyard area. Finally, a few portions of the mansion's façade feature greenery creeping along the stone, adding a romantic feel.
The backyard boasts a multitude of spaces for relaxing. For days when you want to escape the rain or sunshine, there's a charming covered porch with wrought iron railings along the sides, large stone tiles, and a rustic wood-burning fireplace that adds a cozy ambience. There's also a sizable stone patio that overlooks the water. Finally, a must for any luxurious chateau, the backyard features a chic pool with pale stone deck around it, spacious enough to fit all your lounge chairs as well as tables and chairs for your al fresco dining needs.
Entertaining in style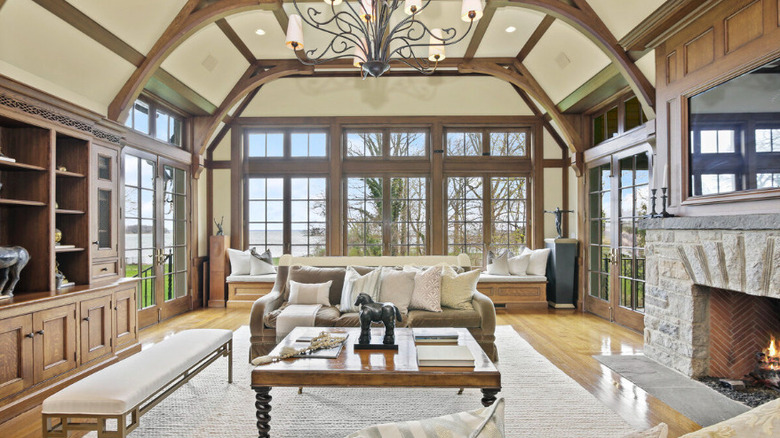 Mansion Global
The moment you walk through the grand French double doors at the entry, you're greeted by an eye-catching black-and-white patterned tile floor that contrasts beautifully with the crisp white mouldings and pale gray walls, as the Zillow listing photos highlight.
A curved staircase with intricate wrought iron railing leads to the second level, and a wide hallway connects the spaces on the main floor, while an abundance of windows throughout fill the home with natural light. The primary kitchen encapsulates French country style, with gleaming marble countertops and white cabinets paired with warm wood accents and a large island that appears to have been perfectly aged, offering a rustic country feel. A deep red stove adds a pop of color, and unusual pendant lights hang above the island, adding another bit of visual interest to the space.
For less formal occasions, there's a breakfast nook with plenty of windows offering views of the water and grounds. For more elevated soirees, it's just steps to the formal dining room, decked out with ornate chandeliers and capable of seating quite a few. In addition to the primary kitchen, there appears to be a butler's kitchen/pantry area, perfect for prepping all the bites and beverages your guests may need. Finally, a nearby living room area features a soaring, arched ceiling, wood beam detailing, and French doors that open right onto the gardens — the ideal spot for relaxing with a cocktail and having a conversation after a great dinner.
A master suite fit for French royalty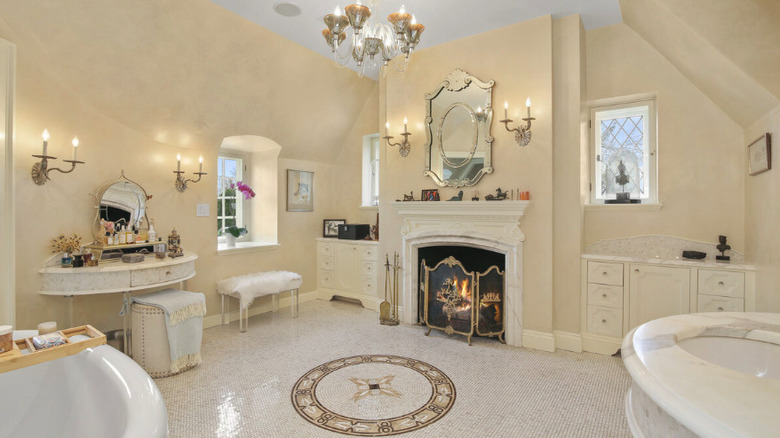 Mansion Global
While all the home's bedrooms are spacious and stunning, the master suite is truly a space that could become a homeowner's private haven. It has likewise been expertly decorated to reflect the home's French chateau aesthetic, as the Mansion Global listing photos demonstrate. The master bedroom features a few architectural details that add visual interest, including a curved area along one side of the room, and a beautiful chandelier illuminates the space. The carpeting is a delicate yet eye-catching pattern with tones of beige, caramel and white that wouldn't look out of place on a couture ensemble, making it the perfect fit for a luxurious master suite. There's also a wood-burning fireplace, a must for cold Connecticut winters.
Attached to the gorgeous master bedroom is a spacious walk-in closet with crystal chandelier and white built-in shelving. There's storage to keep all your favorite garments close at hand, and even space for a chaise near the large windows, so you can lounge like royalty while debating what your outfit of the day will be.
Walking through another walk-in closet with a similar layout and different light fixtures, you enter the master bathroom. The space features another wood-burning fireplace, as well as mosaic tiled flooring with a detailed crest of sorts in the middle. Vintage-inspired sconces are mounted alongside either side of the vanity, coordinating with the chandelier in the space, and there's a claw-foot bathtub for long, luxurious soaks.