Tiffany Brooks's Affordable Tips On How To Upgrade Your Space
If you're tired of constantly staring at the same four walls, the same home decor, and looking for some ways to spruce up your style, HGTV's home interior designer Tiffany Brooks has the trendiest ideas to comfortably and fabulously give your home the chic makeover it so desperately needs, and she shared them with Katie Couric Media. The "50K Three Ways" reality star emphasizes the importance of comfortably living and having a relaxed space to do it in. Home upgrades don't have to be drastic or extremely time-consuming. There are subtle, fashionable ways of upgrading your home decor without tearing the house apart, and if you take note of Brooks's popular tips and tricks, you'll get the job done the right way and be thankful you did.
Brooks describes her style as a combination of transitional and contemporary, according to Katie Couric Media. She values old-fashioned yet modern decor, vintage yet stylish. For her work projects, the main element that's extremely valuable to her work is creating enjoyably comfortable homes — if the home doesn't feel comfortable, the job wasn't done correctly.
New color, new vibes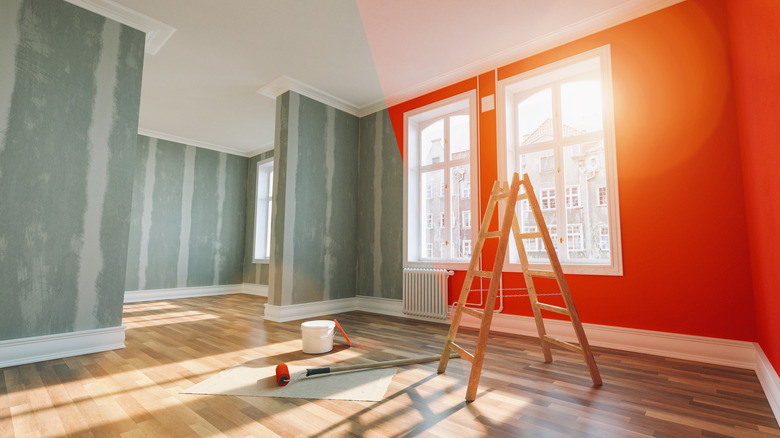 r.classen/Shutterstock
In Tiffany Brooks's eyes, a comfortable space represents your personality and personal style. Balance is key. Your home should look like your own personal space of luxury, but most importantly, feel good too, which is why it's important to work with furniture and decor you actually like. For sprucing up the space, the interior design guru first recommends painting your walls a new color to liven things up and make a very visible change. 
The beauty of painting your walls is that the colors are completely up to you and there is no right or wrong, but if you're unclear on what shades to choose, consider experimenting as a good starting point, per Katie Couric Media. That way you can visually see what you like vs. what you don't like. When it comes to choosing colors, keep in mind the colors of your decor because you want the aesthetic to match. If painting your walls seems too time consuming, consider unique wallpaper as recommended by Brooks. 
Upgraded light fixtures are a beauty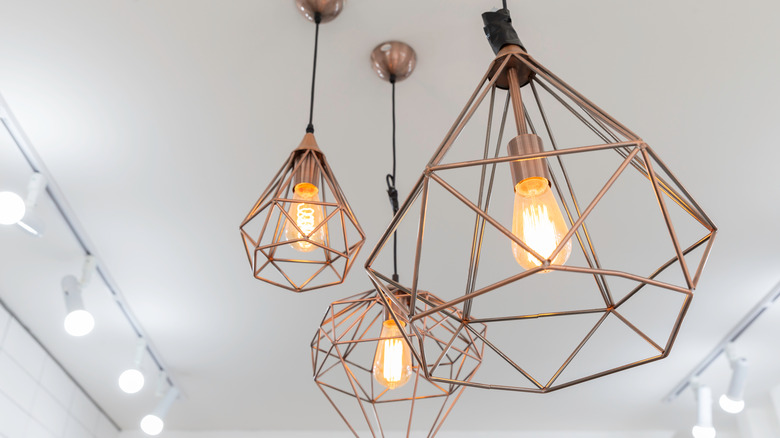 9Air/Shutterstock
Light fixtures are another update suggestion from Tiffany Brooks. Lighting can be fun and dynamic and make a great focal point in any room. According to Penna Electric, you have a number of options to choose from, like chandeliers, lamps, ceiling-mounted lighting, LED downlights, track lighting, and more. Switch your light fixture to match your home decor, and don't be afraid to get out of your own way by choosing something different from what you're used to. Go for the vibe you're trying to create and when you're stuck, use other resources.
It's only up to you to make your space look and feel good too. When it comes to furniture, Brooks recommends spending more on your sofa than anything else. After all, it's probably going to be one of the top five most comfortable places to relax in your home. Case pieces are the best option for accessories like books. A good mattress is a necessity, as are comfortable and elegant pillows and bedding. The bougier, the better.