The One Thing You Should Be Buying From Arhaus Furniture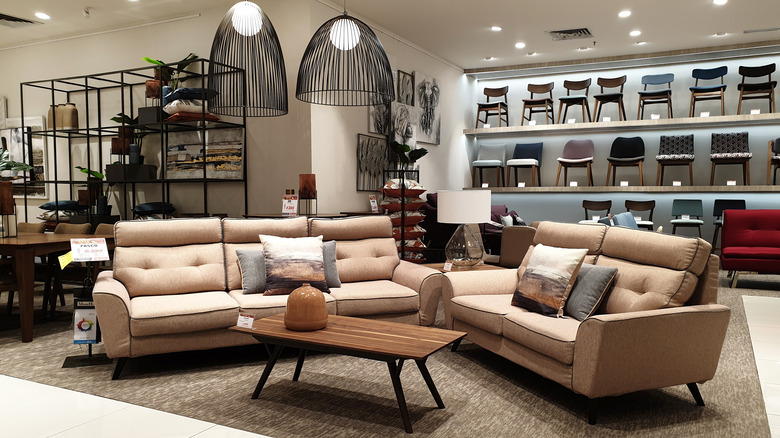 TY Lim/Shutterstock
Money buys happiness. Yes, happiness could mean an evening of satisfying relaxation in a $200 sherpa-like cozy fabric couch on the patio or a weekend of soothing body-soaking in a $22,000 backyard cocktail pool. But as we go about sprucing up our homes with sources of joy and satisfaction, we must be careful about so many things.
For instance, according to Golden Fleece Home Inc, when picking new furniture pieces, it's imperative that we pay keen attention and apply extra wisdom to the brand, size, style, color, material, and from which store we buy. Ultimately, we want to buy a reputable brand that's known for quality and valuable furniture, and we want to do so from a trustworthy store or supplier.
So, if you're a luxury buyer and are pretty new to Arhaus or have recently caught wind of the hype surrounding the retailer's catalogs, we are here to reveal to you the one category of furniture we believe you should be browsing more often over at Arhaus.
Arhaus dinning sets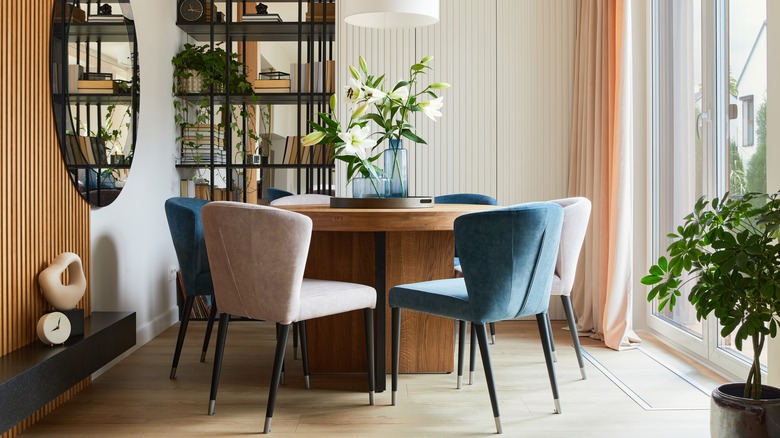 Followtheflow/Shutterstock
Arhaus has been around the furniture retail industry as far back as 1986. According to Furniture.com, the company sources its luxurious pieces and sets globally from top manufacturers known for sustainable production and impeccable quality. When you browse the store's online inventory, you'll find it split into seven categories, namely, lighting, outdoor, living, dining, kitchen, office, and decor.
And while there are praises floating around the company, it seems that most buyers are not happy with purchases made out of some of the company's furniture categories. The sofas and sectionals line has received the most critiques. For instance, a large number of frustrated customers took to Yelp to vent their frustrations. One customer going by the name Candice C. wrote that her two Montego lounge chairs held indentations of the behinds that sat in them, even at a price tag of approximately $1000 each.
 Arhaus' most praise-worthy category seems to be their dining sets. A buyer of some of their Kelly dining chair and stools commented that they had a great experience, from buying to using their furniture of choice. 
Arhaus dining pieces that may be worth buying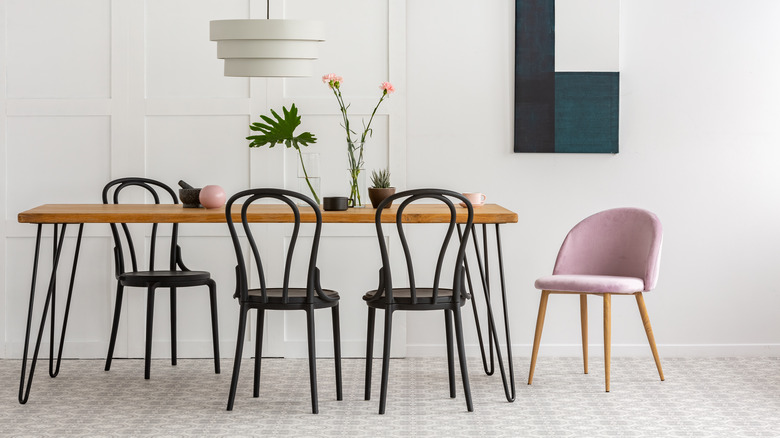 Photographee.eu/Shutterstock
First on the list is "Arhaus Furniture Palmer Dining Table," which may be a great match for your bistro chairs. It is allegedly a combination of natural oak plank top and metal base perfect for minimalists. We found this five-star-rated piece on 1stDibs, where it presently has the price tag of $875. Another top-selling dining piece from the company is the "Arhaus Rho Flip-Top Dining Table," which is presently selling for $1699 at Dwell. This table is chic yet functional so much that it also passes for a meeting table for an office.
Over at Chairish, we spotted a traditional style dining set of "Arhaus Dark Wood Round Dining Table and 8 Jordan Upholstered Chairs." The round table with a pedestal base is made of brown vintage wood and has dimensions of 21 inches in width × 26 inches in diameter × 39 inches in height. At the time of writing this article, Chairish sells a set for $5,500.