Mika And Brian Kleinschmidt's Ideas To Make A Home Seem Larger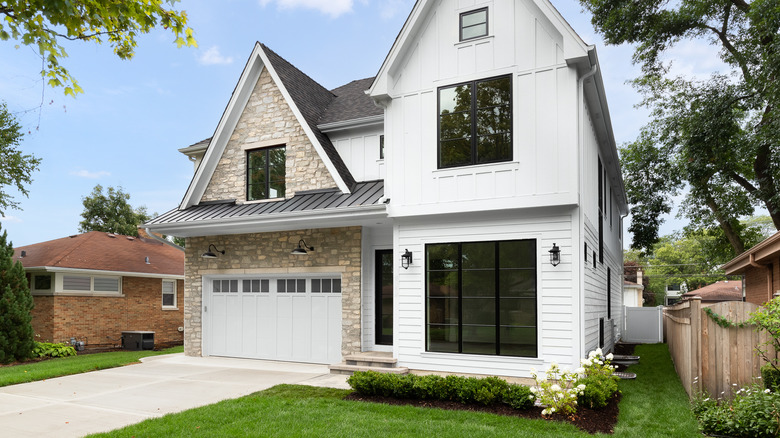 Hendrickson Photography/Shutterstock
If there is one thing that's true about design couple Mika and Brian Kleinschmidt, it's that they know how to revamp a home in no time. The duo stars on the hit HGTV tv show "100 Day Dream Home," where they help clients build their dream homes via HGTV. However, there is a bit of a plot twist to this tedious task. They have to do so all in less than 100 days.
Both Mika and Brian originate from the hot southern state of Florida in the Tampa area. While working together to make people's hopes and dreams come true, they each have their own part that they play in the process. Mika is the realtor and helps to find the property on which they build. Brian, on the other hand, is the developer of this couple which basically means he plans the build of the home.
With years and years of experience, it's safe to say the husband and wife duo know a thing or two about how to design, build, and save space in a home. As we all know, at some point or another, we can accumulate a lot of personal items and possessions. Upon doing so, our house may feel smaller than it actually is. However, it doesn't always have to be this way. Mika and Brian have a couple of design ideas to make your home feel a bit larger.
Keep is bright and white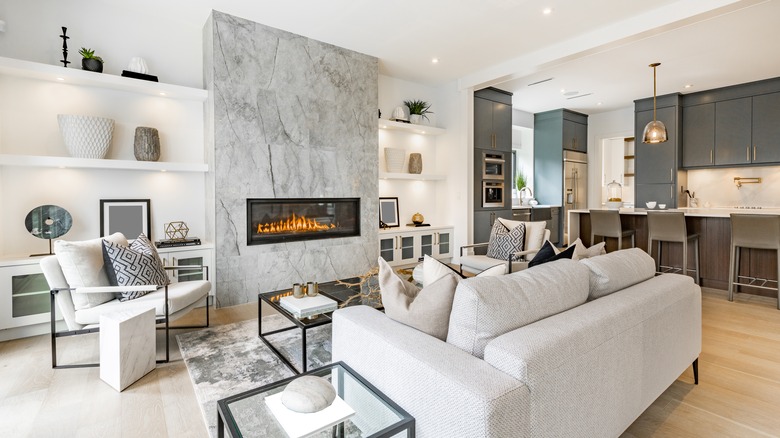 Sheila Say/Shutterstock
According to Meaww, one of Mika and Brian's design ideas is that having a room that is painted white is one of the best ways to make a room seem and feel bigger than what it actually is. It makes it look more spacious and roomy, as white can give off a sense of calm and openness. White walls, white baseboards, white ceilings, and even white furniture that may be built-in with the house are all simple ways to keep the room from appearing closed and small. Of course, and it goes without saying, any large furniture item like a sofa or table could be white as well.
Additionally, another idea is to pair these white layouts with large windows. Windows are the best natural light source in any home, and white allows the light to reflect off of the walls in the room. Of course, this will be helpful with small windows and even lamps and other lights in the room as well. However, the larger windows allow for a more natural flow. Combining windows with a white room gives off the appearance that the room is more airy and open than it may actually be.
Add wood colored tones for an even balance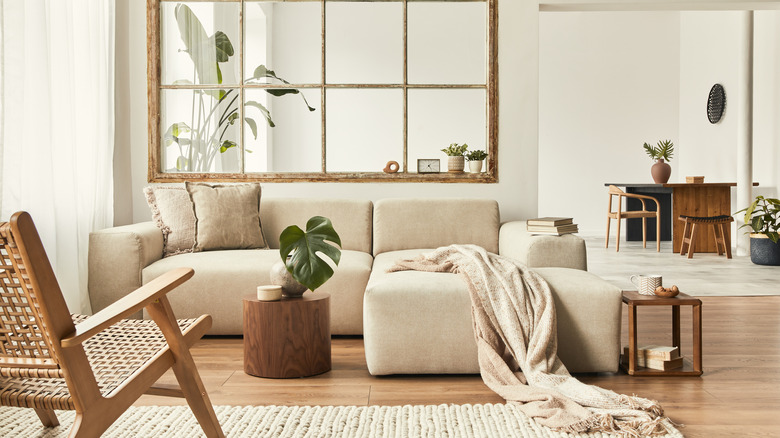 Followtheflow/Shutterstock
Of course, one color can always be too much for one room, even a color as basic as white. So it's not a bad idea to throw in some other natural colors into the mix. Per Meaww, Mika and Brian's other idea is to add wood-colored accents and features into the room. Furthermore, wood-tone colors can come in a variety of both light shades and dark shades, giving the homeowner and designer plenty of options to work with. However, it is extremely important to not overdo it on one color or the other. Having an equal balance is key to keeping the room open and bright.
Depending on the room, the owners, and several other aspects, Mika and Brian suggest adding two different types of wood tones. A darker tone mixed with a much lighter tone is ideal. The lighter shade works best on floors as they take up a part of the entire room. A darker shade works great for the accents in the room as well furniture items. The lighter floors help with the brightness the white walls bring, and both of these act as a contrast to the darker tone.