Is Buying The Floor Model Worth The Savings At Home Depot?
ZikG/Shutterstock
Imagine snapping up a $1500 Williams-Sonoma sectional couch for $350 over at IKEA or any other popular retailer. Now, that's what we call a discounted offer. But what if you could get extra discounts on a discounted item? It's possible, and a sure way to do that is to buy the floor models of whatever items are on your shopping list. For those of you who are hearing the term "floor models" for the first time, Bankrate defines it as the goods put on display to give potential buyers the opportunity to take a closer look and interact with products that are meant to be sealed.
Think of it as the sacrificial lamb that takes all the handlings from hundreds of customers who show interest in the product. Obviously, such a displayed item is subjected to degradation and depreciation, making it hard to sell in stores. But guess what? Smart retailers like The Home Depot have learned to sell those displayed items at the lowest of low prices. This creates a sort of win-win situation. The store recoups some of its money while the buyer has a lucky day! 
But are floor models really worth it? 
Floor models at Home Depot; pass or smash?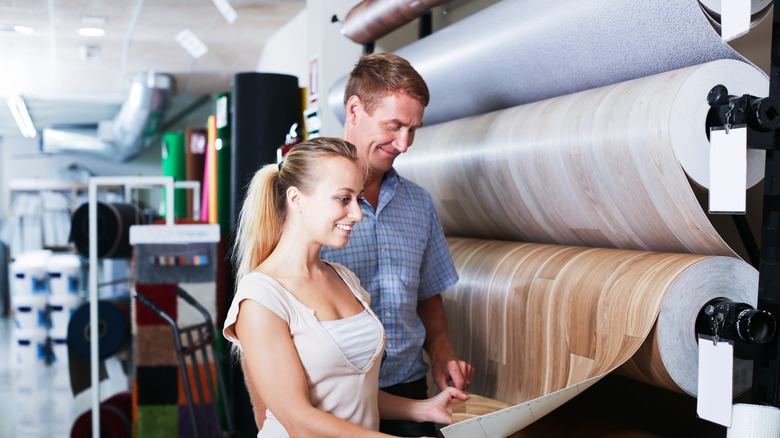 BearFotos/Shutterstock
You decide. But remember, this is technically a used item you're about to buy, which means that you need to be extra careful. Ultimately, you want to follow in the footsteps of The Christian Science Monitor in their guide on the dos and donts of buying floor models, which form most of the tips we will be putting in your hands here.
When buying a floor model, the first thing you want to be sure of is that the discount is good enough. What we mean is that a baby stroller that has obviously been played with and test-driven by 30 potential buyers is not a good buy at a 5% discount; maybe 50% would be fair. 
Similarly, if you're going to be buying that juicer that has passed rounds in the store, you better be sure it's still working. And as you already know, the best way to find out is to test-run it before parting with your money. If The Home Depot won't allow that, pass on that one.
Finally, beyond reading The Home Depot's latest return policy, ask the attendant if there's coverage on the floor model in question to avoid finding out later that you can't return or exchange it. If you don't want to wind up with a nonrefundable mid-century pop-up coffee table that broke on the first day of use, it's always best to inquire.