Get Inspired By These 30 Beautiful Rock Gardens For Your Yard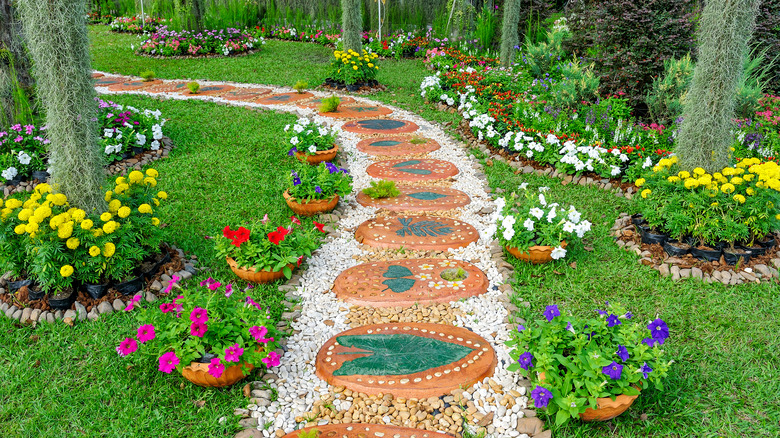 Yatra4289/Shutterstock
Rock gardens are a hot topic among gardening communities for all the right reasons. It is a great idea for transforming a regular yard into a beautiful landscape inspired by nature. Creating a backyard rock garden is perfect for those places where nothing seems to grow. A rock garden needs not be expensive; you can source materials from forests, beaches, or mountains and DIY a visually appealing rock garden by yourself. However, if you want something sophisticated, consider seeking the services of a professional landscaping team. Contrary to popular beliefs, rock gardens are very easy to maintain. What's more, you can count on the rugged rocky garden to remain beautiful and attractive all year round. 
There are a lot of options when it comes to the choice of rocks and also the type of plants you want in your rock garden. However, for an eye-catching design, it is a good idea to mix large boulders and small pebbles. As far as the rock garden plants are concerned, you will never go wrong with a variety of colorful flowers and plenty of greenery. As Backyard Boss puts it, there is no right or wrong way of incorporating rocks in your garden. Your options are only as limited as your creativity. Take a look at some rock garden ideas below.
1. Carve a rock path in your garden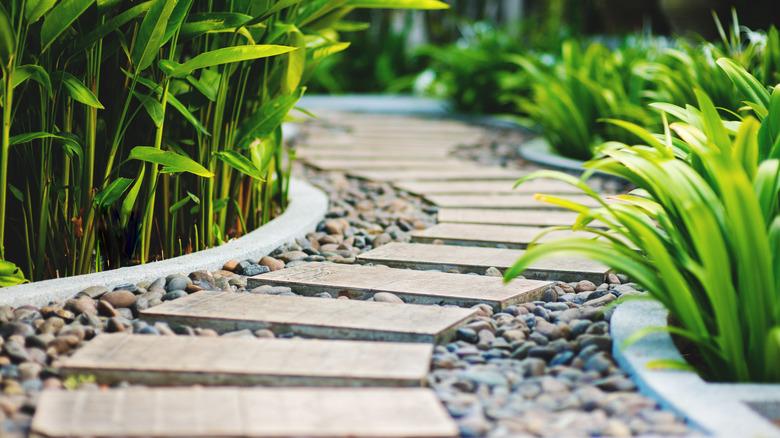 Olena Serzhanova/Shutterstock
A pebble and concrete paver combo creates a nice path for an adventure in your backyard garden. The combination of these two materials also creates nice contrasting textures taking the visual appeal up a notch.
2. Create a boulder border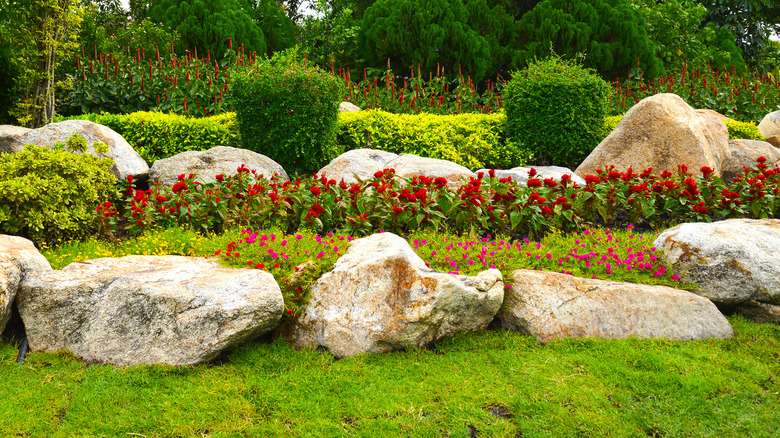 worapan kong/Shutterstock
Do you have huge stones lying idle in your backyard? Go ahead and create a protective border for your delicate flowers and green plants. This is the most basic example of a rock garden arrangement that you can DIY in your garden.
3. Tiny backyard pond
There is something calming about a petite pond in the garden with a fish swimming around. To make this serene spot in your yard stand out, use rocks of different sizes to create a nice protective perimeter. Carefully arrange larger rocks around the pond and use smaller rocks as you move further from the pond, as demonstrated.
4. Introduce vibrant colors to earthy tones
It is quite impressive how bright primary colors bring life to a backyard garden. Incorporating huge boulders creates a color balance by introducing cool earthy tones for that original and authentic appearance. It gets even better if you have a stream flowing through your garden.
5. Raised flower bed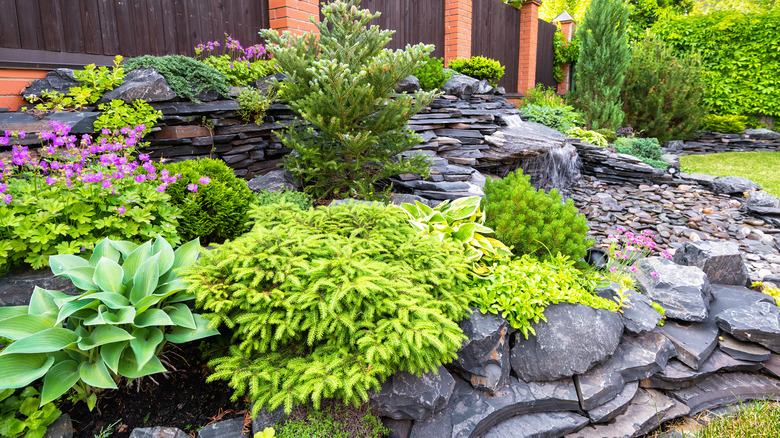 Viacheslav Lopatin/Shutterstock
There are plenty of perks to growing flowers and other garden plants on a raised bed. Using flat rocks and pebble stones to raise the flower bed creates a slope that encourages proper drainage. A raised backyard garden creates a center focus giving you the opportunity to show off your impressive collection of plants.
6. Dry rock garden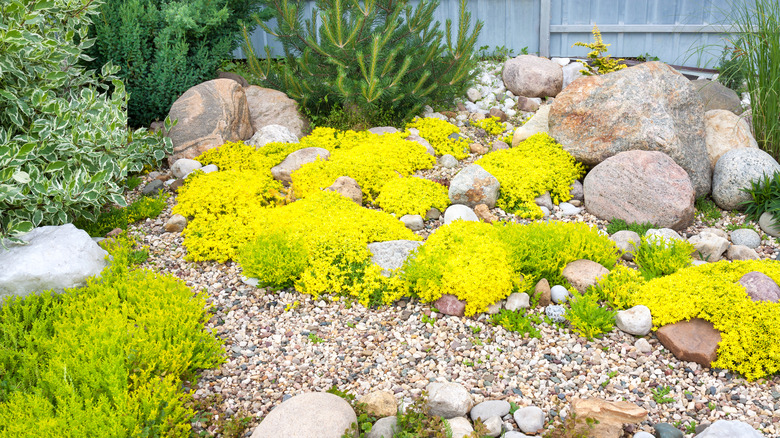 yanikap/Shutterstock
There is nothing as refreshing as a garden with blooming flowers. A beautiful garden of bright flowers deserves an equally beautiful landscape that will allow them to bloom and stand out. An assortment of different sizes of rocks not only adds earthy tones but also brings the much-needed texture contrast.
7. A zen garden experience
An outdoor garden mini pond is the ultimate spot to kick back and unwind. Rocks are an important design detail for yard ponds. Combine the rocks with flowers growing around the pond or include huge boulders with flat surfaces as stepping stones, creating a path right through the water, as demonstrated above.
8. Ornamental flower bed
You don't need a lot of space in your yard to experience the beauty of a garden. This example features an urban mini-garden curated on a paved yard. This mini garden features perennial pines and white pebbles for the ground cover. This particular pebble color blends with the environment allowing the plant to stand out.
9. Stone for contrast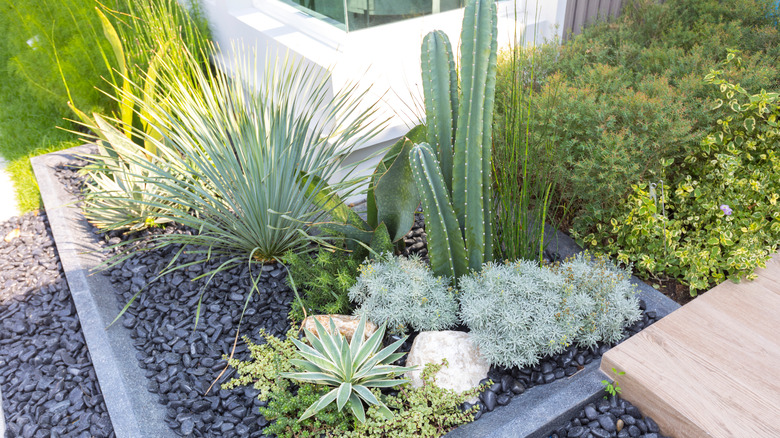 ben bryant/Shutterstock
For a mini urban plant garden with limited space, it is essential that your precious plants become the center of attraction. This is particularly true for succulents that often don't have bright blooming flowers. Go for dark pebbles as a mulch material, as demonstrated. Doing this will ensure that all the attention remains on your plants and not the surrounding environment.
10. River inspiration
Featuring graceful curves meandering their way through your backyard and a few green plants, this rock garden is a delight to the eyes. The river rocks donning several beautiful colors demand attention and will surely draw the eyes of anyone who makes their way to your backyard. Other than aesthetics, this is also a brilliant idea for reducing lawn maintenance costs.
11. Rock and flower definition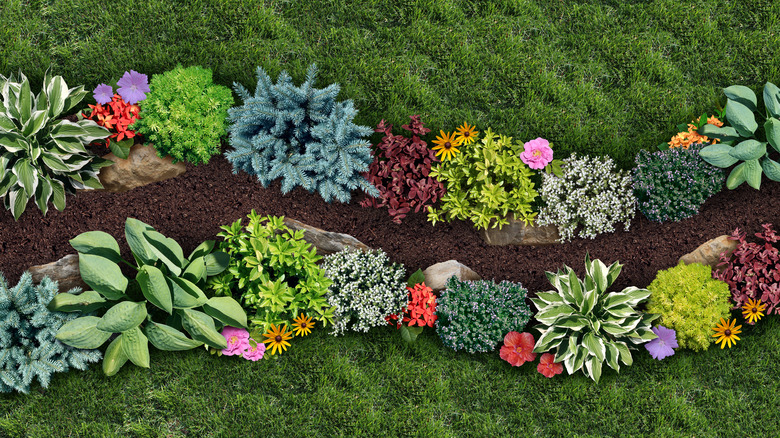 Lightspring/Shutterstock
One way of making the lawn paths in your yard visually appealing is to plant beautiful flowers right along the path. Deliberately placing rocks right at the edge of the pathway is purposely to prevent the flower from overgrowing into the path. Take some inspiration from the example above.
12. Mini rock garden
Beautify the idle corner in your yard with a small yet elegant rock garden. A well-arranged rock garden is a spectacle for any home. This particular rock garden features a collection of huge rocks piled up to raise the garden. This mini hill in the yard features different plants with plenty of colors. Notice the pebble pathway leading to this garden?
13. Vibrant rock garden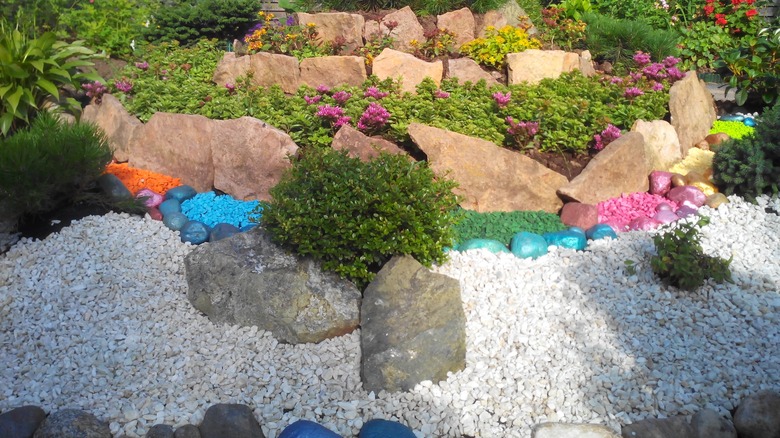 Helen Pitt/Shutterstock
Other than having plants and flowers of different colors, you can also go a step further and make your garden vibrant and colorful with a variety of rocks in different colors. This particular garden features large boulders, bright pebblestones, and other smaller rocks coated with varying colors of paint.
14. Pebble walkway near a pond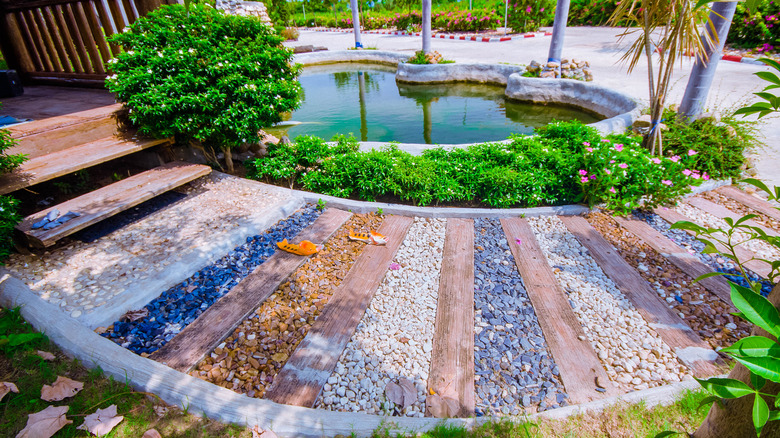 Girlgirl/Shutterstock
You will be surprised by how small pebbles are versatile. For the small garden around the pond in your yard, consider raising the aesthetic appeal of the entire space by using different colors of pebbles on the walkway.
15. Backyard stone waterfall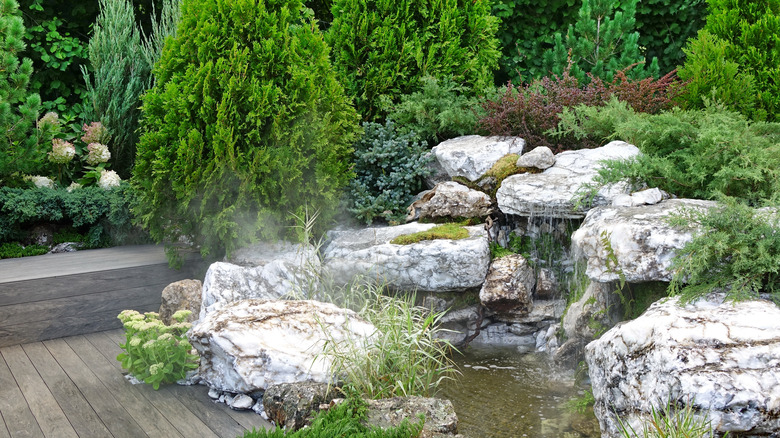 AVN Photo Lab/Shutterstock
A waterfall is a stunning feature to have in your backyard garden. It gets even more appealing and natural if the waterfall features several huge boulders, as demonstrated in the example above. White boulders on a small waterfall are not only eye-catching but also create a beautiful contrast against the dull wooden patio.
16. Spatial arrangement
Want to make your mini urban garden appear organized and minimalistic, consider going for a variety of smaller plants and medium-sized rocks to create separation. This urban mini-garden features a variety of small plants separated by several white stones. The white stone against the brown soil creates an attractive color balance.
17. Blooming dry stone garden
If you fancy the calm and relaxing vibe of an outdoor garden, consider building a patio amid all the greenery. A raised dry stone garden with plenty of flowers and other green plants makes a good backdrop for an outdoor patio with a steel chair and a coffee table.
18. Edge a small garden with rocks
For a small garden creating a clear boundary is the difference between a well-thought-out garden and just any other shrub. One way of creating an elegant edge for your garden is using rocks. Stacking two layers of rocks will raise the plant bed and also give it a small slope for drainage. You can also go for decorative clay pots for that extra charm.
19. Succulents and pebbles
There is no better combo than white pebbles and succulents for your yard and garden. This is especially true when your intention is to grow smaller succulents that could easily disappear on the ground among other plants. White pebbles in such a scenario give the succulents a clear stage to show off their elegance.
20. Consider a single stone feature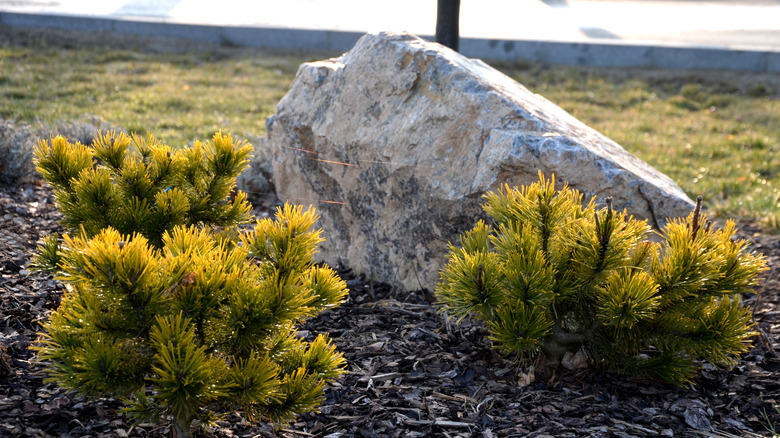 Beekeepx/Shutterstock
A garden doesn't need to have a lot of rocks. Think about the effect of a carefully selected boulder in your garden. While rocks are of different textures and colors, it is important to consider the effect you want that rock to have in your garden. Weathered limestone rocks are a great choice for any garden because they bring harmony to the garden surrounding.
21. Get creative with the rock placement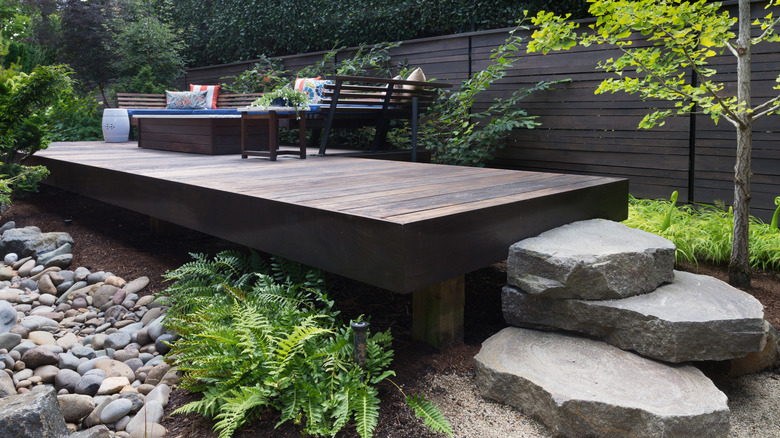 Jamie Hooper/Shutterstock
If you have a contemporary sitting deck in your backyard garden, then stones give you endless opportunities of creating a zen spot for relaxing. In this particular example, the flat boulder rocks are arranged strategically as stepping stones to the raised deck. A variety of stone pebbles in front of the deck makes the space look clean and elegant.
22. Gabions for the garden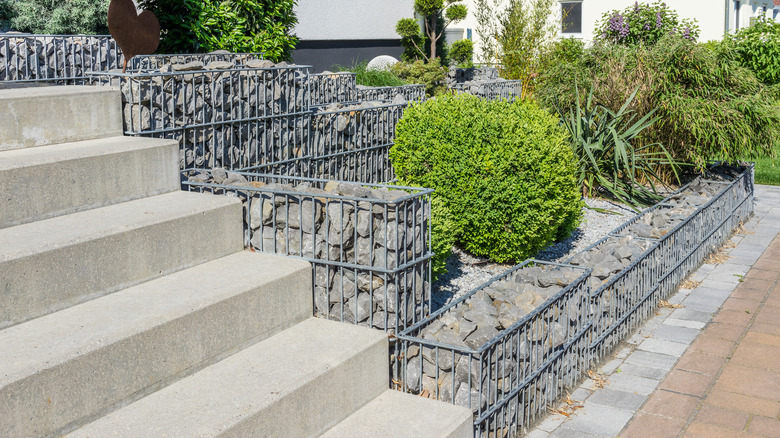 ThomBal/Shutterstock
Contemporary homes need an equally elegant garden that complements the space. One way of including rocks in a garden while maintaining clean-cut edges is using gabions. In this particular example, the stone gabions create just the perfect stage to show off the variety of beautiful green plants.
23. Create a sunny hilly garden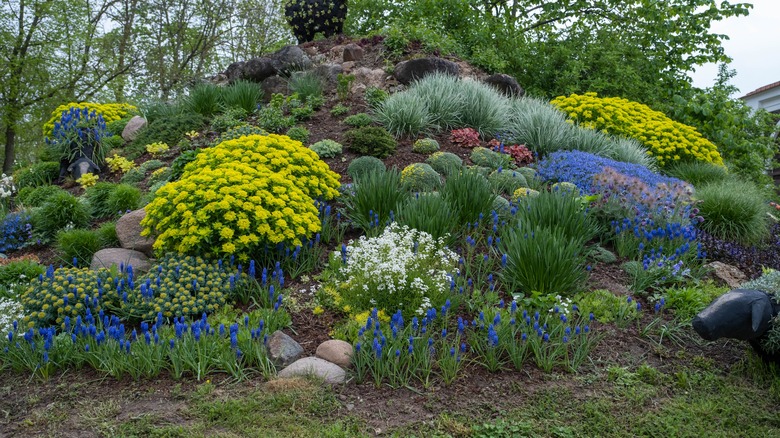 Sandris Veveris/Shutterstock
With a little creativity, you can transform the hilly and ugly parts of your garden without calling in a professional landscaping crew. Create a rugged hillside by incorporating a few rocks and a variety of beautiful flowers along the slopes.
24. Cacti oasis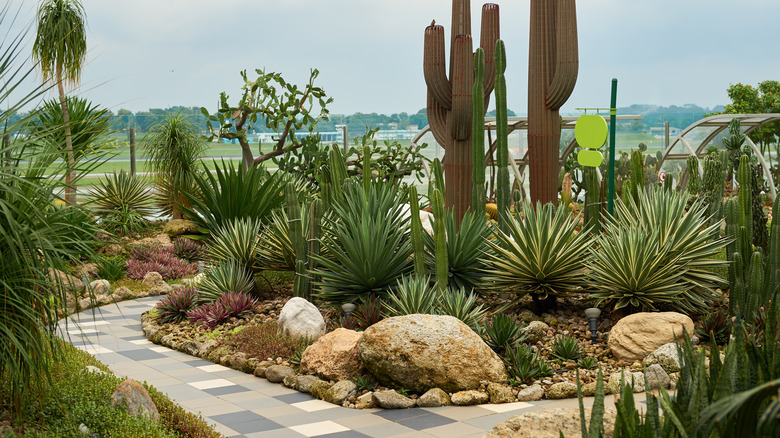 Sorbis/Shutterstock
Homes in arid areas deserve to experience the beauty that comes from having an outdoor garden. Cactus plants are ideal for such regions not only because they are hardy in nature but also are available in several varieties and sizes. Adding different rock sizes in the cactus garden makes the outdoor plant look authentic.
25. Create a tranquil space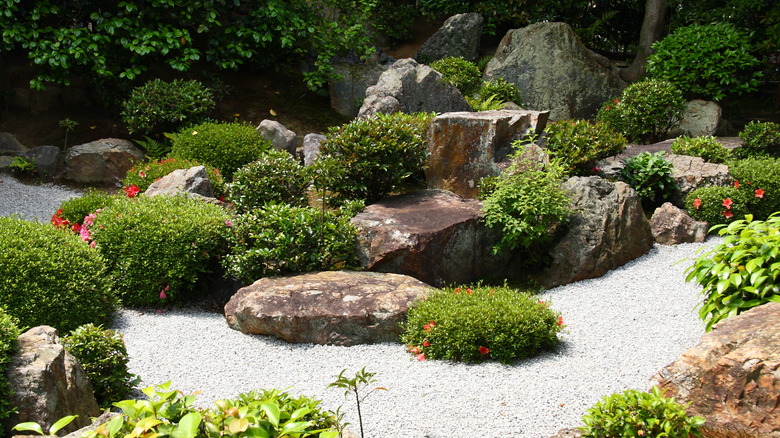 Sergii Rudiuk/Shutterstock
This Japanese zen rock garden is the ultimate venue for a scenic and tranquil experience. The design features huge boulder rocks that set the stage for the white pebble cover. Originally, the Japanese zen gardens only feature evergreen plants; however, you can customize your garden with a variety of flowers if you so wish.
26. Go for authenticity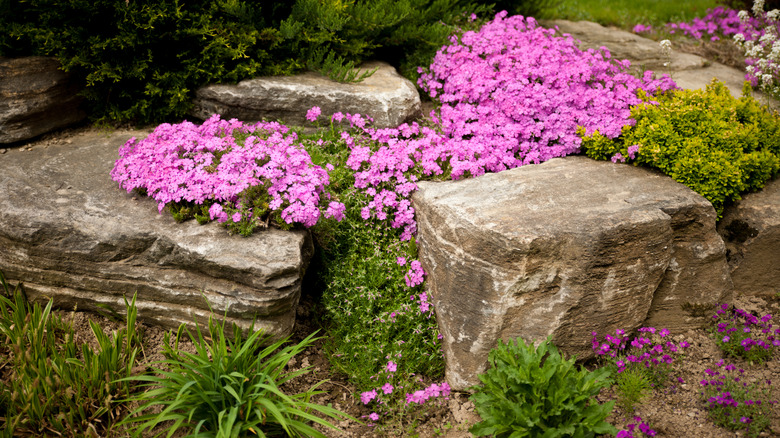 Samo Trebizan/Shutterstock
Nothing looks as authentic as flowers growing right out of huge rocks. You can create a natural rock garden appearance by laying a few boulders and then planting several beautiful flowers. To make it look even more natural, you can grow some plants from the sides of the rock, as demonstrated in the example above.
27. Warm welcome
Creating a rock garden in the backyard creates a warm, inviting space for your visitors. The elegant evergreens planted in a small garden with pebbles for mulch are just what you need for a contemporary appearance. Notice how clean-cut blocks have been used to create different levels for the variety of plants?
28. Introduce pot plants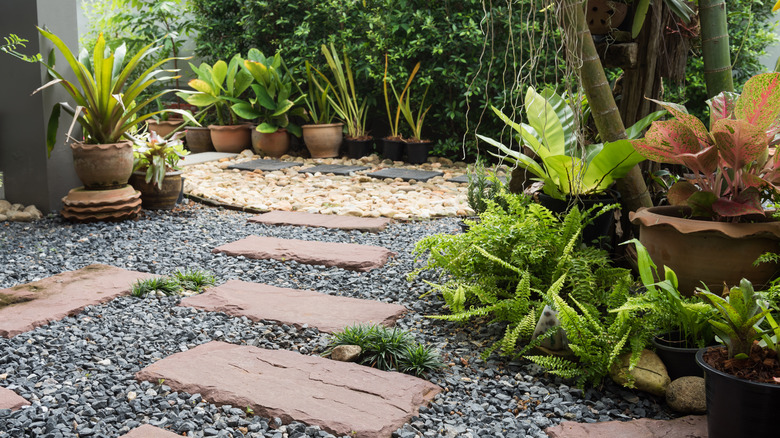 Foto2rich/Shutterstock
One sure way of adding some design detail is by using clay pot plants in your rock garden. Other than bringing in the much-needed detail, get creative and use the pot plants as a beautiful edge treatment for your garden.
29. Mini corner rock garden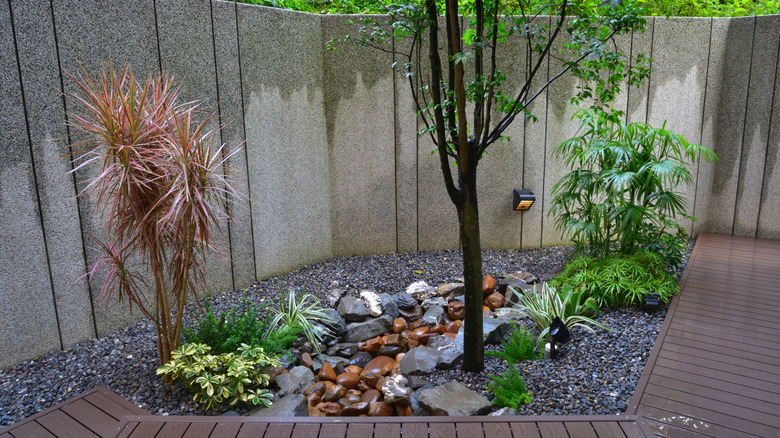 Chen Liang-Dao/Shutterstock
Are you tight on space? You should rethink that idle corner in your yard. Every inch of space is valuable in a small backyard space. Take inspiration from this example and set up a small garden with gravel for mulch. When dealing with a small garden space, the trick is to have a few plants of different varieties.
30. Centerpiece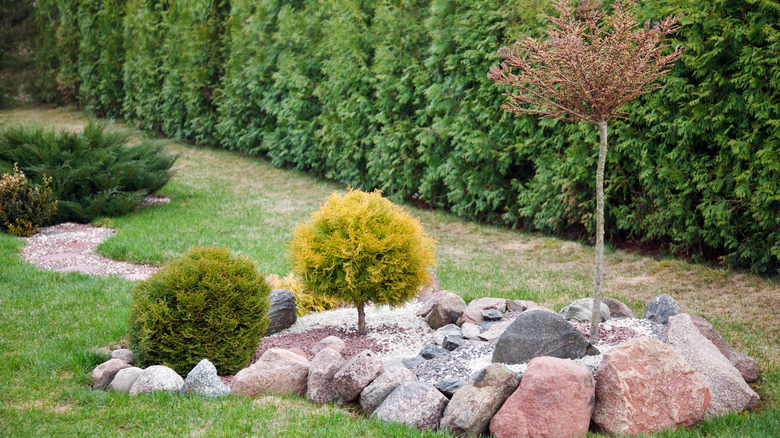 Areipa.lt/Shutterstock
You don't need to use your entire backyard to plant flowers. Use stones creatively to carve out a central piece of attraction that will be the hallmark of the entire yard. In this example, huge boulders are used to mark out the flower garden with a few ornamental plants. Rocks with a variety of colors add more drama to this spot.