Throw Your Mattress Away Immediately If You Notice This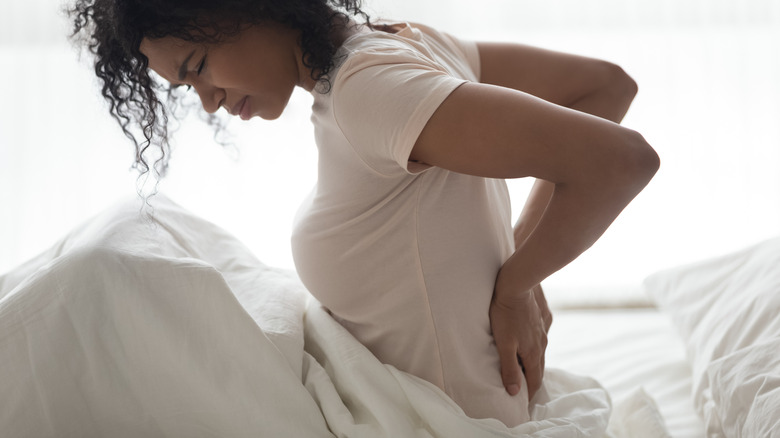 fizkes/Shutterstock
Conventional wisdom tells us that we spend a third of our lives sleeping, so getting a good night's sleep on a comfortable mattress is definitely a smart investment. However, it's not always obvious how often you should replace your mattress or when.
Of course, the various kinds of mattresses available age differently depending on the material, quality, brand, and features. According to WebMD, you can expect anywhere from 12 to 15 years of use from a waterbed, and 10 to 15 years from latex or gel foam beds. For the majority of us who use inner-spring mattresses, we'll have to replace them more frequently — roughly every six to eight years.
Whether old or new, lumpy, uncomfortable mattresses are the worst. Given how important sleep is to us, the proper time to replace a mattress should be something that everyone knows. Determining whether or not it's time to throw away your mattress isn't an exact science, but there are a few telltale signs.
How do you know when to replace your mattress?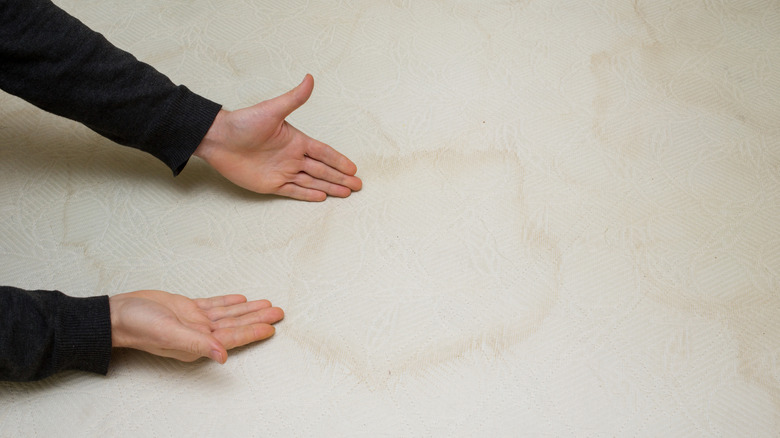 Olga Aniven/Shutterstock
When it comes to sleep quality and stress reduction, a new mattress can be a huge help, as indicated by a 2009 peer-reviewed clinical trial (via Sleep Foundation). To function as intended, a mattress should encourage relaxation and recovery, not hinder it. If you are frequently waking up in the morning with aches and pains, it's likely that your mattress has worn out and is no longer providing sufficient support. Additionally, if you notice that you're sleeping better somewhere other than in your own bed, you can take this as further confirmation that it's time to replace your mattress. Another indicator is if your mattress is sagging, or showing signs of dirt and general wear. Almost any type of mattress can be prone to sagging as the memory foam or springs begin to wear out. You may also see indentations in your mattress over time as the fibers begin to compress. According to Nolah, you'll need a new mattress if the impressions in it are greater than 1.5 to 2 inches deep.
All that being said, there is one reason to throw away your mattress immediately: allergies. Signs include sneezing as you settle into bed or waking up with wet eyes. Allergies and asthma can be exacerbated by older mattresses as they are more likely to accumulate irritating allergens, per Sleep Foundation. Small dust particles or mildew can be difficult to detect, making them a warning sign that often goes unnoticed.
Ways to increase the lifespan of your mattress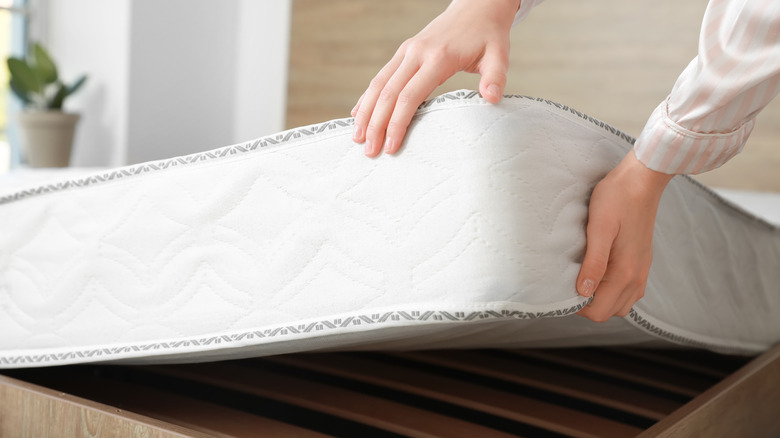 Pixel-Shot/Shutterstock
This article is only half as useful as it can be if we don't also go through some tips you can use to take care of your mattress — especially since replacing one can be expensive and it's easy to make mistakes when buying a new mattress.
First off, it's crucial that you give your mattress the proper level of support from the bed frame. This will help preserve the mattress and prevent early wear. Secondly, Ameri Sleep recommends you use a mattress protector to repel any accidental spills or other liquids. It also keeps skin oils and perspiration off of your mattress, preventing the build-up of allergens like dust mites or mildew. Lastly, no matter the size or the material, rotating a mattress on a regular basis can really help extend its longevity. According to Ameri Sleep, even though some manufacturers claim that it's not required, rotating your mattress promotes equal wear and reduces the likelihood of depressions and sagging. 
If you really have to get rid of your mattress, knowing the options to do so can be helpful. You can donate your mattress if it's in good condition. If not, consider recycling or repurposing it if you're feeling creative. You can even try selling mattress parts like the spring to a scrapyard to make some extra cash before your new mattress purchase.