Why Home Depot May Be Your Best Bet If You Need A Tool For A Day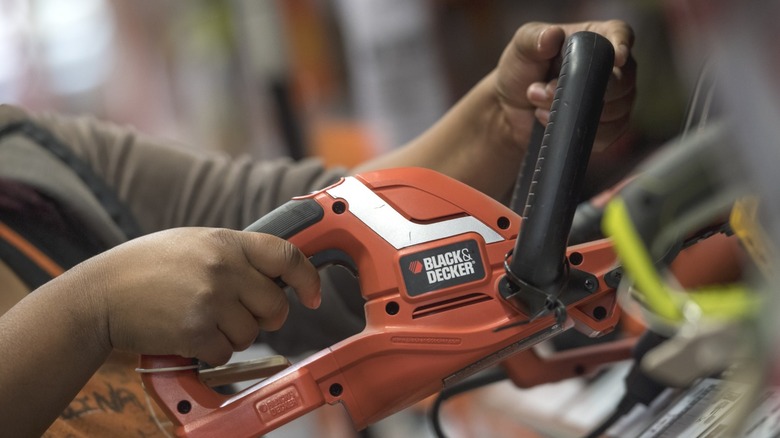 Bloomberg/Getty Images
Founded in 1978, Home Depot has grown to be one of the largest home improvement stores in the United States, according to Storage Cafe. Safe to say, many people look to Home Depot for all their home improvement needs. Home Depot sells large and small appliances, wood flooring, paint, tools, grill equipment, décor, and much more.
However, some may not know that Home Depot is more than just a large retail store. They also offer a few services to help you complete your DIY home improvement projects. For instance, they offer a service called DIY Workshops to all customers, per Home Depot. This service includes both in-person and online workshop classes to teach you how to complete different projects around your home, from how to install appliances to how to stain a deck. Another service they offer is truck and tool rentals. Renting tools from Home Depot can save you money and storage space (via Home Depot).
Home Depot's tool rental explained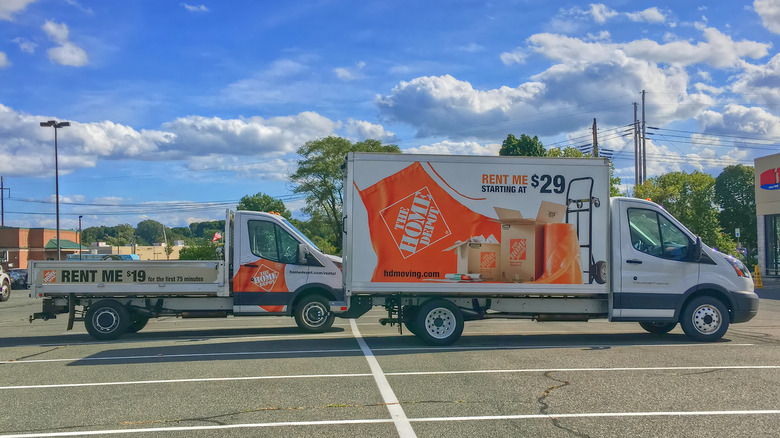 QualityHD/Shutterstock
Home Depot offers all their customers the option to rent tools for their DIY home improvement projects. However, not every store location has a Rental Center, so check with your local Home Depot before trying to rent, per Home Depot. The Rental Centers contain both outdoor and indoor tools such as leaf blowers, pressure washers, hammers, paint sprayers, drills, sanders, floor strippers, carpet cleaners, heaters, and much more. You can also rent larger equipment, like trailers, excavators, stump grinders, and lifts.
Home Depot's Rental Centers also allow you to rent a moving truck, so you can safely transport your rented equipment to your work site. Once a tool has been rented out for a while, Home Depot replaces it with a new version and sells the old one in their store at a fair price. If you want to purchase a used tool at a reasonable price, you could try your luck at a Home Depot Rental Center.
Why choose to rent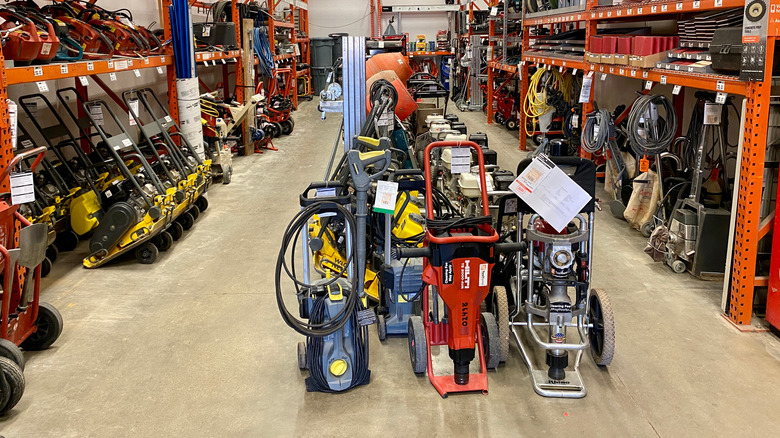 ZikG/Shutterstock
There are a number of reasons to choose to rent a tool instead of buying it, per Home Depot. When renting a tool, you won't have to find space to store the tools or keep track of tool maintenance. If you have limited storage space or aren't sure how to properly care for a tool, renting may be the best option. The tools you can rent are also of professional quality, and they're replaced regularly to keep up with modern technology. Renting can save you money, especially if you rarely use the tools.
However, deciding whether renting or buying a tool is right for you can still be hard. According to Pro Tool Reviews, there are a few questions you should ask yourself. The first question is, how often will you use the tool? If the answer is less than a few times a year, renting may make more sense to save money and storage space. Another thing to consider is how you will transport your tool. It may be best to rent a tool if you don't have a way to transport it. Also, think about how much maintenance the tool needs. If the tool will need frequent attention, you probably want to rent it.