Home Depot Will Help You Get The Tools You Need Without Breaking The Bank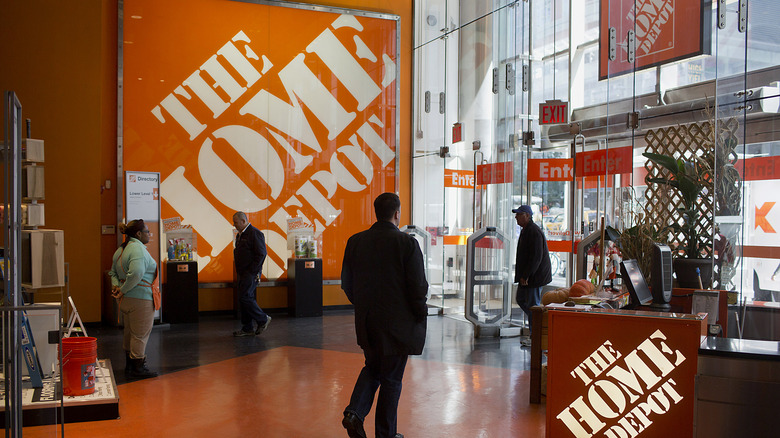 Bloomberg/Getty Images
Home Depot is well-known for its immense value to the home improvement world. Homeowners and renters alike make use of the Home Depot store on a regular basis to source materials, equipment, tools, and other resources. The store even offers one of the most competitive price matching policies on the market. However, according to Home Depot, there is another service that they provide across the United States and Canada. Instead of having to purchase expensive tools to accomplish your home improvement tasks, you can rent specific equipment for a set period of time.
Many homeowners don't possess all the tools required to complete a job from start to finish, and as a result, this can prevent them from conducting renovations and repairs on their own. Hiring a professional for simple jobs like installing a fence panel, repairing a cabinet door, or fixing a sprinkler system can be somewhat costly. Conversely, renting key equipment to fill in the gaps in your tool shed can make a huge difference and place control back into your hands without incurring a significant expense.
Tool rental is a staple of the Home Depot brand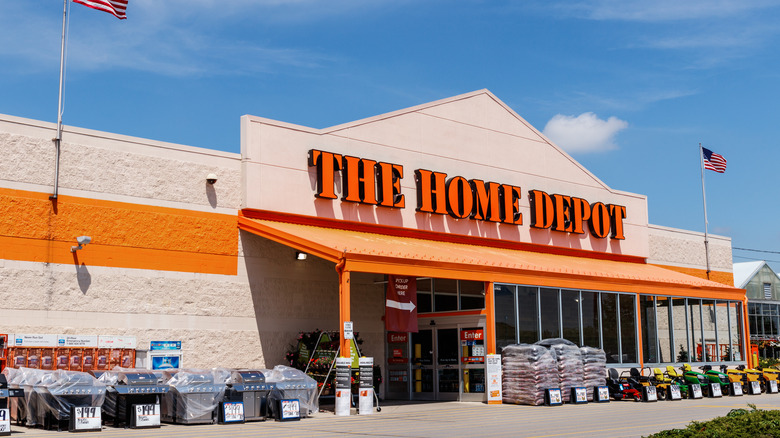 Jonathan Weiss/Shutterstock
Home Depot has been renting tools to consumers since 1995. The initial tests conducted by the brand in their Nashville stores, quickly expanded into a fully equipped, nationwide service, making Home Depot the fourth largest tool rental company in the U.S., and the biggest heavy equipment and small tool rental agency across the globe. These accolades cement Home Depot's firm standing as the largest home improvement store in the United States, according to Fortune.
With the wealth of experience that Home Depot brings to the table when it comes to renting tools, there are few companies that compare in terms of price, quality of service, and range of available tools. For many homeowners, it is not financially practical to purchase large or expensive pieces of equipment, such as carpet cleaners, table saws, or demolition-focused power tools. However, working with an industry leader to get the equipment required for a day or week to complete a job opens up a world of DIY possibilities for any homeowner.
Renting tools from Home Depot saves you money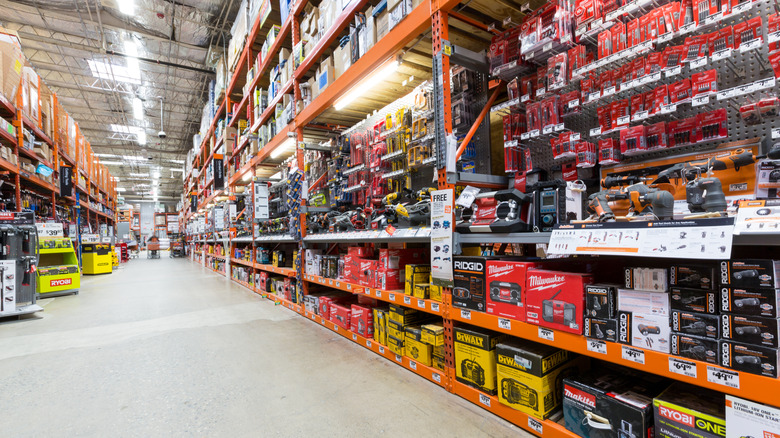 Mihai_Andritoiu/Shutterstock
The tool rental industry is an understandably large one. Ibis World reports that in the United States, the tool and equipment rental space is worth an estimated $4.5 billion, with an annualized market growth of 2%. With 2,300 stores in North America alone, Home Depot is uniquely positioned as an outlet for homeowners seeking a specific tool for a specific length of time, explains Home Depot. 
Renting tools from a Home Depot store is simple, with four-hour, eight-hour, single day, and weekly options available. For more significant renovations, month-long rentals can also be organized. In addition, Apartment Therapy has a useful tool renting hack: If you hire tools from Home Depot just before closing time, you will be able to keep them overnight for the four-hour rental rate, as long as you bring the equipment back first thing the next morning, which may be the perfect way to get a job finished at a seriously reduced rate.