Why You Should Never Buy New Countertops At Home Depot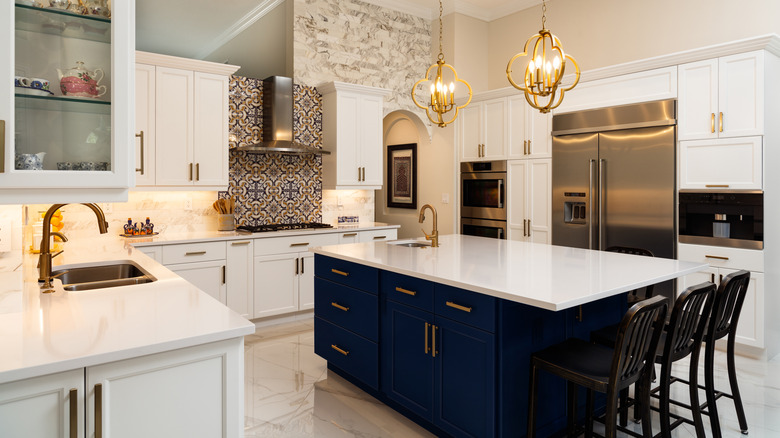 Fotoluminate LLC/Shutterstock
Home renovations may be a headache, but they aren't going away anytime soon. According to Zippia, the industry has grown substantially from last year and shows no signs of slowing down. While it's always exciting to have a new kitchen or living room, the process can be expensive. Especially given current sky-high inflation rates that are only increasing (via Pew Research), it's important to stretch your home renovation budget as far as possible.
If you're looking for new countertops to complete the latest home renovation project you've been working on, chances are that you've considered purchasing them from Home Depot. After all, the retailer offers so many different products that it's tempting to buy multiple supplies in one trip, especially if you're already heading down. That being said, Home Depot isn't necessarily the best store for the job; if you have the time, chances are you're better off looking for countertops elsewhere.
You'll likely overpay at Home Depot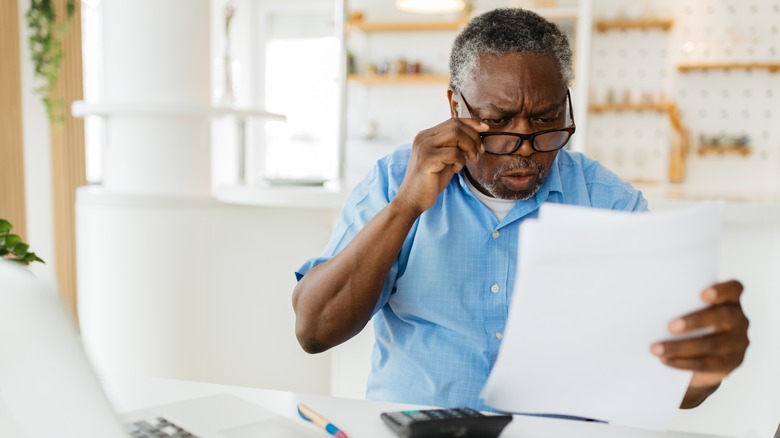 astarot/Shutterstock
According to Brian Garcia, the owner of a New Jersey interior design firm, buying a countertop at Home Depot is just asking to spend more than you have to. "Home Depot's pricing structure isn't as competitive as local stone yards and/or fabricators," he told Insider. He added that generally speaking, stone yards can offer better prices — especially on leftover pieces from past orders. While the discounts available would likely vary by region, it's still worth trying to go straight to the source. Plus, smaller establishments generally have more flexible pricing, so you may be able to negotiate better deals (especially if you'll need stone for several projects). Even if pricing is firm, chances are that a stone yard will have a better selection of countertops than Home Depot — and the staff may be more knowledgeable if you have any questions.
Garcia's sentiments were echoed by retail expert Aviad Faruz, the CEO of the e-commerce company Faruzo. "The biggest reason behind avoiding this one item is that it's insanely overpriced at Home Depot," he revealed in an interview with Best Life. "Home Depot doesn't have as many competitors when it comes to warehouse stores dealing in home improvement. As such, they can price their products higher than the market."
How to stretch your dollar at Home Depot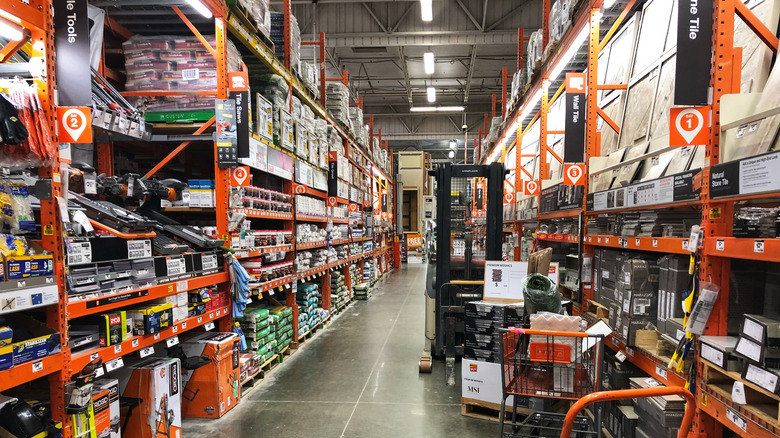 Cassiohabib/Shutterstock
If you can't find anything you like at a stone yard (or are set on purchasing your countertop from Home Depot), you can at least ensure that you're shopping as smart as possible. Arguably, one of the most overlooked ways to save money at Home Depot is by price matching. While stores may not be willing to price match on stone, you can still get discounts on necessary supplies such as caulk or painter's tape. 
You can also save money at Home Depot by regularly checking their flash sale section and peeking at the last digit on clearance labels to see if the products are eligible for further discounts. According to CBS, prices that end in six will be reduced within a few weeks. Finally, while you might not be able to save as much money at Home Depot as you would by buying leftover materials from a stone yard, every little discount adds up.