The Right Way To Dispose Of Motor Oil To Clean Out Your Garage
Love the wind/Shutterstock
When cleaning out your garage, you're bound to come across some things that you thought you got rid of ages ago. From dirty garbage disposals to boxes of busted holiday lights, there's never a shortage of junk to get rid of in order to free up functional space in your garage. And, if you're someone who changes their vehicle's oil from the comfort of your garage space, you're bound to find quite a few cans of old motor oil as well.
According to the EPA, oil from a single oil change is capable of contaminating a million gallons of fresh water, including the water you drink every day. For this reason, you don't want to be one of the many people who dispose of their oil incorrectly and make life difficult for everyone else. Thankfully, properly disposing of your oil is even easier than burying it in your backyard. However, it may take a little research in order to determine where the closest oil recycling location is for you.
Recycling oil at local businesses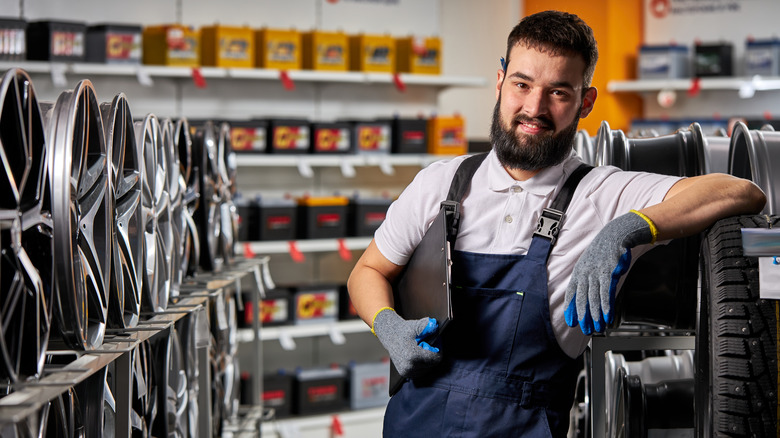 UfaBizPhoto/Shutterstock
If you regularly change your car's oil, you're probably aware that a wide variety of local businesses will take your used motor oil free of charge. In fact, according to AMSOIL, if a local business makes money by charging customers for oil changes, chances are that the business will be willing to accept small amounts of used oil from the general public. That being said, it's always wise to call in advance before heading out the door. Big box automotive stores such as Advance Auto Parts also advertise free oil recycling services, so you can recycle your old motor oil and car battery in one convenient location.
However, if you're going to recycle your oil, you'll want to do it the right way. First, completely drain your used oil in a leak-free container, being careful to avoid any spillage. If you don't have any old oil containers that can be used for this, consider finishing the gallon of milk in your fridge so that you can turn it into a makeshift used oil container, per ExxonMobil. Just to be safe, don't forget to label the container accordingly so that nobody has to guess about its contents.
Recycling oil at government recycling centers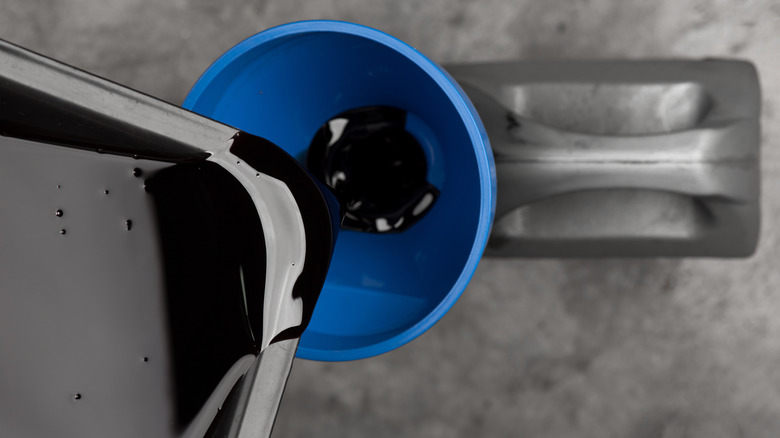 Love the wind/Shutterstock
In addition to local businesses, some municipalities run convenient government-operated recycling centers that offer used oil recycling services. If you've been collecting jugs of used oil for many years, a recycling center like this might be your best bet for stress-free oil recycling. The advantage of using one of these services is that they often accept a wide variety of hazardous waste, so you can dispose of used oil, old batteries, and other waste using one convenient service. All it takes is a quick online search or a database like Earth911 to find your municipality's region-specific waste management services and guidelines.
When recycling used motor oil, plan ahead so that you can also recycle any used oil filters that you have lying around your garage. Per AMSOIL, you'll want to be very careful to dispose of these correctly since many municipalities don't allow for them to be disposed of in local landfills. Just make sure your used filters are completely drained so that they don't contaminate anything else with used motor oil. You may also consider recycling old oil containers, but these can be convenient to store in your garage for use during your next oil change.