20 Beautiful Ideas For Decorating A Fake Fireplace
If you don't have a fireplace but want to make your space feel cozier, you may have thought about purchasing a fake fireplace. Faux fireplaces come in two forms, per Fireplace Universe. The first kind is purely decorative and only has the mantel of a fireplace. This type doesn't generate heat or the appearance of fake flames. The second type of faux fireplace is electric. These fireplaces have fake flames and produce heat. 
Decorating a fireplace during the holiday season is easy and fun for many. Add garland, stockings, and a few extra decorative pieces, and you're done. But it can be more difficult to think of things to decorate your fireplace with during the rest of the year. And decorating the fireplace is important because in many cases, it's the focal point of the room. Whether you have a purely decorative fake fireplace or an electric one, below are 20 ideas on how to decorate it.
1. Wooden logs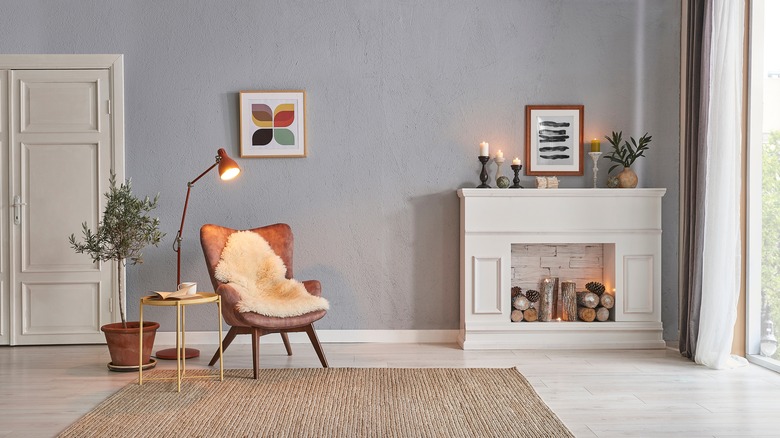 united photo studio/Shutterstock
To decorate a purely aesthetic fake fireplace, you'll need to put something inside it. Many people use things that somewhat resemble a fire. For example, you could add wooden logs to your fireplace. 
2. Candles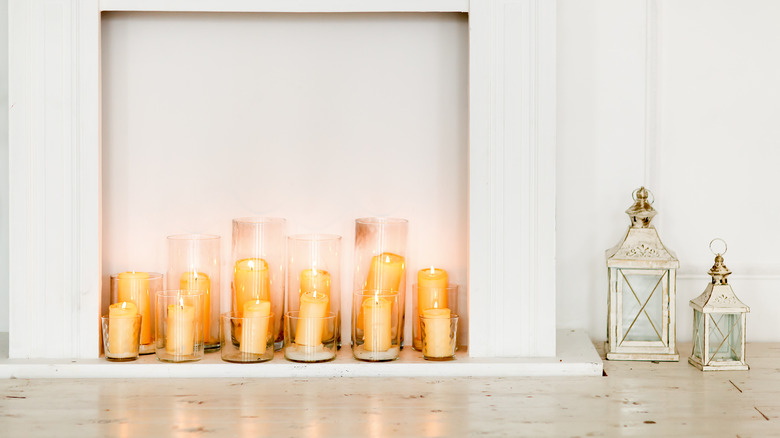 Polina Letshina/Shutterstock
If you want to have light radiate from your fake fireplace, you could add candles. This can look elegant and chic. 
3. Cascading florals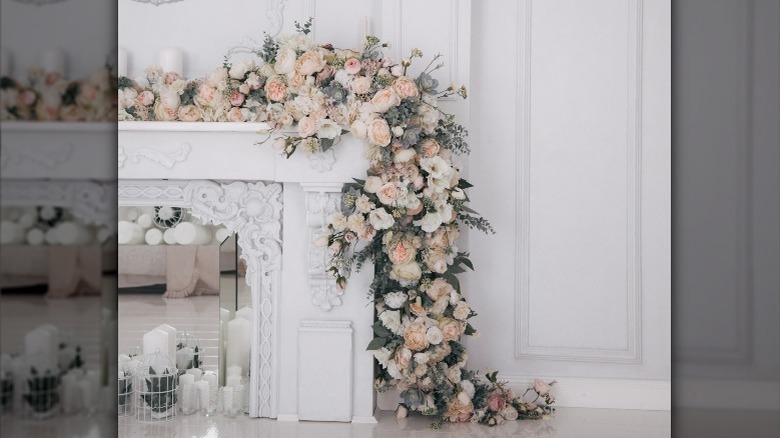 Nelia L/Shutterstock
A great benefit of purely decorative fake fireplaces is that you don't have to worry about fire safety, since there's no fire. You can place things like flowers, greenery, and books right next to your fireplace. The above image demonstrates how to decorate with a flower garland. 
4. Twinkle lights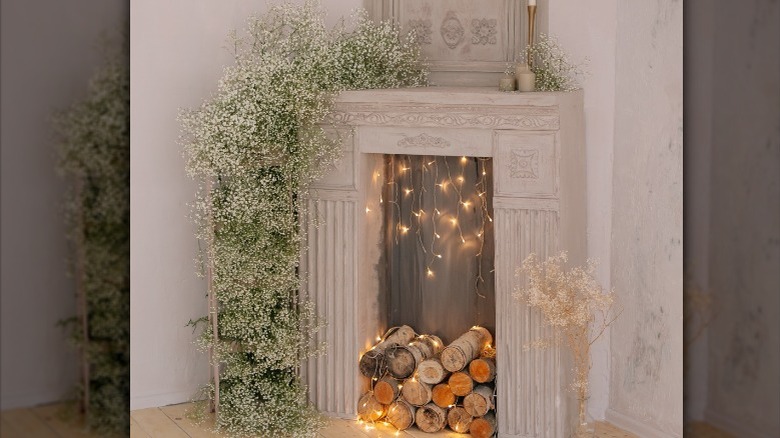 Irkets/Shutterstock
This fireplace mixes many different elements: wood, cascading plants, and candles on the mantel. It also has twinkle lights, to add some fun light to the space. 
5. Wood accent wall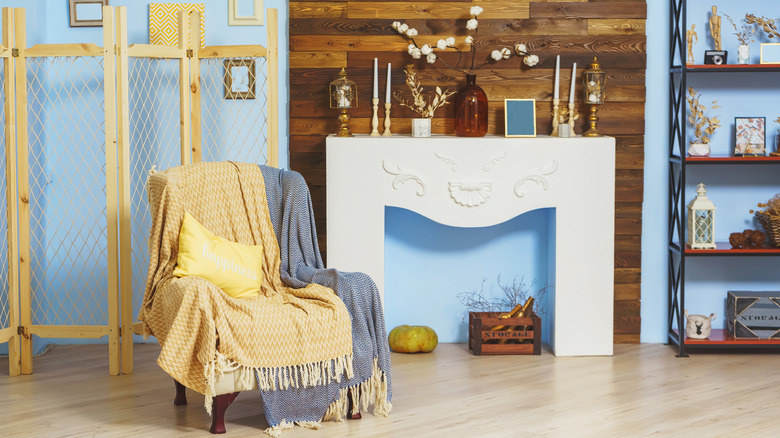 Yashkin Ilya/Shutterstock
To make a fake fireplace stand out, you could add an accent wall behind it. This space features a wooden wall that really makes the white mantel stand out.
6. Wicker baskets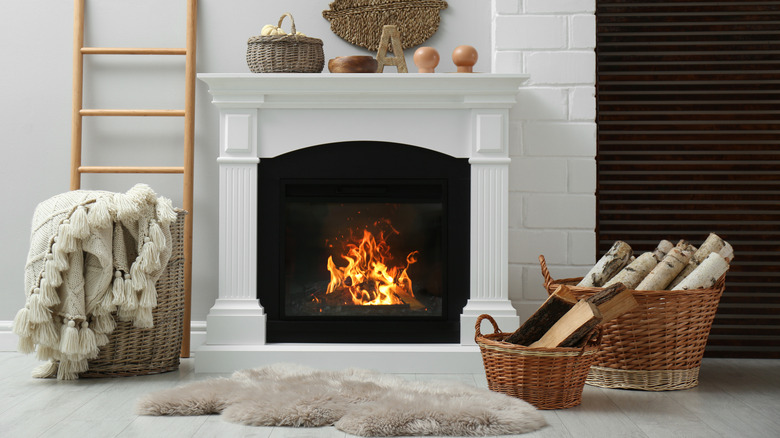 New Africa/Shutterstock
You could also place wicker baskets next to and on your faux fireplace. This will add a fun texture to your space. Things like wooden logs, blankets, and other decorations can be added to these baskets.
7. Shelving units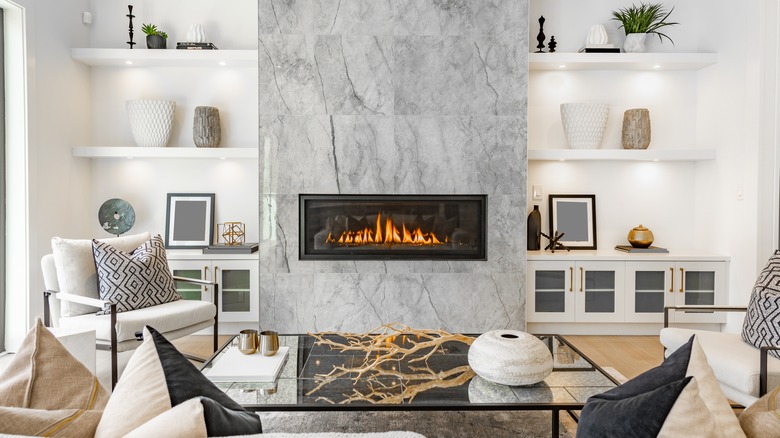 Sheila Say/Shutterstock
Many houses have built in shelves around the fireplace. If yours doesn't, you could always add tall bookshelves on either side of your fake fireplace to create the same look. This can make a fake fireplace look more integrated into a space. 
8. Dark accent wall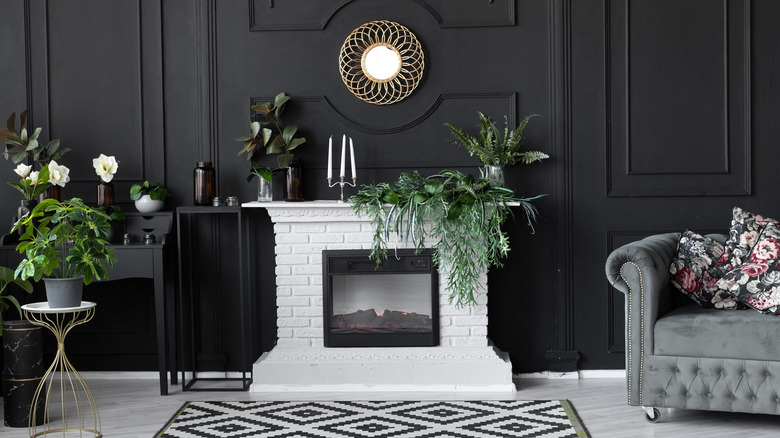 Margaret Gus/Shutterstock
For a bold look, you could juxtapose a dark accent wall with a lightly colored mantel. For example, a black wall will make a white mantel really pop. 
9. Picture frames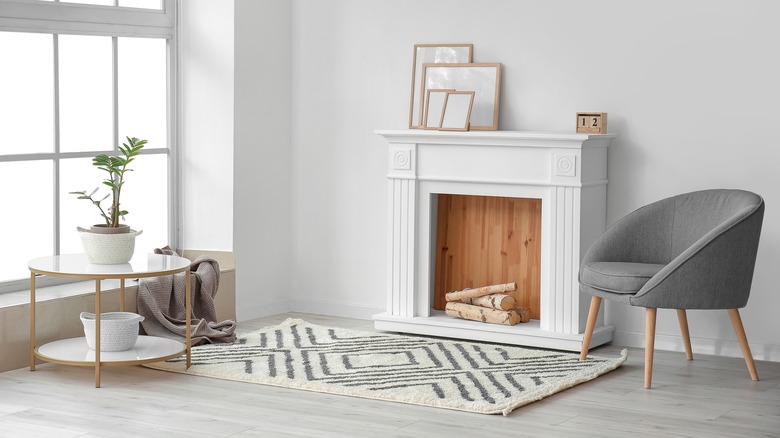 Pixel-Shot/Shutterstock
The above picture shows an example of empty picture frames, which can add different materials, like wood and glass, to your fake fireplace's mantel. To make your decorations more personal, place sentimental art or photos inside your picture frames. 
10. Vases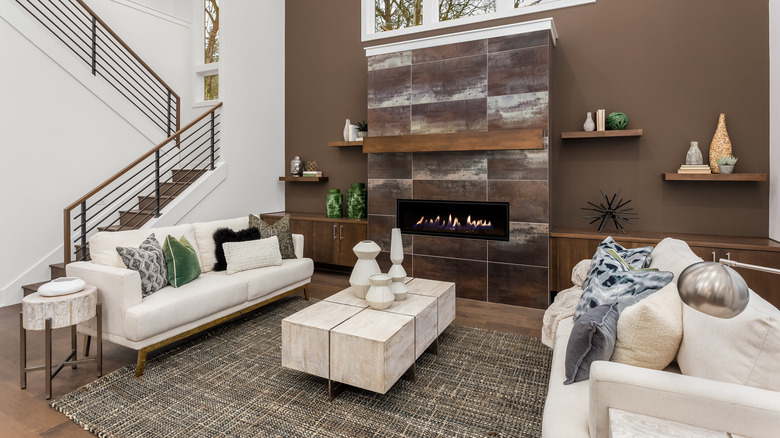 Breadmaker/Shutterstock
This living room is filled with different vases. They are positioned on floating shelves around the fireplace and on the coffee table. This can add fun colors and patterns to your space.
11. Stacked wood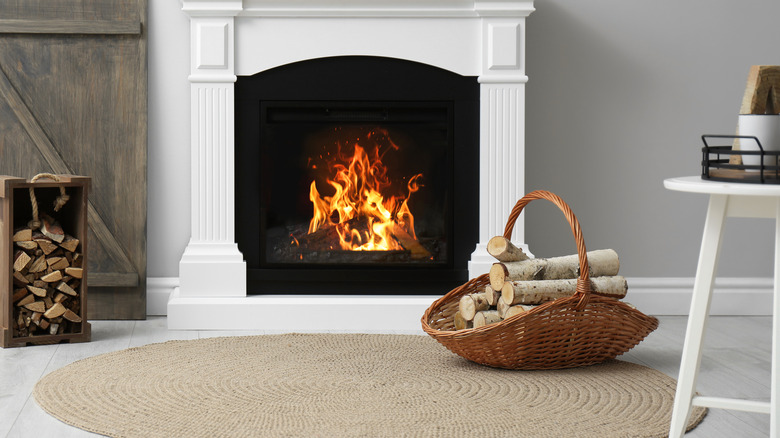 New Africa/Shutterstock
To make your electric fireplace look more realistic, you could stack wood beside it in a box or basket. Mixing textures like wood, wicker, and woven rugs can create a cozy feel.
12. Monochromatic
To make your fake fireplace look integrated into your space, you could make your room monochromatic, or make the mantel match the wall color. This allows different patterns and textures around the room to stand out. In this space, the beige ferns behind the couch and the wooden furniture are some of the main features of the room. 
13. Log cabin style
For a rustic look, you can make an electric fireplace look like it belongs in a log cabin. Decorating with earthy elements around a stone mantel can give your home a cozy cabin feel. 
14. Green plants
You could also fill your decorative fireplace with green, vibrant faux plants. This can be a great way to add some color to a mostly neutral room. 
15. Bold accent wall
Mixing a bold accent wall with a lightly colored fake fireplace mantel and light furniture can make a space look dynamic and intricately designed. This room's mix of navy blue and light colors is very intriguing. 
16. Branches
Many people decorate with branches as well. Placing the branches both upright and sideways can make your faux fireplace's mantel look like it's in a woodsy wonderland. 
17. Flower bouquets
You can also add flower bouquets both inside and on top of your fake fireplace's mantel. Faux flowers would probably work best here, so they don't have to be changed out or taken care of, but fresh flowers would also look gorgeous. 
18. Lanterns
Lanterns with candles can also add intrigue to a fake fireplace. This mantel is decorated with flowers, a basket, and other fun décor pieces. 
19. Round mirror
Hanging a round mirror above your fireplace can juxtapose the straight, clean lines of a modern mantel. A mirror will also make your space appear larger and more open. 
20. Circle clock
Similarly, you could add a large round clock above your fireplace. This mantel is also decorated with candles and greenery.