30 Brick Patio Ideas To Create The Perfect Outdoor Escape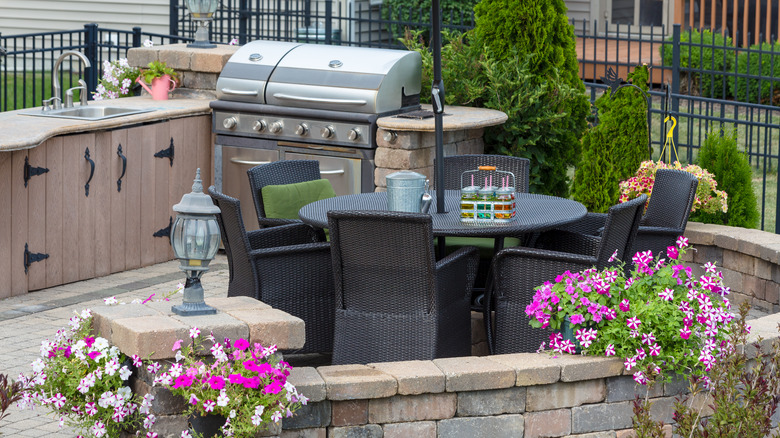 Ozgur Coskun/Shutterstock
Adding a brick patio to your outdoor living space is always a good idea. Brick patios can be great spaces for comfortable seating areas, dining room tables, fire pits, grills, pools, fountains, and gardens. They're great for entertaining and also for enjoying some relaxation. They can also transform your backyard into the perfect escape from everyday life.
Building your patio out of brick has several benefits, per Prince William Home Improvement. Brick patios add more value to your home; they're also easy to maintain and clean, fast, and easy to install. Brick is also a durable material that will last a long time, and many people also love its classic look. This material comes in many colors, and you can install it in several patterns, so you can completely customize the look of your outdoor space. If you want some brick patio inspiration, below are 30 ways you can make your outdoor space more aesthetic and inviting.
1. Fire pit
Adding a fire pit to your brick patio will bring around warmth and make it a fun space to hang out during the summer months. The fire pit itself could be made of metal, stone, or, you guessed it, bricks. 
2. Brick bench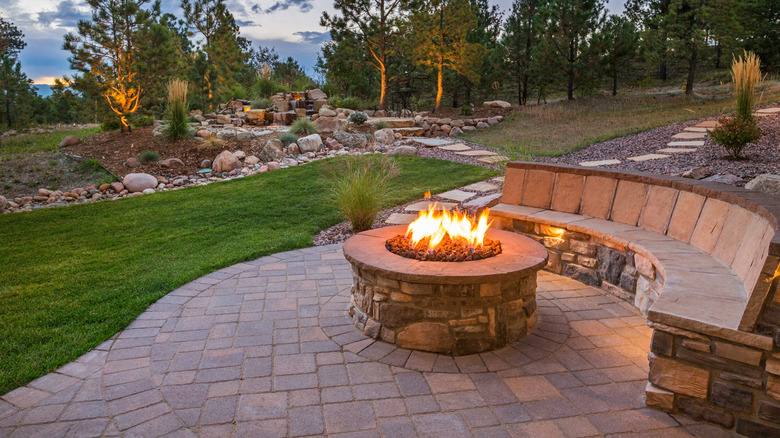 Neil Podoll/Shutterstock
To turn the space around a fire pit more functional, you could add a brick bench to make sitting around the fire super simple. No need to bring chairs from the house anymore!
3. Around the pool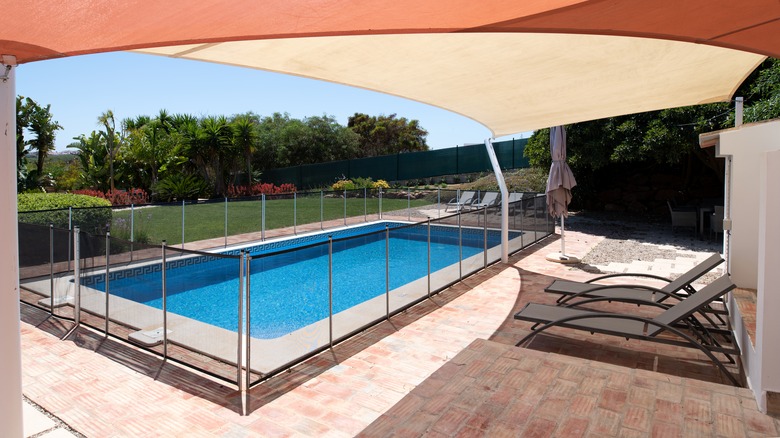 Cmspic/Shutterstock
Brick can also look great around a pool. For example, the material in this backyard separates the grassy area from the pool deck to give it a fantastic delimitation.
4. Underneath a wooden pergola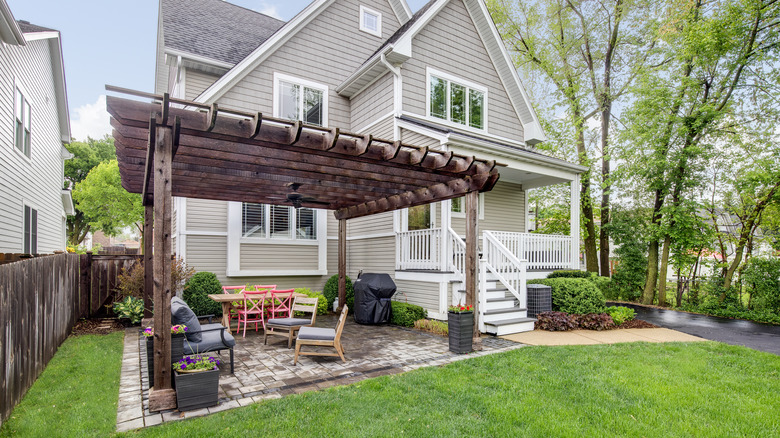 Hendrickson Photography/Shutterstock
To make a small brick patio look more purposeful, add a wooden pergola over the top. While this won't protect the area from the weather, it does look gorgeous. You could also add string lights or other hanging lanterns to the pergola. 
5. Comfortable seating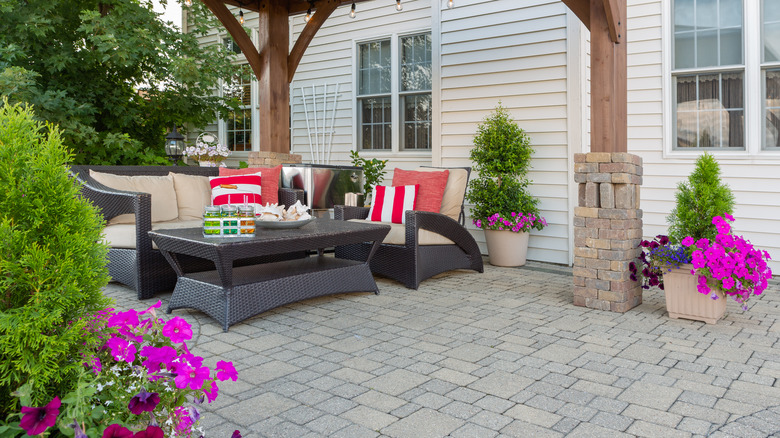 Ozgur Coskun/Shutterstock
A great way to make a brick patio more inviting is by adding comfortable seating. This outdoor space has a comfy-looking outdoor couch and chair and a nice coffee table.
6. Eating area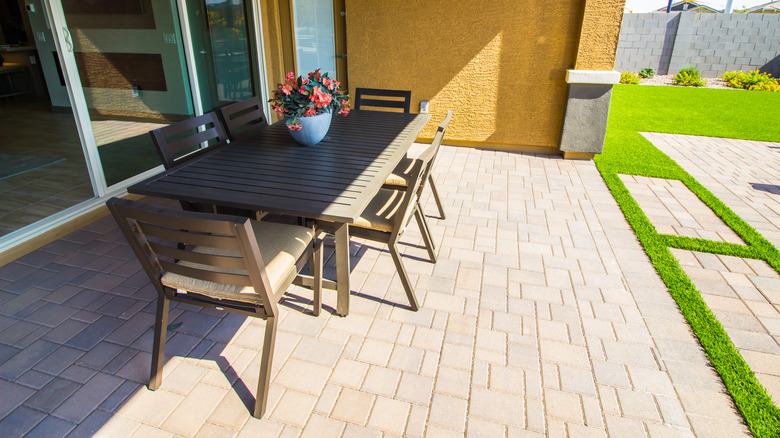 ThomasPhoto/Shutterstock
You could use a full-sized dining room table if you like eating outside with family or friends. For convenience, place the table near the doorway inside.
7. Grilling station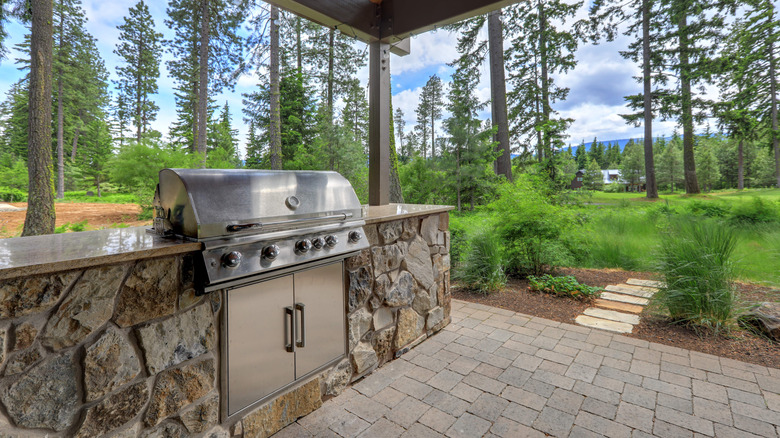 Artazum/Shutterstock
You can also create a grill station on your brick patio. This is a great option if you love family barbeques or entertaining guests. To break up the brick, surround the grill with another material, like stone, as shown in this image.
8. Everything you need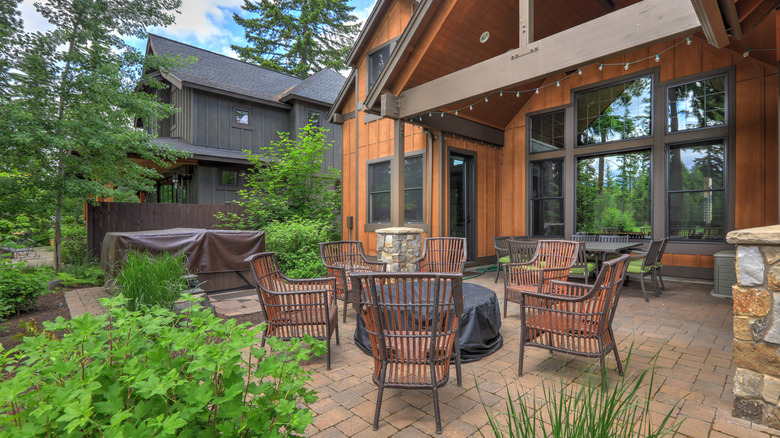 Artazum/Shutterstock
This brick patio has everything you could ever need to enjoy your backyard. It boasts a fireplace, a dining table, and a hot tub. Plants and string lights make it the perfect oasis. 
9. Follow the brick road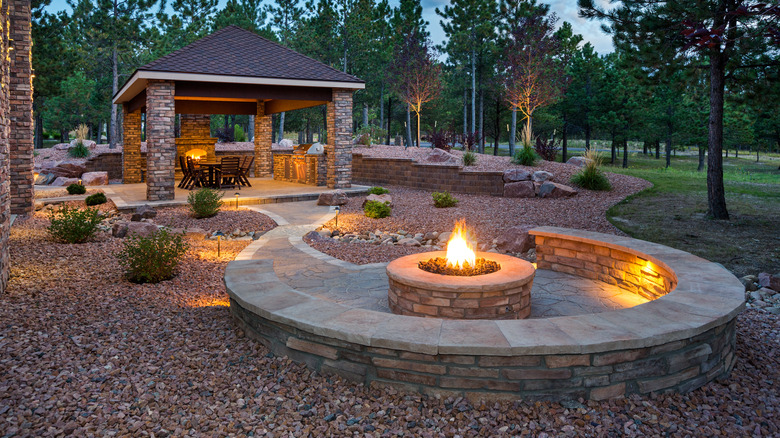 Neil Podoll/Shutterstock
If you want to separate your patio into different sections, build a brick path between them. For example, this backyard has both a covered dining area and a fire pit, and a brick path joins them together.
10. Swimming oasis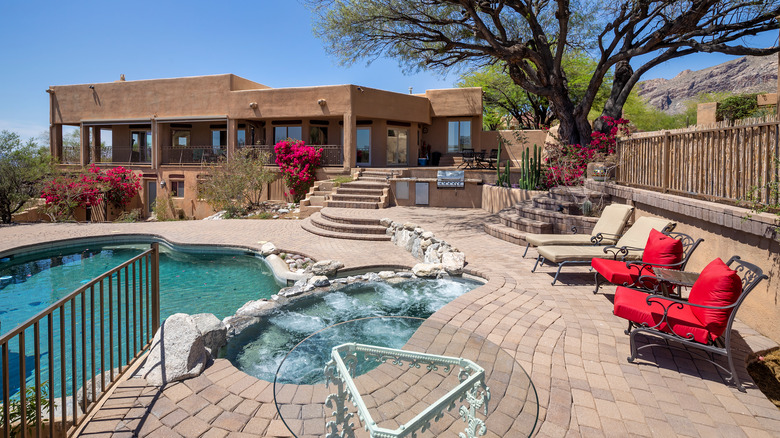 pics721/Shutterstock
This large brick patio contains a pool, a hot tub, and seats for lounging in the sun. This is what we call the perfect backyard escape. 
11. Beautiful shed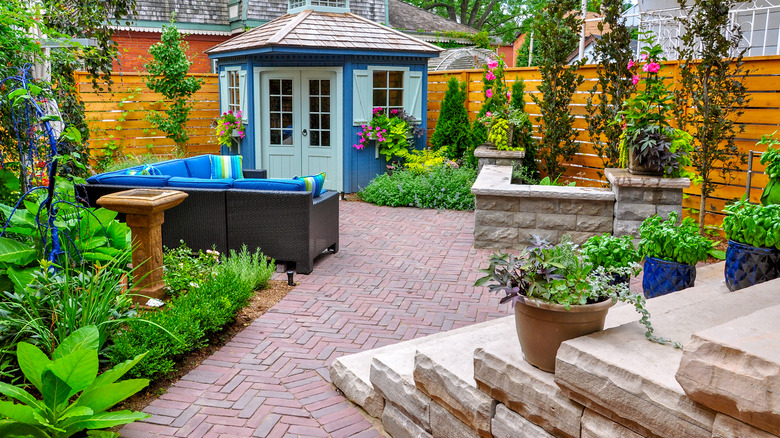 Joanne Dale/Shutterstock
If you have a lot of tools or gardening equipment, adding a decorative shed to your brick patio could be a great idea. This shack has beautiful windows with shutters and flower beds. 
12. Garden box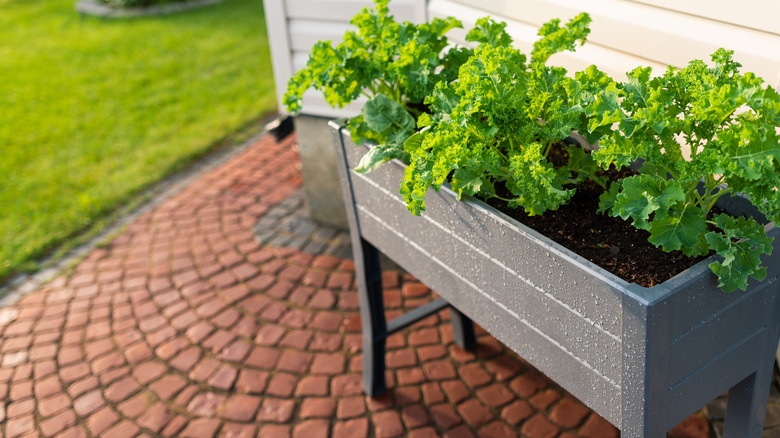 Arjuna Kodisinghe/Shutterstock
If you love gardening, consider adding garden beds to your backyard patio space. These boxes can be easier to maintain than a full garden because they're smaller and raised up from the ground.
13. Fish pond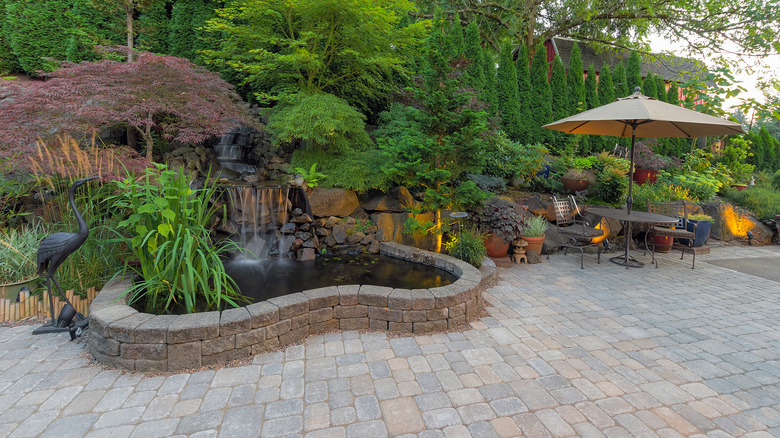 JPL Designs/Shutterstock
Adding a fish pond to your backyard can look beautiful. This small pond has lots of plants and a rock waterfall that looks elegant. 
14. Water fountain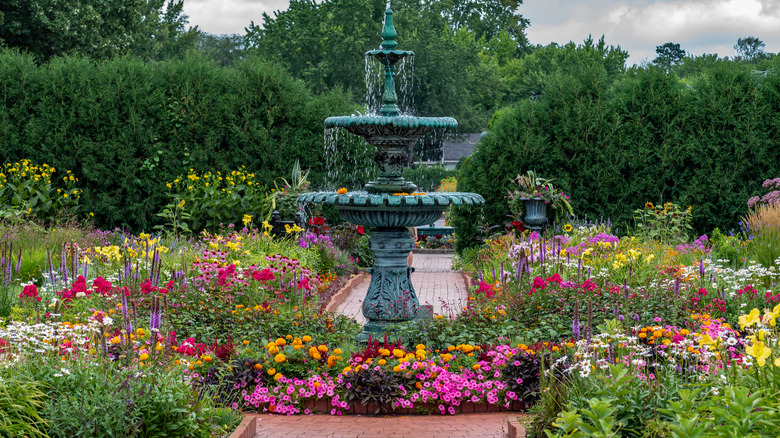 Randy Runtsch/Shutterstock
You could add a water fountain to your brick patio. Surround it with beautiful flowers, and you'll end up with a stunning piece.
15. Small design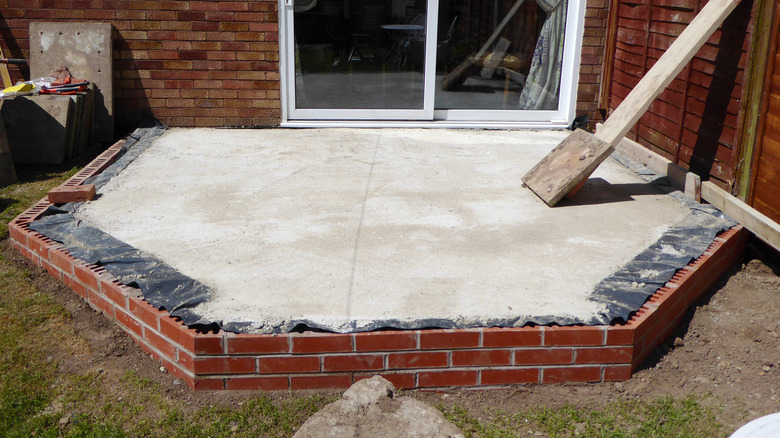 Amanda J Jackson/Shutterstock
If you have a small backyard space, don't be discouraged — no matter how tiny the area is, you can still add a brick patio. This space would be perfect for a small table for your morning coffee.
16. Covered patio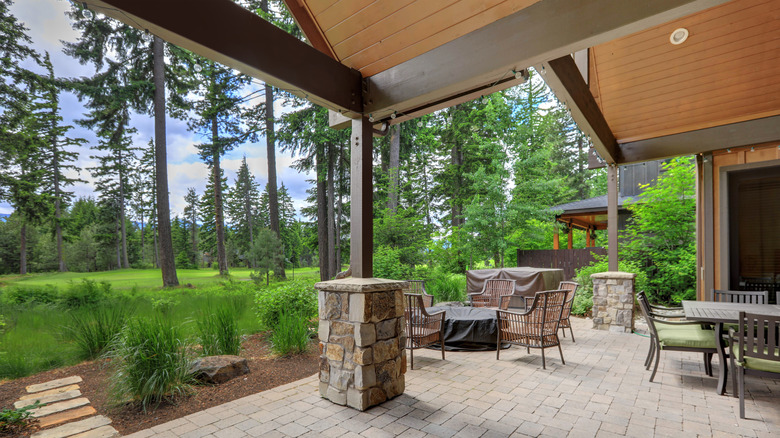 Artazum/Shutterstock
To maximize the use of your space, simply cover it. For example, if you add a roof over your patio, you'll be able to use it more often because you won't be as exposed to the elements.
17. Designed for relaxation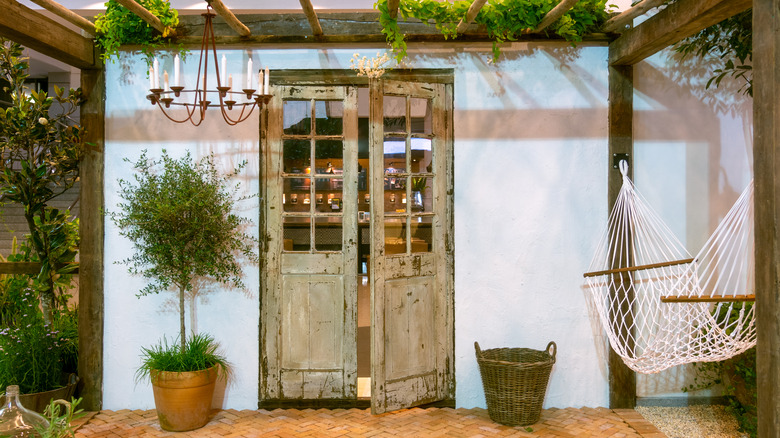 WichitS/Shutterstock
Hanging a hammock or a beautiful light fixture in your outdoor space can make it an outstanding oasis; the perfect patio for relaxing. 
18. Mix materials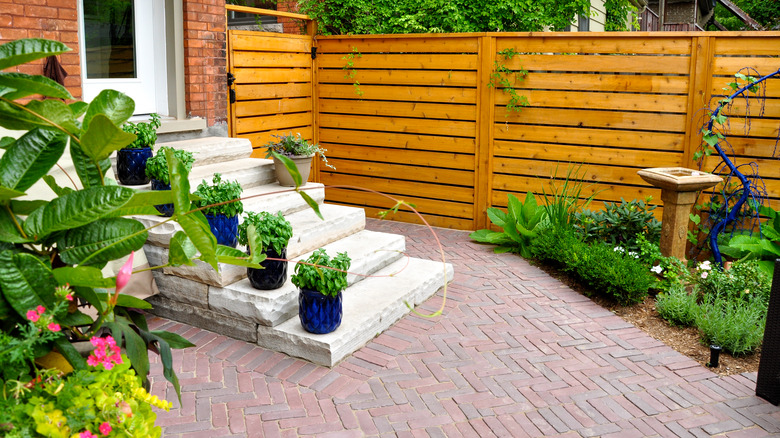 Joanne Dale/Shutterstock
Mixing elements can add intrigue to your outdoor space. For instance, if the patio itself is made of brick, think about adding a wooden fence or stone stairs.
19. Outdoor kitchen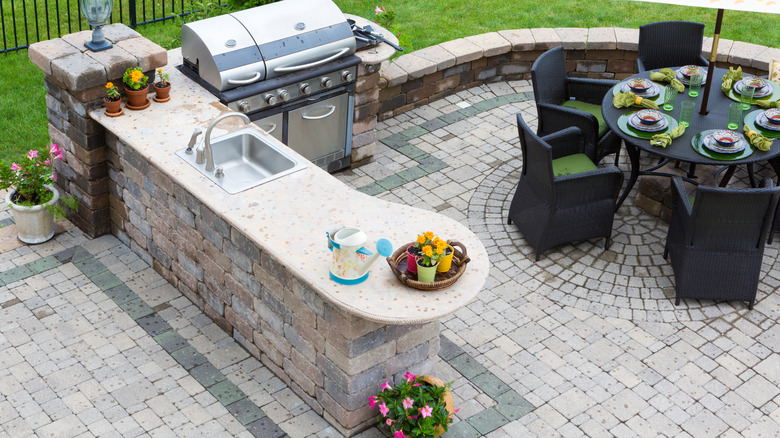 Ozgur Coskun/Shutterstock
If you love dining outside but hate having to transport all the food and dishes from inside your home, consider creating an outdoor kitchen. This space has a grill, a sink, and a countertop area so that you can prepare the food outside.
20. Brick wall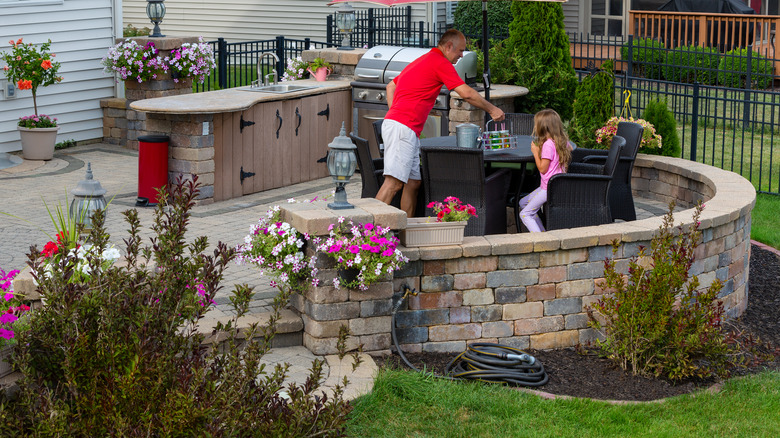 Ozgur Coskun/Shutterstock
You could add a brick wall to make a space more private or to separate it from the rest of your backyard.
21. Sitting area for night owls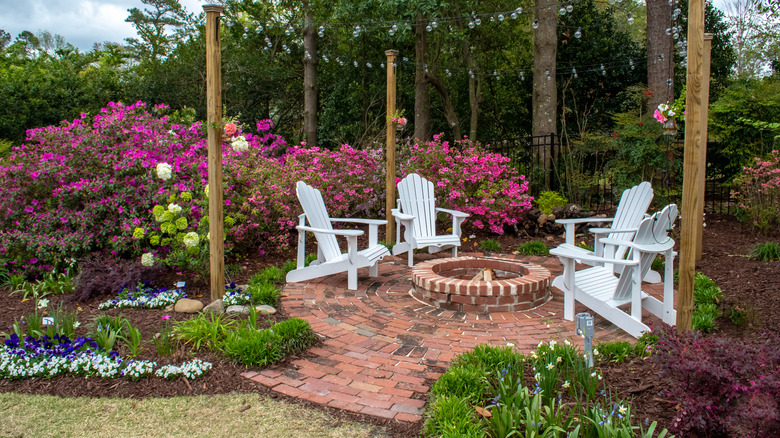 Dawn Damico/Shutterstock
If you have a garden space and want to make it more inviting, add a small round brick patio. This backyard area, for instance, has a fireplace and outdoor seating. 
22. Multipurpose brick wall
The brick wall in this outdoor space not only serves to designate the landscaping area — you could also use it as seating around the fire pit.
23. Focus on landscaping
Creating beautiful landscaping around your brick patio can make it more inviting. For instance, lots of flowers and greenery abound around this patio, creating a dream-like place.
24. Surrounding a sunroom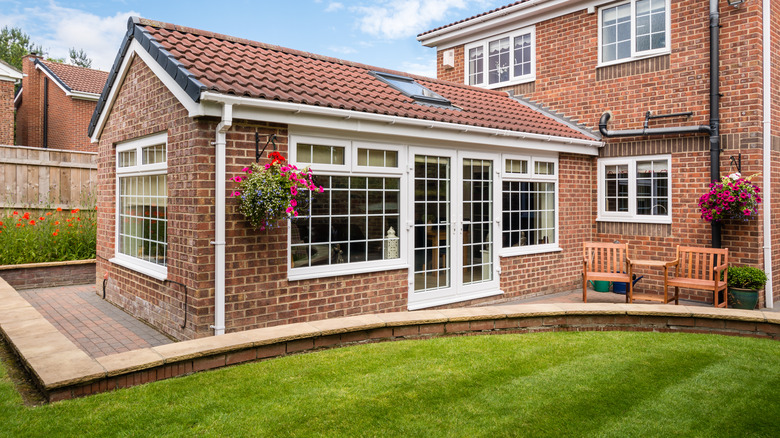 Dave Head/Shutterstock
If you have a brick sunroom, surrounding it with a brick patio can help combine the indoor and outdoor living space. 
25. Covered by an umbrella
Adding a round table with an umbrella to your brick patio can make the space more functional. You'll be able to use the area in the blistering summer heat or the drizzling rain.
26. Garden retreat
Adding lots of different plants to your brick patio can make the space super fun. This stunning area has lots of potted plants and a beautiful arched fence that leads into the main garden space.
27. Private patio
If you live close to neighbors and want more privacy on your patio, you can use a brick wall, a wooden fence, or shrubbery. 
28. Lots of seating
If you entertain guests often, it's probably a good idea to have lots of seating options. This patio has multiple chairs and couches to relax in. 
29. Potted plants
It's easy to add potted plants to a patio space. Whether you want to grow vegetables or just incorporate beautiful flowers, pots can be amazing outdoor décor pieces. 
30. Gorgeous gazebo
You could also add a brick gazebo to your backyard. This stunning backyard has a brick fountain, a stunning pavilion made of brick, and lots of rose bushes.