The Newest Trend Of 2022: Adult Bunk Beds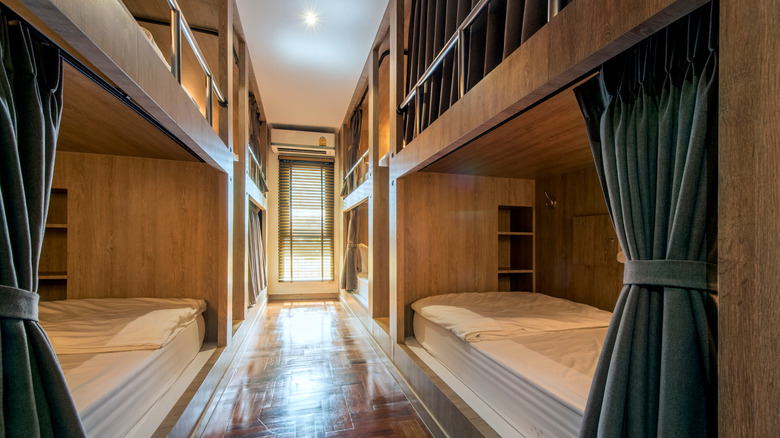 worradirek/Shutterstock
The ideas of bunk beds conjure many images in people's minds. From sharing a room with a sibling to summer camp to college dorms, bunk beds have a reputation for being juvenile. Most adults don't add them to their homes if they don't have children, and they especially don't add them for themselves — but the tide is changing, and adult bunk beds are becoming a trend in 2022.
Not having a bed on the ground isn't a new concept for adults. Lofting beds in tiny homes and apartments has always been a way to create more space, says Build Green NH. Using vertical space allows you to better accommodate other living spaces. The same tenant is true with bunk beds. By adding a second bed on top, you're providing more sleeping space without taking up floor space.
These bunk beds aren't like the ones you remember. Adult bunk beds are much more stylish than their childhood counterparts. And they come with some upgraded features and the ability to customize them to perfectly fit your space.
Double the fun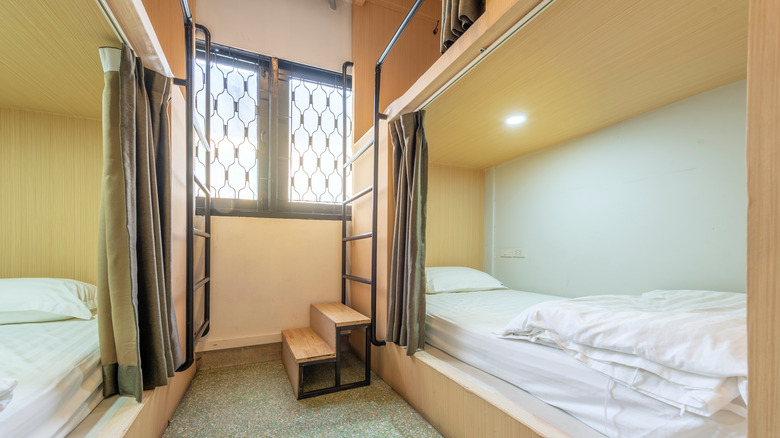 worradirek/Shutterstock
Adult bunk beds typically aren't beds from a big-box furniture store. Rather they're built into the room as a more permanent structure. This gives them a more sophisticated style and a more bespoke look. To get that customized style, you can DIY the built-in bunk beds. Nesting with Grace reports that it only took $500 and a few days to create their customized bunk beds for their guests. Using wood, the family was able to create a frame for the bunk beds right on the wall. They were also able to build an alcove into the wall for storage.
What's great about building your own bunk beds is that you get to customize them to your home's style and needs. Add in little extras like wall sconces, built-in shelves, charging stations, a library ladder, and built-in storage to make this room feel like luxury accommodations. And if you're not handy with building and tools, don't worry. This will be a pretty easy project for a contractor to take on. There are even companies that specialize in custom adult bunk beds.
Where you can use adult bunk beds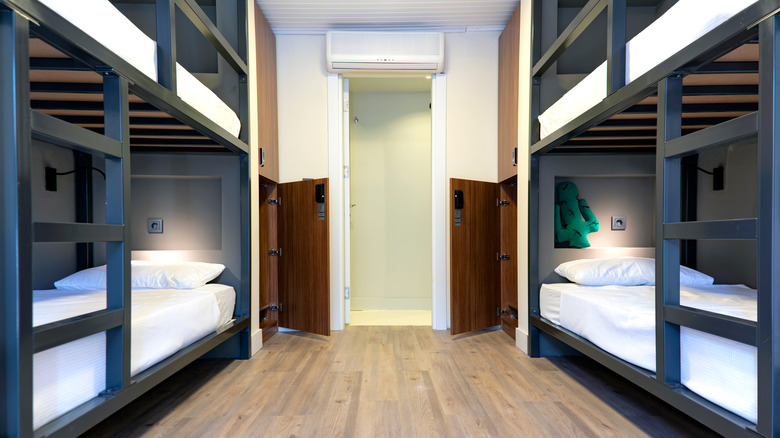 Alpay Erdem/Shutterstock
When you have guests staying overnight or for an extended time, it can feel like a balancing act trying to figure out where they're going to sleep. Many homes don't have the space to have a permanent guest room without giving up a room the homeowners can use. Instead, many homeowners opt for a guest room/office combination. When you're short on space, Average Inspired suggests having the furniture play double duty and have furniture that can convert into sleeping space. But having bunk beds can also be a way to save space while maximizing sleeping options. You'll have two beds for people to stay in without losing the floor space, so you can use the rest of the room for your office.
Most commonly, you'll find adult bunk beds in vacation rentals such as a beach house or a cabin, per Realtor. When you have a group of friends sharing a rental home, someone always gets the short end and has to sleep on the sofa. Combat this by adding built-in bunk beds so that every adult gets a bed to sleep in. This allows you to entertain more guests and to do so comfortably.